The upmarket holiday town of Moraira, on Spain's Costa Blanca, has been a preferred destination for the better class of holiday maker for many years now and people come back here year after year for a great holiday under the warm Spanish sunshine.
Everyone has their own idea about what to do whilst on holiday, but for the sun seekers sat down reading this in the freezing cold UK, see if you are not tempted into booking a holiday in Moraira after reading about the areas wonderful sandy beaches!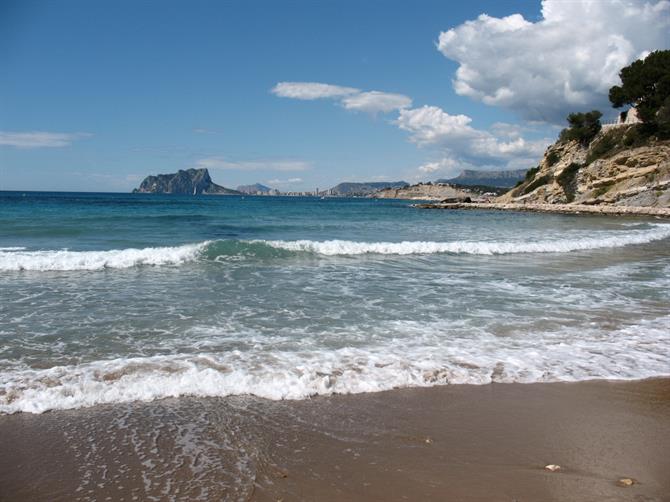 A beach holiday in Spain
One of the great things about arranging a holiday in Spain is the fact that, for most of the year, you are guaranteed sunshine, and from experience, also guaranteed to find, very easily, clean, safe and friendly beaches up and down the Costa Blanca.
Not everyone is a beach bum of course but it's great to know that if you do fancy a quick dip in the warm waters of the Mediterranean, or to relax with a book, on a sun lounger, on a lovely clean beach, you will have no problem in finding somewhere to go.
Moraira, has eight beaches of various sizes, some family friendly, some with disabled access, and some very secluded and private places too. We look at the beaches in Moraira, including some little known ones too, with a view to selecting which one would suit your Spanish holiday this year?
Playa del Portet.

Playa del Portet, or Portet beach, a small inlet which is sort of in the shape of a sea shell and although facilities such as bars and shops are fairly minimal, it's safe and secluded and ideal for a quick dip. This is really a quiet, picturesque cove that has fine sand and lovely clear water. It is located between Moraira port and the Cap d`Or Tower on the seafront. Some water sports are available at certain times of year from this small beach.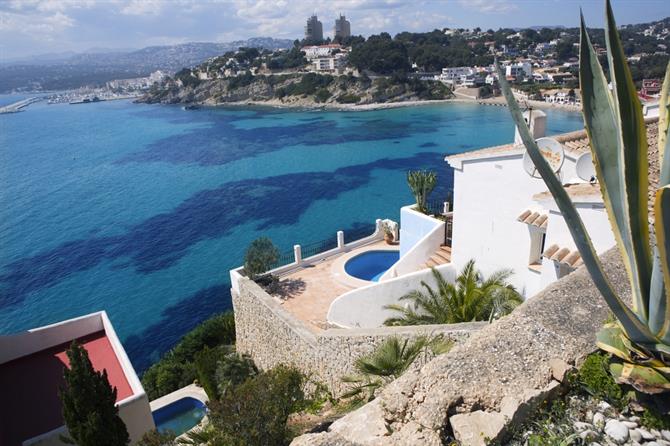 Club Nautica beach
Club Nautica beach is not technically open the public all the time as it is affiliated to users of the popular marina and yacht haven. The beach is accessed through the port, and although small, it does have a restaurant. If you are not a boat owner, it is still possible sometimes to get in, but it is best to ask first instead of just walking in there.
Torre Cap d'Dor beach
Torre Cap d'Dor is another very small beach which can be only reached by walking from from the El Portet beach nearby, so no worries about cars driving past, which makes it a very quiet place to go and a great beach for just getting away form it all.
La Cala beach
La Cala is another small beach with lovely clear waters but is rocky and difficult to access so you can only get to this beach by boat so if this is possible, be very aware of the days weather conditions, tide times, and make sure you not only tell someone you will be there but also make sure you have a mobile phone signal, just in case.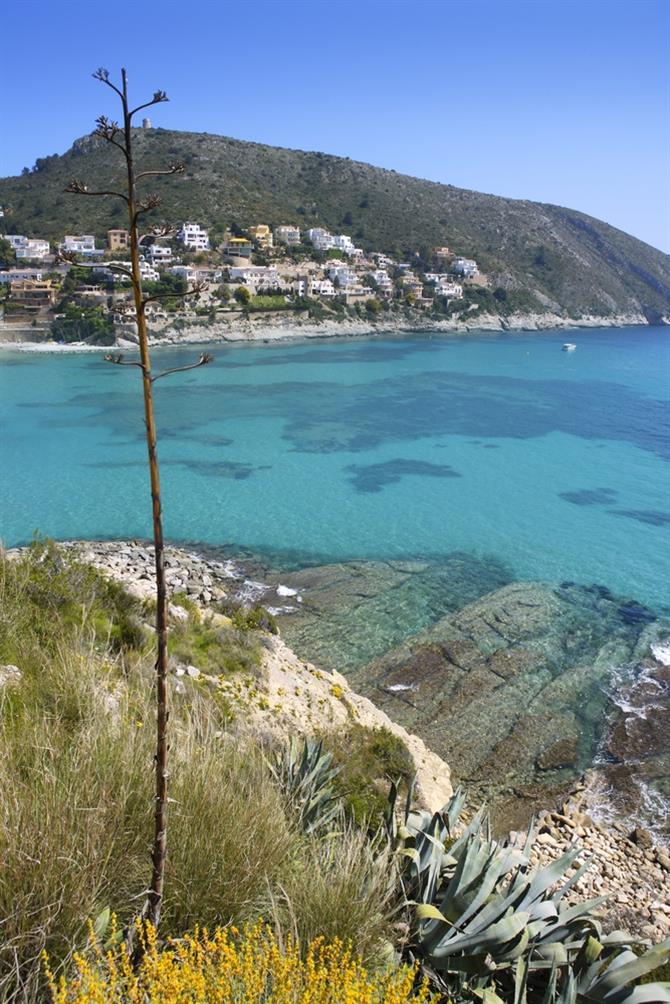 Platgetes beach
Platgetes beach has very easy access and a car parking area, a few restaurants and facilities such as showers etc and is a mixture of sand and rocks.There is also a promenade for a nice stroll in the balmy evening air with all the other holiday makers and locals too.
Cap Blanc beach
Cap Blanc in Moraira is a lovely bathing beach which you will find situated at at the bottom of some cliffs. There is no direct road access to the beach so it is best to Park your hire car at the top of the cliffs and take a leisurely walk down.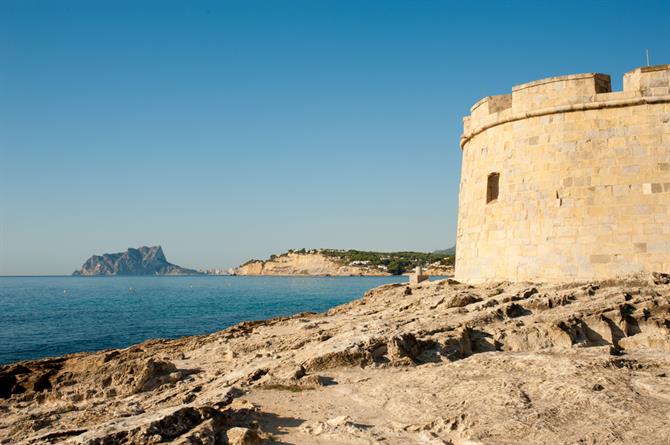 L'Andragó beach, Moraira
L'Andragóis another quiet rocky beach and it has a very nice restaurant which is right on the sea front and is an ideal place to sit and enjoy the view out to sea.
L'Ampolla Beach
The last of the beaches we look at today is L'Ampolla Beach which is near the castle on the main promenade and that can be seen the photo above. It is a golden sandy beach, very near to the town, and it is the largest and most popular beach in the area. It boasts a children's play area right on the beach, a very common sight up and down this region known as the communidad Valenciana and it's the ideal beach for some fun with the kids or relaxing with your partner.
There is of course far more to do on a holiday in Moraira than spend time on the beach, but hopefully now this guide will help you as to where to go and what to do whilst on holiday in this lovely part of Spain's Costa Blanca.