Alberquillas Beach, or Playa de las Alberquillas is only situated some ten kilometers from the center of Nerja. It feels, however, to be a world away from the more popular beaches nearer the town.
Playa de las Alberquillas is one of those places that never gets too busy, even in the height of summer.
For those looking to enjoy a beautiful beach in peace and tranquillity, Playa de las Alberquillas is highly recommended.
La Cala de las Alberquillas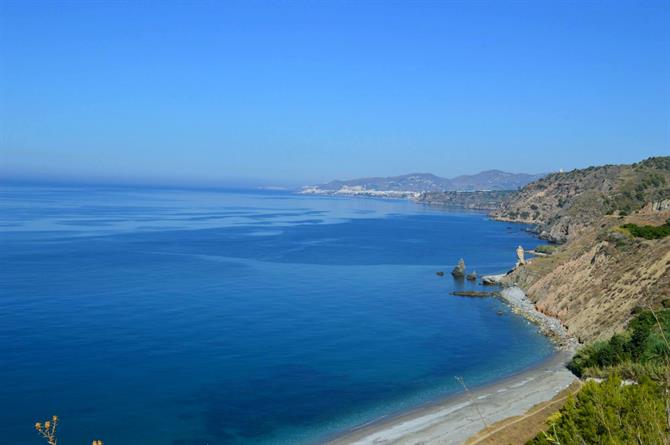 The beach (Playa) refers to a half kilometre stretch of sand that sits within the Cala (cove) de las Alberquillas. When asking for directions and looking for signposts etc – always refer to the cove.
This is the view from the top of the beach - looking eastwards over the Acantilados de Maro natural reserve and towards neighbouring Las Calas del Pino beach.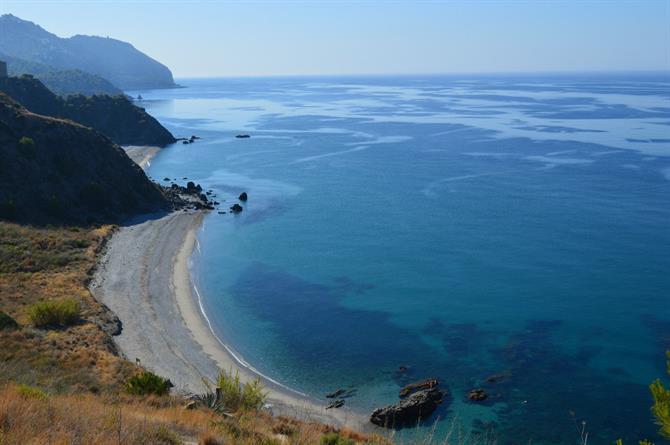 As the beach sits within the Paraje Natural Acantilados de Maro-Cerro Gordo the water is very clean and there is an abundance of fish. The snorkelling in and around the coves is fantastic. There are a lot of underwater caves and rock formations to explore.
The beach itself is approximately 400m in length and 20m wide. It is mainly pebbles and coarse dark, sand.
Playa de las Alberquillas is clothing optional.
Amentities
Due to its natural reserve status, there are no facilities whatsoever. Food and water need to be brought with you.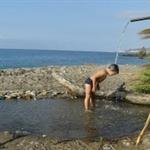 The only 'facility' is a 'shower' that has been created out a natural spring that flows out of the mountains.
The water is exceptionally clean. It is also exceptionally cold.
However, there is no better way to cool off on a hot summer's day.
Getting there
If coming from Malaga, take exit 295 toward N-340a/Costa/Nerja/Maro. You want to be on the old coastal road, the N-340a, going in the direction of Almeria.
Keep your eyes open for a concrete signpost – KM299 – turn-off straight after seeing it. There is a parking area on the right hand side. The signpost is very easy to miss, so keep your eyes open.
From here, you need to walk down to the beach.
For additional information on beaches in the area and ones closer to Nerja, see our Nerja beach guide.
Alberquillas Beach Map