The beach sits within the Province of Malaga as such, it is still classified as being on the Costa del Sol. As with all the beaches in the Los Acantilados de Maro-Cerro Gordo natural area it feels a world away from the more popular, touristy ones further along the coast.
Nudist beach
The beach is mixed and clothing optional.
Nudism is accepted and although not as marked as in Cantarrijan, people do sunbath naked, particularly around the rocky outcrop that separates the two sections of the beach.
The beach itself is divided into two sections and that are separated by some fallen rocks. You can easily walk over or around them. Failing that, it makes a great swim.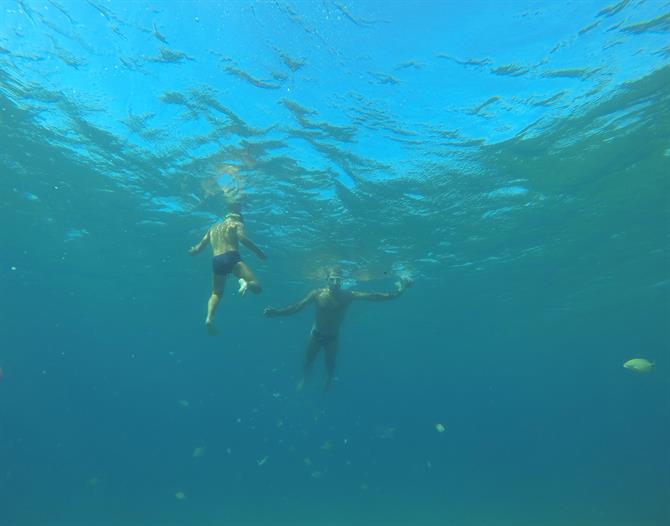 As with most of the beaches in the area, Las Calas del Pino is made up of shingle and offers exceptionally clean waters. The snorkelling and diving here is fantastic. There are numerous rocky outcrops, caves and underwater features to explore.
The beach is 350m long with an average width of 10m. Occupancy levels are classified as 'low.'
About Las Calas del Pino
Las Calas del Pino is situated about 6kms east of Nerja going in the direction of Motril.
Its beauty lies in its seclusion.
In comparison to the other, slightly more popular beaches, access can only be classified as 'difficult.' You cannot drive down. There are no shuttle buses ferrying people up and down the mountain as in Playa del Cañuelo and Cantarrijan. You need to walk. Its not far, only 200m or so, but the paths leading down are fairly steep and loose under foot. Something to bear in mind if travelling with very small children and/or lots of beach material.
In saying that, we have never had any problems (travelling with two young children) and Las Calas del Pino is a popular beach with families.
Be warned, however, access is not as 'easy' as some of the other beaches in the area. The extra effort required in getting there ensures that the beach is never crowded. Even at the height of summer.
Getting there
If coming from Nerja, the easiest way to get to the Las Calas del Pino is to come off at the exit for Maro and take the old coastal road, the N340. Direction Almuñécar/Motril.
The beach sits between Playa las Alberquillas and Torre del Pino - map
When driving along the coastal road keep your eyes open for a km299 sign. You should see the Torre del Pino (an old watchtower). Park anywhere you can on the right hand side. There are several paths that lead down to the beach. They are all fairly steep. The easiest, is most probably, the one that is situated closest to the tower.
One important point to bear in mind, is there are no facilities whatsoever on the beach. Everything needs to be brought with you. Sunscreen, water and a parasol are essential. And, of course, don't forget your mask and snorkel!
For some recent pictures from a morning's snorkelling at Las Calas del Pino and for beaches closer to Nerja, see our Nerja beach guide.