Playa El Playazo is Nerja's longest and western-most beach. Sitting just outside of the city centre, its location ensures that it is also one of Nerja's quietest and least developed beaches.
El Playazo is mainly popular with local Spanish families.
Its size and location ensures that even at the height of summer, you are sure to find a quiet corner to yourself.
About El Playazo beach
The beach is 1.7kms in length and approximately 30m in width. The sand is typically Mediterranean, coarse and dark.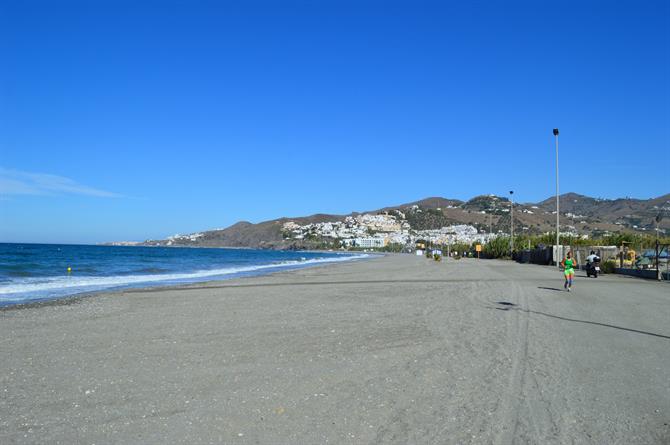 If one word were used to describe El Playazo, it would be 'underdeveloped.' The area has a deserted, almost rural feel to it and is bordered by small farms and sugar cane plantations.
There were plans to extend the promenade, but with the current economic crisis, this is still, a good few years away. Until then, Playa El Playazo will remain one of the most authentic and least developed beaches in the area.
There is a gravel track that runs the length of the beach, which makes a great place for a jog/run.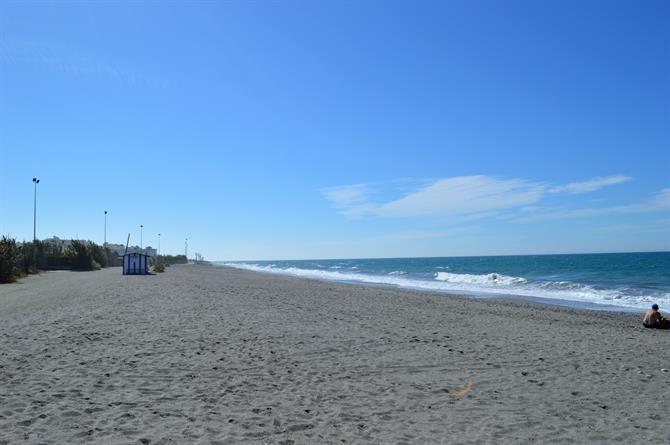 Amenities
Parking - there are several places to park on the beach front. The municipal parking has space for approximately 100 cars. Cost is approximately 1€. Several of the chiringuitos offer private parking, although there is very limited space.
Showers, toilets, lifeguards and sunbed rentals are available during the summer months.
There are currently four chiringuitos/beach restaurants/bars on the beach. Chiringuito Mauri (tel. 630 550511), Merendero Pepe Mesa (tel. 600 513854), Oasis (tel.692 611607) and El Varadero (tel. 600 541304). They all offer fish and meat dishes and tend to be more reasonably priced than the neighbouring restaurants on Nerja's more popular beaches. Fish dishes tend to be between 6€ and 8€, meat dishes start from 8€ upwards. Oasis also offers pizzas.
Getting to Playa El Playazo
Access to the beach is good. You can easily drive your car right onto, and along the beach from both ends. If coming from the centre of Nerja.Take the N340 westwards towards Torrox. On the outskirts of Nerja you'll come to a roundabout, go straight across and keep following the coastal road towards Torrox.
You'll pass a Repsol petrol station on your right. Keep your eyes open for a turning to the left, signposted for Hotel Marinas de Nerja. At the T junction take a sharp left and follow this road to the beach.
Walking to El Playazo is fairly straightforward from the centre of Nerja. The easiest route is to follow the paseo marítimo westwards from Torrecilla beach, passing El Chucho beach. It takes approximately 25 minutes from the Balcón de Europa.
For more beaches in the area be sure to have a look at our definitive Nerja beach guide.
Map of El Playazo beach