La Caletilla is a beach that is often mistakenly considered as private. The small beach that sits directly in front of the Hotel Balcón de Europa is, in fact, a very public beach.
Playa La Caletilla is only 50 metres in length and between 15 and 30 metres in width.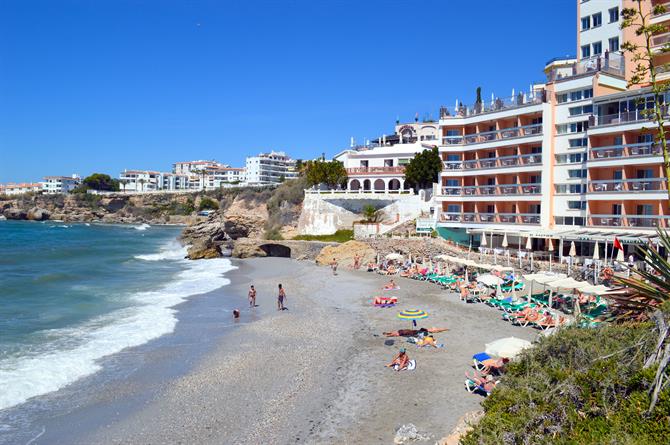 Size is a very relative concept on La Caletilla beach. It has been known to disappear completely if the tide comes in.
On a calm day, you'll always notice children jumping into the water from the rocks that jut out into the sea.
Amenities
The only restaurant - Bar y Restaurante El Náutico (tel. 952 520800) - is part of the hotel. Prices tend to be slightly higher than in surrounding restaurants, but the food is good and the terrace offers unbeatable views.
Aside from the direct access you'd get from entering the hotel, the public access to the beach is via neighbouring Calahonda beach.
You keep walking down past Calahonda beach, down a few stairs and just around the corner you'll see La Caletilla.
For some more recommended beaches in the Nerja area, be sure to check out our Nerja beach guide.
Map of La Caletilla beach