About Calahonda beach
Playa Calahonda is without a doubt, Nerja's most iconic beach. It is certainly the most photographed; the beach that seems to grace every Nerja-themed postcard or calendar.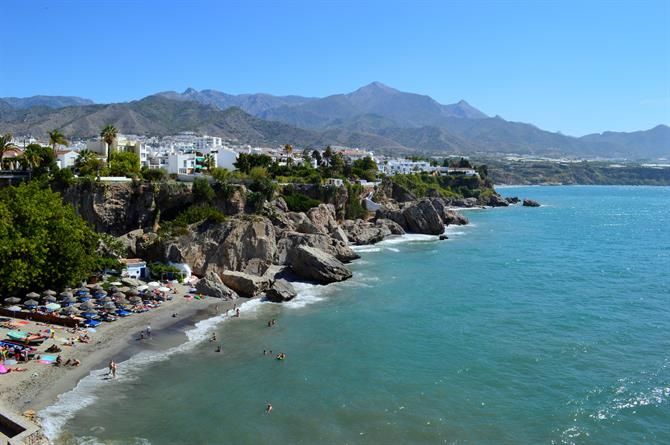 The tiny cove-like beach, hemmed by cliffs and rocks, with its picturesque fisherman's hut, sits in an unbeatable location.
You'll find that you'll get the best views of the beach from the Balcón de Europa. On a calm day the bird's eye view of Calahonda and the neighbouring coves is a spectacular sight.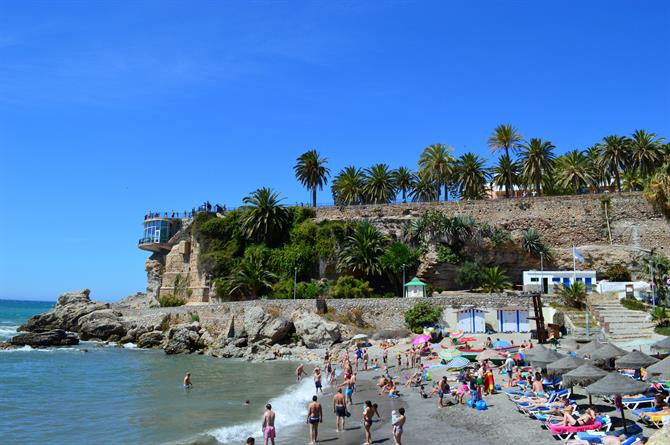 Getting to Calahonda beach - Walking down to the beach is not as problematic as it first appears. From the Balcón de Europa, look for the water fountain and the Moorish themed windows. They are situated at the beginning of the Balcón if coming from the centre of Nerja. Just behind the fountain, there is a staircase, beside the tourism office, follow this staircase down to the beach. These are the same stairs you'd need to walk down to get to Playa La Caletilla.
Amenities
Restaurant El Papagayo sits on the beach and is a popular spot for lunch and dinner. Reasonably priced, with a large terrace. El Papagayo is often the scene for live music and flamenco shows.
Just behind the beach is the old Paseo de los Carabineros. The coastal walkway that used to link Calahonda with Burriana beach. The path has now been shut following several landslides. There are plans, and some recent activity has begun, to open up parts of it again. At the time of writing, you could walk along the lower sections of the path, but you'd often come to dead ends and have climb around any 'no entry' signs. Do so, at your own risk.
Tide and conditions permitting, you can walk along the coast from Calahonda, passing through some smallish coves and Calas - three of which are collectively known as Playa El Chorrillo.
Calahonda beach offers everything you could need, including lifeguards during the summer months, toilets, showers and sunbed rentals.
Map of Calahonda beach
For additional information on Nerja's beaches, see our definitive Nerja beach guide.