There's nothing quite like fresh fruit and vegetables, mere hours from the ground or the tree, and for sale at knock-down prices - a world away from packaged and plastic covered alternatives. To go once a week to the local market is always a treat, not just for the taste either. Treat your senses, colour, sight, sound and smell, to a day at the market, Alpujarras style!

Self sufficient
Staying in self-catering accommodation in Spain can be rewarding on many levels. Often, because it's someone else's holiday home-from-home, there are 'extras' - such as a selection of books or DVD's, and perhaps a great kitchen in which to practise your culinary skills. It's also more economical to cook in-house, and avail of the wonderful Mediterranean produce available.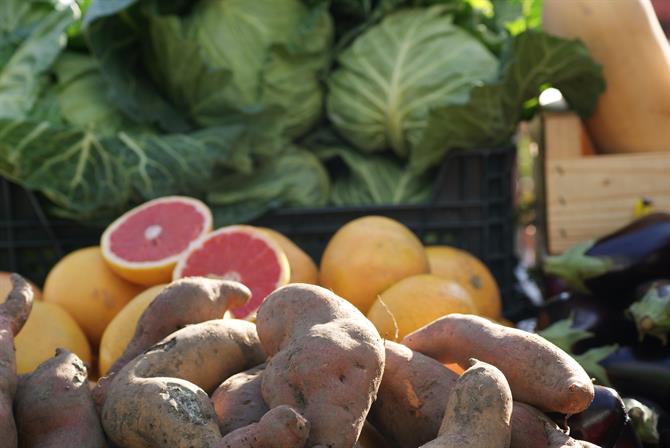 Where's the local market?
Ask! Take note of when and where the local market is in relation to where you have booked your holiday, and make a special effort to shop there. Not just for the freshest and in-season produce, but because you'll be supporting local growers too - always a good thing.
A weekly supply
Even the tiniest village will have a weekly van, sometimes daily with bread and fresh fish, usually once a week with fruit and vegetables. So take your place behind the apron-clad ladies in black, and watch the ensuing theatre as it unfolds - it's a great time to practise your Spanish!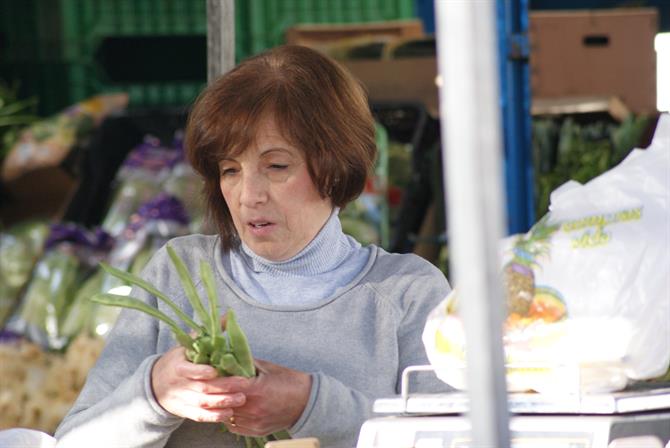 Órgiva
Yesterday we travelled to a nearby town - Órgiva - in the beautiful Alpujarras, and visited the market there. Ostensibly armed with my basket to choose the best fresh fruit and vegetables for the week ahead, but also to enjoy the spectacle that is the weekly market, and take in the sights and sounds.
Everything, it seems, is available here, you could easily do your weekly shop! Stretching from the car park and up the hill, lines and lines of colourful stalls, manned by staff shouting out their wares.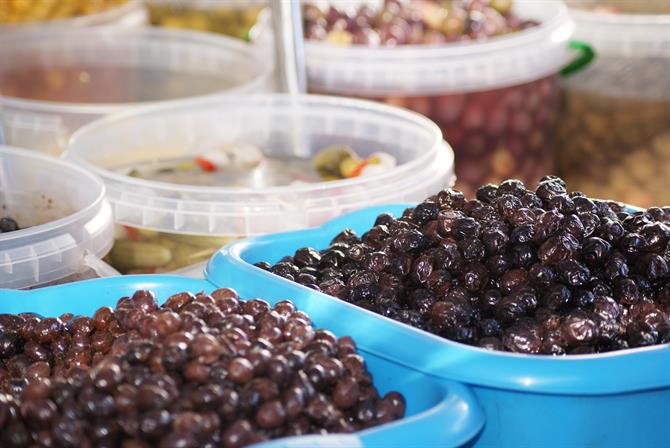 Where is it?
Órgiva is just 70 kms from Granada, and 35 kms from the Costa Tropical. At 450 metres above sea level it's considerably lower than many Alpujarras destinations, and enjoys a mild climate, evident by the Orange and Olive groves that surround this market town.
Lemons too - I hear you say - indeed author Chris Stewart found fame when he based his home and his books here, most famously Driving Over Lemons.
The population here is a mixture of British, Irish German and Dutch, with many living off-grid down by the river Guadalfeo. Look closely from the road above - but not too closely if you're driving! You'll spot vans and tents, yurts and caravans, a community of free spirited folk.
The twin-spired church is on the main drag, along with many restaurants, cafés and bars. Órgiva makes a great base to stay, it's not too far from the coast, and most of the Alpujarras villages, in particular the higher ones, can easily be explored from here,
Stay and self cater in Órgiva town, and you'll still be close to hiking, birdwatching and horse-riding opportunities.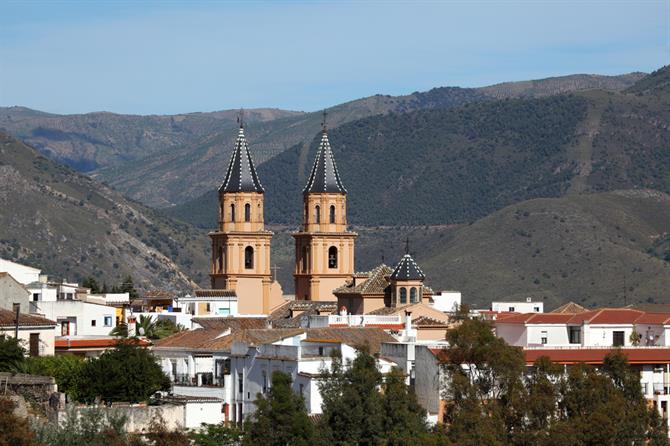 What can you buy?
From herbs and spices, to fruit and vegetables, all in season and huge. Nothing perfectly shaped or formed, big and knobbly, ugly and delicious specimens all for sale.

There were sweets and nougat, snacks and nuts covered in yoghurt and chocolate or au natural.

To accompany your cold beer, little gherkins and olives in brine, capers and chilli peppers, hot and mild.

Spices by the sack-load, some familiar, some not, but always fun to point and guess, try it at home and see.

Tea, loose and infused with lavender, local dried orange peel, flowers, cinnamon, mountain herbs and even chocolate flavoured. Buy it by the packet or weight, to enjoy on holiday, or take some home as a gift.

Local honey, delicate Milflores,

lavender,, wild thyme or rosemary - produced by the bees that inhabit the mountains and foothills that lay below the Sierra Nevada.

Olive oil, thick, green and organic.
What else?
Colourful clothes, sturdy looking underwear (!) hiking socks, furry sheets for chilly mountain nights. Cushions and pillows and rugs. Teapots and pots and pans, plates and bowls and hand-painted dishes.
Tools - hammers and nails and hinges and locks.
Boots and shoes, slippers - even wellies. (Not many of those sold!)
Bohemian vibe
Órgiva is an eclectic place, the New Age Travellers bring a bohemian vibe to the weekly market. Hand made jewellery and knitted scarves, hippy clothes, natural soaps and even cakes (maybe with a few extra ingredients!)
Joss sticks scented our way as we wandered around the stalls, music strummed at every corner, and a smile and a chat from the stall holders, happy to pose for a photograph. Easy when the sun is shining down but difficult to believe it is just January.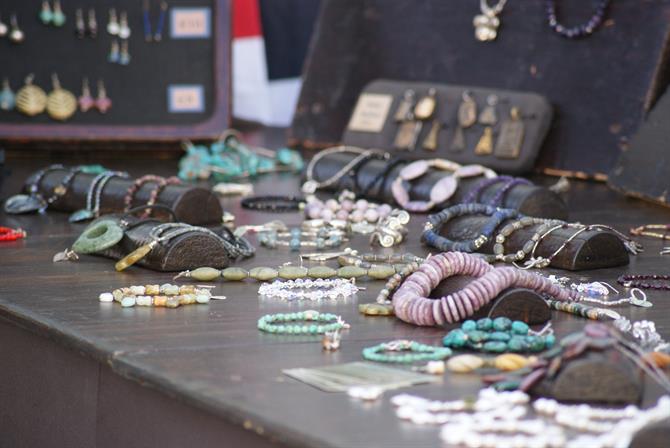 Time for tea
Finally, basket filled and tired out, we made our way to the nearby Sufi Tetería - Café Baraka - for some welcome tea, served in little Moroccan glass cups from ornate silver pots. I noticed the menu del día was good value there too, €12 for three courses including Tagine as a main course. Of course, I might have been swayed by the lovely sticky pastries as dessert. Perhaps next week...join me?