Pals is known as
one of the most charming villages
you can visit on
your Costa Brava holiday
. Perched on a hilltop, it was built around a fortress and has kept its
medieval look
so well that a visit to Pals is like travelling back in time.
The historical centre has been looked after very well and local traditions and gastronomy have been cherished up to today, which makes a trip to this village really special. Several gastronomic and cultural events are organised throughout the year, and the surroundings are simply breathtaking, with an unspoilt beach, dunes, wetlands and rice fields, all part of a natural park. This guide offers you everything you need to know to enjoy the best of Pals.
1. Explore the historical village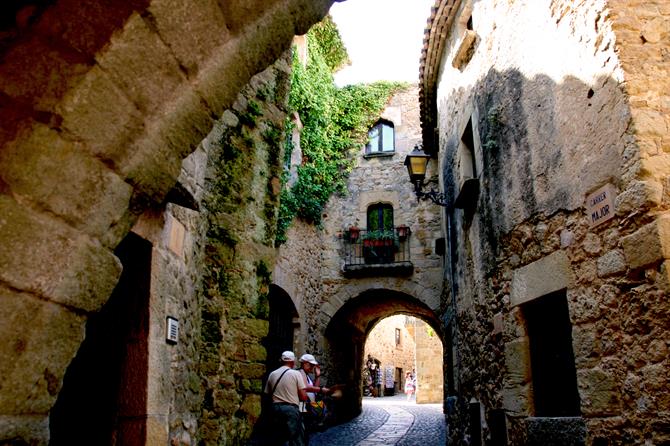 Walking around Pals is a relaxing experience. Just take in its authentic beauty and history. On your stroll around the village, you will be able to enjoy surprising details and architectural features such as picturesque arches and doorways, with flowers adding colour to the pretty stone walls.
Pals has been so beautifully preserved thanks to a local doctor who, after the village had been neglected, took the lead in its restoration. The village of Pals was declared a Site of Historical Interest in 1973.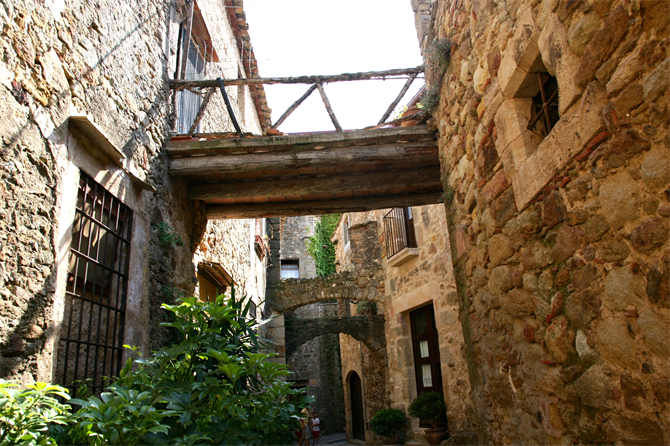 The first mention of Pals dates back to the 9th century although there are signs that it was inhabited before. Its name comes from the Latin 'Palus', which means 'marshy ground', as it was surrounded by ponds and marshes.
A few historical highlights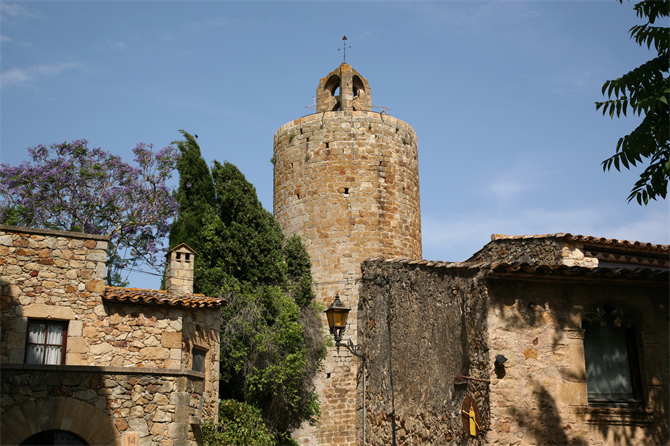 - The circular Romanesque tower Torre de las Horas (Tower of the Hours) really stands out. It was built between the 11th and 13th century. The main road into the village winds upwards towards it. The tower is what remains of the castle, which was destroyed during the Catalan civil war in the 15th century. It was then converted into a Gothic-style bell tower, which explains its name: 'Tower of the Hours'. In total, four towers are left from the original fortification and they are linked by its defensive stone walls.
- At the highest point you will find the mirador Josep Pla, named after the writer of the nearby coastal town of Palafrugell who liked to describe Pals in his work and once said: "Pals is good not for one but a hundred visits." From this viewpoint, you will have panoramic views of the Medes Islands, Montgrí Massif, Canigó and Sierra de l'Albera.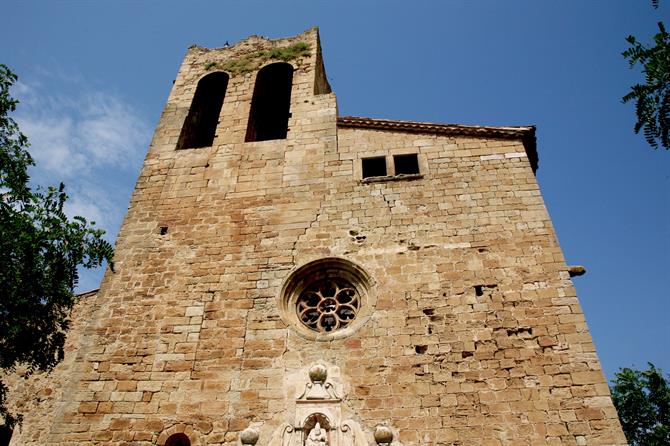 - The church of Sant Pere has existed for over 1,000 years. Part of the stone with which it was constructed comes from the old castle of Pals. Over the centuries, it has become a mix of different architectural styles: it has a Romanesque base and Gothic and Baroque elements, plus an 18th century bell tower, for example.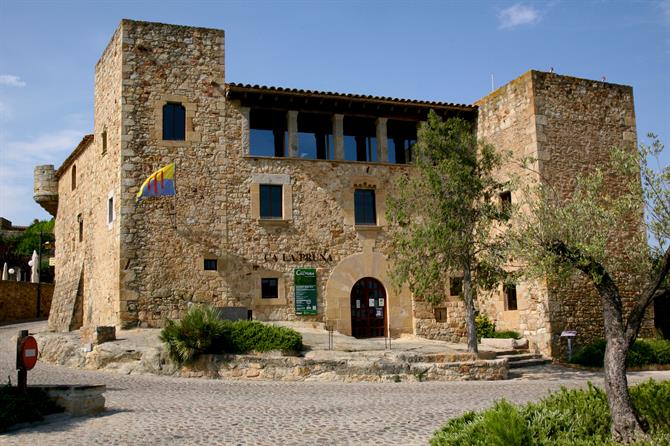 - The fortified Museu-Casa de Cultura Ca La Pruna dates back to the 15th and 16th century. It has a permanent exhibition of Catalan wines and cavas and a replica 18th century pharmacy. It also houses the Museum of Archeology, where you can observe objects found on an English warship, which sank during the War of Independence (1808) at the siege of Roses - a pleasant beach resort today.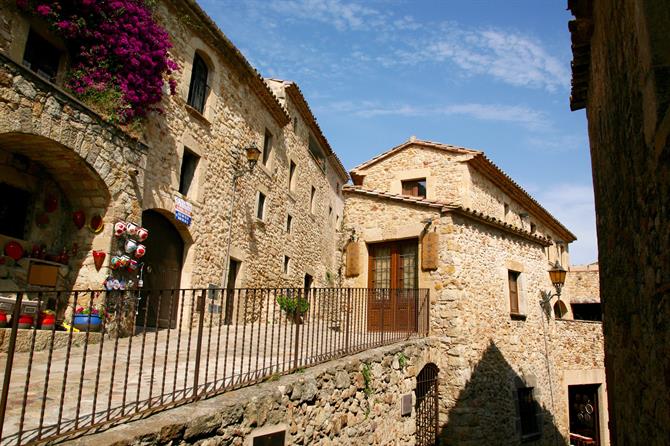 As you explore the village, you will come across a few art galleries and nice little shops where you can buy colourful Catalan pottery for a good price.
When you need a rest or simply wish to relax, you can have a drink at one of the terraces in the stunning historical setting of Pals - for example in the central Plaça Major, a lovely square and home to the town hall.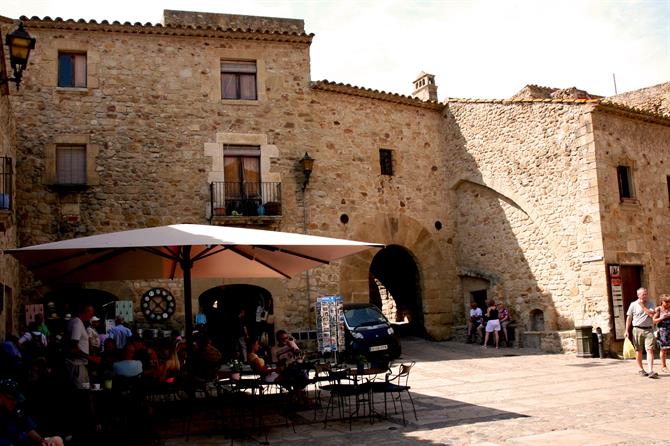 If you're hungry, be sure to order the traditional rice dish Arròs de Pals a la cassola in one of the local restaurants. Pals has, after all, been producing rice for almost five centuries. There's even a special 'Pals and its rice cuisine' gastronomy campaign in early spring, which is explained in our next point.
2. Discover and enjoy the local rice and gastronomy
Routes or tours between rice fields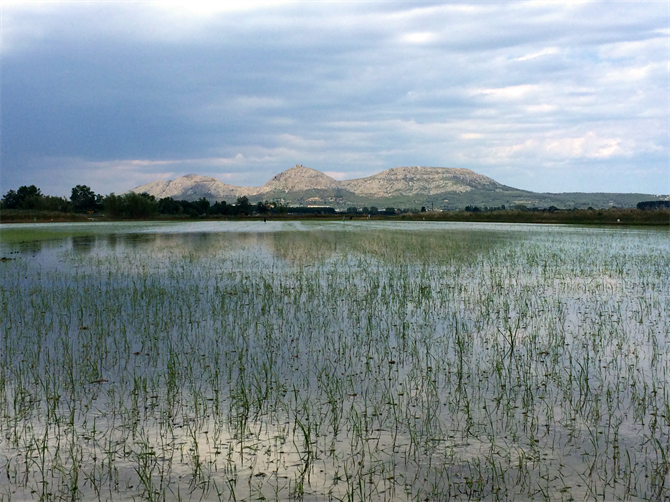 Imagine discovering rice fields on foot or by bike on trails which take you right through them, or by taking a little tourist train, from where you can enjoy amazing views over the rice fields (they are an intense green colour in the summer months), with Montgrí mountain in the background.
This rice tour with the 'Xiulet de Pals' train (approximately 90 minutes) includes a visit to the mill, which has been milling and processing rice since the 15th century. It also includes demonstrations by the guide. The tour is available in English as well. (From April to October, more info: http://www.elxiuletdepals.com/en/route-of-pals-rice/ or call 628 59 79 72)
The 'Gastronomic Campaign of Pals and Rice' and a Wine Festival (April-May)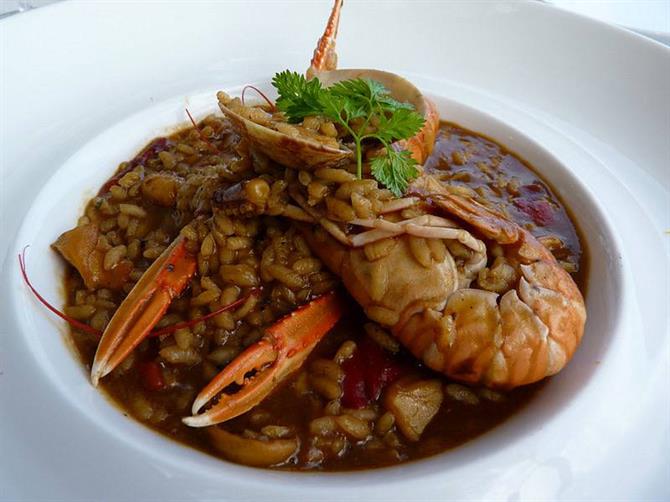 - If you stay in Pals in April or the first half of May, you will be able to enjoy a special rice event: the 'Gastronomic Campaign of Pals and Rice', in which the rice mill, the town council and local restaurants participate. A unique chance to find out everything about the quality and history of Pals' primary product, as there will be guided visits about the history and traditions related to rice, markets with local products, cookery courses and conferences, craft workshops and so on.
The best part of this event is the special menu served by local restaurants, featuring a stew made with Pals' rice as its main course, along with the restaurants' usual starters and desserts.
- April is also when the Vivid Wine Festival takes place on the Costa Brava, with more than 100 different activities in the Empordà region, including wine tasting, wine therapy treatment, nature trips, open days and specialised activities for professionals in the industry. (More info: Doemporda.cat)
The traditional 'Sowing of the Rice': a festive demonstration (June)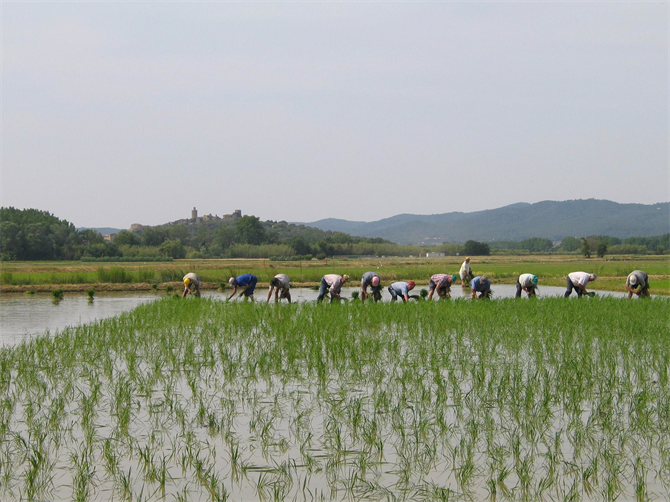 A great month to visit the area is in June, when visitors will be able to see how people in Pals used to plant rice manually, standing in the water, with their backs bent, before machinery was invented.
During the 'Sowing the Rice' celebration (La Plantada) every year, senior farmers of the area show visitors how this was done. This unique demonstration is followed by a local country breakfast and several activities focussing on rural life and rice farming.
The traditional 'Rice Harvest': a festive demonstration (October)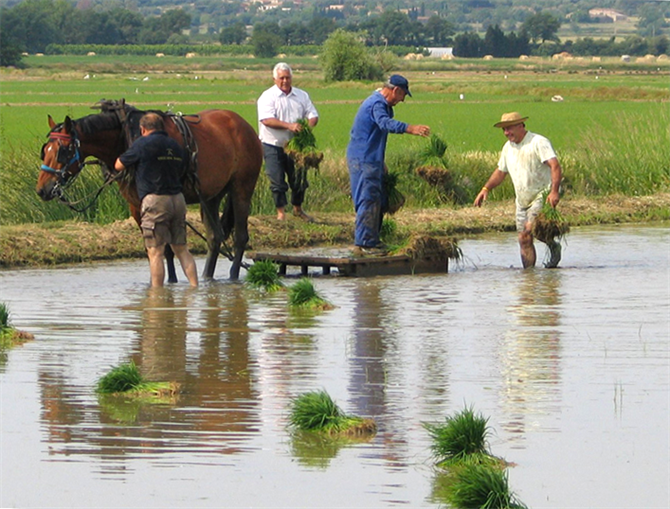 In October you can see how the rice that was planted manually in June is harvested by the same method, with the senior farmers cutting the stalks, making stacks and placing them on a wooden barge pulled by a horse. These festivities end with a public rice meal.
A Michelin star restaurant, chosen 'Best of the World'
If you are a foodie, you should not miss a visit to the famous three-star restaurant Celler de Can Roca in Girona. It has been the number 1 on the list of '50 Best Restaurants in the World' by Restaurant Magazine on several occasions, so be sure to book a table many months beforehand!
Pals' Cheese & Wine Fair (August)
If you visit Pals the end of August, you will also be able to enjoy an excellent gastronomic event: the Catalan Wine and Cheese Fair (Fira de Vins y Cavas de Pals), focussed especially on the Empordà region.
For two evenings, the beautiful courtyard of the Ca La Pruna building offers an exhibition space for Catalan wines and artisan cheeses, for both local and foreign visitors to taste and discover the different Catalan 'Denominaciones de Origen'. You can buy a ticket for just wine or cheese tasting, or a ticket which combines both.
Nit d'Espelmes: a magic summer night in Pals (August)
Apart from all these delicious gastronomic events, Pals also organises a special night, the Nit d'Espelmes, mid-August, when all the lights in the village are replaced by candlelight.
More than 10,000 candles are lit to give the architectural beauty of Pals a wonderful atmosphere, with artists from all over the world giving outdoor concerts within this magical setting. An event inspired by the Notte delle Candele celebrated every year in the Italian village of Vallerano.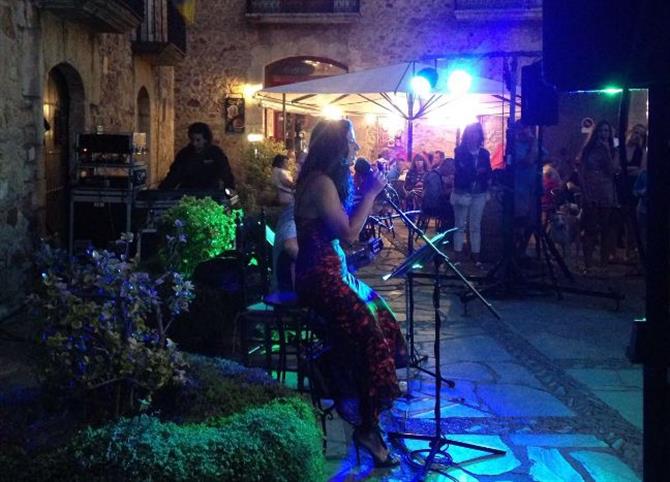 3. Disconnect in the Natural Park
Pals is part of the Natural Park of Montgrí, les Illes Medes i el Baix Ter. If you like being active, you will find that this Park offers numerous excursions on foot, by bike or even on horseback.
It is also a nice walk or bike ride to the bird observatory. Given that the swamps and wetlands attract many birds, you can go there and do some bird watching.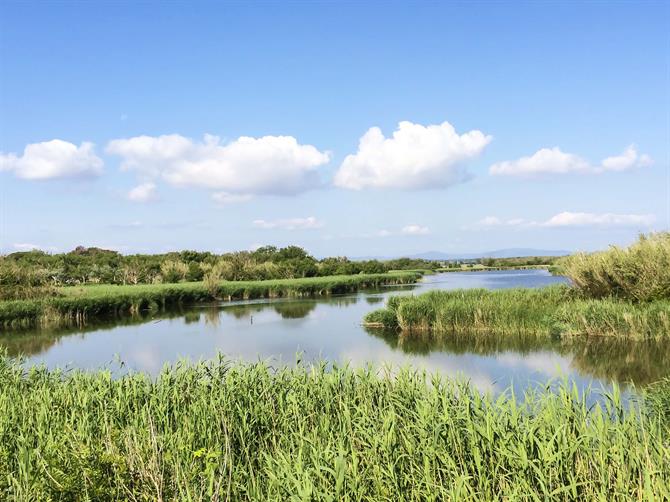 If you are up for a really good hike or bike ride, you can set the Massís del Quermany mountaintop as your goal. You will be rewarded with amazing views over medieval Pals perched on the top of Mont Aspre, the rice fields and wetlands, Pals beach and the Medes Islands, the Pyrenees and the Gavarres mountains. Prepare to take some great pictures or just enjoy the landscape and take it all in.
Also, if you are travelling with children or interested in an exciting outdoor adventure, check the Parc Aventura Costa Brava in our Family Guide to Pals.
4. Be active or relax on the beach of Pals
Medieval Pals is not a beach town, which makes it more peaceful (especially outside July and August) and gives it its rural charm within the natural surroundings. And still, it has a beach at just 3 kilometres from the village, one of the longest of the Costa Brava!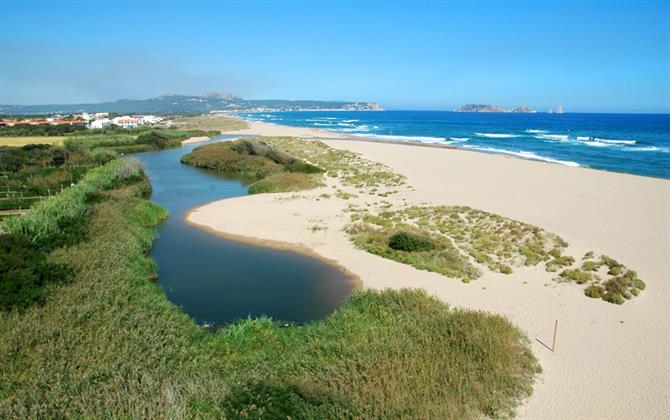 Platja de Pals, a long stretch of golden sand and part of the natural park, is not only a place where you can sunbathe and enjoy the views over the Medes Islands, but also a spot to go for long walks along protected dunes and special ecosystems such as the wetlands and rice fields along the beach.
Watersports, golf, diving and other activities are all possible at this beach. If you can, go and enjoy its beauty outside the busier summer months. September and october usually have great weather and the water is still warm after a long hot summer. Find all the info you need in our guide to the beach of Pals.
5. Go and see the best places around Pals
There are plenty of day trips you can choose around Pals. If you loved medieval Pals, then you will have to visit the walled village of Peratallada as well, only 10 kilometres away.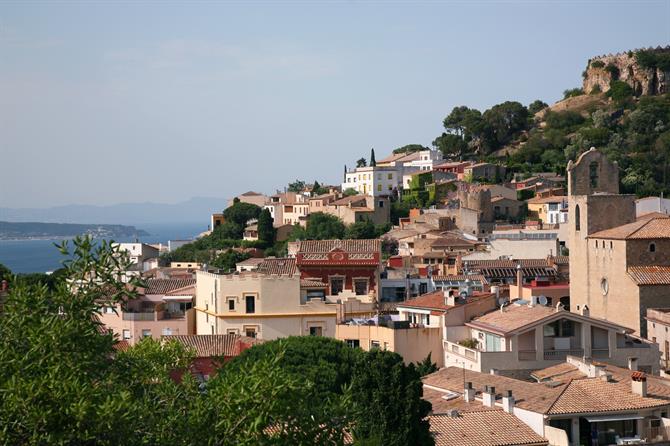 The neighbouring beach holidays destinations of Begur and Palafrugell are attractive villages with various beaches and coves renowned for their beauty. You may be familiar with their names already: Sa Tuna, Tamariu, etc.
The picturesque and historical town of Girona is only 45 km away and offers an excellent day trip. Not to mention Barcelona, which has plenty of things to see and do, at about 130 km. With so many things to enjoy in and around Pals, one holiday in this area may just not be enough!