Once upon a time, capital Las Palmas de Gran Canaria was Gran Canaria's main resort. And then people, especially tourists, realized that the sun shone more in the south. Leading to the development in the 1960s of resorts such as Playa del Inglés.
Southern electric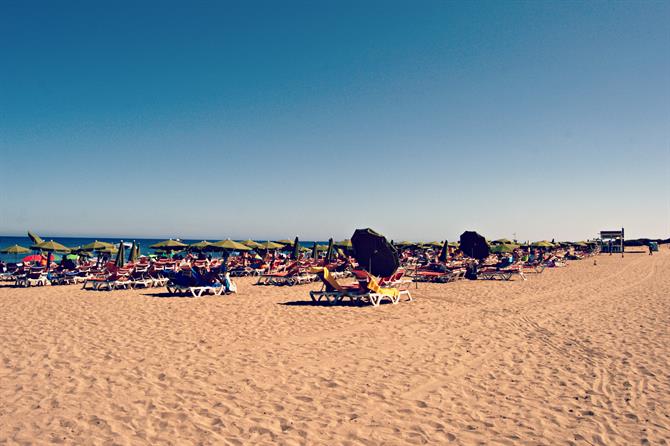 I caught Global's 30 from Parque San Telmo to Playa del Inglés (5,60€). Getting off at the Yumbo Centrum, it was a 5-minute walk down to to the beach. And a journey far quicker than if I'd opted for the more indirect 1 which veers off the GC-1 to pick up passengers from the likes of Vecindario.
As soon as I left the shade of the bus, the bright sun stung my back despite the fact I remained fully clothed. No surprise there as centigrade temperatures are, on average, five to ten degrees hotter than they are in the north of the island. Which explains the proliferation of beach umbrellas. They're parasols, baby, rather than umbrellas to stop you getting wet.
Beach living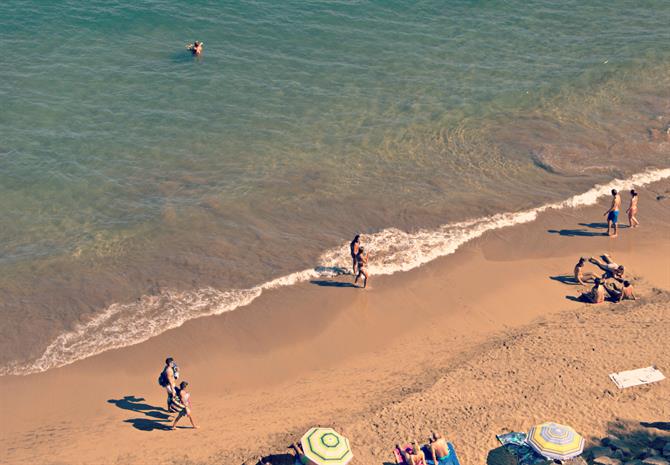 Off the beach, you can understand why it's called Englishmen's Beach. As bars compete to offer the cheapest drinks to scores of English tourists. Check out the replica-shirt-wearing football fans lapping up the two-to-one drink offers whilst cheering on their favourite Premier-League team.
In fairness, though, there are just as many German football supporters watching their fave Bundesliga side. On the beach, it's a different matter altogether. As you'll just as likely to hear Spanish as English or German. Many locals make their way to Playa del Inglés, especially in the summer. These include those travelling from the capital Las Palmas de Gran Canaria to avoid the dreaded panza del burro, the big, black cloud known as the donkey's belly.
Far and wide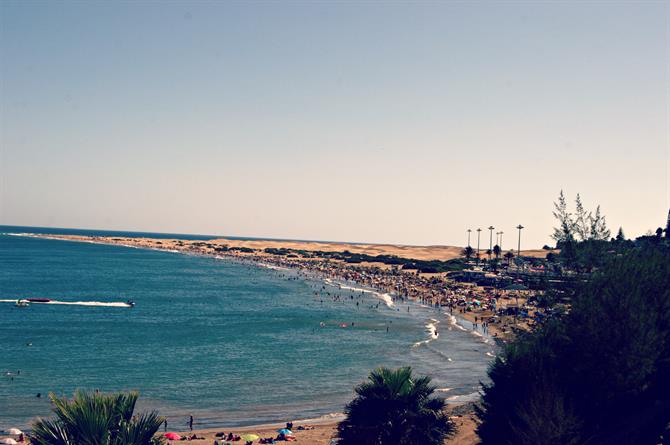 At 2,700 metres, Playa del Inglés is the third-longest beach of the island. Just 10 metres shorter than neighbouring Maspalomas, it's a more considerable 1km shy of Las Palmas de Gran Canaria's Las Canteras. And, although, it's always busy, being so long, you won't struggle to locate a free spot to plonk down your towel.
Forming a mega beach with the likes of Maspalomas and San Agustín, it's difficult to know where one beach begins and another ends. Although the dunes are a pretty clear demarcation point. At the other end, the current refurbishment of Playa del Veril makes it easier to see where Playa del Inglés ends.
Keep calm and carry on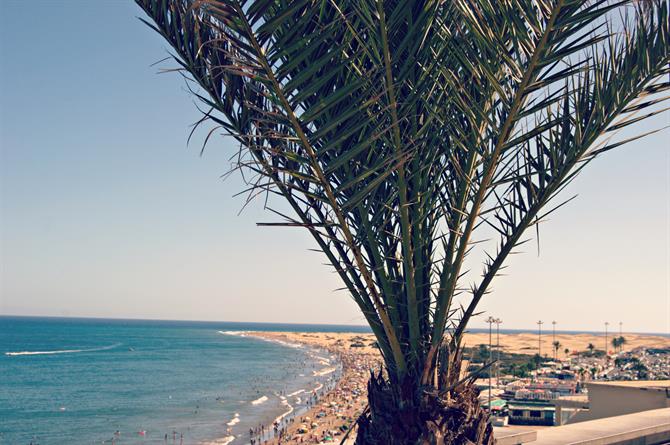 One way of keeping cool is to take a leisurely stroll along the palm-lined promenade. And if you get too hot and bothered doing this, there are numerous watering holes to refresh yourself at. Bear in mind, however, that the more you move away from the beach, the more built-up Playa del Inglés becomes.
Playa del Inglés, the resort, has a bit of an image problem. Dismissed as tacky, its '70s shopping centres now seem out of date. Although there has been an attempt to gentrify the area with a number of more exclusive beach bars opening. Or you could just visit its peach of a beach.