Awarded the title of Best Marina in the World on two occasions, Puerto Marina in Benalmádena, in the Málaga Province, is often described as a modern Venice.
Y
ou'll notice that the port is made up of artificial islands, connected by small bridges, which house many apartments. What could be better than
staying in a holiday rental along the port
, just steps away from the marina and your day-time boat?
Video of Puerto Marina in Benalmádena
While the marina's architectural style is difficult to define, some note strong Indian, Arabic and local Andalusian influences.
Strolling around the marina you'll find great shops, restaurants, cafés, and activity options including boat trips, paragliding, and dolphin watching.
If you're travelling with your family, don't miss the Sea Life Aquarium where you can get up close with some of coastal Spain's marine creatures.
Visiting the Sea Life Aquarium in Benalmádena
Puerto Marina's Sea Life Aquarium boasts over 2000 aquatic creatures including sharks, sea turtles, and sting rays.
It is an ideal place to visit with kids of all ages because there is tons to discover, not to mention that there are daily feeding demonstrations and opportunities to hold crab and starfish.
You can also witness shark feedings three times per week.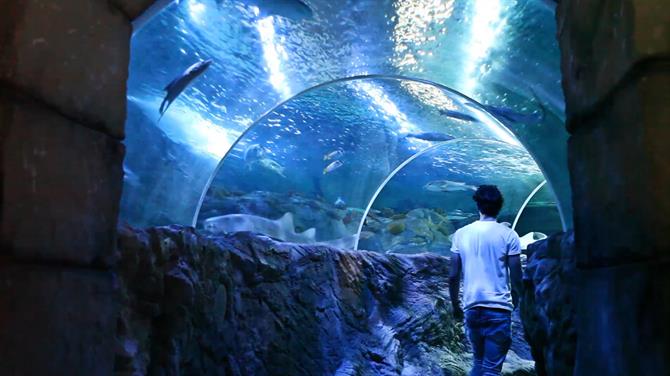 Open daily from 10 am to 6 pm, admission for adults is 15.50 € (12.50 € in advance online), and 12.50 € for children 3-9 years old.
After your visit don't forget to play a round of miniature golf above the aquarium.
Where to Eat in Puerto Marina
Your next stop is lunch at one of the port's great restaurants. With 44 international choices, you won't be short of great options in Puerto Marina.
No matter which restaurant you choose, you'll have a great view of the sunny port and the 1000+ boats that line the harbour.
You can grab a burger at Jack's American Pub or nachos at Amigos Mexican Grill, but I have to say that my personal favourite is
Los Mellizos - El Mero
, which specializes in seafood.
One must-try recommendation at El Mero, outside of the purely seafood category, is ensalada templada, a warm salad made up of endive lettuce, shrimp, bacon and roquefort blue cheese. Actor Antonio Banderas is also said to love the place and visit when he is in town.
Below you'll find a selection of some of many restaurant options in Puerto Marina:
- Sakura for Oriental cuisine
- Angus for Argentinian steak
- Ruby for Indian dishes
- El Greco for Greek
- La Marina for Chineese, Thai and Korean options
- La Parrolaccia for pizza
- Pinocho for Italian food
For dessert, head to la Gelateria Di Porto Marina. You'll find the best gelato of the port here, no questions asked.
Activities in Puerto Marina
After lunch, stop in at one of the many cafés or go shopping at Puerto Marina's shops; you'll find clothing, jewellery, sunglasses and accessories, and, of course, tons of souvenirs.
Another great day-time activity is heading out on a boating, dolphin watching or paragliding adventure. These activities are great for all ages and you'll have no trouble finding offers just by strolling along the port.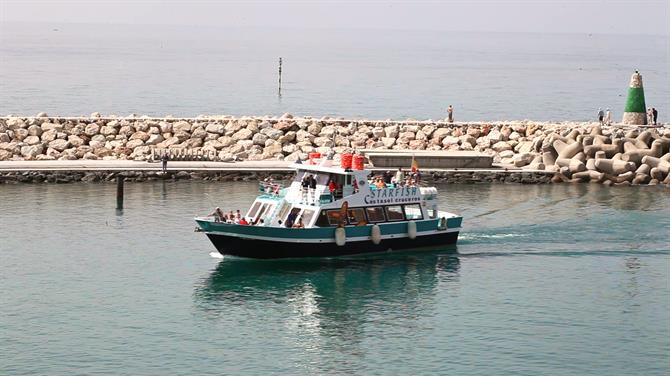 Another option is visiting the
Colomares Castle
in Benalmádena Pueblo, just a fifteen minute drive away from Puerto Marina. This castle is
a monument dedicated to the life and adventures of Christopher Columbus
and is definitely worth a visit.
Nightlife in Puerto Marina
Puerto Marina is not short of bars and nightclubs, and is listed as one of the best places to go out in Benalmádena. The surrounding area boasts many options, so you'll have plenty of places to choose from.
I've been told that a must-try is DECs Irish Bar, which is supposed to have fantastic cocktails. A friend who has lived in Benalmádena for three years recommends the chocolate cocktail.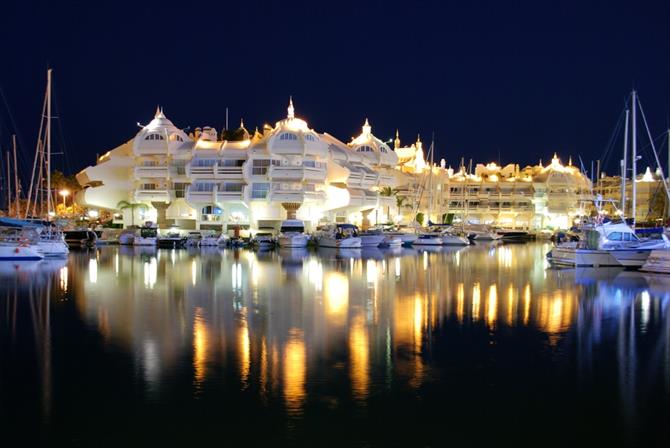 No matter which bar you head to on your night out in Puerto Marina, there will be beautifully-lit views of the surrounding yachts and you'll be glad to be here in Spain.
Below are a selection of some bar and nightclub options in Puerto Marina:
- Kaleido, where you can sit back and enjoy the views of the Marina from a large terrace. The cocktails can be expensive, but admission is usually free. This is a very popular venue in the summer time.
- Mombasa, this nightclub which has a British colonial decor is a favourite among all ages. This might have something to do with the fact that they serve a complimentary drink upon entry.
- Discoteca Maracas is part of a chain with venues in Málaga and Torremolinos and mainly plays international pop music.