Is there anything better than practising your favourite sport and getting to know a new beautiful area of Spain?
Here we have chosen five of the best places to run along the Costa del Sol; some are ideal for a quick jog while others are perfect for a couple hours of long-distance running.
Until you arrive, we leave you with this HD video so that you can experience running in the city of Málaga now!
Running in Málaga Video
Route 1: Málaga City


Plaza de la Marina - Muelle Uno - Malagueta - Baños del Carmen
Distance: 3.8 km (one way)
In Southern Spain the best time to go for a run is usually in the early morning or late evening. This circuit is definitely worth waking up early for, so you can see the gorgeous sunrises along the coast.
Our route starts at Plaza de la Marina, at the entrance of Málaga's new port. The port is very central, about 2 minutes away from the famous Calle Larios. From Plaza de la Marina to Muelle Uno, the port's outdoor shopping area, a slow warm up jog will give you the chance to admire the port's beautiful glass panes and peek a the boats lining the harbour.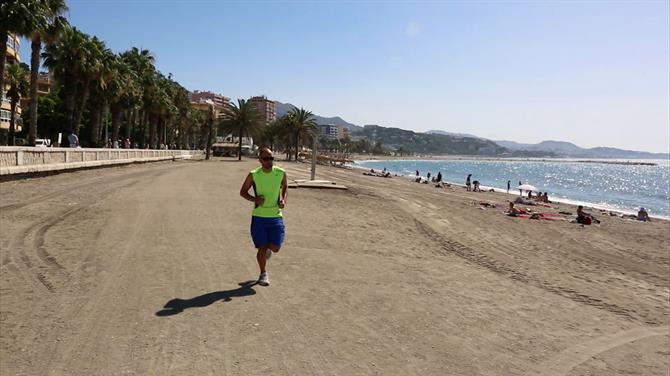 Following the port you will eventually reach La Malagueta, the city's well-known central beach. Here you can run along the sea or the paseo marítimo boardwalk, where you can take advantage of the open air exercise machines scattered along the way.
After La Malagueta, as you make your way down the paseo, you'll notice Baños del Carmen, a large seaside bar which is very popular with locals, from afar.
Built in 1918, this picturesque and charming building is known for its incredible views of the sea. What's interesting is that it once served as public baths for Málaga's upper class, and it was supposedly at this location that men and women could bathe together for the first time in Andalusia without the customary curtain separating them and preventing any "wandering eyes".
From this point, you can choose to finish your route and lounge on the beach or extend your run along the Playa de Pedregalejo which boasts colourful fishing cottages and excellent restaurants and cafes.
Route 2: Benalmádena


Parque de la Paloma - Puerto Marina
Distance: 5 km (round trip)
Both the Parque de la Paloma, the park of the pigeon, and Benalmádena's port, Puerto Marina, are great places to run.
This route captures the best of nature and the city, and you'll have no problem combining both spots as the run from the park to the port is about 2.5 km.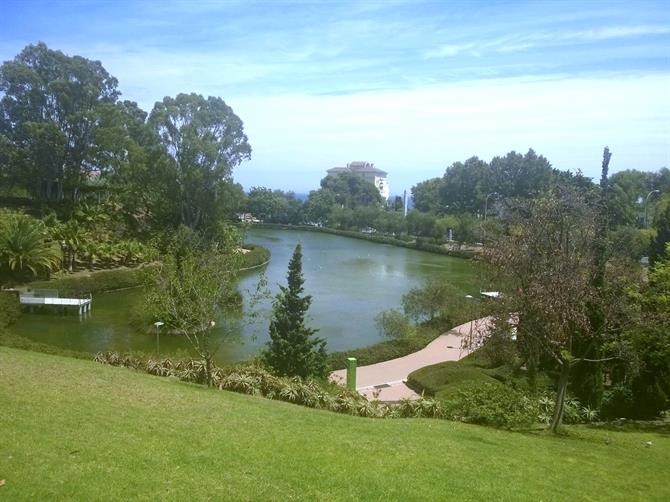 The park is open from 9:00 to 22:00 year round, with hours extending to 23:00 during the summer season.
You can start with a warm-up on the outdoor exercise machines located around the park's lakes or take a jog on the number of hills. You'll also be sure to see some wildlife along the way, as many rabbits, roosters and peacocks make their home here!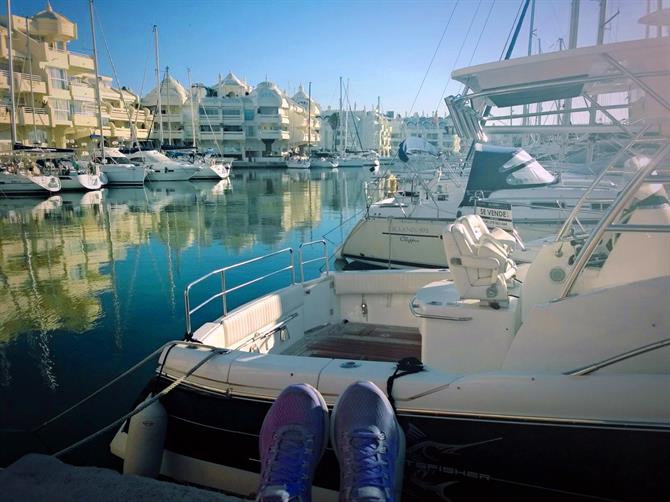 As for Puerto Marina, it's best to go early in the morning because during summer evenings the port is filled with tourists and you might find yourself needing to slalom between people. On your return, you can treat yourself to breakfast at one of the many cafes.
If you want to lengthen your run, you continue along the paseo marítimo to the next village on the coast, Torremolinos.
Route 3: Marbella
Puerto Banús
Distance: 4 km - 6 km (round trip)
Puerto Banús, Marbella is perfect for those who prefer a quick run or maybe a stroll with some window shopping along the way.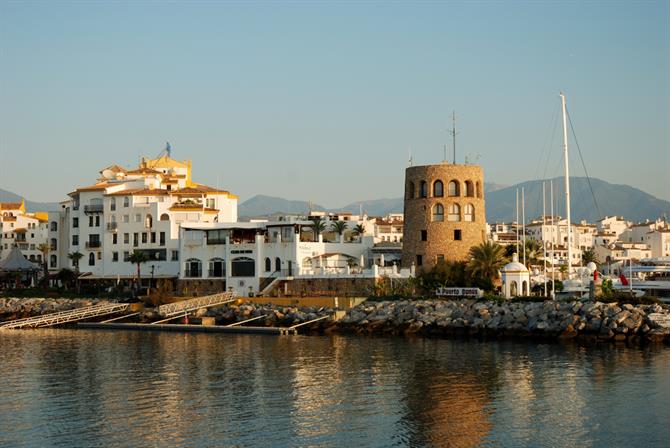 Puerto Banus is often referred to as the Spanish St. Tropez or Monaco, and it is here that you can find the country's highest concentration of luxury boutiques per square metre. Along the way you'll be able to admire some of the most luxurious yachts that line the port, all the while checking out the latest collections from Tom Ford to Louis Vuitton.
In the summer it's best to start your run at the Puerto Banús harbour in the morning when cafes are opening and visitors are just getting out of bed and packing their beach bags.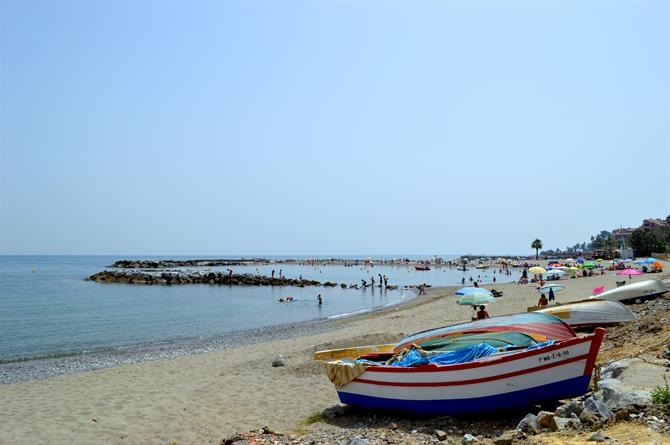 Following a warm up along the port, you can either head 1.5 km over to Playa Nueva Andalucía or 2.5 km to Playa Río Verde.
Want more beach options? There are tons of great beaches in Marbella that can withstand long runs, with fewer opportunities to shop.
Route 4: Fuengirola
Paseo Marítimo Rey de España Boardwalk
Distance: 8 km (one way)
The Paseo Marítimo Rey de España in Fuengirola is the longest in all of Spain at 8 km in length and sandy beaches that never seem to end.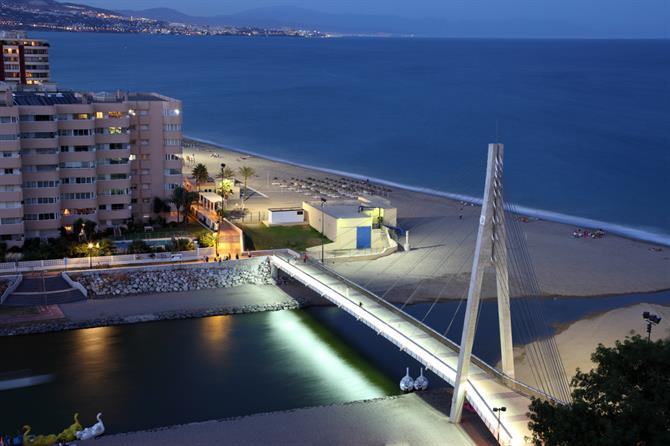 A good place to start is running Castillo Sohail, where the seaside passage begins.
Along the harbour, Puerto Deportivo and Los Boliches, it can be a little crowded, but when you get to the Torreblanca and Carvajal beaches you will almost have the place to yourself. You'll only see a few people with their dogs, some walkers, and some runners with the sound of the sea in the background.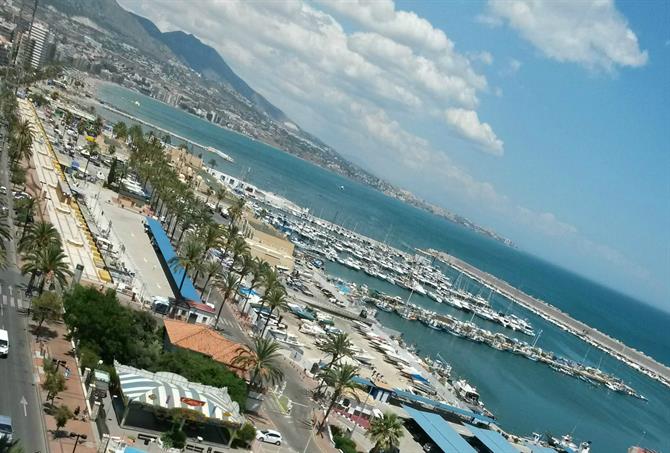 Every little while along the beaches, just like in Málaga and Benalmádena, you'll find outdoor exercise machines where you can work out a little, stretch or catch your breath.
Route 5: Outside Málaga City Centre
Los Montes de Málaga
Distance: 10 km - 22 km (round trip)
The Montes de Málaga, the mountains surrounding Málaga city, is an option for hardcore runners.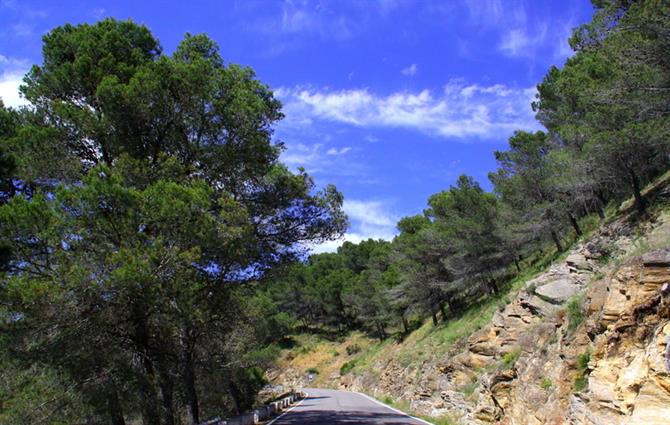 Highly recommended are two well-known routes enjoyed by Málaga trail runners: the 10 km circuit or the 22 km one.
The mountains are accessible off of the A-7000 highway about 14 km from Málaga, so it is best to drive there.
You can also pack lunch and invite a few friends to hike and spend some time in nature for the day in this protected natural park.
Running in the heat
For both long and short routes it is important to remember to properly prepare yourself before your run, because regardless of the time of day the temperatures on the Costa del Sol are high.
Mateusz Jasiński, runner, coach and Polish running blogger, who recently completed 90 km ultramarathon in South Africa, gave us some tips for runners on vacation in hot countries.
He suggests to consider these facts when planning to run in the heat:
Hydration - Have about 500 ml of water an hour or two before your run, and make sure to stay hydrated during your run and have some water about every 20 minutes.
Clothing - Avoid cotton and opt for breathable clothing all the way down to your socks, and of course don't forget your sunglasses and a hat.
Time of day - In Andalusia running midday isn't usually worth the fight against the sun. The best time to go is in the morning when the sun hasn't been out for too long, or in the evening after sunset.
Cooling down - Due to the high temperatures you should make sure to dedicate at least 10 minutes to walk to a little and cool down.
Use your seaside surroundings - Along the Costa del Sol you'll usually find yourself close by the sea, so why not stop for a splash to cool off?
Map of the Best Places to Run on the Costa Del Sol