Roses can be found in the province of Girona on the Costa Brava. When it comes to beaches, all tastes are catered for in this area. Whether you prefer big beaches with a lot of facilities or prefer smaller, more secluded bays and coves, you'll find it here. It doesn´t matter where you're heading: you'll be able to enjoy the calm sea and the Mediterranean sun everywhere.
We start off this guide with the best urban beaches of Roses which are perfect if you want to go to the beach near the city centre. Later on, we will talk about the most beautiful beaches of Cap de Creus. We'll take you on a journey to discover these little pieces of paradise.
Urban beaches: Roses Beach, La Punta, Santa Margarita and Palangres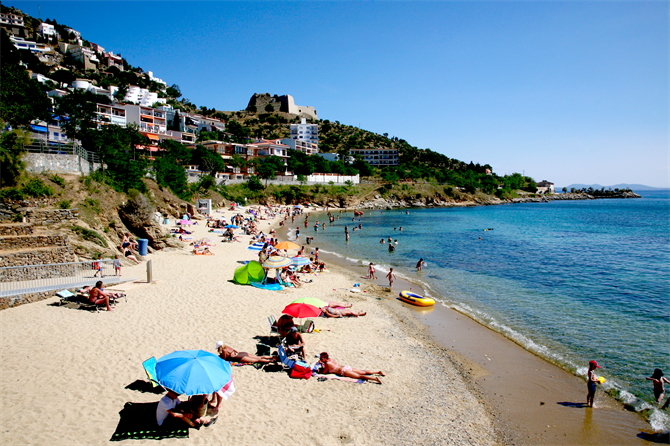 Roses is the perfect location to enjoy the beach, the sea and the tourism of the Costa Brava. In this little town´s centre you'll find various beaches with fine sand and shallow water, there's also many facilities, such as restaurants. This makes it a great place for a family holiday.
Roses Beach is approximately two kilometres in length and consists of three parts: Nova Beach, Rastrell Beach and Salatar Beach. It is one of the most visited beaches of Roses, mostly because of its central location.
A little closer to the fishing port, we find La Punta Beach. This beach has a length of 550 metres, is very close to the centre and has calm water and fine sand. It is not surprising that this is a very popular beach during the high season.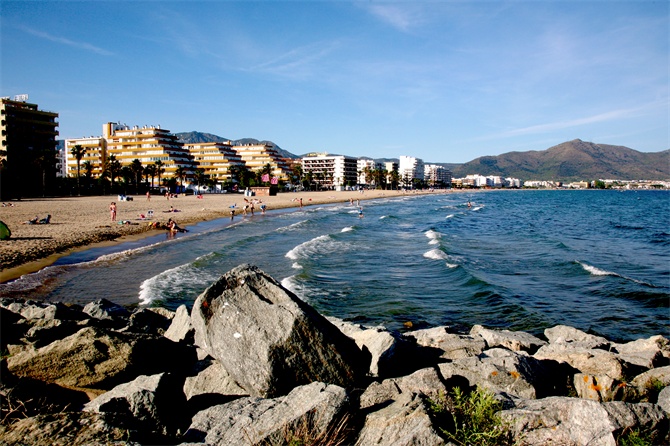 Santa Margarita Beach is one of the most well-known beaches due to its fine sand and clear water.
A bit further away, about one kilometre from the city centre of Roses, we find
Palangres Beach
. This beach is a lot smaller than the previously mentioned beaches; at just 150 metres long. However, this doesn't mean that it's not a great beach to spend the day at. It's even one of the most popular beaches of the area and has nice picnic areas. To enjoy your holiday and these beaches to the fullest, we recommend you
look for a holiday home in Roses
.
Canyelles Petites and Canyelles Grosses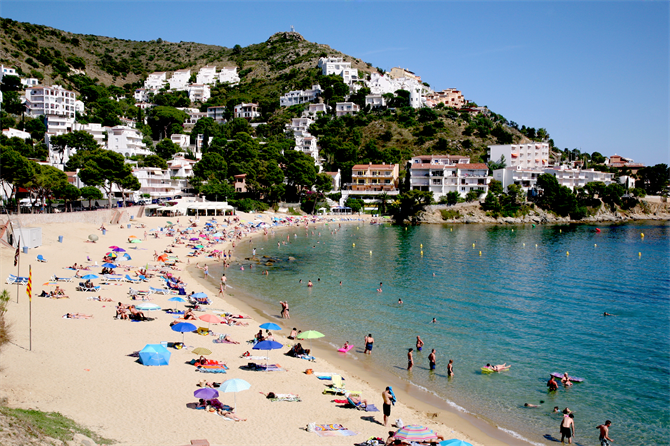 Located approximately 4 kilometres away from Roses, before we reach the
Natural Park of Cap de Creus
, we find two semi-urban beaches. They have clear water and golden sand, which offer the perfect settings to enjoy nature in its purest form. Both beaches are easy to reach from Roses, by car as well as by public transport.
The closest beach seen from Roses is the Canyelles Petites Beach. This beach is located a bit higher up, which guarantees a spectacular view. There are several facilities on the beach, from showers to toilets and first aid.
Located next to the Canyelles Petites Beach, we find the Almadrava Bay or Canyelles Grosses Beach. This beach is close to Cap de Creus and the sea is very shallow. This makes it ideal for young children that love to play in the water. Beach volleyball is also an option and you can even rent kayaks. We especially recommend the latter, as the paradisiac bays of Cap de Creus should absolutely be on your to-do list for the holiday.
Montjoi Creek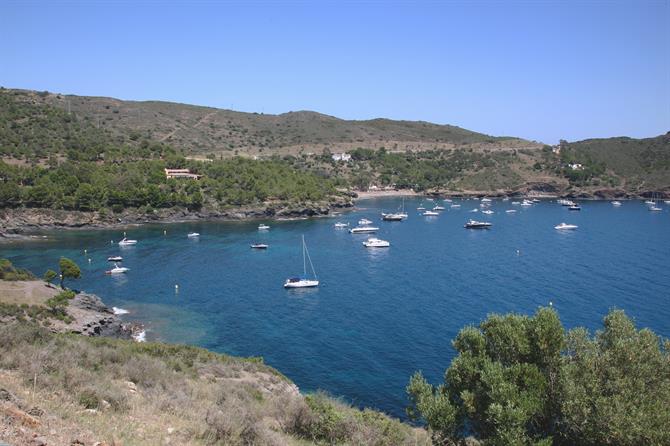 Seven kilometres away from Roses next to the Cap de Creus natural park, the Montjoi Creek can be found. The beach is 310 metres long and is the perfect spot to spend a beach day with the family. Previously, the Montjoi Creek was a hot spot for culinary lovers, who flocked here to taste a dish by
top chef Ferrán
Adri
à
at the
El Bulli
restaurant
. Unfortunately the restaurant does not exist anymore, but the Costa Brava is still a culinary paradise. For example, there are several restaurants with a
Michelín star
on this coast.
The beach is easy to reach by car and there are usually not too many people. The dark sand is mixed with flat, small stones.
Great accessibility, beautifully secluded surroundings and calm waters make the Montjoi Creek an amazing family destination. The great thing about this beach is that it also offers access to the little bays of Cap de Creus that are usually harder to find.
The Jóncols Creek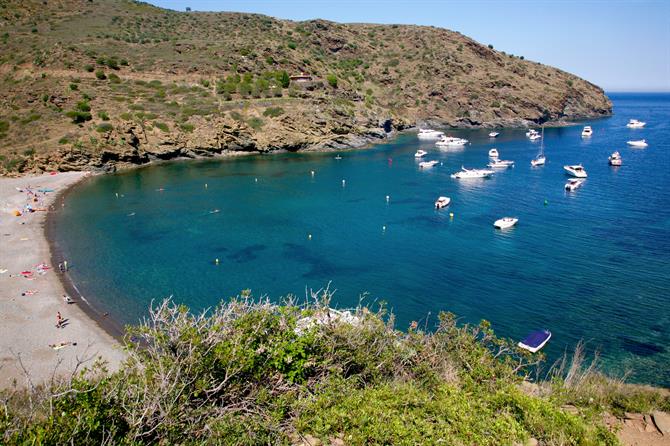 Cap de Creus welcomes us with a small, beautiful bay called the Jóncols Creek. It's a true oasis that boasts clear blue water and a rocky seabed. We can explore this even further by renting water sports equipment from the diving centre at the beach; here, you can rent everything you need for snorkelling and diving.
The beach is relatively difficult to reach, which results in fewer people coming here than on other beaches in the area. One advantage of this beach is that even though it is more secluded, all facilities are still available. You will find toilets, showers and parasols and sun loungers for rent. The Jóncols Creek feels like a true paradise and is still close to everything you need making it the best of both worlds. It can be reached by kayak, boat or by walking down a path from the Montjoi Creek.
Cala del Canadell
In the heart of the Cap de Creus natural park we'll find a little bay which seems deserted and untouched. It is a paradise for lovers of naturism.
The bay is difficult to reach, as there is no direct access by car. The lack of facilities contributes to the low amount of people that visit this beach. However, there is always the option to go to the Jóncols Creek in case you do miss something as this beach is less than a kilometre away.
The Canadell Creek is a good gateway for an excursion through the hidden caves in Cap de Norfeu.
The Càlitjas Creek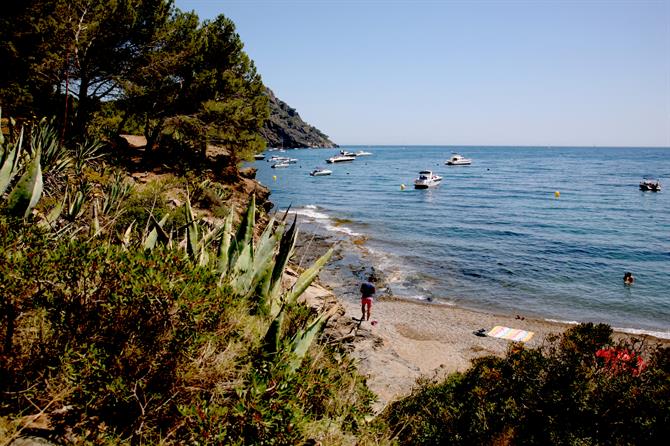 From the Montjoi Creek, we can also get to the Cala
Calitjàs Creek which is a beautiful, hidden bay in Cap de Creus. The beach is approximately 130 metres long and offers an amazing view of Cap de Norfeu and its beaches.
Due to the low amount of people going to this beach, it's a popular option for nudists and both divers and snorkelers can indulge on this beach. The ship ´Phedon´ sunk here in 1934 because of an explosion and now lies on the bottom of the ocean.
Just like the rest of the bays in Cap de Creus, the
Càlitjas Creek has got flat stones and clear water. Not far out from the shore, the seabed drops suddenly and becomes very deep.
The Rostella Creek
The Rostella Creek is a real Mediterranean paradise. This is the typical image we see so often: a gorgeous golden beach, secluded and surrounded by lush vegetation and turquoise-coloured waters. The only downside is the accessibility; you need a car and then to walk for 15 minutes before you get to the beach.
The beach has a length of 110 metres and the sand consists of small stones. Because of the fir trees that surround the bay, you will hardly feel any wind. This is also a great spot for divers; the clear water and the beautiful seabed attracts many enthusiasts and lovers of the sea. Cala Rostella is a true paradise on earth.
Map
As we have seen, the beaches in Roses and Cap de Creus are real treasures of the Costa Brava. The areas complement each other and offer a great collection of beautiful beaches and bays. It is the perfect destination for your holiday in Spain.
Finding accommodation in Roses shouldn´t be too much of a challenge, especially if you have a look at our selection of holiday homes. Put on your swimsuit, grab your sun lotion and a towel and get ready to discover paradise...