Set on the beautiful southeastern Spanish coastline of the Costa Blanca, you will find Santa Pola, the perfect holiday destination to relax and enjoy some well-deserved sunshine.
Video Of Santa Pola
Although it is a rather calm place, Santa Pola offers a wide range of activities for all age groups whether you want to take it easy or experience an adrenaline pumping adventure. Here are the top things to do and see in Santa Pola!
Relax On One Of The Many Local Beaches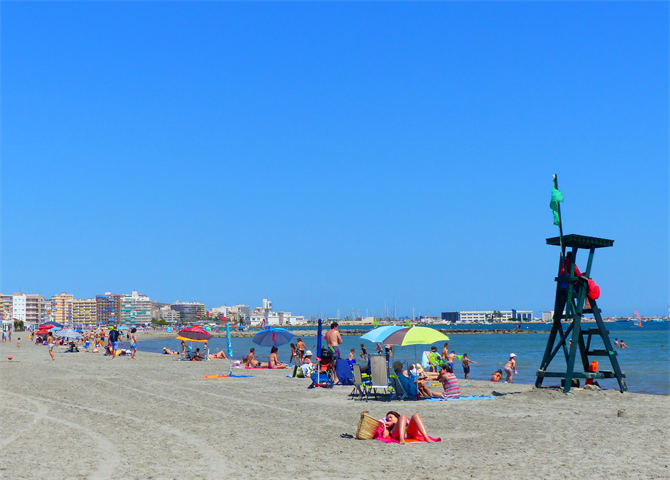 Santa Pola is a true beach paradise boasting long sandy stretches and more intimate, picturesque coves. On top of this, a lot of these beaches are situated close to the town centre so you will not have to walk or drive too far from your apartment in Santa Pola if you want to spend a day on the beach.
A beach that is well worth a mention is Playa Levante, which has been awarded Blue Flag status, here you can relax and enjoy all the amenities that you would expect from a high-quality beach. Another well-equipped beach is Playa de Varadero in the more urbanised eastern part of Santa Pola. These are two perfect places for a family beach day on the Costa Blanca.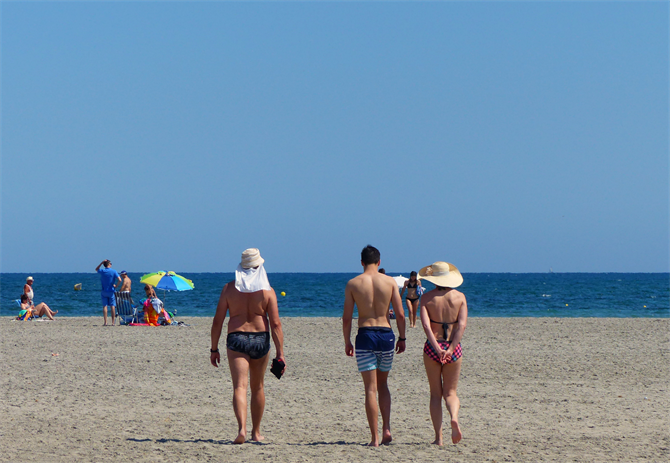 If you prefer calmer and more rural places, then beaches such as Playa de la Ermita, Playa de la Gola, the Calas del Cuartel and the Calas de L'Aljub should definitely be on your list. Other beaches that deserve a visit during your stay are Gran Playa, Playa Lisa, Playa Tamarit, Playa del Pinet and the Calas Santiago Bernabeu.
Watersports, Watersports, Watersports!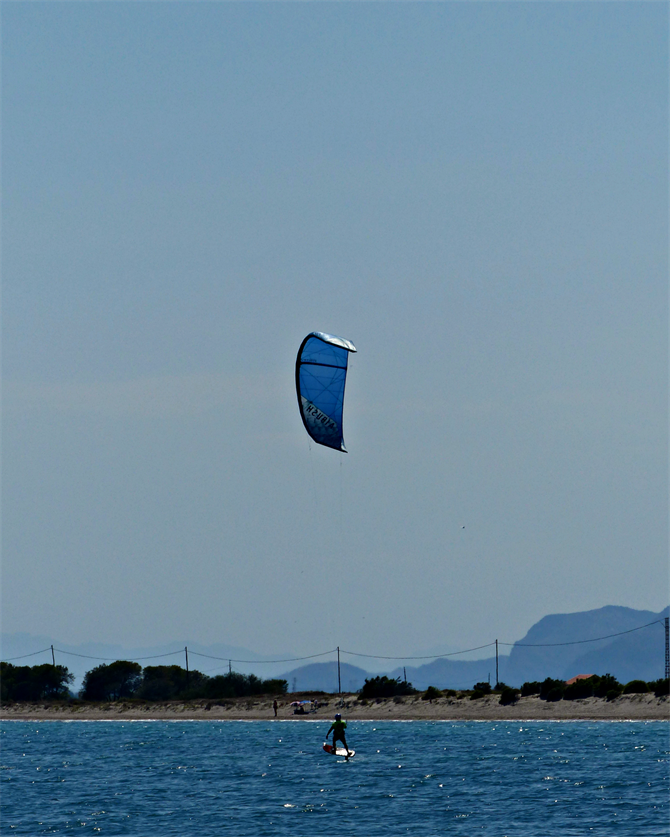 Santa Pola is a great spot for watersports enthusiasts. On many occasions, the local beaches experience conditions that are often ideal for windsurfing and kitesurfing with even world championship windsurfing events being organised in Santa Pola. There is a great local watersport scene too so you will have the opportunity to mingle and get to know some local fellow enthusiasts during your holiday on the Costa Blanca.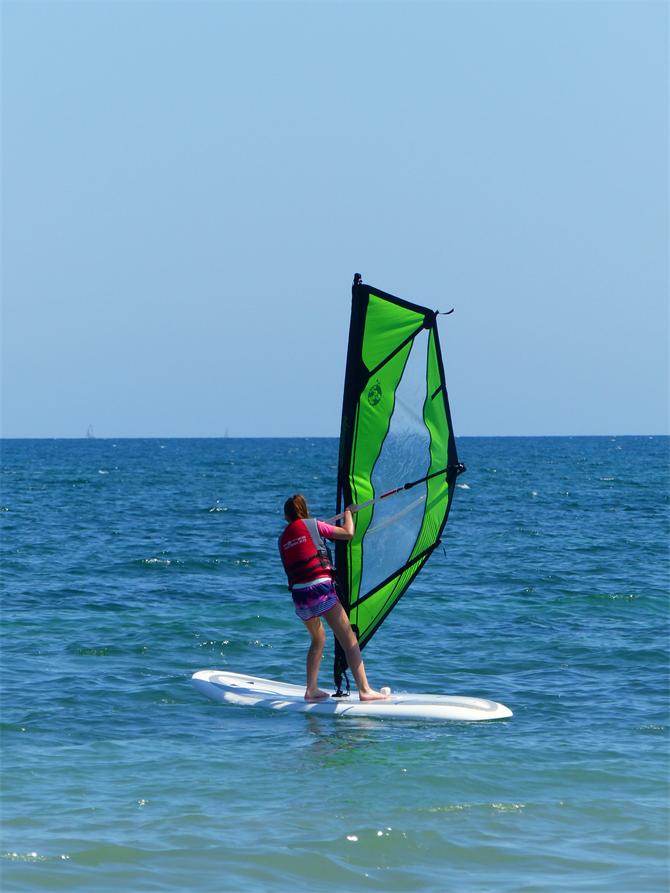 The best beaches for windsurfing in Santa Pola are Gran Playa, Playa Lisa, Playa Tamarit and Playa de la Gola. Furthermore, you will find several specialised clubs around these beaches where you can rent equipment and enrol in classes if you wish. Other watersport options in Santa Pola include sailing, paddle boarding, kayaking, scuba diving and snorkelling.
Explore The Famous Salt Flats Of Santa Pola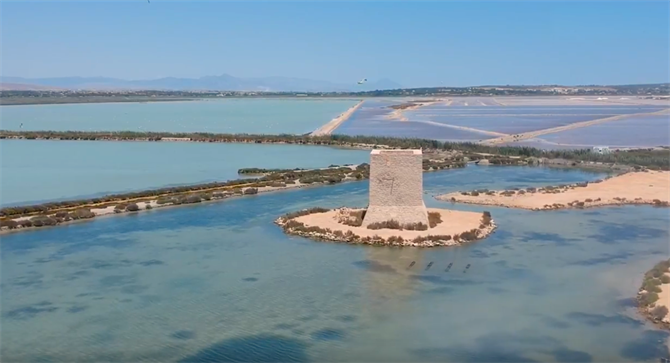 To the west of Santa Pola, you will find the Salinas de Santa Pola (salt flats of Santa Pola) which are a designated nature reserve and a Special Protection Area for the conservation of wild birds. The salt flats occupy 2,496 hectares, the exploitation of which started at the end of the 14th century. Today the salt is extracted from the flats and commercialised. At the reserve, you will find the Museo de la Sal (the Salt Museum) where you can learn more about the process of salt extraction and its history. The huge salt 'icebergs' are a reminder of the unique salt economy in Santa Pola.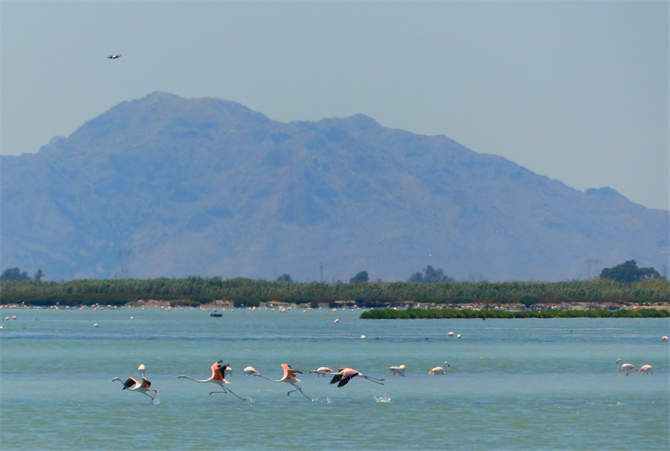 The salt flats are a great place to unwind and spend a day in nature with your kids. There are several walking routes that guide you through the park, where you can explore the unique interesting and varied flora and fauna as well as the undisputed stars of the salt flats which are the elegant pink flamingo's. Don't forget your binoculars because there are many more bird species to be discovered in the salt flats.
Visit The Castle/Fortress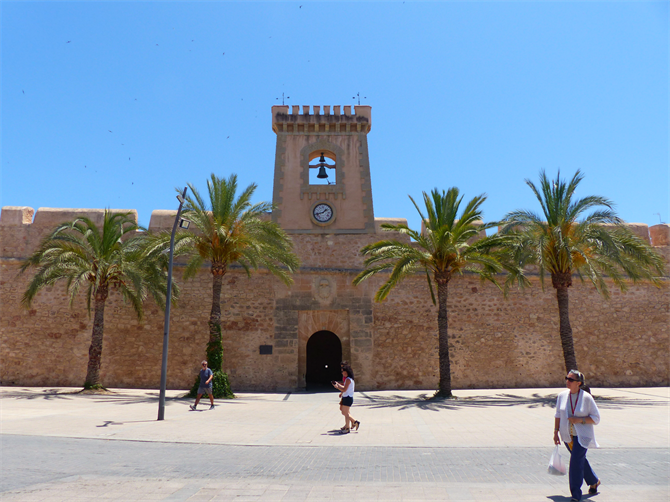 In the centre of Santa Pola, on Plaza de la Glorieta, you will find the castle/fortress of Santa Pola which is a Bien de Interés Cultural (a landmark of great cultural interest) in the province of Alicante. Built in the 16th century and a great example of military renaissance architecture, the castle's main purpose was to protect local seamen against frequent pirate attacks.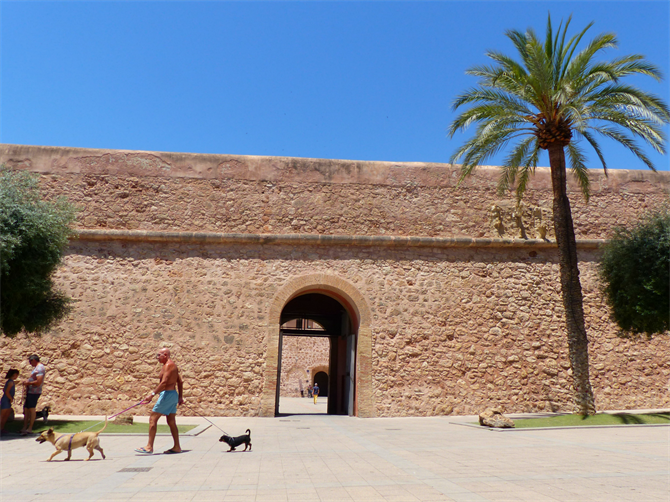 Nowadays, the castle is used as a cultural centre where cultural and religious events are celebrated, while it also houses the Museo del Mar (the Maritime Museum). You can enter the Santa Pola fortress via an access gate that leads up to a large patio called Patio de Armas. Be sure to have a drink or eat something on the bustling Plaza de la Glorieta while enjoying a view of the castle.
Have Fun In Pola Park
Having fun in Santa Pola does not get any better than Pola Park, a theme park of 24000 m2 with 30 attractions such as slides, flying chairs, a rollercoaster, a pirate boat, karts, mini-golf and so, so much more. Pola Park offers a range of activities and attractions for all age groups, only a stone's throw away from the centre of Santa Pola. The park also has numerous options for you to eat something, so you do not have to worry about packing lunch.
Pola Park is the perfect place for a family fun day out with prices starting from €3 for one attraction. We recommend consulting Pola Park's website for opening hours.
Marine Masterclass At The Municipal Aquarium
Another great option for a family activity is a visit to the Acuario Municipal de Santa Pola (Municipal Aquarium of Santa Pola) which is the largest saltwater aquarium in the whole Valencian Community. The aquarium serves an educational as well as an investigational purpose aiming to give people a chance to get to know local marine life as well as protecting and recovering protected species. 9 large aquariums are filled with interesting species and natural elements of their habitat, all for you and your children to explore.
Take A Boat Trip To Isla Tabarca
Santa Pola is the closest town to Isla Tabarca (Tabarca Island) with only 9 kilometres separating the two places. Isla Tabarca is the smallest island in Spain where people reside all year. The population of this island is around 80 people, but during the summer months, the island is busy with people visiting. Not surprisingly, tourism is the main source of income for the island.
The island's history reads like an adventure novel with Barbary Pirates seeking refuge on the island until the end of the 18th century. Around 1760, sailors from a Tunesian islet with the same name reigned by the Republic of Genoa found themselves shipwrecked near the island. They were rescued and eventually settled on the island together with Spanish soldiers. King Charles III decided to take action against pirates by fortifying the Island of Tabarca where the remains of which can still be seen today.
Nowadays, you do not have to fear pirates anymore if you want to visit Tabarca. There are several companies in Santa Pola who will happily take you to the island. One of them is Tabarbus who organise speedboat trips to the island that take no longer than 15 minutes!
Once you arrive on Tabarca, you will notice that the island's vegetation is desert-like. It is an ecologically interesting place which has been declared a maritime nature reserve called Reserva Marina de la Isla de Tabarca and is a sanctuary for the protection of birds. Do not forget your snorkelling gear as the pebbled beaches and picturesque little coves make for ideal snorkelling locations.
Enjoy The View From The Faro de Santa Pola
In the Northeast of Santa Pola lies the Faro de Santa Pola (lighthouse of Santa Pola) in a stunning natural environment with brilliant views of the Mediterranean and Isla Tabarca. It is a great place to put on your hiking boots and explore the coastal area on foot or by bike and enjoy a family day out in nature. Sporadically you will be able to spot paragliders and parasailers doing their thing in this area. Bring along food and drink as there are no restaurants or shops close by.
Santa Pola is a destination which offers endless possibilities to enjoy your holiday to the fullest. With beautiful nature, comfortable beaches, a theme park, and plenty of watersports opportunities, not forgetting the salt flats. Stay in Santa Pola for a special holiday on the Costa Blanca.
Map