The Camino de Santiago is a journey like no other. It is said that everyone who ventures the Camino leaves with deeper personal insights into relationships, surroundings, and self.
The many routes leading to Santiago de Compostela -- truly a city not to be missed if you're visiting Spain -- offer a spiritual trek that people from all over the world come to experience. It has earned a distinction of its own among the world's many pilgrimages, and one that should be experienced by everyone at least once in their life.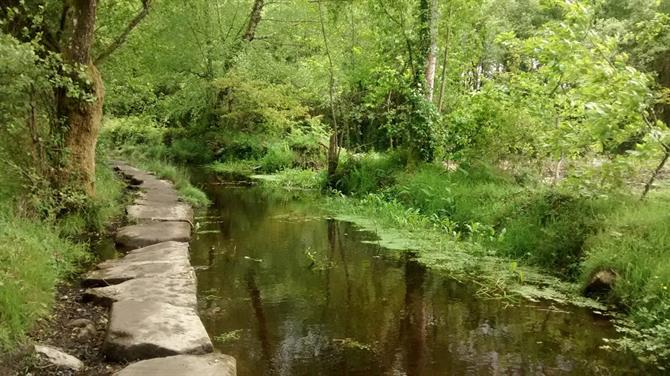 Some of the routes that lead to Santiago begin in southern Spain, while others start all the way in Paris. The most popular of the routes, Camino Francés, begins in Saint-Jean-Pied-de-Port, France. All of the routes meet at the cathedral in the ancient Galician city of Santiago de Compostela, Spain. Traversing through northern Spain guarantees diverse landscapes and breathtaking views. The trail itself varies greatly; from dirt to stone, pavement to streams, watching your step is critical.
The path, or The Way as it is commonly known, has seen people of all religions, backgrounds, and purposes imprinting its soil for over 2000 years. Being a pilgrim on this route is an international experience. UNESCO named the Camino Santiago a World Heritage Site in 1987, after it was proclaimed the first European Cultural Itinerary by the Council of Europe.
History
Though the camino inherits its name from the Christian pilgrims who, beginning in the 9th century, came to venerate the sacred remains of the apostle St. James the Elder, the history of The Way stretches farther back.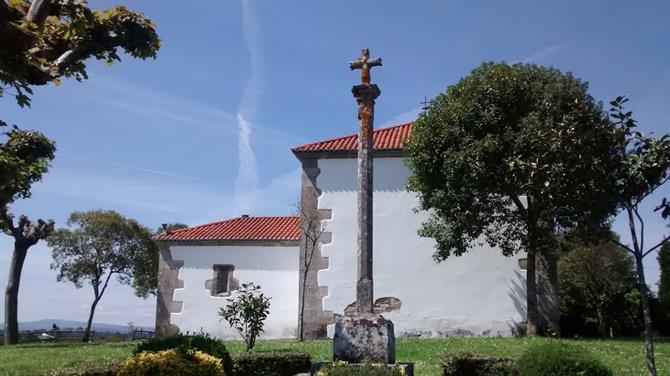 It is believed that the Celts traversed the route to reach Cape Finisterre and watch the Sun set in its resting place at Land's End. They would then bathe in the sea to cleanse themselves and collect a scallop shell as a symbol of their holy journey. Some say the shell was proof that the pilgrims made it to the end, but the symbolic shell is also believed to be an emblem of good luck and provide practical use to collect drinking water from wells and fountains along the way.
Why You Should Go
The Camino de Santiago is a very personal journey. Many people undergo the experience as a sort of blessing -- a way to unpack their burdens, illnesses, and sins or to commemorate a life passage. The Camino also invites culture lovers, history buffs, people looking for a religious or spiritual experience, nature and adventure seekers, those going along for the social experience, gastronomy or architecture enthusiasts, and many others.
To truly get in touch with yourself, it is recommended that you take the journey on your own. However, many people are accompanied by their children, their spouses, their friends, and even their dogs; there is certainly nothing wrong in sharing this experience with others. Whatever your choice, you are sure to be joined for much of The Way by fellow pilgrims, and thus are rarely ever "alone" unless you want to be.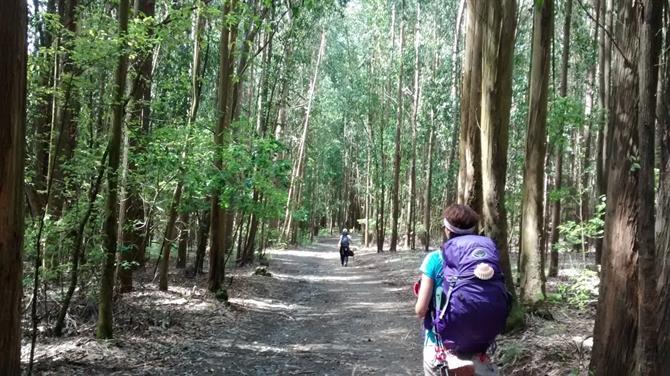 Preparation
The most recommendable times of year to venture the Camino de Santiago are spring and autumn. During these months, the accommodations are not as brimming with people and temperatures are more moderate.
The difficulty level of the Camino varies by section. When planning your route, consult any of the Camino guidebooks or websites to ensure your path suits your needs.
Accommodation styles range from public hostels (known as albergues or refugios) to luxury hotels. If you identify the kind of travel you wish to experience ahead of time, you can better budget your journey. Public albergues offer a bed for perhaps €6 per night. Many operate by donation. Private albergues generally charge around €10 euros but differ in what they offer - later curfew, fewer people, nicer bedding, the ability to stay more than one night, and other amenities.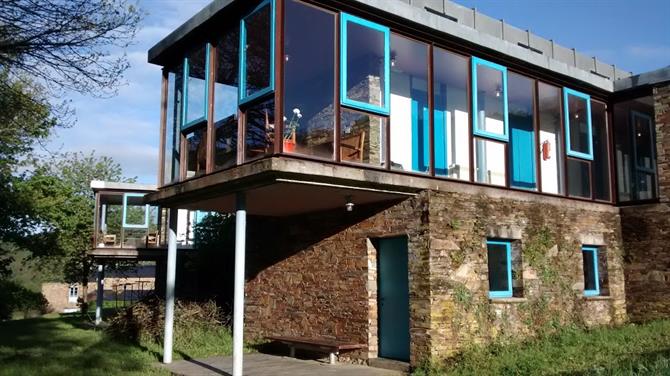 Restaurants on The Way have special pilgrim menus that serve copious amounts of food -- and often a bottle of wine! -- for the modest price of €10 - €12. A budget of €35 - €50 a day will allow you to eat well, have a bed to rest, and still account for unexpected expenses. However, it is possible to budget for less and likewise, for more.
Go to the Camino with an open mind. Regardless of how far you journey or how many days you take, The Way will be an adventure. You will encounter unexpected bumps in the road -- literally and figuratively -- but your take-away experience relies on keeping a positive attitude. Accepting these unexpected changes is one of the Camino's most important take home lessons.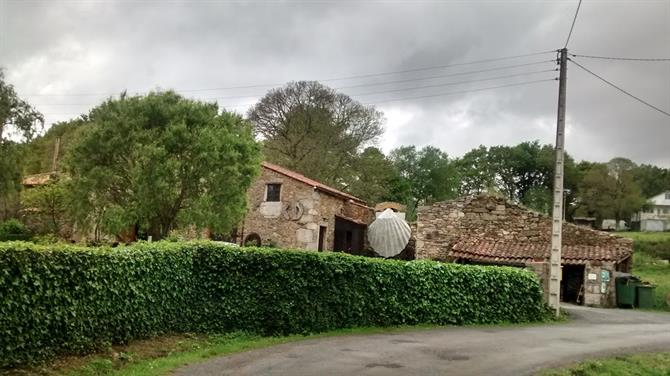 Most importantly, give yourself time. Though guides will tell you that completing section X is possible in Y number of days, adding a couple extra days to your itinerary will allot you the time to enjoy a particular stretch of the journey, or to recover from potential injuries, or to simply slow down if need be. Don't only "go by the book". You will learn so much along the way that researching every little thing ahead of time may only hinder your experience. Make a plan and then expect it to fall apart!
Packing
So it's decided -- you're going to be a pilgrim! But what's next? Preparation, of course. Overall, pack basic but practical.
Surely, you cannot leave without a good pair of shoes. Find a sturdy, waterproof, but light pair of hiking shoes at least a few weeks before you go on your journey. Be sure to break them in, molding them to your feet so you don't wind up with blisters on your first day.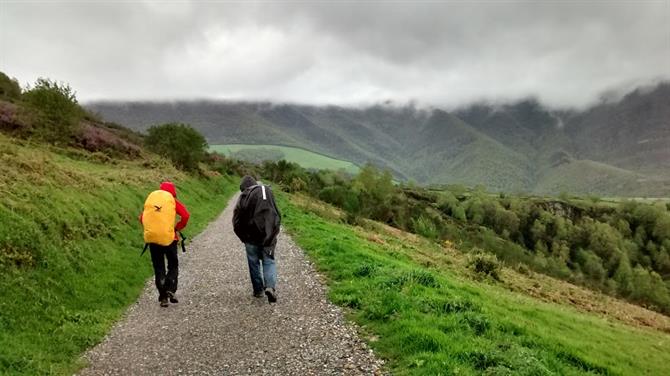 A backpack is your next essential item. If you are walking up to 25 kilometres a day, you won't want to be lugging around anything heavier than 10 kilograms. Pack light in a durable hiking backpack that comes with a rain cover. Learn how to properly adjust the bag to sit comfortably on your back so as not to hurt yourself. You can find this information online or better yet, consult with a hiking/equipment expert before you set off.
A few other Camino essentials to pack include:
A journal

Microfibre or fast-dry clothing (avoid denim, fleece, cotton)

Anti-blister socks

Sunscreen

A hat (one that can fold up small)

Eye mask

Ear plugs

Microfibre towel (they dry quickly and are light to pack)

Light and compact sleeping bag (or sheet, depending on the season)

A second pair of shoes (walking sandals with orthopaedic support are a good option)

Large bandana
Sports and outdoor shops carry most of these items. Keep in mind that this is a small list of suggested items; do not use this as your definitive or complete packing list. For further ideas, seek other suggested packing lists online (see bottom of page for links).
The Experience
On the Camino Francés, you will hardly ever be alone. The people that pass will greet you with "¡Buen Camino!" and sometimes carry on, while other times joining you in conversation. Most make the trek by foot, others choose to cycle (about 15% of travellers). A few go on horseback and even some by wheelchair. Some pilgrims have donkeys, particularly those travelling vast distances.
If lucky, you may meet an Angel of the Camino; this is the name given to people who help others on their journey, be it offering a place to stay or lifting a fellow pilgrim's spirits.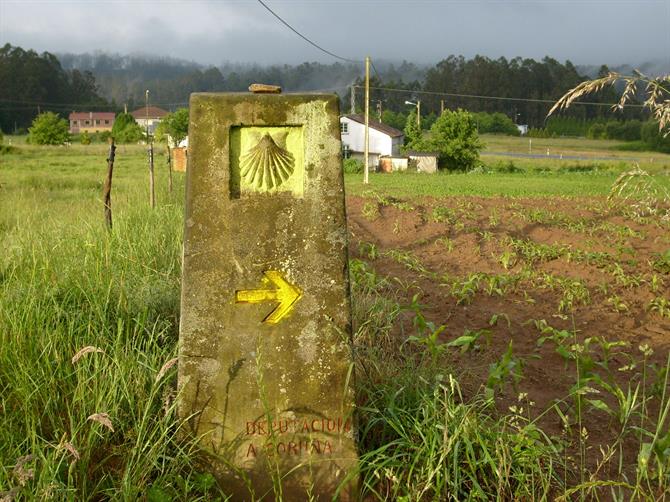 The route is clearly marked, so you should have little fear of getting lost; follow the iconic yellow arrows (often paired with the scallop seashell symbol). If in doubt, ask a fellow pilgrim or a local.
Gastronomy in Galicia -- the last province that the Camino passes through -- is well known across Spain and the rest of Europe, particularly for its pulpo a la gallega. Otherwise known as pulpo a feira, the simple octopus dish is a signature of Spanish cuisine - simple, yet incredibly tasty. Restaurants and bars along the route take pride in serving authentic, fresh foods to the many travelers (and locals!) passing through.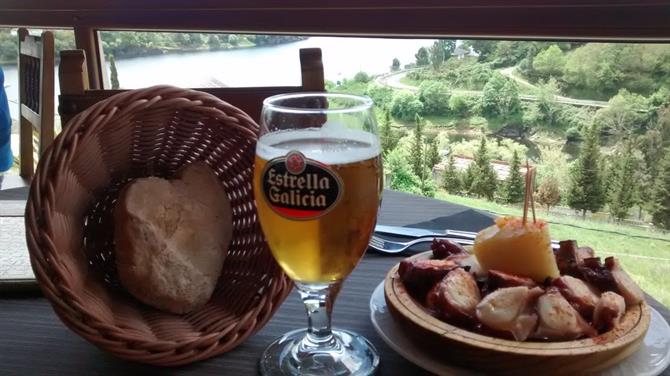 The Way is an opportunity to listen to your inner self and to be aware of your surroundings, away from the stresses and routine of daily life. Though often described as having a "mystical" sense, the qualities of the Camino are scientifically linked. Being in nature for extended periods of time has proven benefits on one's health and wellbeing.
The Camino runs through countless small villages and a few larger centres. Most villages have retained their authentic origins, with houses made of stone and built into hills, restaurants and bars that play folk music, and local people who will open their doors and welcome you into their home.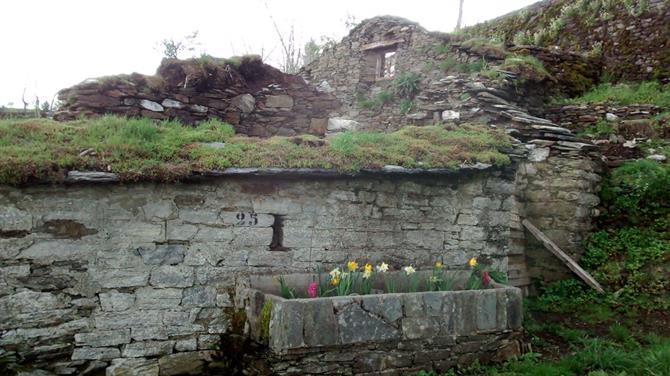 Recognition
Upon arriving into the city of Santiago, people are often overcome with joy and feelings of accomplishment. Travelling a continuous 100 kilometres on foot will earn you a Compostela -- an official certificate of your pilgrimage. For cyclists, you must have completed 200 kilometres. Before or at the starting point of your journey, be sure to pick up a Credencial -- a small camino booklet -- and have it stamped at your starting point. Continue to collect stamps (sellos) from albergues, cafes, bars, churches, town halls, and other sites as you go, and obtain a final stamp at the end of your journey, as the document is used to mark your official kilometres traveled.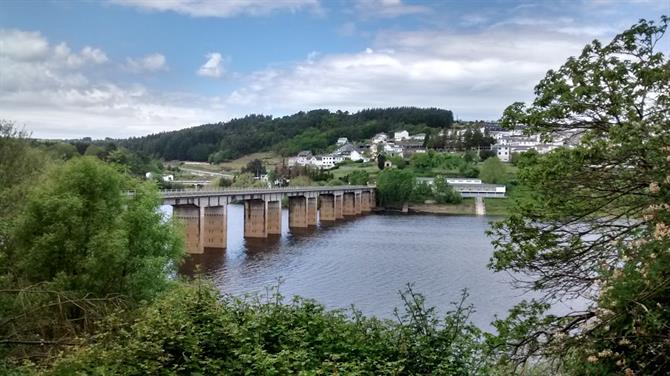 Continuing On
Many people wish to continue their journey onwards to Finisterre, otherwise known as kilometre zero. This is where the ancient Celtic route came to, and though it is not quite the westernmost point in Spain (this is just to the north in Muxia), they considered it to be the end of their journey; Finisterre literally translates to "end of land". Collect a seashell from the dramatic Galician coasts as a memento from your journey and perhaps even bathe in the cool Atlantic sea as the ancient pilgrims did a thousand years ago!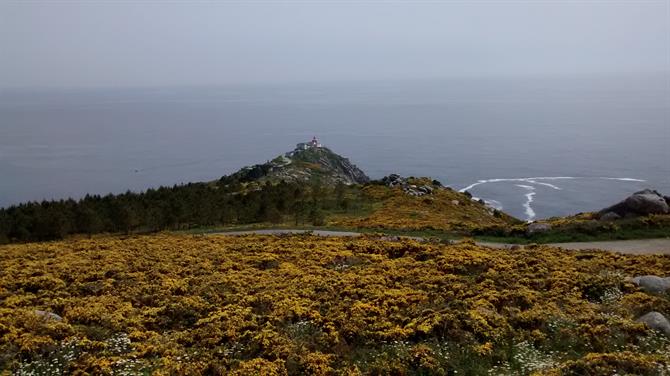 Other Resources
As mentioned, there are many other Caminos that will bring you to Santiago. We recommend the Camino Francés especially for first-time pilgrims because it is made safe by the many travellers, restaurants, accommodation, and signs to guide you. The walk should be relaxing, not frustrating. And that's what you can expect to experience on the French Way.
For all general information on the Camino de Santiago:
For the various Caminos and maps:
For tour packages and customizing your own route:
For information on the albergues and other accommodation:
UNESCO World Heritage information:
There is also a Camino de Santiago phone number you can reach at: +34 902 33 20 10 (please note that calls are not toll free)
Two films (among others) to consider watching:
The Way

is a Hollywood film made about a man's journey on the Camino and his reconciliation with his estranged son.

Walking the Camino: Six Ways to Santiago is an award-winning documentary that follows the joys and the tribulations of six real pilgrims. Watch a preview here.
We'd love to hear your Camino de Santiago stories and feedback on this article! Feel free to share with us if you've taken part in this incredible journey.