The small coastal towns of Sanxenxo and Portonovo are situated along a beautiful stretch of Atlantic in Galicia's south-western corner. Come summertime, these two communities are bustling with activity, offering plenty of appeal to travellers of all stripes. Families, couples, adventurers and socialites will all feel equally welcome in this hot spot for Galician tourism.
While it may seem small on the map, Galicia actually offers more coastline than any other region in Spain when taking into consideration its myriad coves, bays and inlets.
The often rugged shoreline is home to many amazing wonders, most notable among them, a stunning work of natural architecture, the iconic Cathedrals Beach. Sculpted over the course of millennia by a constant pounding from the sea, the enchanting landscape gained international fame in 2013 when it was declared the second best beach in all of Europe.
Here in the north-western corner of Spain, a plethora of incredible seaside wonders are waiting to be discovered such as Playa de la Lanzada, Playa de Doniños and Castro de Baroña.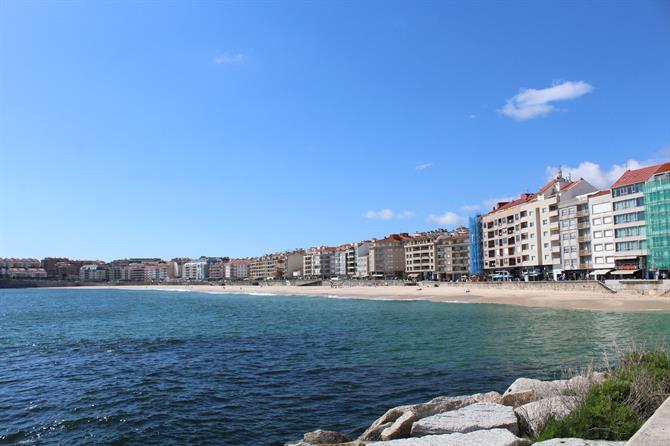 In this article, we shine a spotlight on two of Galicia's most popular summertime destinations, Sanxenxo and Portonovo.
In the heart of the Rías Baixas wine region, surrounded by beautiful beaches, and not far from the Atlantic Islands of Galicia National Park, these small towns are an excellent choice for your next vacation.
With a diverse range of holiday activities, the area is a top choice among travellers. A vast array of opportunities exist here, where you can practice water sports, take a sightseeing tour of fascinating landmarks, enjoy the wonders of nature, find relaxation upon pristine beaches or join the nightlife in some of the nicest clubs in Galicia.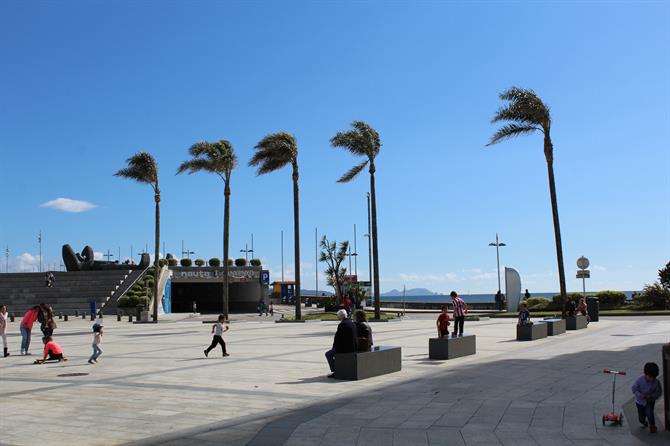 Located in the province of Pontevedra, Sanxenxo and Portonovo are about a 45-minute drive from the Galician metropolis, Vigo. The two municipalities are connected by a charming promenade and are so near to each other that a stroll from one town to the other is a worthwhile, and highly recommended activity. Strolling the coastal footpath is not only reserved for visitors but favoured among locals as well.
The pathway tracing the sea winds its way through a small forest where breathtaking views are had at every turn. A refreshing sea breeze keeps the park area cool, and tranquillity is found all around. The walkway is rarely crowded and is well suited for strolling with children or pets.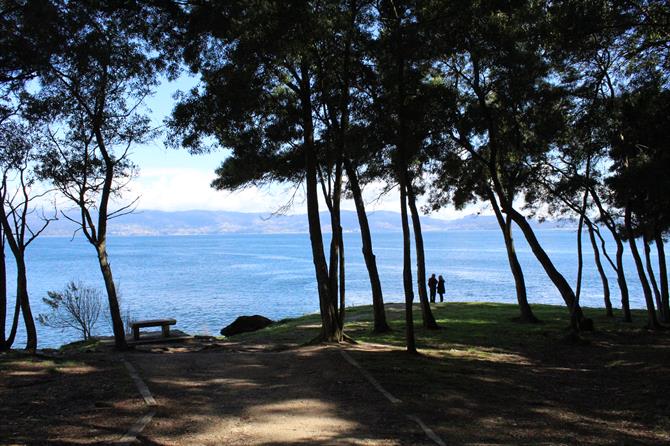 Both localities offer a sweeping assortment of restaurants and tapas bars serving the typical Galician cuisine. An abundant supply of freshly caught seafood finds its way into the dishes here, and even the most particular palettes are sure to be pleased.
A Walking Tour of the Coastal Statues
One of the most recognisable icons in Sanxenxo is the feminine figure found rising from the sea. Known as Madama, this wonderful statue is the work of Galician sculptor Alfonso Vilar. Today, the emblematic art piece is revered as a symbol for the town.
After a short walk to the marina we are confronted by this glorious giant, taking a siesta upon the esplanade. Lying on his back with his hands propping up his head, he is found relaxing in the sun and enjoying the passing clouds. 14 metres in length, he encourages many curious visitors to join him for a unique photo opportunity.
The town of Portonovo has many of its own sculptures on display, all of which take on maritime themes and represent different elements of local life. Found along the promenade, notable statues include a fisherman, an anchor, and a female sailor carrying a basket of fish atop her head.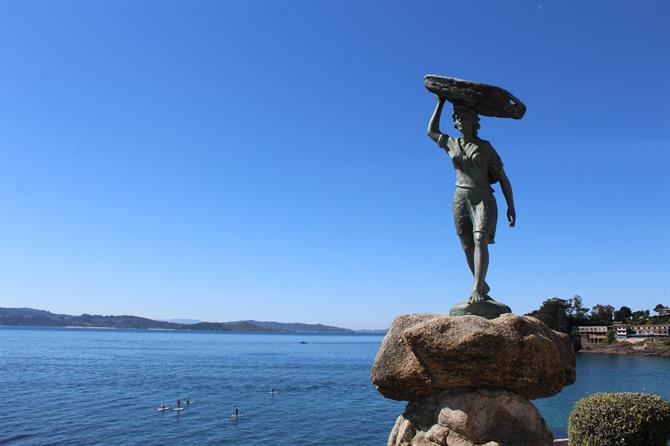 Especially during summer months, the walkway is often replete with local vendors offering produce, refreshing beverages, decorative objects and various types of jewellery.
Beaches of Sanxenxo and Portonovo
Beachgoers can choose from an array of outstanding locations, many of which are within walking distance from the downtown areas of Sanxenxo and Portonovo. Playa de Silgar is an excellent example, notable for the nearby promenade and multitude of cafés, ice cream parlours and restaurants. An easy beach to access by foot, it may also be crowded during high season.
Considering the options around Portonovo, the beach with the most draw is perhaps Playa de Baltar. Despite its proximity to the town centre, this bit of shore is surrounded by sand dunes which hide it from the road. All the proper facilities can be found here and the crystal-clear waters are very calm. Many elements come together to make this beach an ideal spot for an outing with the family.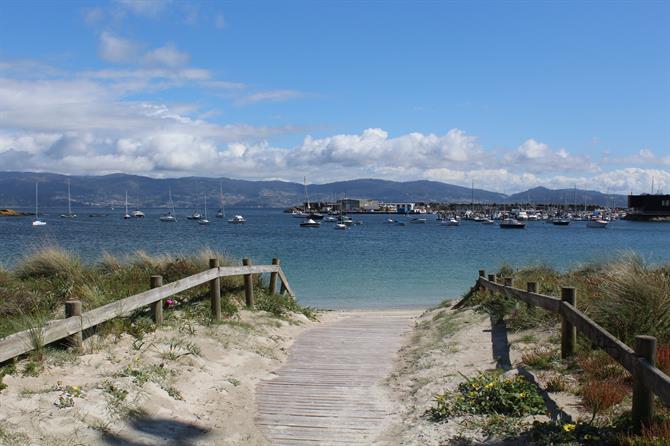 Another remarkable highlight is Playa de Caneliñas. With marvellous views of the Ons Islands, this beach is noteworthy for its fine white sand and emerald-green waters. It is another excellent choice for those with children, as the beach's gentle slope provides plenty of shallow areas for play.
Hop into the car and with less than a 10-minute drive you can find your self enjoying pristine beaches suitable for any taste. Some are connected by small coves, others feature extensive sandbanks.
If you'd like a day with a picnic, consider bringing along a meal to Playa de Montalvo, where you can enjoy eating beneath the shade of a small forested area. In addition to spaces for outdoor eating, this beach also offers options for renting sunbeds and parasols.
Honourable mentions are Playa de Paxariñas and Playa de Areas. For nudists there is Playa de Bascuas, which is shielded by small cliffs falling to the sea.
Hiking the numerous trails is a highly recommended activity, as there are an endless amount of pathways connecting the beaches. Nature lovers are certain to take delight in the impressive scenery and wild landscapes while discovering small coves unreachable by car.
At over 3 kilometres in length, Playa de la Lanzada is the most prominent stretch of sand in the area. It's a popular tourist destination located between the towns of Sanxenxo and O Grove.
Because of its length, it features several distinct areas. The central part is the most frequented due to the available services which include showers, sun loungers, and even a restaurant serving up tasty dishes.
Facing the open sea, this beach attracts surfers from around the world. It's also appreciated by those who enjoy diving or snorkelling, as the seabed is home to a wealth of underwater treasures. If you feel inclined to join the activities, you'll easily find equipment available for rent at the many schools here.
A must-see for all inquisitive travellers is the chapel located at the start of the beach. It provides an excellent vantage point with an all-inclusive view of the beaches, estuary, and nearby Atlantic Islands.
By Ferry to the Atlantic Islands
One of the essential experiences to have in Sanxenxo and Portonovo is the ferry trip to the nearby Atlantic Islands of Galicia National Park (Spanish Website). Incredible views can be had from the various archipelagos of Cíes, Ons, Sálvora and Cortegada. Excellent choices include the Ons Islands and Cíes Islands.
With a rich diversity of flora and fauna, you're sure to be pleased by the beautiful surroundings you'll discover while exploring the interesting landscapes.
In the port, there are a few ferry options available. Prices will vary depending on the company, but a good choice will likely be Nabia Naviera.
Price: Around € 14 per adult, € 7 per child
A Taste of Galician Nightlife
Sanxenxo and Portonovo are a hub of summertime activity in Galicia. While the main daytime draw is the superb beaches, by evening most travellers make their way into the downtown areas. In the city centres many restaurants and pubs offer a taste of Galician social life.
The assortment of establishments begin to fill with patrons who come for dinner or to share a drink among friends. As the night progresses, the nightclubs become a popular choice among younger crowds. Going for a walk along the promenade after dark can also be a great way to experience the area's other side.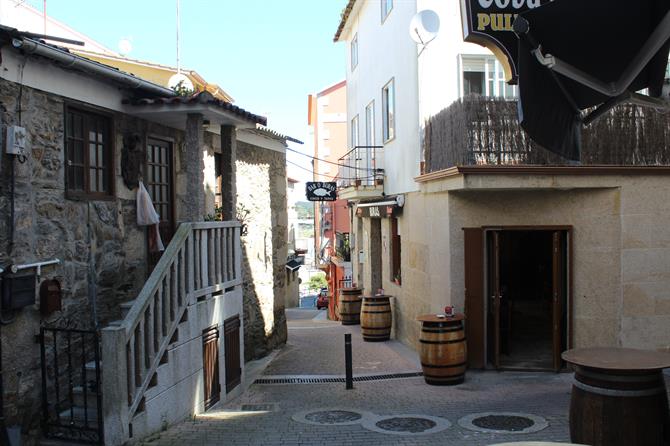 Deeply interconnected, Sanxenxo and Portonovo share many of the traits tourists seek, including a nice climate. If you're searching for a holiday destination where the days are long, the sun is sure to shine, and a fresh breeze comes in to cool you off by night, then this area of Galicia should be at the top of your list.
Boasting some of the most incredible beaches in the region, and connected by that magnificent bit of infrastructure, these towns offer up a multitude of unique and sought-after summertime attractions.
A well-rounded holiday is sure to be had here where you can easily fulfil your desires for relaxation, exploration, sight-seeing or experiencing the social scene. A place that truly offers it all, it is an excellent choice for couples, families, or groups of friends. With a healthy supply of sun, sand, and surf, the delicious local cuisine and diverse range of activities here are sure to make for a memorable holiday.
Planning your next holiday to Sanxenxo, Portonovo or any other place around Galicia? Let us help with our large selection of available holiday rentals.