Tired of winter weather, visiting relatives, and shops that are too full of people and fake cheer? You need a change. Getting away to somewhere different this Christmas and/or New Year may be just the tonic you need. And of course there's no shortage of places that are within reach, but where should you choose?
One destination that may be off your radar, but which has become increasingly popular in recent years is the southern Spanish city of Seville. Although it depends on where you are, you will probably be able to get a direct flight to Seville itself, or failing that, it's easy to get to from either Madrid or Malaga, both of which have busy international airports.
But why Seville? There are lots of reasons. Some of them apply all the year round. It's generally agreed to be one of Europe's most beautiful cities, has world class sights, such as the
Cathedral
,
Alcázar Palace
,
Plaza España
, or its new icon, the
Metropol Parasol
, and has a thriving food culture, with more bars (in Seville these are almost all
tapas bars
- for eating as well as drinking) per person than anywhere else I know of. It's also large enough to have the vibe of a proper city, but small enough to feel intimate and friendly.
Being in the south of Spain, it's also relatively warm, especially in comparison to northern climes, though you will need a jacket for those evenings out in the streets enjoying the unique atmosphere. Although often crowded and busy, this is a city that feels safe, with lots of families out and about late into the evening.
Like most European cities, Seville lights up for the Christmas season (which begins officially on December 9 and carries on until epiphany on January 6), especially in the main tourist area, along the Avenida de la Constitución, and in the commercial centre, which are full of hustle and bustle. Carol singers and brass bands are out and about too, adding to the general festive spirit, and the shops, which stay open until 8 or 9 pm, are all bright and cheerful, wearing their best faces. Look out for the chestnut sellers, roasting their wares on their little charcoal stoves, something hot for when the night starts to get chilly.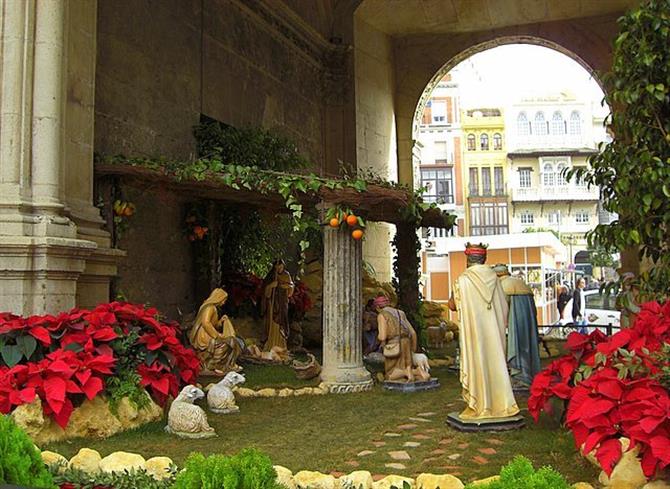 Some things are just that little bit different, though. Although they are by no means unknown elsewhere, the popularity here of nativity scenes, called Belens (Bethlehems), may surprise you, and there are often long queues for the best public ones, which can be quite impressive. Have a look at the ones beside the Town Hall and in the Cajasol building (the Audiencia) in Plaza San Francisco. If you fancy building one yourself go along to the Feria de Belenes, between the Cathedral and the Archives, where the locals pick up new pieces every year for the Belens that almost everyone has at home. It's all a bit kitsch, but there are a few items that might surprise you.
Another Seville speciality is the outdoor Christmas fayres and markets. As well as the Belen fair check out the annual Artesan market in the Plaza Nueva. With handcrafted toys, leather goods, jewellery, ceramics and metalworking, it's a good place to pick up an unusual present or two, especially if you want something distinctively Spanish and individual.
This year there are also four "magia de navidad" fayres around the city centre, in the Prado San Sebastian, Puerta Jerez, Alameda de Hercules and Plaza Encarnación (under the Metropol Parasols), and another in the Plaza Nervion shopping centre, and also a fairground carousel and ice skating park in the Plaza San Francisco. The staples of such fairs are of course the stalls selling jewellery, leather and "hippy" clothing, interspersed with fast food and confectionery stands. Faux medieval wooden booths are the style for this year, though in other years small pointy roofed marquees have been popular. All good fun, but not to be taken too seriously.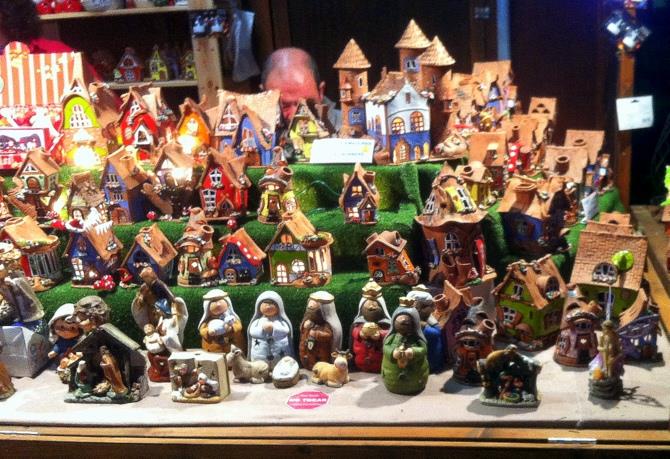 There are also merry-go-rounds and swings for the kids, and donkey and camel rides. A miniature train runs between the Alameda and Encarnación fairs, and the Prado San Sebastian has a ferris wheel and a small ski-slope as well as its ice rink.
This year there is to be a special emphasis on audiovisual shows with laser projections, which the Spanish call "mappings". In previous years these have taken place in the Plaza San Francisco, but this year there are to be three shows – outside the Palacio San Telmo and in the Alameda de Hercules, from December 21 to January 5, and most spectacularly underneath Las Setas (the Mushrooms) in Plaza de la Encarnación from December 19 to January 5. These promise to be among the highlights of this season's festivities.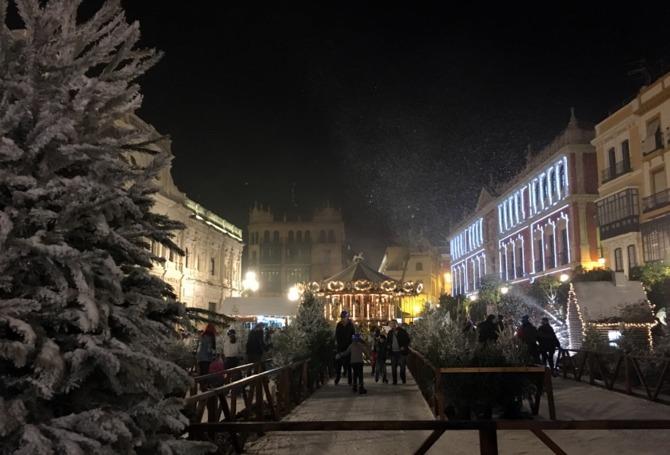 Although it's probably not obvious to the casual visitor, one big difference between Spain and northern parts of Europe and the Americas is that Christmas itself has (at least culturally) a more religious aspect, and is very much an occasion for the extended family. Christmas Eve (La Noche Buena) and Christmas Day (Navidad) are when families, often several generations, come together for traditional meals. On Christmas Eve even the bars and restaurants are closed so that staff can have the evening off with their loved ones. If you're renting an apartment make sure you have some food in so you don't go hungry!
Although it's becoming more common, along with the portly figure of Papa Noel, Christmas Day is not traditionally the day for the giving of presents in Spain, which comes at the end of the holiday season at Epiphany (January 6). This is because this is the day when the three Wise Kings (Los Reyes Magos), Caspar, Melchior and Baltazar, gave their presents of gold, frankincense and myrrh to the infant Jesus. Although camels replace reindeer in this scenario, they still only have one night to deliver presents to all the children in the world. The drawback to this arrangement is that the children only have one day to enjoy their new toys before it's back to school!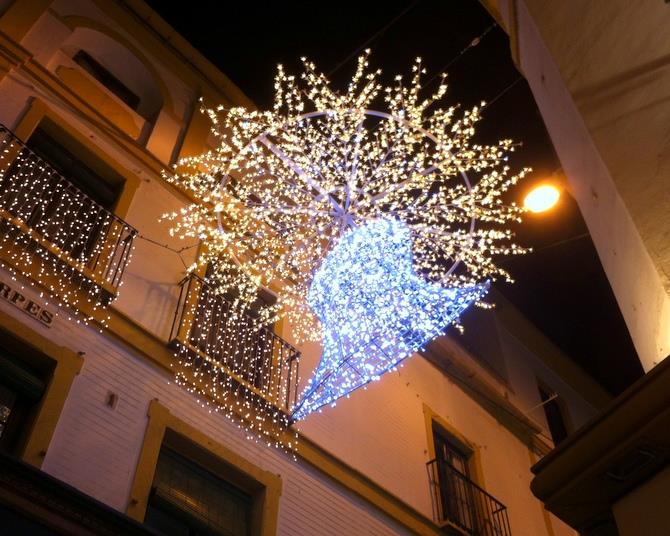 The day before Epiphany is the Cabalgata de los Reyes, the parade or procession of the Kings. The Kings and their assistants are carried through the streets on floats in an all-day (and half the night) event that is the highlight of the year for many small children. The Kings' heralds collect their lists of the presents they want, and huge quantities of sweets are thrown to the waiting crowds. It's hugely popular, though walking anywhere on the route for several days afterwards can be decidedly sticky underfoot!
Other holiday season traditions include the Spanish equivalent of April Fools Day, the Day of the Innocent Saints (December 28), when you'll need to keep your wits about you, and the eating of twelve grapes while the bells ring in the New Year. Finishing them before the bells stop brings good luck for the next year. You can buy little tins of pre-seeded and peeled grapes to help ensure the desired outcome. So have a Merry Christmas and a Happy and Prosperous New Year, wherever you may be.