Sierra Nevada is Europe's most southerly ski resort and sits on the same latitude as Cyprus. It offers one of Europe's longest ski seasons, usually starting in late November and running until early May.
If you're looking for a ski holiday with almost guaranteed sunshine, Sierra Nevada should be high on your list.
Video of Sierra Nevada, Granada
The resort is heralded as being Europe's sunniest, enjoying over 80% days of sunshine during the season.
Just over an hour's drive from the beautiful beaches on the Costa Tropical and under thirty minutes from the centre of the Granada and the Alhambra Palace, you couldn't hope for a more unique or beautiful location.
The age-old saying of skiing in the morning and swimming in the sea in the afternoon really is a reality in Sierra Nevada. Lets take a look......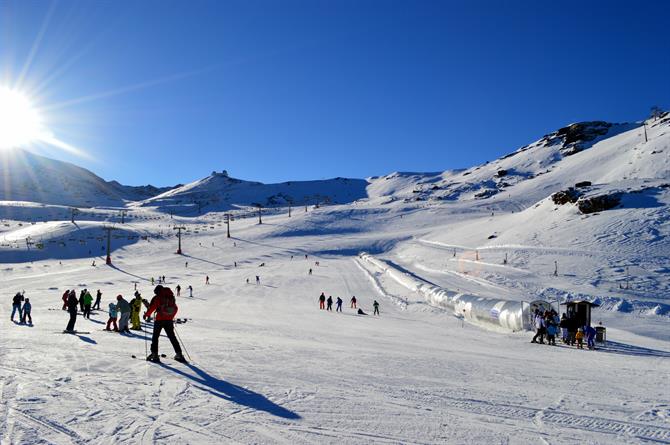 The facts at a glance
The resort village is called Pradollano (2100m)
Most of the ski area is on the northern slopes of Veleta, the third highest peak on mainland Spain.
Set in the Penibetico mountain range, within the Sierra Nevada National Park and only 27 kilometres from the centre of Granada.
The lowest point of the resort is 2,100m and the highest 3,300m above sea level.
Sierra Nevada offers a total of 107 skiable kilometres, with a 115 runs. 40 are blue runs, 9 black, 50 red and 16 green. In addition, there are cross-country ski trails (1 set one) and snow-shoeing.
The ski lifts have a capacity for 45,555 skiers an hour.
There's a modern artificial snow system that comprises of 353 cannons which covers 35 km of piste.
Night skiing is available on Saturday nights, weather permitting.
Sierra Nevada is home to Europe's largest freestyle snowboard park, known as Sulayr.
The resort is run by a private-public enterprise called Cetursa Sierra Nevada, S.A.
The 1996 Alpine World Ski Championships were hosted here and Sierra Nevada has been selected to host the 2015 Winter Universiade, the world university games.
Pradollano and Borreguiles
The Sierra Nevada ski resort is located right in the heart of the Sierra Nevada National Park.
The ski area is split into two main areas: Pradollano and Borreguiles. Pradollano is where all the hotels, restaurants, holiday apartments and most of the ski rental shops are based. Pradollano is divided into three sections; lower, mid and upper, according to the distance from the city centre.
Prices tend to reflect these distances. Accommodation nearer the centre and the main cable car tends to be more expensive.
A 15-20 minute cable car journey connects Pradollano to the mid-level ski station of Borreguiles. Borreguiles is where you'll find nearly all the skiing. It is home to the main ski lifts, ski schools, a crèche and several restaurants.
There are also a couple of ski rental shops there as well. Despite being the main skiers hub, you can go up and back down again to and from Borreguiles without skiing by paying for a special daily forfait price of around 17€.
Skiing in Sierra Nevada is not cheap. A daily lift pass (forfait) costs around 45€ depending on the season. Children under 6 go for free (bar the 3€ refundable deposit you pay on the card), children under 16 cost around 30€ daily. For more exact information on prices see here.
There are 15 registered ski schools in Sierra Nevada with over 400 teachers. Many offer a combination of ski hire and a couple hours of private classes special offers. Prices tend to be cheaper for afternoon classes. English speaking ski instructors are also available. See here for additional information.
Snowboarding paradise
Sierra Nevada is home to a huge freestyle park, known as Sulayr.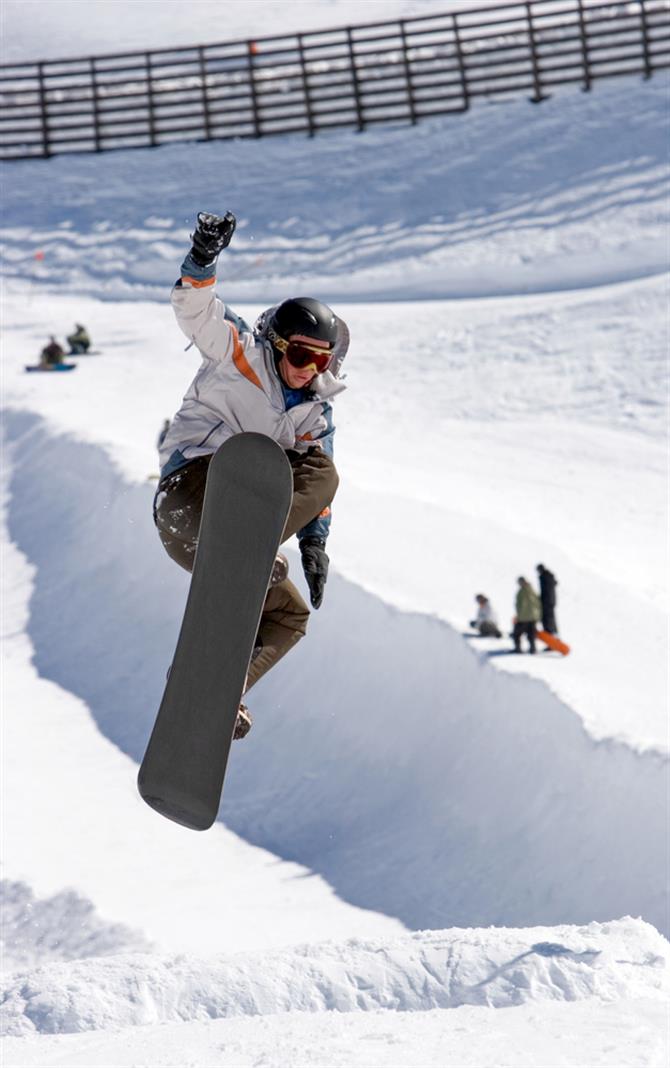 Sulayr now offers the longest lines in Europe, with one that is over 2.5 kilometres. 2.5 kilometres of jumps, half pipes and various 'freestyle' obstacles (there are 70 in total), you can actually do 49 of them in a row if you so wished!!
The freestyle snow park is increasingly popular and attracting some of the biggest names in the international snowboarding community. Sulayr was previously located in the Borreguiles area. To separate the hardcore snowboarders from the normal skiers, Sulayr was moved to the Loma de Dilar.
They recently opened a new beginners freestyle zone that is aimed specifically at children and people with no 'freestyle' experience.
Getting there
Renting a car is by far the best way to get to and from Sierra Nevada. If going up for a day's skiing, it is always best to leave early. Traffic getting up the mountain can be problematic on weekends and bank holidays. Unless incredibly lucky, the only option is to park in one of the main car parks. Prices vary according to season, but it tends to be around 20€ a day.
If staying in Granada, there is a regular ski bus service that leaves from Granada's central bus station and costs 9€ for a return journey. The early morning bus leaves daily at 8am, there's another at 10am. The last bus returning from Sierra Nevada leaves at 6:30pm. For more information Alsa's website.
Useful links
Holiday rentals in Sierra Nevada and rentals in Granada
Wikipedia on Sierra Nevada