Sitges is a very popular destination for those heading off to Spain for some sun and fun. Whilst only a small town, its choice of seventeen beaches in all leaves no room for disappointment when planning which activities to do in Sitges during a stay here.
As there are so many beaches to choose from, we have compiled a brief guide, along with some handy info, to plan which beach in Sitges will be best for your requirements. Sitges has everything, from family beaches to naturist and gay-friendly beaches.
Of course not everyone comes here for a beach holiday, but still, it's good to know that there is plenty of choice no matter what type of holiday you have planned.
The varied beaches of Sitges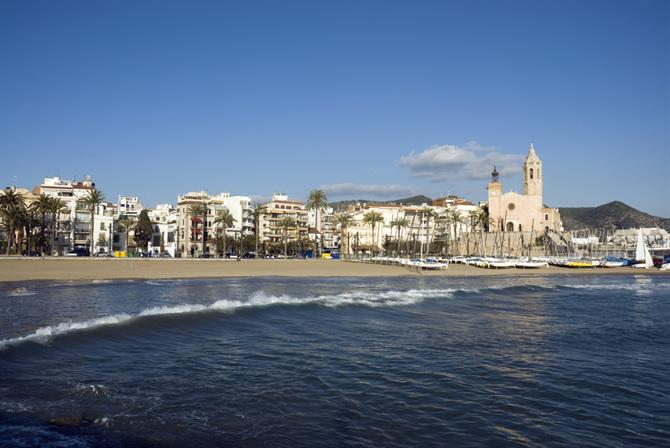 The beaches ('platjas' in Catalan) in Sitges are renowned across Spain for being very clean, in fact with arguably cleaner sand and sea than the beaches of Barcelona, approximately 20 miles up the coast. This is just one reason why many holidaymakers from the city travel down to Sitges for short breaks.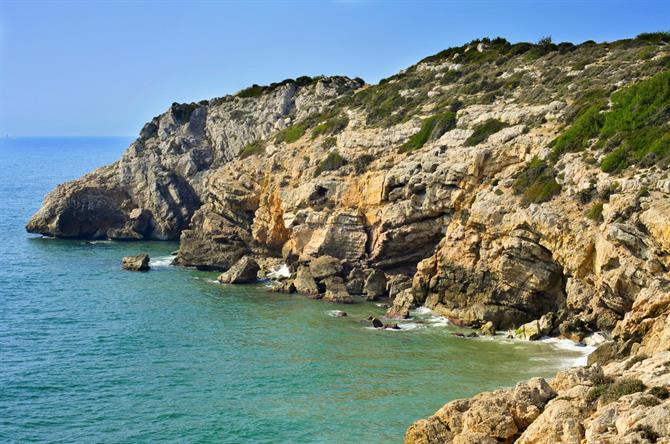 Each beach in Sitges has its own character, shape, size and ambience depending on where it is and who goes there. Most beaches have basic facilities such as showers, toilets and refreshments.
However, the beaches which are located nearer to the town centre have more things on offer and attract more visitors. From June to September there are extra activities for the whole family, from water aerobics to workshops for children and fitness classes for the elderly.
Whichever beach you choose, always make sure you bring what's necessary to protect yourself from the sun, as the beaches in Sitges don't usually offer natural shade - especially in the hot summer months. Even when it's cloudy you should use enough sunscreen and a hat or umbrella.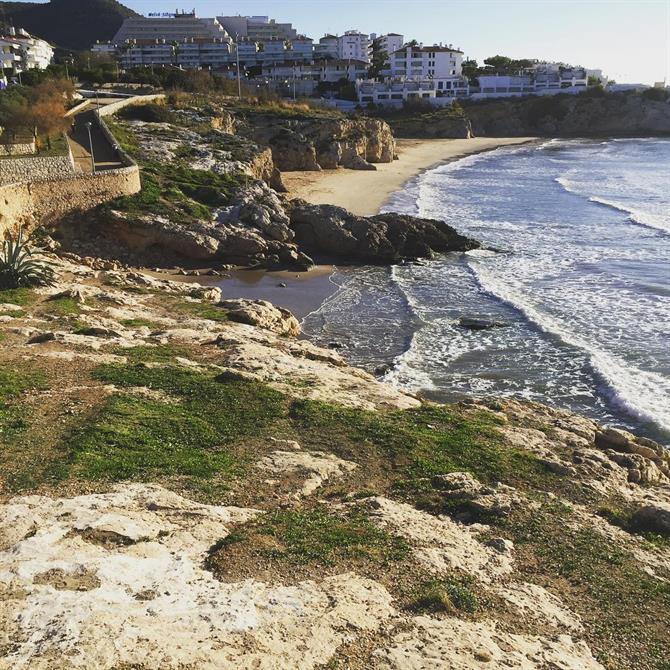 The beaches in Sitges are all relatively small and sheltered. While many beaches can be found along the promenade (from the church to Terramar; see also the map at the bottom of this article), separated from each other by long breakwaters, other beaches can only be reached by car. From Terramar onwards the beaches become wider.
Let's have a look at each of these beaches so you can make a decision!
Quick guide to the beaches of Sitges
1. Platja de Sant Sebastià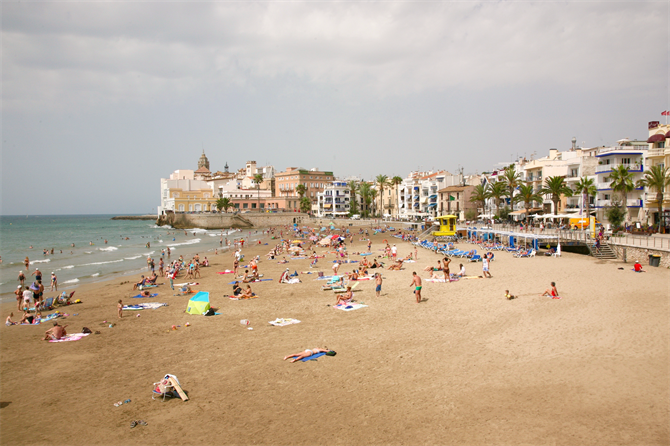 Platja Sant Sebastià (Sant Sebastià beach) is located east of the large and imposing church. It's not very big (205 metres long and 20 metres wide) but it's a nice place for the whole family and gets fairly busy during August.
Sant Sebastià is popular with the locals and has a relaxed atmosphere. It has a lovely promenade with inviting terraces overlooking the beach and ramp access too.
2. Platja de les Anquines
This is the most westerly beach, with a length of 160 metres and an average width of 50 metres. It is the place to go to get away from it all, as it is located in a small, secluded cove where you will find a nice bit of peace and quiet.
It is also great for families as the calm clear water is perfect for children to play in, while at the same time it has the usual main facilities (lifeguard, beach bar, awnings, umbrellas, deck chairs, access ramp), plus a kayak school.
3. Platja de la Fragata
Located directly below Sitges' beautiful church, this is one of the most central beaches. It is popular with families on holiday and youngsters, as this beach of about 35 metres wide has, among other things, volleyball nets and pedalos for rent.
The Club Nàutic makes it complete as a 'sports beach'. It has no chairs or umbrellas available but showers, a beach bar, lifeguards and ramp access.
4. Platja de la Ribera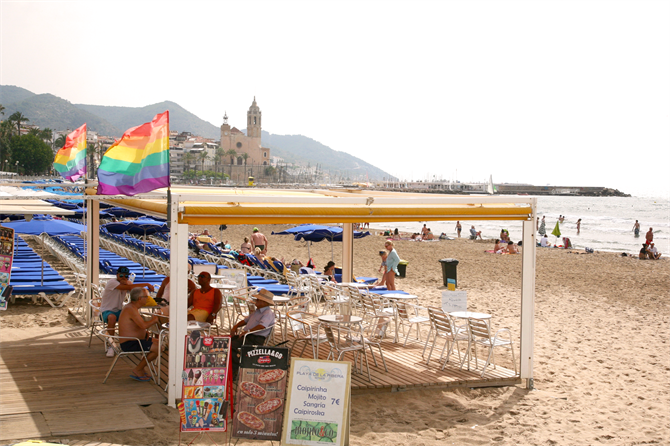 This is also one of the larger beaches here (260 metres long and 36 metres wide) and can get very busy during the summer as it is close to the town. It has the main facilities, ramp access and a sailing school.
5. Platja de Terramar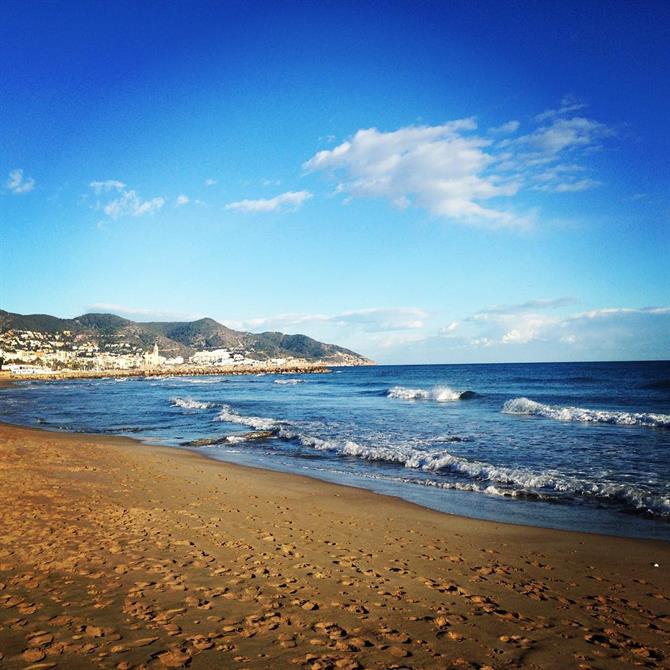 This nice beach has lovely soft sand and is situated a fair distance from the centre, meaning it's quieter. It is 395 metres long and 25 metres wide and has lifeguards, a beach bar and rental services for awnings, umbrellas, deck chairs and pedalos. It has ramp access too.
6. Platja de la Barra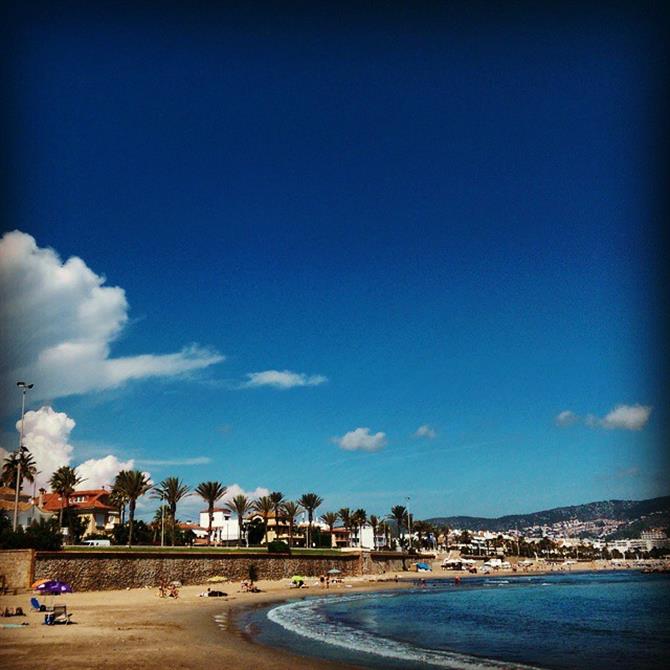 A beach in a small cove more towards the edge of town. It is family-friendly and fairly quiet. It offers the same services as Terramar and is 390 metres long and 25 metres wide.
7. Platja de la Riera Xica
A long, narrow strip of sand (320 metres long and 15 metres wide) which is popular with everyone and is located opposite the Vinyet residential area. It has two beach bars and also has umbrellas, deck chairs, awnings and pedalos available for rent.
8. Platja de l'Estanyol
Long and busy (especially in summer) and again, suitable for everyone. It is 365 metres long and on average 15 metres wide. There are lifeguards, three beach bars and rental services for awnings, umbrellas, deck chairs, sunbeds and pedalos. It has an access ramp too.
9. Platja de la Bassa Rodona
This is the town's main gay beach. Its location is very central and it is usually one of the busiest beaches in the Sitges row. It is 285 metres long and has an average width of 18 metres. Apart from chairs, umbrellas and pedalos you can also rent kayaks here.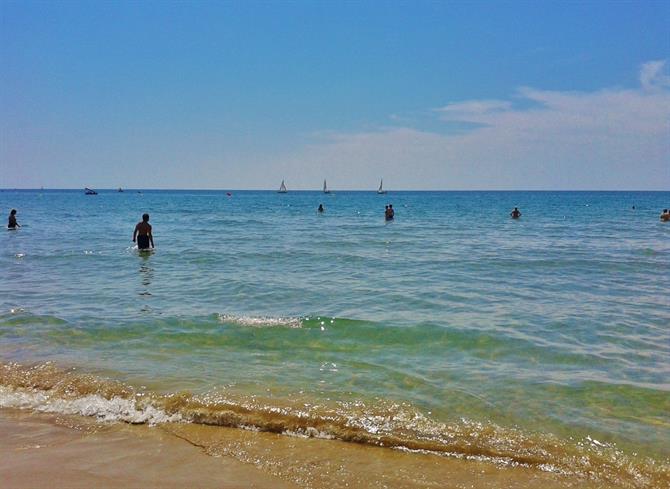 Although Sitges is famously a 'gay town' open to gay couples, it attracts all groups and has different kinds of beaches. Plenty of people book a family holiday in Sitges. The atmosphere on the beaches is very relaxed and the town has lots to offer for everyone. A day trip to Barcelona is also within easy reach.
10. Platja dels Balmins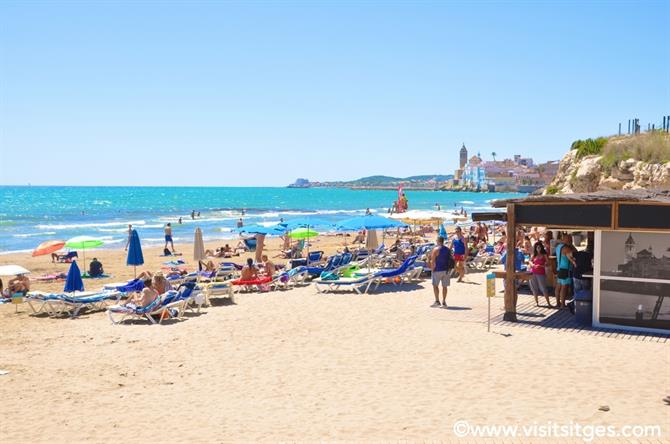 This beach east of the church (15-minute walk from there) and behind the interesting Sant Sebastià cemetery is actually divided into three coves by rocks, with a total length of 240 metres and an average width of 20 metres. It is very popular and has a small restaurant, apart from the usual main facilities, including showers.
The beauty of this beach is that instead of buildings you've got mountains behind it. It is mostly a naturist beach, so remember to leave your swimming costume at home! No need to worry though if you wish to wear one, as nudists and non-nudists just go and mix on the beaches in Sitges.
11. Platja d'Aiguadolç
Platja d'Aiguadolç, to be literally translated as "sweet water beach", is located behind the marina of Sitges. Like Balmins beach (15-minute walk away), it looks nice and picturesque because it is set against mountains rather than buildings.
Platja d'Aiguadolç is a family beach with good facilities: lifeguard, access ramp, beach bar, deck chairs, umbrellas, pedalos and parking. It is 145 metres long and has an average width of 20 metres. In the summer it can get busy but the atmosphere is relaxed and the beach hardly ever gets crowded. It is popular with naturists too although clothed holidaymakers are still welcome here.
12. Platja de Garraf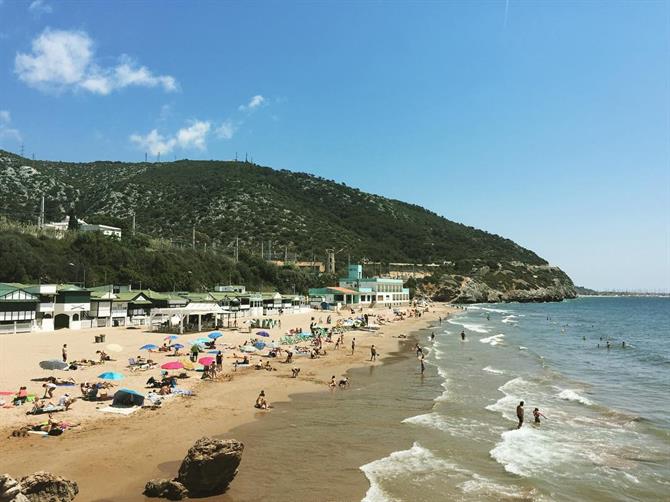 Garraf beach is easy to reach by car and train. It is located in the cosy village of the same name just outside the city and is a nice and quiet place to relax and unwind. This beach also stands out because of its charming white and green beach houses dating back to the twenties. It is 380 metres long and approximately 28 metres wide.
There are several facilities including beach bars, chairs and umbrellas, kayaks and pedalos, ramp access and lifeguards. Take a packed lunch if you want to spend the day.
13. Les Botigues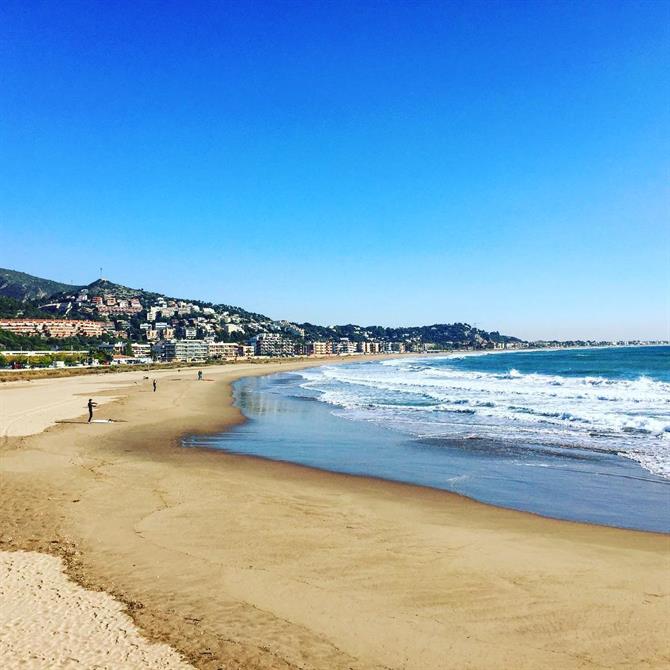 Les Botigues is a very large beach (1415 metres long and 100 metres wide) with good facilities, up to six beach bars and disabled friendly access too and you can reach it by train. Just get off at the Castelldefels train station, called 'Platja de Castelldefels'.
14. Cala Ginesta
Ginesta Cove is the hardest to reach in Sitges, as it has only limited access via the marina/port area. It is small and exclusive, with just awnings, umbrellas, deck chairs and a beach bar available. The natural setting along the cliffs is stunning.
15. Cala Morisca
Morisca Cove is primarily a small nudist beach between cliffs in the Garraf area, along the coastal road between Sitges and Garraf, you can only reach this beach by car. It is 140 metres long and 50 metres wide and has a restaurant, showers and deck chairs.
16. Platja de l'Home Mort
This is another small nudist beach, popular among gay people. It's located behind the rocks of l'Atlàntida nightclub. Unlike the other beaches, it's a pebble beach, not a sandy beach.
It actually consists of two beaches: Home Mort and Platja de Roses (110 metres and 165 metres long, average width of 10 metres). It has no easy road access as it is surrounded by cliffs and you'll only find a beach bar and sun loungers.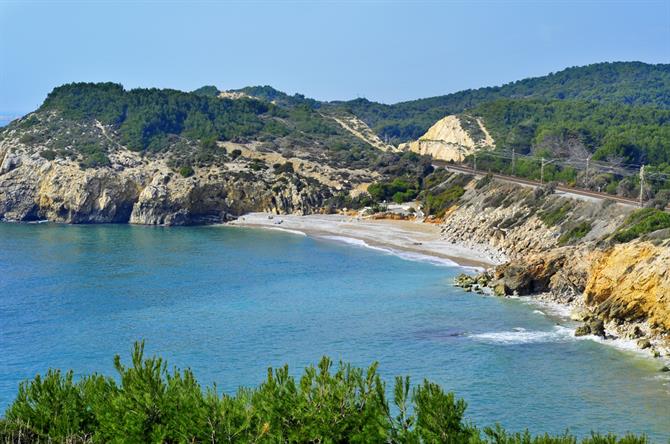 17. Platja Desenrocada
This beach has the same characteristics as Platja de l'Home Mort and is situated right behind it. It is 90 metres long and 15 metres wide.
Tips for booking a Sitges holiday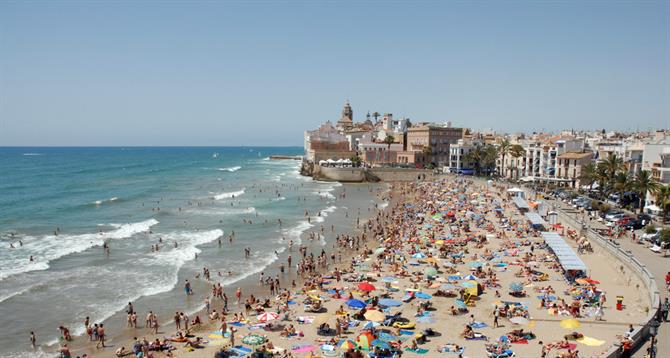 August is the busiest month for beach resorts in Spain, as both France and Spain often take the whole month of August off work. For the best deals on villa rentals or beach apartments in Sitges, we recommend you to book early, especially for the months of July and August.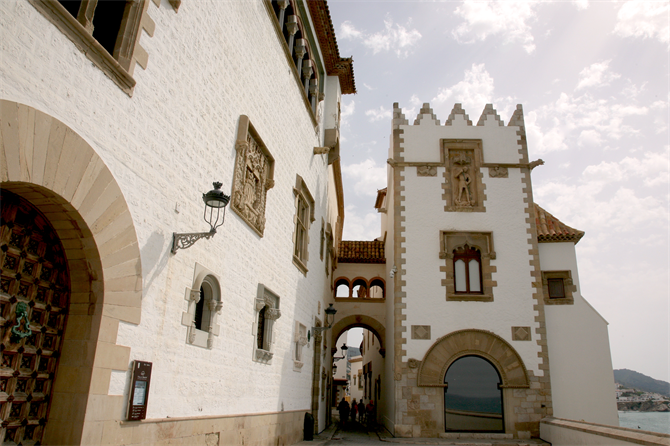 If you can, try and book out of peak season, when the sun is still nice and warm but most tourists are gone. You will still be able to enjoy the beach and on top of that, there is plenty to see in the town of Sitges itself.
Map