Whichever month of the year you choose to go on holiday to Sitges, there will be an incredible festival or event at some point. You would start to wonder if the people in Sitges don't get tired of so many celebrations and activities organised every year and where they get all the energy from. However, this is not something you need to worry about. You just need to make sure you don't miss any of these fantastic events when planning your Sitges holiday!
Below we've compiled a guide with events per month and there is something for everyone in this vibrant seaside town near Barcelona. From local traditions and amazing family activities to celebrating food or wine and crazy parties and parades!
1. The Reyes Magos Parade - January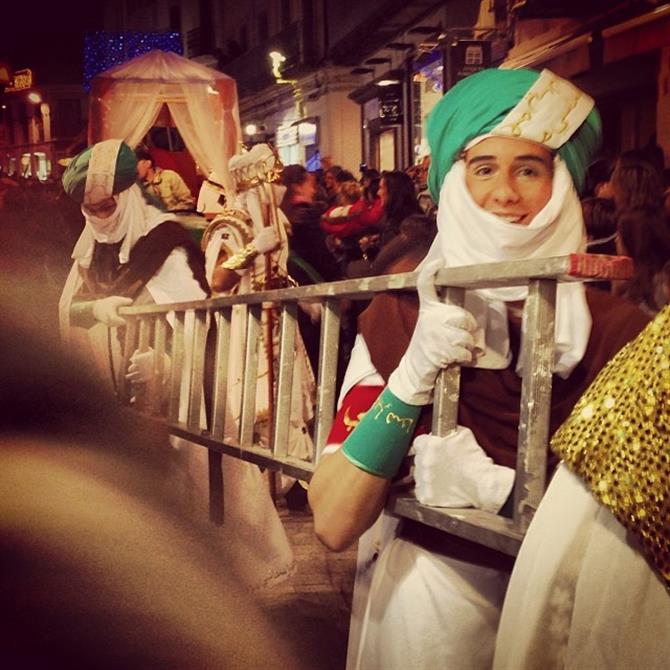 The Reyes Magos (the Three Wise Men) in Spain do what Santa Claus does. They visit the children's homes to bring them presents, not on Christmas night but the night of the 5th of January. In the early evening, they go around Spanish towns in parades with their helpers, waving and throwing sweets from their floats.
Sitges offers a magical setting for this event. The parade begins near Plaza Fragata on the seafront beside the beautiful church and ends in the main square of the town hall, in the historic part of Sitges.
2. Carnaval de Sitges - February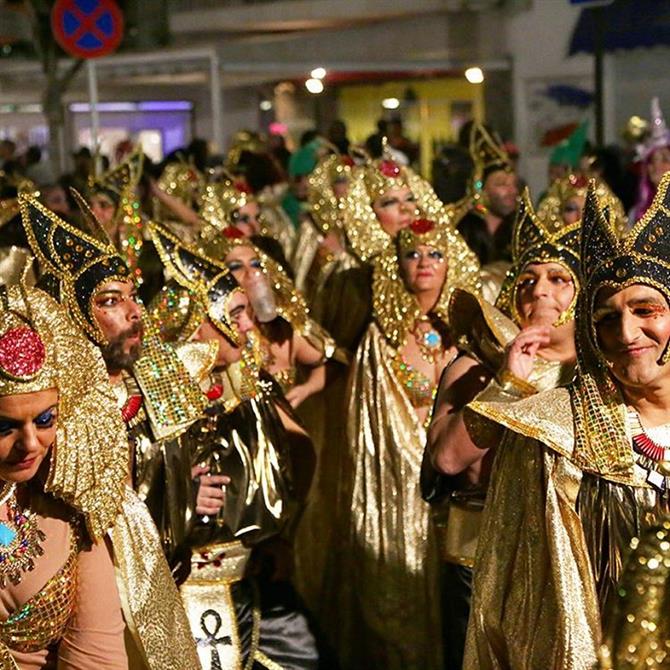 Sitges has just about the best carnival of Catalonia and one of the best carnivals in Spain and even the world, attracting up to 300.000 people in February. Prepare for a colourful fiesta full of music and dance, with a Carnival King and Queen and more than 2,000 people participating in the parades or rúas, which include 50 carnival floats.
Sitges Carnival is great for families, as children get their own parades in the afternoon, on the same day as the big evening parades.
3. Sitges Vintage Car Rally - March
If you are fond of vintage cars, then Sitges has something in store for you. Admire vintage classic cars from before 1924 at its International Rally which starts in Barcelona and ends in Sitges. It goes to Sitges along the old cliff road. A jury will judge not the speed but the originality and age of the cars and also their drivers wearing costumes fit for the occasion.
4. Corpus Christi in Sitges - June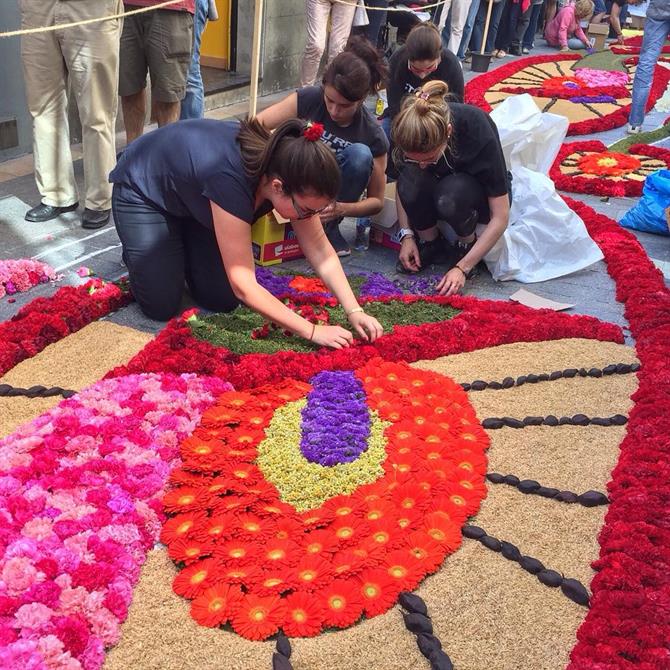 In late spring, the streets of Sitges are covered with amazing flower carpets. It is the result of a contest the people of Sitges take part in and one of the prettiest festivals in the town. During at least 24 hours, the streets are closed to traffic and millions of flower petals are needed to celebrate Corpus Christi this way. Grass is also used, from the gardens in Sitges, the Terramar golf course and even the Camp Nou fooball stadium in nearby Barcelona.
The origin of this festive tradition lies in a carnation exhibition, the first of which took place in 1918. It coincides with another contest in which locals decorate their facades and balconies with flowers, especially carnation flowers and geraniums. There will also be a parade of giants on the flower carpets, which is fun for children. It's amazing to see how this event transforms Sitges!
5. Gay Pride Sitges - June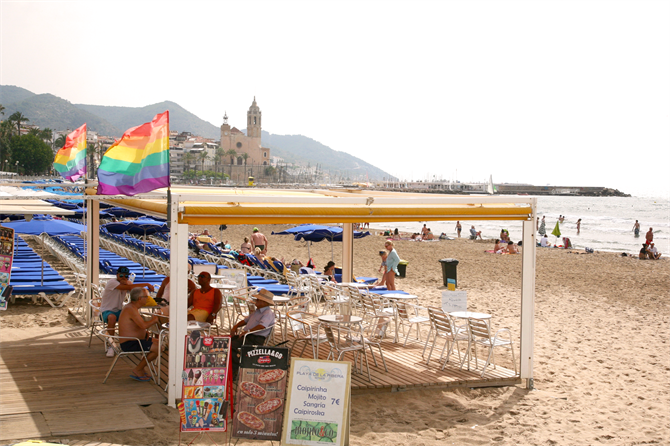 Sitges is openly a gay-friendly town and has been an LGBT hotspot for decades, especially in the summer months. Not surprisingly, it has its own Orgullo Gay or Gay Pride event, one of the best in Spain without a doubt.
As a cosmopolitan seaside resort with a buzzing nightlife, Sitges is the perfect place for a Gay Pride program which includes outdoor concerts, international dj's, beach shows, fashion shows, foam parties, themed parties in clubs and of course a cheerful parade with colourful floats and thousands of participants, right along the beach promenade or Paseo Marítimo. Gay Pride Sitges attracts both national and international visitors who come to enjoy the summer party atmosphere and perfect beach weather in June.
The Sitges Bears Weeks is another big international gay event. This one lasts two weeks and takes place in September, an equally great month to visit Sitges, with fewer crowds but still nice beach weather.
6. Noche de San Juan in Sitges - June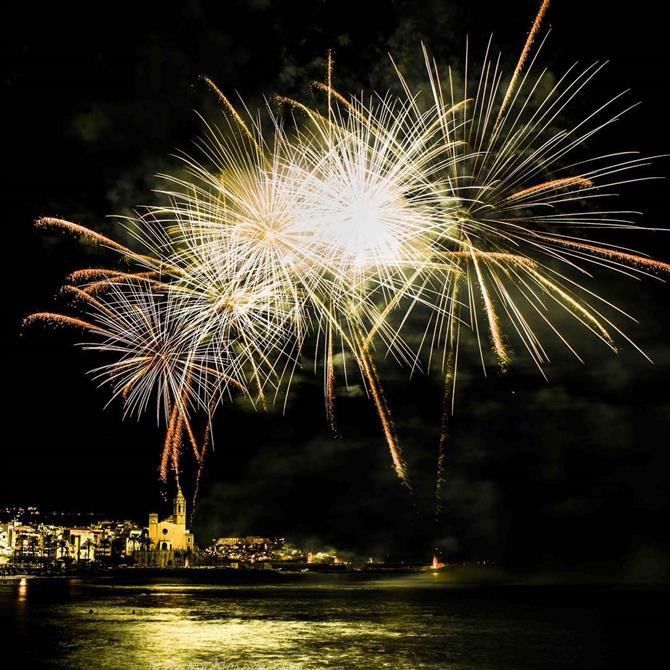 The Spanish traditionally welcome the summer with bonfires on the beach the night of the 23rd of June. It is called the Noche de San Juan or St. John's Eve ('Sant Joan' in Catalan) and is the shortest night of the year. It is full of magic and traditions and in Sitges, the ultimate party beach town in Catalonia, great fireworks and the local cava wine are involved!
7. Fiesta Mayor de Sitges - August
Traditionally, the summer is a time to relax and enjoy happy family moments in Spain. This is why every Spanish city or village likes to organise its street festival in the summer. They are celebrations full of colours, parades and great activities for both adults and the little ones.
In Sitges, this summer event is called the 'Sitges Festa Major' ('the Greatest Party of Sitges') in the Catalan language. It's an impressive festival which has been declared "Fiesta Patrimonial de Interés Nacional" (2016) and "Fiesta Tradicional de Interés Nacional" (1991). It takes place in August, when many holidaymakers come and stay in the charming town.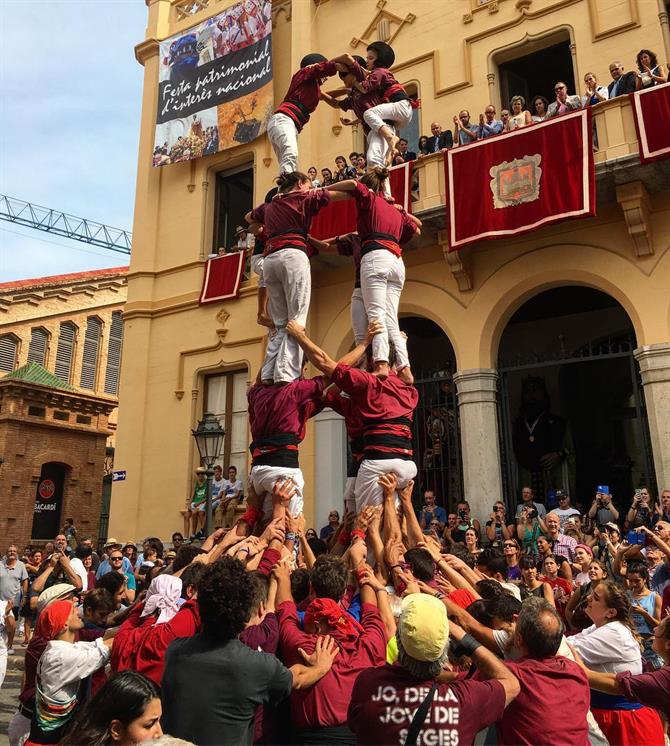 The festival is worth experiencing as it shows the best of Catalan culture in an incredible party atmosphere. Children will love the stunning fancy-dress parades, which include dancing dragons and giants. You will be amazed by the more than spectacular human towers or castellers in the streets, typical of Catalonia. There will be concerts and fantastic fireworks above the palm trees in the evening. In short, more than enough to keep you entertained, apart from the beautiful beaches of Sitges of course!
8. Santa Tecla Sitges - September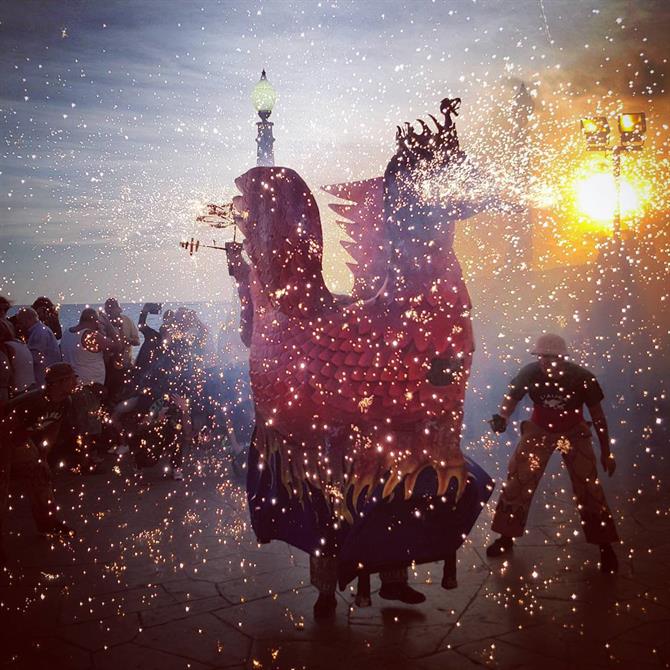 Did you miss the Sitges Festa Major in August? Don't worry. There's a similar, smaller version of this in September, also with beautiful and exciting parades, fireworks and a crazy happy atmosphere. It is less crowded and more intimate but just as fun!
Again, this festival is a great opportunity to enjoy the best of Catalan culture. Admire the art of traditional dances in the procession on the Day of the Patroness on September 23 and hold your breath as the famous castellers or human towers rise up in the air, with a young child climbing on top of it! If you are there with children, they will be amazed too and they will love the fire-spitting characters in the parades or the giants dancing along the streets. They're all typical ingredients of a local fiesta here.
9. Sitges International Film Festival - October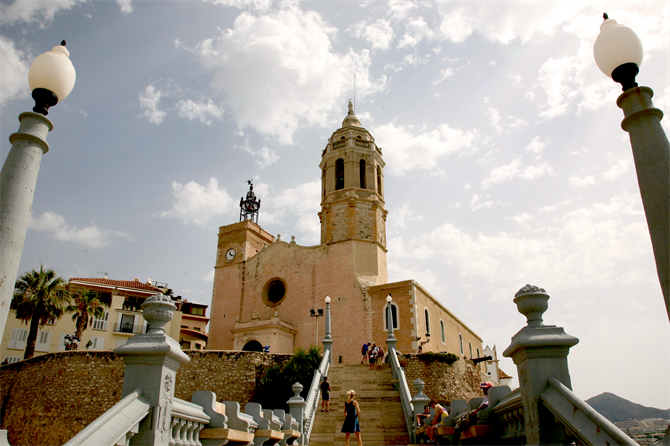 This is another of Sitges' most famous events. If you like horror and fantasy films, then Sitges is the place to be in October. Since 1968 this International Film Festival with awards for different film categories has attracted major celebrities to the town, from Quentin Tarantino and Cameron Diaz to Sir Anthony Hopkins and Jodie Foster.
Even if a film is really scary, you don't need to worry. A terrace in the sun to relax and have a drink will always be around the corner, as Sitges has a fantastic microclimate with more than 300 days of sun a year. Early autumn is still very good to enjoy Sitges.
10. Wine Festival Sitges - October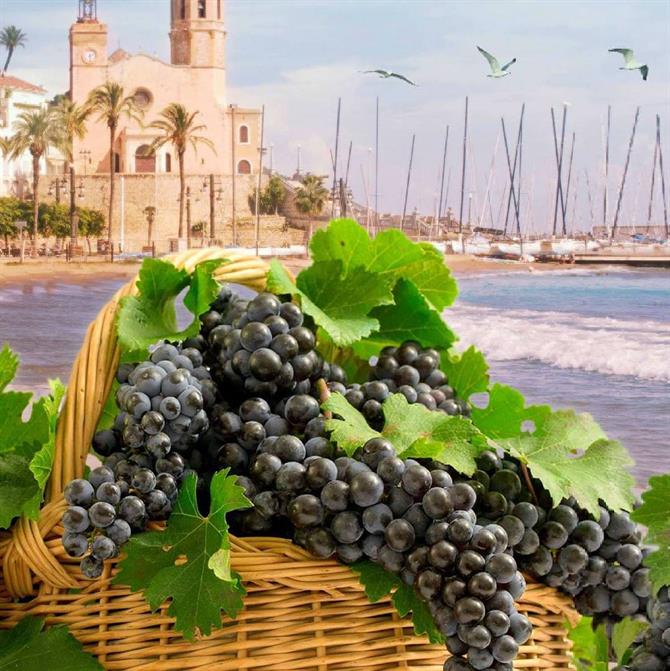 Spain produces a great variety of wine and many places celebrate their local wine with a harvest festival. Located in the heart of the Penedés wine region, Sitges has every reason to celebrate the grape harvest. Its Festa de la Verema as it is called, attracts people from all around the world who come to taste some of the region's best wines. This weekend event, usually in October, also includes a gourmet food festival on the beach and there are fun wine-related contests such as grape treading.
We could go on and on, as there are many more events in Sitges: the International Patchwork Festival in March, the 'Semana Santa' or 'Holy Week' before Easter, the Jazz Antic Festival in April, the International Tango Festival on the beach in July,... Sitges never stops! Definitely a happy place to put on your bucket list.