When travelling to Spain there are numerous activities to choose from for a fun day out with the family, but a great option is to visit one of the water parks. There are water parks located all around the country and here is a list of some of the country's most visited ones.
The majority of the water parks open around May and close around October. For further specific details, it is recommended to check the website. And remember many of the water parks offer discounts and promotions if you buy your ticket online!
With summer approaching, treat the whole family to a fun holiday break in one of our luxury apartments or villas in Spain.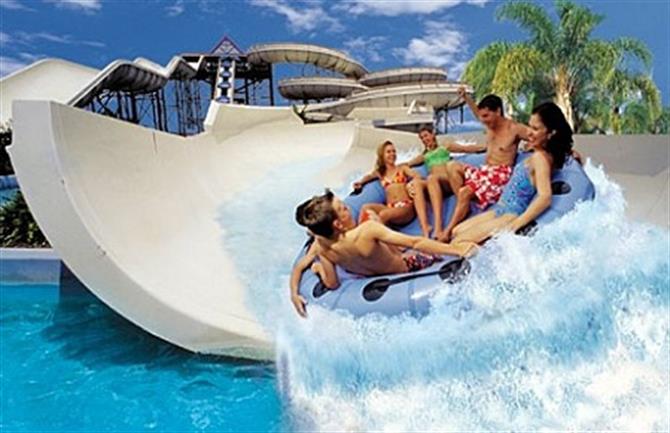 Park Aquatico Mijas – Fuengirola, Costa del Sol
Through May to October, one can visit this family-friendly water park in the heart of the Costa del Sol. The park offers thrilling water rides, shows, beach areas, wave pool, and Spa treatments. Tickets costs from 26€ for adults and 15€ for children. Purchasing the ticket on the internet you can get discounts both for adults, children, retired and families, including other promotions. Click here for more information. Exploring all the waterpark has to offer whilst staying in a Fuengirola apartment is a great option.
Illa Fantasia Water Park – Near Barcelona
This waterpark is considered one of the best waters parks in Spain with over 23 attractions combined with recreational areas offering a children's park, minigolf, large green areas and much more. Prices range from 28€ for adults and 17€ for children. More information on their website. Enjoy your break in a relaxing villa or apartment in the Barcelona province to experience the Illa Fantasia.
Siam Park – Adeje, Tenerife
Tenerife´s new water kingdom is also known as one of the best water parks in the world. It will bring you into another world as the park is inspired by Thailand and offers an opportunity to enter an exotic and adventurous world with many adrenaline pumping attractions. Tickets start from 37€ for adults and 25€ for children. Have a look at the Siam Park website.
Aqualandia Water Park – Benidorm, Alicante
Here the thrill rides; Big Bang, Kamikaze, Zig Zag, Black Hole, Amazons, and Wave Pool are the main attractions, but there is also plenty for families looking for a relaxed day out. Prices: 27€ adults, 23€ children. Promotions are available on their website. Get the most out of your visit and stay in a Benidorm apartment. The best facilities provided for all the family.
Hidro Park – Alcudia, Mallorca
This waterpark is the only water park in the northern part of the islands offering a variety of slides and pools for a great day out. Prices start from 24,90€for adults and 17,90€ for children. Discount for online bookings on their website. Enjoy a holiday to Alcudia with the family, there are many things to discover in this wonderful town.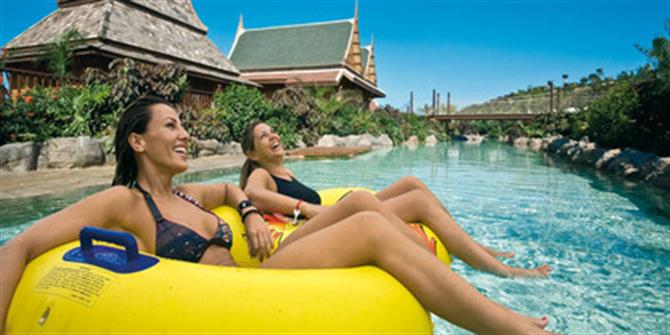 Aqua Natura – Murcia
This park is set on a large area of around 30,000m2 and offers a great range of rides and attractions for the whole family. Here you will find the Prison, Grave Islands, River Lento, Kamikaze, Speed Hole, Adventure River, and a large wet and wild children area that will definitely prove a hit for a day with the family. Prices start from 25€ for adults and 20€ for children. Have a look at their website for special discounts and promotions. Staying in a Murcia apartment is a perfect way to see this vast aqua park near the coast.
Western Park – Magaluf, Mallorca
The only western theme park on the island that offers the latest water attractions and great shows. Here you will find a world of entertainment and fun for the family. Adults 29€, Children 10-20€. More information on their website.
Aqua Center – Menorca
An area of 12,500m2 that offers modern water attractions including; The Black Hole, Adventure River, Giant Slide, Hidrotubes, children´s water shoots and much more. There is also a park and a play area within the premises. Adults 20€, children 12€. Have a look at their website.
PortAventura Aquatic Park – Salou, Tarragona
Part of the PortAventura group, this water park will definitely leave an impression on both the children and the adults. The park offers a great number of rides and attractions combined with excellent eating facilities and even shops. One has the possibility to combine the visit with the PortAventura Park that offers many thrilling rides and shows. Prices start at 29€ for adults and 25€ for children. Have a look at their website for more information. A variety of day excursions for the whole family can be enjoyed from the comfort of a luxury apartment in Salou.
AquaLeon – Albinyana, Tarragona
This is Catalonia's largest recreational area with a nature inspired theme. The park combines water and wildlife offering a large aquatic park, safaris, and wildlife exhibitions. Here you can also choose a game of paintball or even a horse ride along a scenic route! Prices start at 26€ for adults and 17€ for children. More information on their website.
Aquavelis – Nerja, Malaga
For everyone travelling to the area of Nerja, a perfect day of fun would be at Aquavelis. This water park offers numerous water attractions such as giant slides, the Kamikaze, wave pool, lakes and much more. Prices start from 24,50€ for adults and 18,50€ for children. Have a look at their website. Situated next to the beautiful coast and quickly becoming a popular place for families, a Nerja holiday has something for everyone.