Pets are part of our families so it's logical that we would want to include them in our family holiday.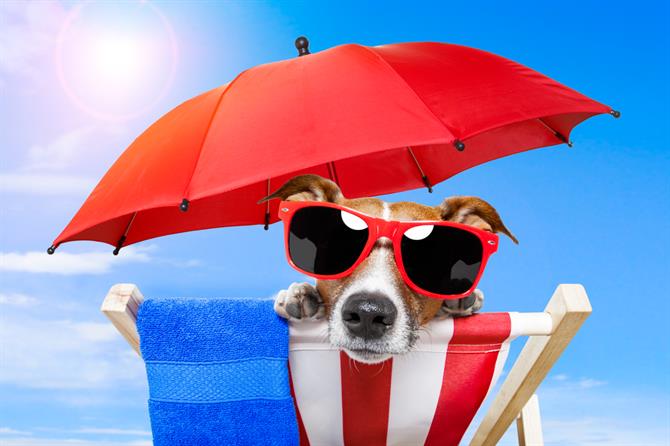 Taking a family holiday as a pet owner used to be a choice between expensive kennels and spending your holidays worrying that your pet is OK, or choosing a staycation in the UK. The majority of dog owners (83%) rank a destination with dog-friendly accommodation as the most important factor when planning to take a pet abroad. Thanks to websites such as Spain-Holiday.com, which enable you to search for pet-friendly self-catering holiday accommodation in Spain, and with the introduction of the Pet Passport system, you can bring your pet with you on your holiday to Spain.
Most important factors when owners plan to take their dog abroad on holiday
| | |
| --- | --- |
| Factor | Percentage |
| A destination with dog-friendly accommodation | 83% |
| A destination where the dog can run around and play | 69% |
| A destination which allows my dog to accompany me into restaurants, shops and attractions | 51% |
| A destination with a local vet or animal hospital | 50% |
| A destination with amenities and services that are relevant to the dog | 40% |
| A destination which always has water bowls available for my dog | 34% |
| A destination with dog-friendly events and activities | 28% |
| A destination where food for my dog is readily available | 24% |
| A destination where my dog can meet and interact with other animals | 17% |
British dogs are increasingly well travelled, with one in ten (10%) of owners taking their pets on holiday with them, according to new research from Direct Line Pet Cover almost half of all pet owners (45%) say that their dog influences their choice of holiday destination.
Below, we give you all the essential information you need to enjoy a family holiday in Spain with your pet, along with first hand advice and top tips from pet travel experts and enthusiasts.
UK PET PASSPORT & REGULATIONS
Taking a dog abroad is much easier these days with the Pet Passport system. This enables your pet to return to the UK without any need for quarantine.
The procedure is straightforward but there are a few sensible rules. To obtain a Pet Passport your pet must be: micro-chipped; at least 12 weeks old; up to date with vaccinations including rabies; and treated for tapeworm.
1. MICROCHIP
Your pet must first be microchipped with an ISO 11784 compliant, 15-digit pet microchip. If your pet's microchip is not ISO 11784 compliant, you can bring your own microchip scanner.
Tattoos made before 03/07/2011 are also an acceptable form of identification as long as the current rabies vaccination was administered after the tattoo was applied.
The microchip number should appear on all vet and vaccination certificates
2. VACCINATIONS
To enter the UK (a rabies-free country) after visiting Spain (a rabies-controlled country) your pet will need to have had a valid rabies vaccination.
The vaccine name and manufacturer as well as vaccination and expiry dates must be recorded in the pet passport by a registered vet (signature and stamp is required).
There is a waiting period (to enter the UK) of min. 21 days after the first vaccination. Subsequent entries into the UK do not require a waiting period, as long as the rabies boosters are kept up to date.
The rabies vaccination must not have expired on the date of entry into the UK.
3. TAPEWORM TREATMENT (DOGS ONLY)
Between 24 hours (1 day) and 120 hours (5 days) BEFORE arriving in the UK, your dog must have been treated against tapeworm by a licensed vet in Spain.
Treatment date and time must be recorded by the vet on the pet passport.
GETTING THERE
Wherever you decide to travel with your dog, you must depart from (and return to) the UK on an authorised route with an approved transport company. Several airlines as well as Eurotunnel and some ferry companies welcome pets on board.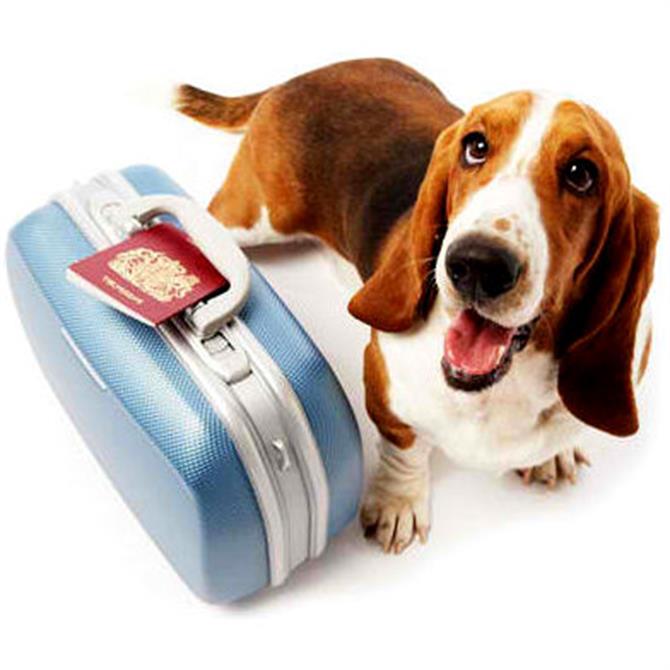 Flying
Due to regulations set by commercial airlines approved to fly animals to the UK, except for assistance/service or emotional support animals, pets must arrive as manifest cargo on an approved airline.
Always book pet transport services through a reputable, DEFRA authorised pet transport company such as Animalcouriers.com. AnimalCouriers.com transport pets safely and comfortably by road throughout Europe in customised, Defra-authorised vehicles. They can also arrange flights for pets, and provide other services, including advice on pet passports and details of kennels and catteries.
Alternative Travel Methods
CAR
Travelling by car can offer more flexibility when travelling with a canine companion.
Bodie, and his "human pet" Belinda Jones are both seasoned travel companions with a book about their travel "tails" – Bodie On The Road - being published in 2017. Belinda's top travel trip for car journeys based on her experience is: -
"Exhaust your dog the day - or better yet the full week - before travel! You can either take your dog for a free-roaming run or check him/her into doggie daycare where he can frolic joyfully with other pups. After even a half-day session Bodie would be asleep before I'd even closed the car door and therefore be much more relaxed and inclined to go with the flow on our trip."
You can follow the tail-wagging travels of Belinda and her ever-grinning rescue pup Bodie as they head to sunny Spain in 2017 on their blog Bodieontheroad.com.
FERRY
Brittany Ferries offers pet transport service on its Portsmouth – Santander and Bilbao crossings and carries nearly 70,000 pets to Spain and France annually.
Pets must be kept in the vehicle for the crossing except for when visiting the designated pet exercise areas.
Dr. Conor Brady, qualified specialists of the effects of nutrition on the behaviour and gut morphology of animals, advocates fresh food diet for pets on his website DogsFirst.ie. His top travel tip is: -
"To assist in a calm passage, grate a little fresh ginger (and valerian root, if you can find it) under the seats, or simply pick up any decent herbal travel spray based on these herbs."
EUROTUNNEL
Pets are permitted to travel on the Eurotunnel but must stay in the car during the 35-minute crossing except when visiting the designated pet exercise area.
The price for pets travelling on the Eurotunnel is £18 per journey
TOP TIPS FOR TRAVELLING WITH PETS
Just as you have a list of essential items to pack, your four-legged friend does too.
Trina and her beagle, Maggie, have travelled throughout Europe and further afield often staying in self-catering accommodation. Her top tip for travelling with pets is: -
"The best way to care for pets on the go is to be informed...Always pack the essentials including a good blanket from home which will make them feel so much more comfortable while away"
Check out Trina and Maggie's website about travelling with pets WagtheDog.co.uk for more great tips to help you plan your holiday.
The following checklist will help you plan and enjoy travelling with your pet and creating great memories on holiday: -
Pet Passport including valid rabies vaccinations as well as any medical records specific to your pet
Any medications your pet takes regularly
Contact info for your regular vet
Grooming products i.e. Comb or brush and flea control products
Towels
Dog food and dog treats for the entire trip; long-lasting edible chews are a great idea for long journeys by plane or car
Food and water dishes
Take an extra portable water bowl.

Even a short walk, in temperatures they are not used to, can cause a dog to dehydrate quickly

Lead, poop bags plus spare collar & lead
ID tag (plus spare) which includes address and phone number of where you will be staying
A GPS tracking device such as Tractive
Your dog's favourite toy and blanket
A list of dog-friendly attractions, beaches and parks, and restaurants in the area
A first aid kit for your dog
Dog seat-belt if you are taking your own car or hiring a car (check with your car hire company about their pet policy before booking and adhere to their regulations)
Dog-friendly Spain
When planning your family holiday in Spain with your pet, do some research into how dog-friendly the area is that you intend to visit.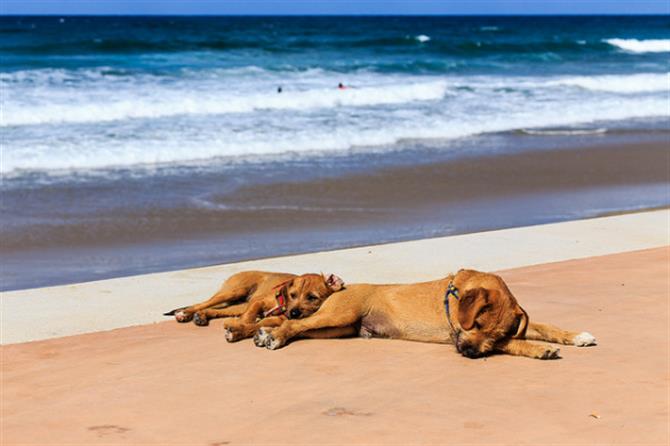 According to researched carried out by Petbuzz Market Research, Antequera, Andalusia is in the Top 5 most pet-friendly destinations as voted by UK dog owners.
Dogbuddy.com – leading online pet-sitting service in Europe advises: -
"The concept of 'dog-friendly' can vary greatly from city to city in Spain. In some areas, shops offer special facilities or allow pets indoors, while other regions are more strict in terms of having pets in public spaces. It's also important to keep in mind that some locations in Spain at certain periods of the year can be extremely hot, so it's fundamental to make sure that you dog can tolerate the heat and to always be prepared with some water. For these reasons, it's crucial to do your research before choosing the final destination of your holiday when travelling with your beloved pet."
Dogs are not the only four-legged friends
Dogs are not the only family pet that we are loathed to leave behind when we head of on holidays. Although a little less common, cats crave cultural travels too.
We asked Sazsa and her famous feline companion, Starina Esperanza, about travelling with a cat. Starina is no stranger to travelling, as the face of Thomas Cook Airlines adverts, as well as modelling for Vogue and Hendricks Gin.
"The most important thing about travelling with your cat is keeping her secure, so your first purchase must be a good quality harness.
Make your car cat-friendly with a pet booster seat with leash attachments so they can move around safely, without having to be cooped up in a travel cage. Also have portable or spill-free bowls so that you have fresh water available."
You can follow Starina Esperanza and her modelling career on Instagram.
Emergencies
Do some research before your trip to find out the contact details and address of emergency animal clinics/vet close to where you're staying. You will need to make an appointment with a vet and arrange for a tapeworm treatment to be administered (and documented on the Pet Passport) between 24-120 hours before arriving back in the UK. Also, if an incident does occur you will be able to get help quickly for your pet.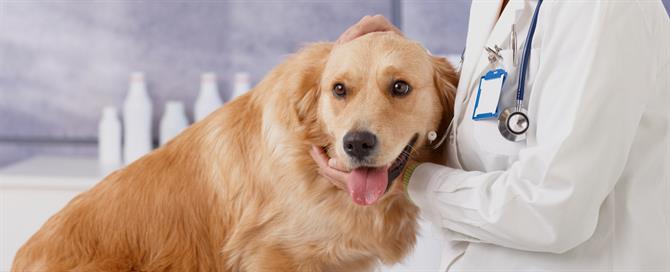 Here are just some of the creepy crawlies (with their Spanish translations) found in Spain that you should be aware of and know what to do if your something happens to your pet: -
Caterpillars (Processionary Pine Caterpillars)
Processionary Pine Caterpillars (thaumetopoea pityocampa) "Orugas procesionales de pino" are probably one of the most unpleasant creatures you will find in Spain, certainly in areas where pine trees grow in abundance. They are a major danger to animals and, to a lesser degree, human beings.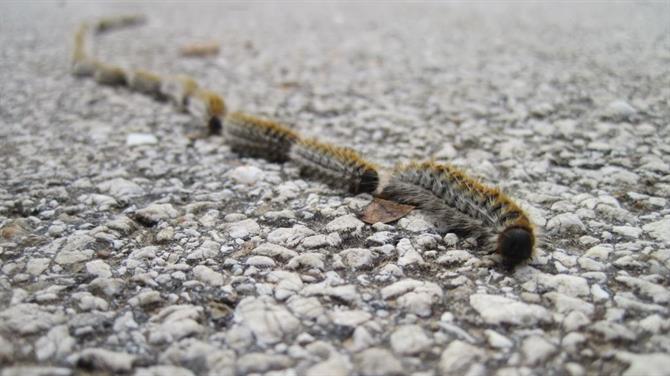 Do not touch them. The very fine hairs on these creatures are poisonous and most dangerous.
They travel nose to tail in a line, hence the name "Processionary". They are most noticeable from January to mid-April and are at their most dangerous in mid/late February.
If they drop onto you or your pet, don't brush them off with your hands because the effect is most unpleasant, causing great irritation, rash and pain. Dogs, cats and people can suffer from shock.
Dogs are most at risk by sniffing the ground where the caterpillars have marched.
Treatment: If an animal shows signs of shock, get them to a vet immediately.
Centipedes
Centipedes "ciempies" are generally considered to be more of a nuisance than anything else. They can give a sting, unpleasant but not dangerous.
Sand Flies (Leishmaniasis)
Your dog needs protection against leishmaniasis, otherwise it can be in serious for your dog. There have been very few cases of leishmaniasis (also known as Kala-Azar) in Spain but when they occur they can be fatal if not treated.
Dogs that regularly travel abroad may be exposed to leishmaniasis which is transmitted by a bite from a sand fly.
The name 'sand fly' is misleading as the sand fly's natural habitat is in wooded and garden areas.
Dogs can be bitten up to 100 times an hour during the sand fly season which begins in May and ends in October. August is the worst month. The flies are mainly active between dusk and dawn. Early morning between 02:00-04:00 is the worst period.
See your vet about a collar before you travel to Spain; fitting a preventative collar will protect your pet from approximately 95% of sand fly bites for the whole season.
Keep the dog inside the house when the sun starts to set, and keep bedtime walkies brief and avoid night walks near running water such as rivers, streams etc.
Scorpions
Scorpions "escorpiones" do exist in Spain, mainly in the countryside.
The Mediterranean Scorpion (Buthus Occitanus) "Escorpión Amarillo" is not as dangerous as the North African type but the sting is extremely painful.
The European Black Scorpion can be found in the northern regions of Spain. This scorpion's sting is unpleasant but soon wears off.
Spiders
Spiders "Arañas" in Spain are mainly harmless except for a funnel web spider which is still rare and are not the very venomous type indigenous to Australia.
Tarantulas are very common in the western area of Toledo but fortunately the venom is weak.
Black Widow Spider (Latrodectus Tredecimguttatus) is the most widely distributed species in Europe and is the most dangerous spider in Spain giving a nasty bite but not fatal. Whilst they are rare, it is said to be commonest in the arid parts of Almeria and Aragon and also the regions of Valencia and Andalusia.
Brown Recluse Spiders (Loxosceles Reclusa) are found in parts of Spain but not lethal.
Stinging Ants
Considered to be the only species of poisonous ant, the bite of the stinging ant (Myrmica rubra laevinoides) "Hormiga roja chica" is unpleasant but not considered serious.
Tapeworms
Tapeworms "Tenia" exist in Spain and it is a legal requirement to have your dog treated for tapeworm between 24-120 hours before travelling back to the UK. The treatment must be administered by a licensed vet and documented in your Pet Passport. If you do not comply with this regulation, you risk your pet being put into quarantine upon return to the UK.
Ticks
As in most hot countries, ticks "garrapatas" are prevalent in Spain and they can transmit nasty diseases to your pet such as canine Babesiosis and Ehrlichiosis. They can cause dogs and cats incurable damage which incurs lifelong administration of drugs.
If you find a tick on your pet, it is suggested that the tick should be doused with alcohol or spirit. This makes the tick contract and allows you to pull it out whole. Leaving a portion of the tick inside the dog/cat is likely to cause an abscess.
Various forms of tick prevention are available.
IMPORTANT: If your dog is wearing a special collar against the sand fly (leishmaniosis) you must NOT use a anti tick collar on your dog at the same time. Instead, use anti tick drops which do not react against the chemicals in the anti-leishmaniosis collar. These drops are easily placed around the pet's neck.
If ignored, in exceptional cases, tick fever can be fatal to the animal. It is most important that a qualified vet advises you.
A chilled dawg not a hot dog!
The cooler spring and autumn months are a great time to take a holiday in Spain with your pet. However, Spain is normally hotter than your canine buddy is used to.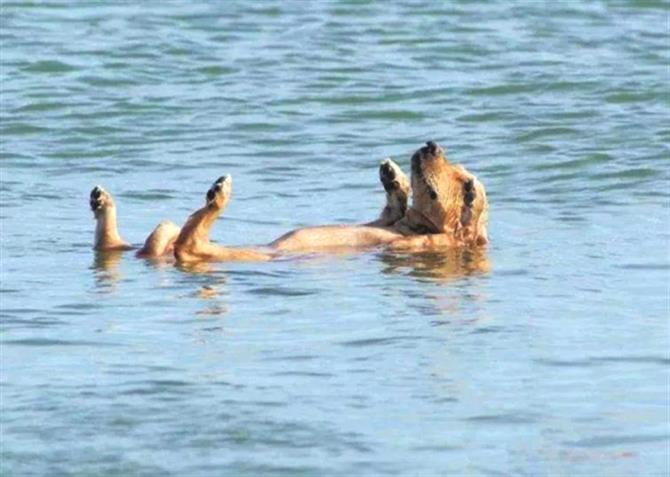 Keep them cool by making sure they drink lots of water; the promenades and town squares are often well catered for dogs with frequent drinking fountains for four-legged furry friends and most bars and restaurants welcome (well behaved) dogs on their terrace and will often bring you a bowl of water without even having to ask or have one readily available.
Even so, it is advisable to take a portable water bowl and some water with you when you head out.
Let your dog enjoy regular dips in the sea (on beaches that permit dogs) or in rivers and streams (although do check them thoroughly afterwards for ticks or leeches).
In a hot country such as Spain, even in cooler months, it is more important than ever to NEVER leave a dog alone in the car, even for a quick stop. At 28°C outside, the temperature in your car can reach a dangerous 39°C in just 10 minutes.
Canine Spanish Tummy
Dogs as well as humans can be susceptible to changes in diet or even the drinking water. It is wise to bring a supply of your regular dog food on holiday with you, whenever possible.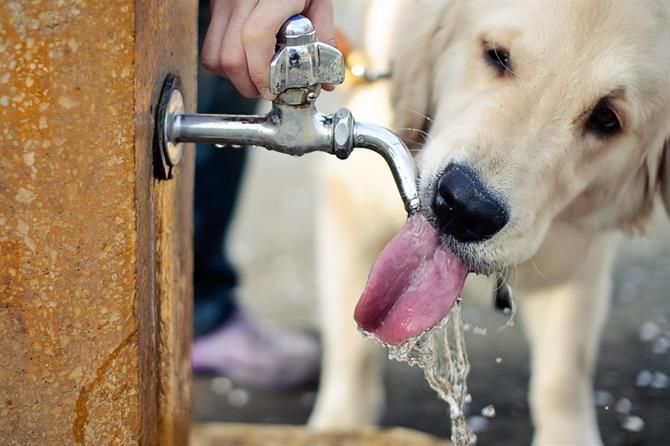 Dr. Conor Brady advises: -
"In terms of feeding your holidaying hound… A change in diet is the last thing they need. If your dog is dry-fed, then do bring your regular pet food with you. If fresh-fed then buy the ingredients at the destination. Good foods that you not only know your pet will like but are sure to be available in most European supermarkets are tins of tuna, pre-boiled rice in tear-off packs and eggs."
On the subject of drinking water, he has these words of wisdom: -
"In some parts of the Spain the water can be quite heavily chlorinated and this can cause stomach upset in dogs. Avoid tap water, and even bottled water has been chemically treated. Instead, heat tap water (above 50ºC for 10 mins.) to evaporate off the chlorine then cool and serve."
Common courtesy to others
Stress-Less
Probably one of the biggest concerns about taking a pet on holiday with you to another country is how your dog is going to react to the new sights, sounds and smells of an unfamiliar environment, and will his/her reaction cause stress to your dog, you and your family, or others
One cultural difference worth considering between UK and Spain is noise levels, and specifically fireworks. In the UK, fireworks tend to be pretty much limited to being set off on or around Bonfire Night and New Year's Eve and dogs generally are distressed by them.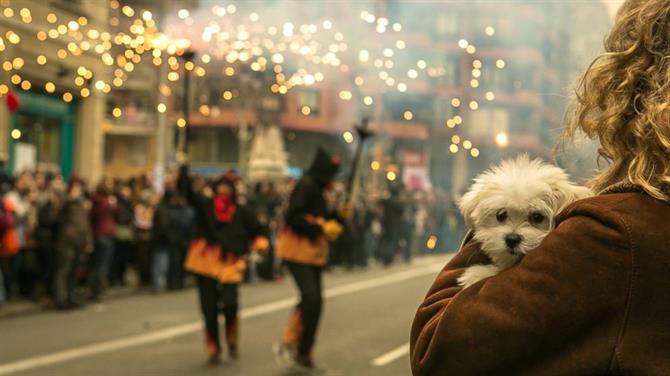 Spain may be the pyromaniacal capital of Europe, with firecrackers and fireworks seemingly being set off for any occasion, small or large with daytime fireworks being a huge thing too. For this reason, making sure that your dog does not get stressed out or spooked whether in the holiday home alone, or out with you, is essential.
If your dog is prone to barking at unfamiliar sounds, consider bringing a noise machine to provide a white noise background so your dog doesn't hear (and bark at) every sound all night long.
If your dog becomes anxious when travelling or staying in an unfamiliar place, there are many drug-free and natural remedy options on the market.
Dog anxiety vests such as Thundershirt or Anxiety Wrap are both snug fitting shirts that put pressure on various acupuncture points on the dog to help keep them relaxed.

They essentially "cuddle" the dog. A calm dog is a safe dog.

Natural remedies such as Bach Rescue Remedy drops which can be used on humans and pets. Grated ginger is a great remedy for travel sickness in pets and humans. Other natural remedies for anxiety include calming collars or treats/tablets/chews.

Speak to your vet for recommendations which will work for your pet and try them before you travel to find out what works best for your dog.

Calming aid plugins are also available that you might want to take with you and use in the holiday home.
There may be places you wish to visit that do not allow pets, such as on an evening out, or a day trip.

Don't let this stop you making the most of exploring Spain on your holidays.

Why not use a

pet-sitting

service in Spain such as

DogBuddy.com

– Europe's leading online

pet-sitting

community.
Less Mess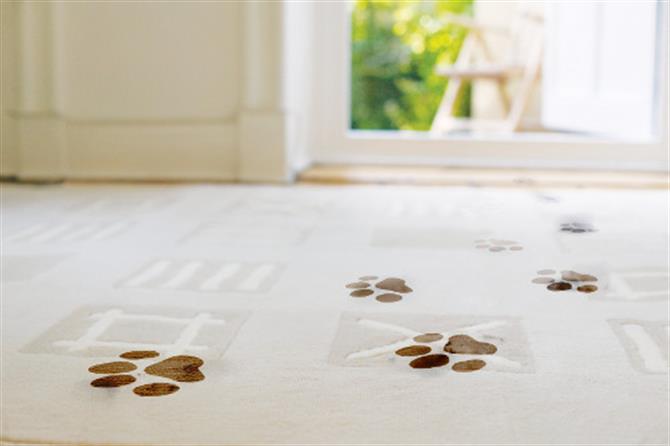 Do not forget to pack towels for your dog. Even though the holiday rental property no doubt provides towels for humans, it is a common courtesy (not to mention hygienic) for dogs to have their own towels. You and your dog will no doubt be spending plenty of time outdoors in Spain so pack enough towels to wipe off dirty or sandy paws.
Keep a Routine
Dogs thrive when they are settled in a comfortable routine. This is difficult when travelling, but try to give your dog regular walks and playtime. Make sure he always has fresh water and food. Try to bring dog food with you or keep the food the same as he gets at home – if you must change it, do so gradually. Don't forget to wash his bowls daily. If you use tinned pet food, don't leave it out all day otherwise it will attract flies and ants.
Safety First
Safety while travelling with your dog can never be emphasised too much. You want to be as aware and safe as possible while you travel so that you all end up at home healthy and happy. Below are a few more safety tips as you travel with your dog: -
Be aware of how your dog reacts to strangers. It's okay if she growls or acts nervous – she's out of her normal environment and needs reassurance that everything will be okay. Be calm and assertive and remember that exercise is a great way to relax your dog.
Check the holiday home for any loose wires or unsafe objects, and that all windows and doors are secure and closed/locked.

It is a good idea to enter the property first without your dog and check room by room that everything is in order.

This will leave your scent behind and help your dog settle in more quickly

Use a GPS tracking device. Tractive.com

who manufacture wearables for pets and apps for pet owners recommends: -
"A GPS pet tracking device is a great idea if you and your dog spend a lot of time outdoors... you should consider investing in a pet tracking device like the Tractive GPS Pet Tracker. Some pets are rather adventure-seeking and you never know if your pup suddenly escapes to explore the area."
Make memories
While it might require a little extra preparation and work, it's entirely possible to bring your dog along to join in on the fun.
Amy Burkert runs an award-winning pet travel website GoPetFriendly.com which is truly an encyclopedia of advice for travelling with pets based on her first hand adventures with Ty and Buster.
Her top tip for a memorable holiday is: -
"Don't plan too much. Everything takes a little longer when you're travelling with pets, and part of the fun is taking time to stop and sniff the roses - so leave room in your schedule to relax and enjoy your time together."
Many restaurants, cafes and tourist-minded businesses have intentionally made their facilities pet-friendly to provide great customer service.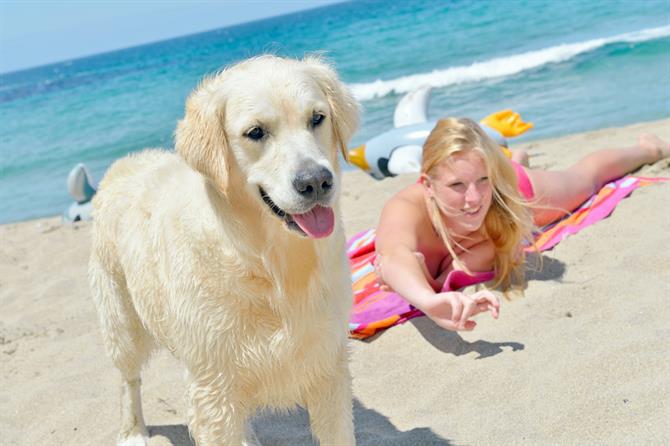 So with all this up-to-date comprehensive information about travelling with a pet to Spain, along with a selection of over 3,000 holiday rental properties to choose from that allow pets, your canine companion never need be left behind again.