The
'Costa Dorada'
is called 'Golden Coast' for a reason. If you head there for your
Tarragona beach holiday
, you will find kilometre upon kilometre of golden sand, fringed by palms and pine trees.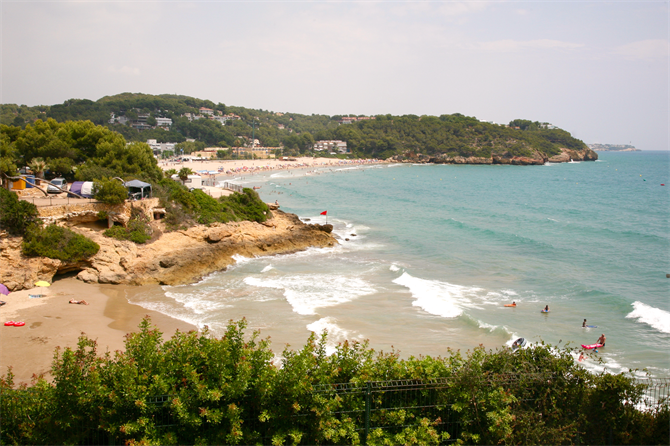 Characteristics of the beaches of Tarragona
Family-friendly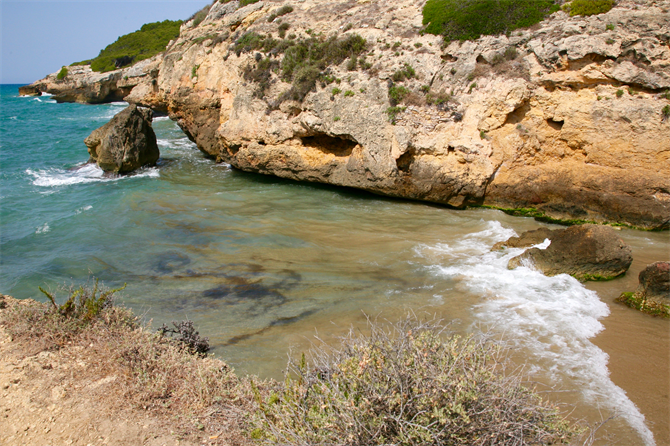 The beaches typically have golden but also very fine and soft sand, perfect for sunbathing and relaxing or for your children to play in.
On top of that, most beaches have lovely calm water, with a gentle slope and good facilities such as showers, restaurants and lifeguards. This makes Tarragona beaches generally family-friendly.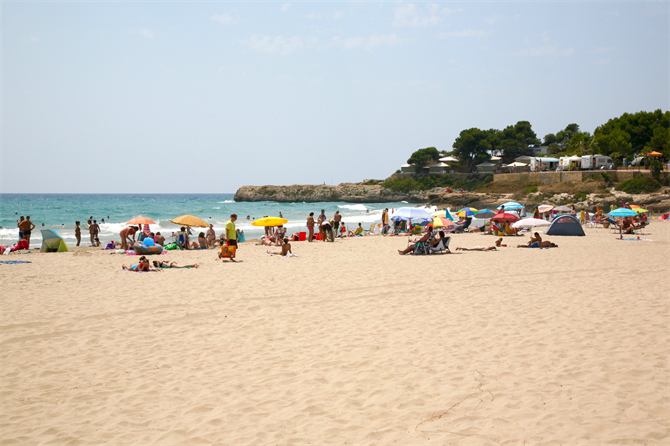 Extra activities such as sports lessons are also organised during the summer too.
Clean beaches and natural surroundings
The beaches of Tarragona are known for their excellent quality, thanks to regular cleaning and water analysis. Many have been awarded with a Blue Flag. Some beaches have protected natural surroundings or valuable ecosystems, with plants, dunes and birds.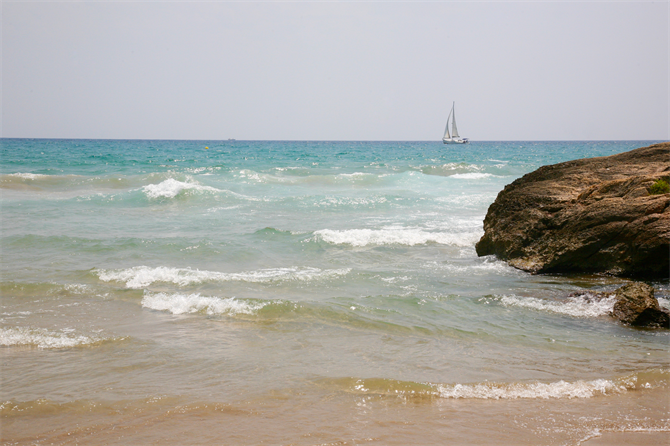 The
wonderful climate
allows holidaymakers to go for a pleasant swim from June to September, while sunbathing and walking are possible all year round. Apart from the beaches, you can enjoy Tarragona's rich culture. There's even a unique
Roman festival in Tarragona in May
.
The beaches of Tarragona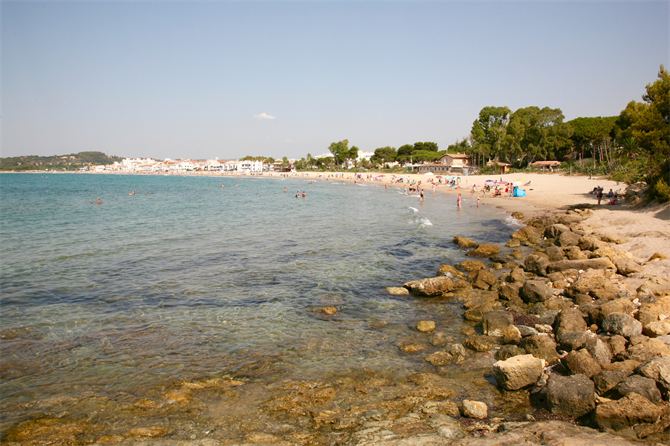 Here's an overview of the beaches of Tarragona town, from south to north - plus Altafulla (10), still close to Tarragona.
This guide has all the info you need to choose the beaches for your Tarragona holiday. You will find that family-friendly beaches are located closer to the town centre, while the beaches in the north tend to be more secluded or unspoilt, with fewer facilities.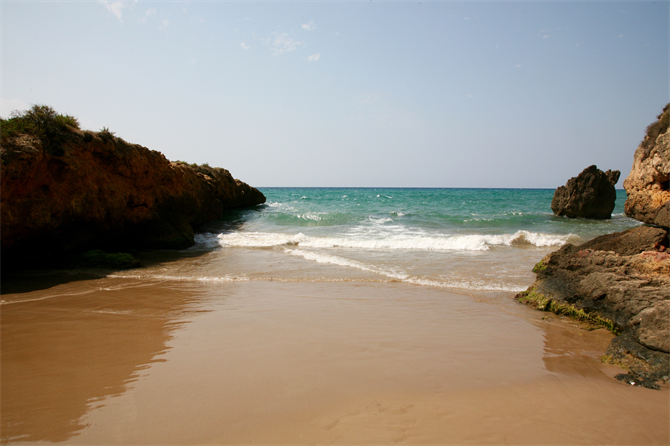 1. El Miracle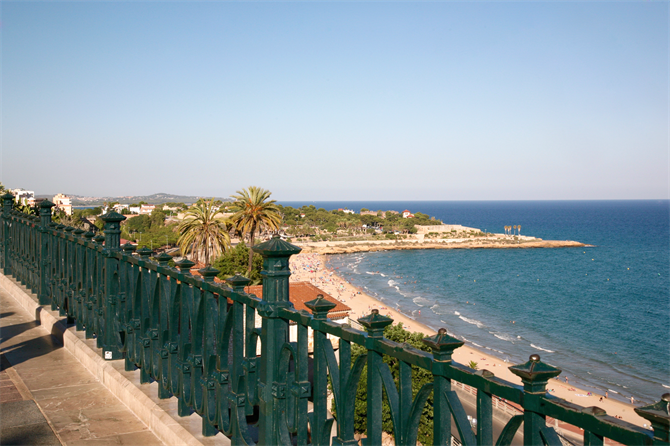 This is Tarragona's main central beach. It is 500 metres long and has a width of 75 metres. To get there, you can just walk from Tarragona's city centre along the Rafael de Casanova promenade.
The
Balcón del Mediterráneo
(Balcony of the Mediterranean) offers great views of El Miracle beach and its calm waters.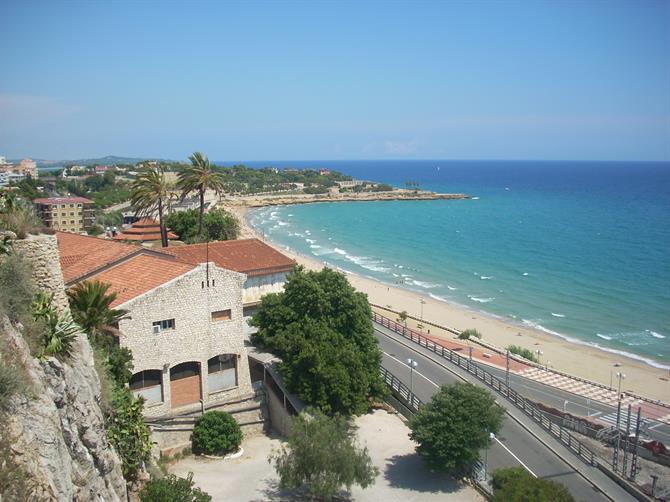 It is without a doubt one of the best places in the city of Tarragona to enjoy the sun among the locals. As an urban beach, El Miracle has good facilities including disabled access.
2. L'Arrabassada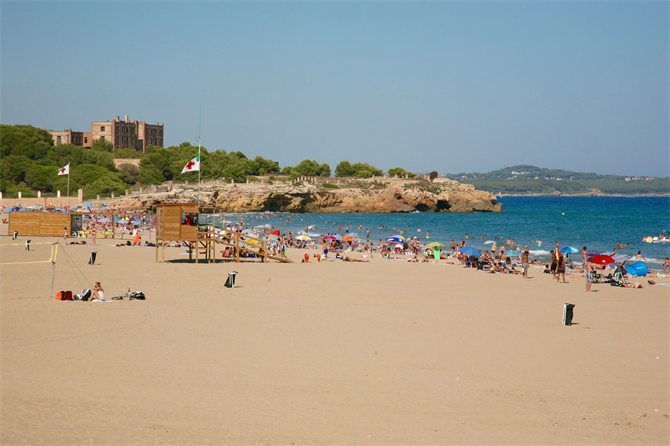 Not so far from the centre of Tarragona, you will find L'Arrabassada beach. It's the most family-friendly beach of Tarragona, with very fine golden sand.
The water is clean and calm, the atmosphere relaxed. L'Arrabassada has been awarded with a Blue Flag and its sand is cleaned daily. It is 550 metres long and 65 metres wide and has good facilities, such as showers, beach bars and restaurants.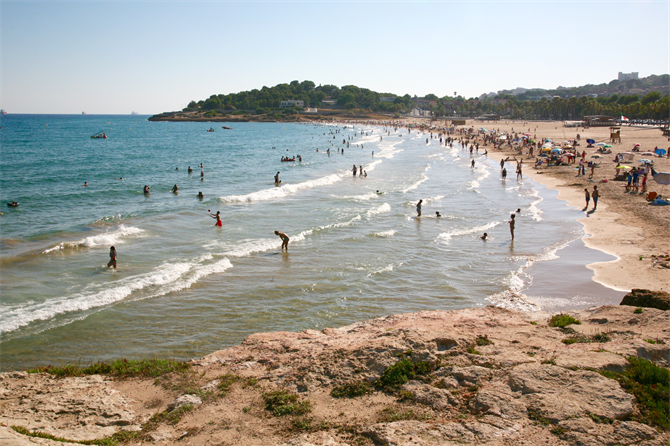 L'Arrabassada also has a beautiful promenade and disabled access. It's a great beach to walk along from one end to the other and back. You can park along this beach too.
3. La Savinosa
La Savinosa is another Tarragona beach awarded with a Blue Flag. Surrounded by beautiful nature, it has fine golden sand and the water is usually calm. It's cleaned regularly and is about 350 metres long and 30 metres wide.
La Savinosa doesn't usually get very busy and is a nudist beach. It has walkways and disabled access and there's also a parking area.
4. Playa Larga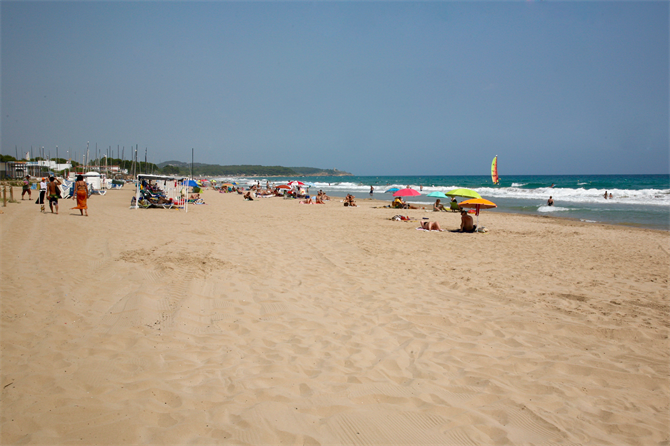 This is the longest beach in Tarragona - it's three kilometres long and 30 metres wide. 'Playa Larga' actually means 'long beach' in Spanish.
Located in a peaceful natural area, it is a lovely sandy beach with calm water. It has the main facilities, such as toilets, showers and rental services for sunbeds and parasols. It has a bar and disabled access too.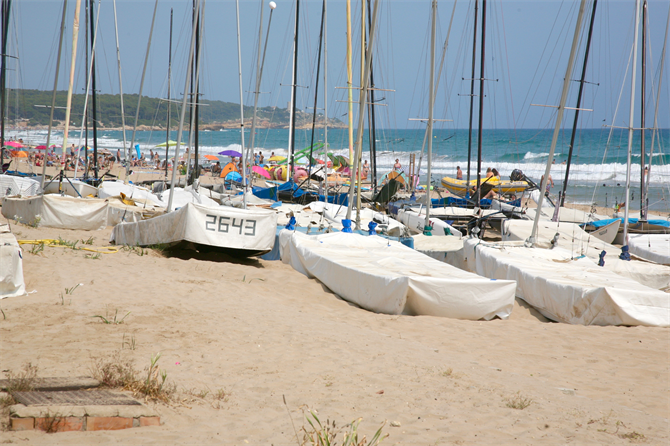 There's also a sailing club and it's a great place for diving.
5. Cala Fonda or 'Waikiki beach'
You will find this naturist cove just 10 kilometres from Tarragona town, close to a small village called La Mora. The locals like to call it 'Waikiki', after the famous beach of Hawaii.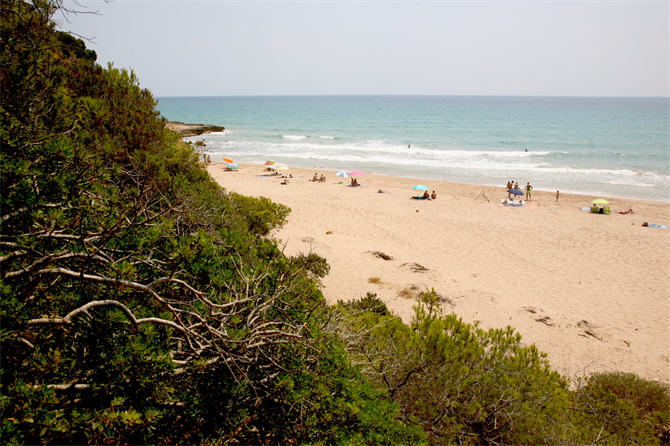 The fine sand and calm water offer visitors a peaceful place to relax, with an intimate atmosphere. It is one of the most famous nude beaches in the area and has no facilities.
Cala Fonda is 200 metres long and is not so easy to reach. To get there head north from Playa Larga, right through the pine forest of Bosc de la Marquesa.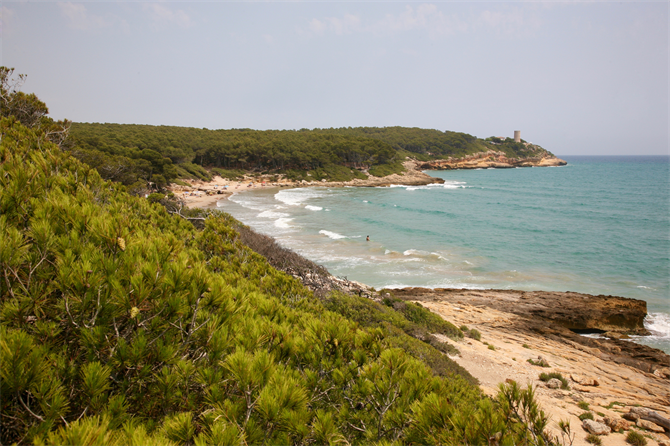 Once you get to this wonderful secluded cove, you will perhaps be reminded of the Costa Brava or even one of the Balearic Islands.
6. La Roca Plana
The lovely beach of la Roca Plana ('Flat Rock') is located next to Cala Fonda and so you can also access it on foot, from the north end of the Larga beach or from Punta de la Mora (see map at the bottom of this article).
Like the neighbouring 'Waikiki', it is a quiet nudist beach with calm waters and very few facilities. The green surroundings are in beautiful contrast with the fine golden sand of this beach. They definitely add to its beauty and peaceful nature. Roca Plana beach is about 205 metres long and 26 metres wide.
7. Playa La Mora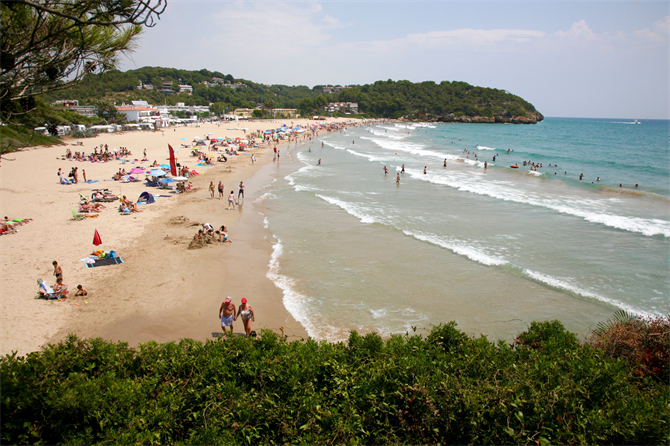 Like La Savinosa and L'Arrabassada, Playa La Mora has been awarded a Blue Flag and has fine golden sand and calm water. It is 520 metres long and 65 metres wide.
It's not usually very busy and there are all kinds of facilities, including toilets, showers, refreshments, a parking area, lifeguards and rental services for sunbeds and parasols. It also has a promenade and disabled access.
The Golf Club Costa Daurada is just over 2.5 kilometres from this beach, with 18 holes and a swimming pool among other things.
8. Cala Jovera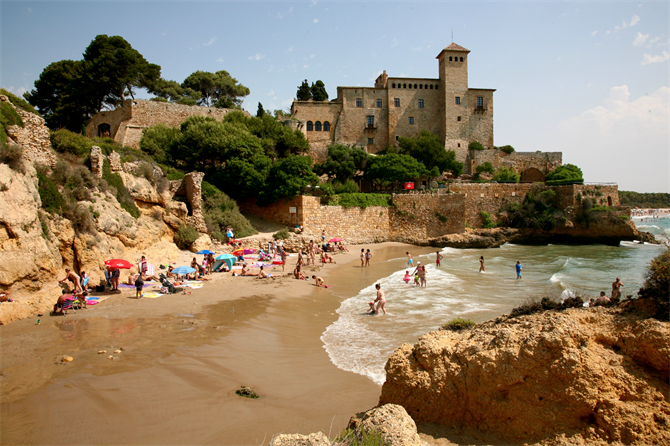 Cala Jovera is a stunning secluded cove surrounded by nature and presided over by the impressive castle of Tamarit which sits at the top of the cliff.
It is made up of golden sand. The crystalline water certainly adds to its attraction. It is just 90 metres long and 20 metres wide. Small but cute. Worth a visit!
9. Playa Tamarit
Playa Tamarit is a secluded protected beach and very picturesque if you look at the Tamarit castle within this amazing natural setting.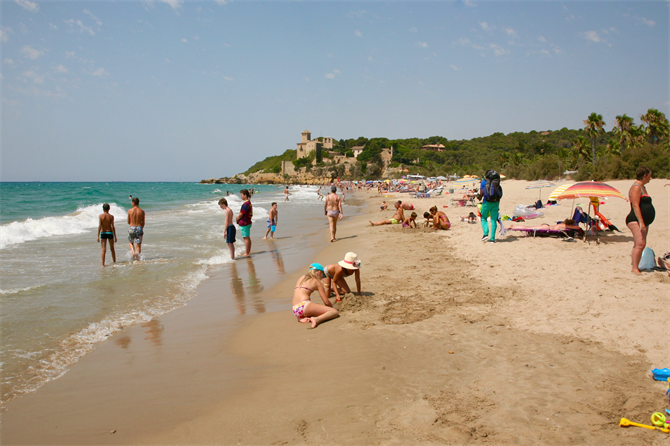 It has fine sand, calm water and is cleaned daily. It has been awarded a Blue Flag and offers visitors all kinds of facilities, from showers and a restaurant and bar to water sports and lifeguards, but it doesn't have a promenade.
The beach is 1,750 metres long and 40 metres wide and isn't usually very crowded. Playa Tamarit is the most northern beach of Tarragona town, close to the important natural area of PEIN - Riu Gaià.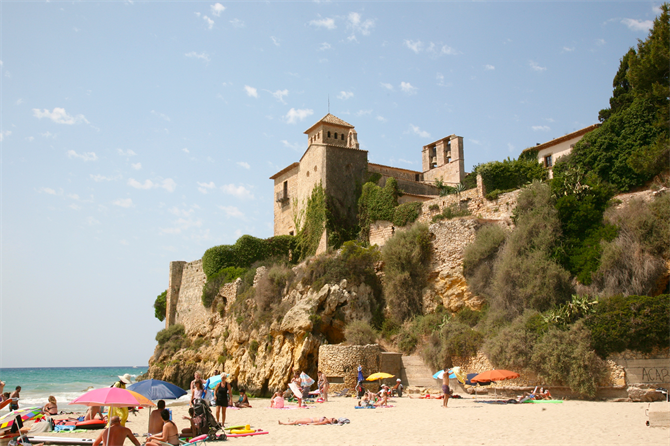 If you go by bus, it is good to know that the stop for this beach is located at the beginning of the Tamarit castle road. The walk to the beach from there is about one kilometre.
The parking area for this beach belongs to Altafulla (number 10) and is located behind the train station.
10. Altafulla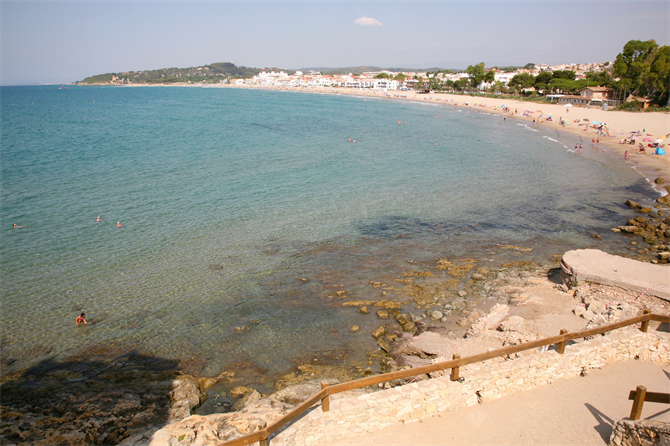 Starting just behind Tamarit beach and running all the way from Cap Gros to La Roca del Gaía, Altafulla beach is 1,100 metres long and 20 metres wide.
Its Sailing Club has put this beach on the map by hosting international championships. Volleyball tournaments are also organised on this beach.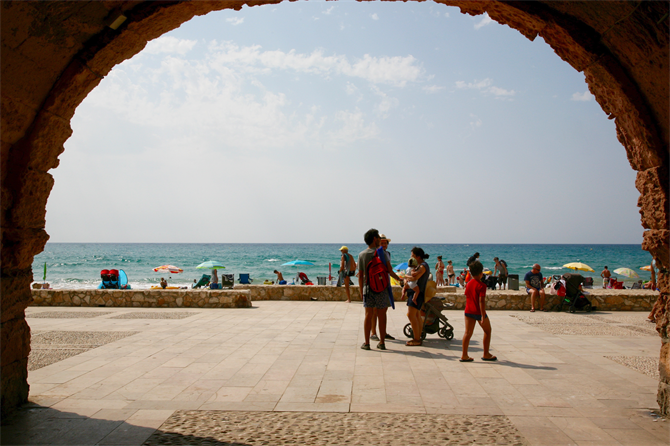 Located just 10 minutes from Tarragona by train, it is known for its golden sand and attractive white buildings. It has been awarded a Blue Flag, which means it has good facilities too including disabled access. It's perfect for families and you can rent a
holiday home in Altafulla
to enjoy a fantastic beach holiday.
Map
If you want to see if you can get to one of these beaches by bus, check this local bus website: http://emtanemambtu.cat/.