Where once canarii, the pre-Spanish residents of a Gran Canaria they called Tamaran, lived, you'll now find Canarians. Yes, there's plenty of history in Tufia, which is not that surprising really, considering it forms part of Telde, home to the island's first metropolis. Look above the present-day whitewashed settlement to discover aboriginal archaelogical remains which include burial mounds.
Industrial Gran Canaria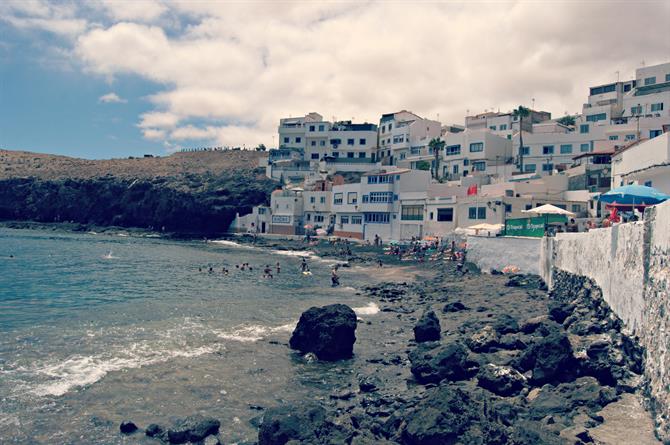 It may come as an eye opener to discover that there's any industry on Gran Canaria other than tourism. But take the turn-off to the El Goro industrial estate to reach Tufia. Once you're on the east side of the GC-1, you'll see a wooden signpost to Tufia.
Leave your hire vehicle above the hamlet in a car park which's also handy for neighbouring Aguadulce beach. Before heading down to the playa de Tufia, past a hermitage dating back to 1972. One which is amusingly dedicated to Antonio Suarez, aka Pepito Malaleche (Bad-tempered Joe).
Tufia, whatever floats your boat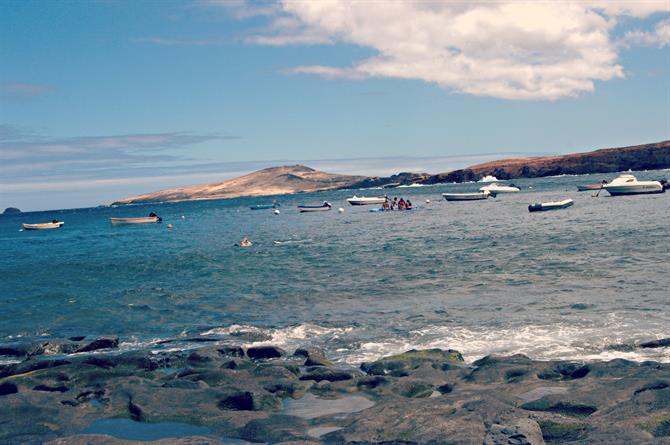 Life moves slowly in Tufia. As we sat on the beach, recharging our batteries after a tough old week of work, the fastest thing in our line of vision was a boat. A father had fitted a motor to an old rowing boat and was taking his young sons out for a trip around the bay.
It reminded me of childhood holidays in Essex. Where my own father would take out my brother and I on a rowing boat that had belonged to his father. Clearly, I need to get nautical with my own sons.
Atlantic fun and games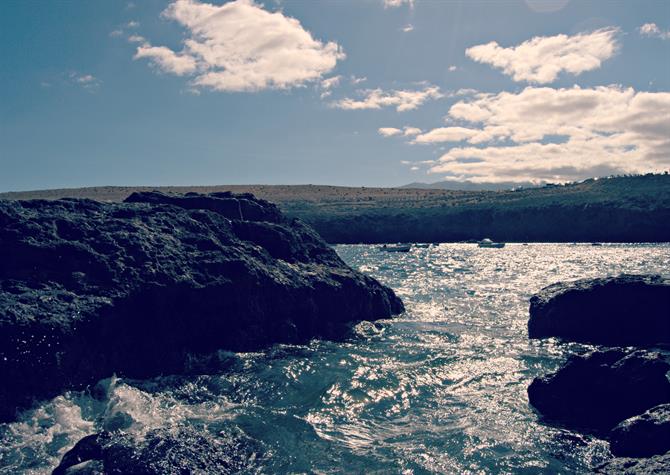 As well as boats, we saw some young bodyboarders being filmed by proud parents. On Tufia, there weren't many couples but families who had travelled to the beach en masse rather than individually. Diving's another popular local water sport.
Everybody was so friendly too. They pretended to pose for pictures when they saw me walking around with my camera. And they asked if we were having a good time, something which our youngest Tom, following his bout of chicken pox, confirmed enthusiastically.
Cheap and cheerful cañas at the chiringuito
Ordinarily, my wife plans a visit to the beach with all the thoroughness of a military expedition. So, it was a small shock to discover two oversights. The first was that we had no sun cream, something which the nearest shop in the form of a petrol station were out of too.
The second was that whilst she had remembered to bring beer, it was of the bottled variety. And, you guessed, she'd forgotten to pack an opener. No matter, as I supped on cut-price cañas at the makeshift beach bar pictured, in an effort to keep cool as the autumn sun shone bright, you understand.