Out of all the 21 municipalities on Gran Canaria, Telde shares third place with Agaete in terms of number of beaches. Its eight playas are mainly sports beaches, popular with surfers. The pick of which is arguably Melenara, which is a hit with families.
Surging from the sea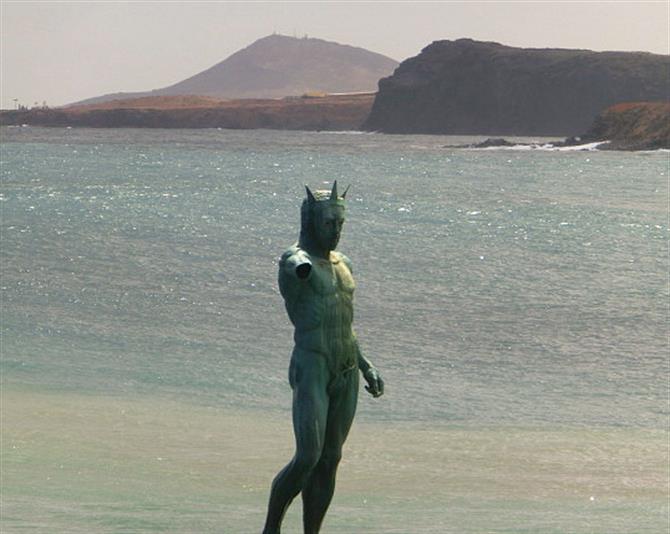 Poor old Neptune. The statue that's graced the Melenara coastline since being placed on the remnants of an old fishing pier by crane in 2001 has lost his trident and trident-wielding arm. He's in good company, with Admiral Horatio Nelson also losing his right arm, in Canarian waters back in 1797.
But where Nelson had to have the limb amputated after his elbow took some shrapnel, it's the Atlantic which is to blame for Neptune's loss. Neptune's located just 30 metres from shore, so hopefully he'll be able to receive some corrective surgery sooner rather than later. Neptune's Telde-born sculptor Luis Arencibia Bethencourt may well have to travel in from his Madrid base to adminster proceedings. Talk about flying doctors.
Beach art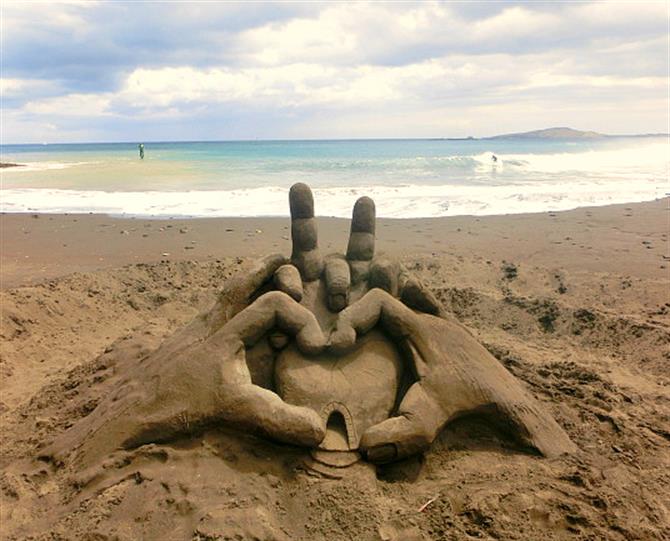 Walk along the Paseo de Canteras and you'll be treated to quite a few beach sculptures. You'll see considerably less on Playa de Melenara, but at 350 metres long it's a fraction of Canteras' 2.8km-length. We thought the effort above was worth a donation, though. What do you think?
Beside the seaside

You will like to stroll along Melenara's prom, prom, prom. Even if there are no brass bands play:"Tiddely-om-pom-pom" For, this parade includes a children's playground and a number of reasonable bars and restaurants. Indeed, people visit Melenara as much to eat and drink as to swim.
You can tell the more popular places by the queues outside them. However, menus are similar across establishments with fish and seafood dishes dominating the pages. If you're vegetarian, you'll be able to order an ensalada mixta (mixed salad but remember to ask for it "sin atun"/without tuna), papas arrugadas con mojo (salty new potatoes accompanied with a piquant sauce), and pimientos de padron (peppers fried in salty olive oil).
Reading the signs at Melenara

Melenara's buildings, like most of the non-touristy coastal areas of Gran Canaria, are more functional than aesthetically pleasing. Something that will catch your eye, though, are the street signs featuring Telde's coat of arms on the left and the Idol of Tara, the fertility goddess of the canarii who occupied the island before the Spanish invasion, on the right. Prudencio Morales (1857-1921) was a prominent author/journalist on the island.