It's winter, it's Tenerife, the sun is shining, the air is warm and the sea is calm (relatively speaking). There is sheer pleasure to be had in just sitting on the deck of a small yacht as it scythes quietly through the waves just enjoying the feel of the sun on my face. But the people around me are getting fidgety.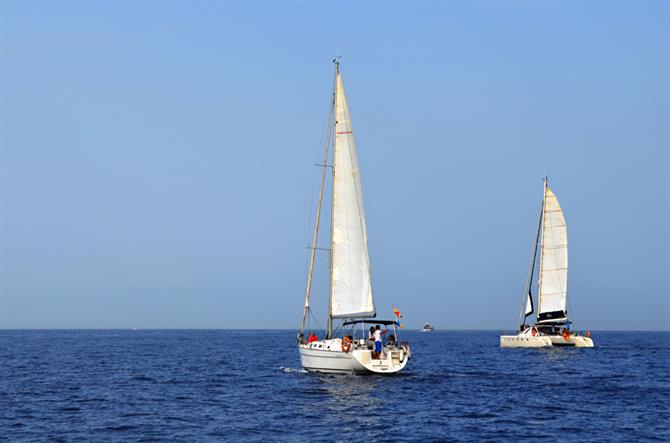 Enjoying a temporary life on the ocean wave isn't enough. They're impatient to see dolphins and whales and there's a palpable sense of anticipation in the air. Our eyes scan the navy blue waters.

Unsurprisingly it's our captain who spots them first.

"Look there, just off the port bow."

As none of us know our port from our starboard, heads frantically swivel left and right. It doesn't take us long to spot them though; three glistening silver fins cut through the water right beside our boat. Bottlenose dolphins. A buzz of excitement courses around the deck; people in their 60s react to the appearance of the sleek cetaceans like children waking up to their presents on Christmas morning. Everyone rushes to the port side of the boat to see these smiling marvels which have honoured us with their presence.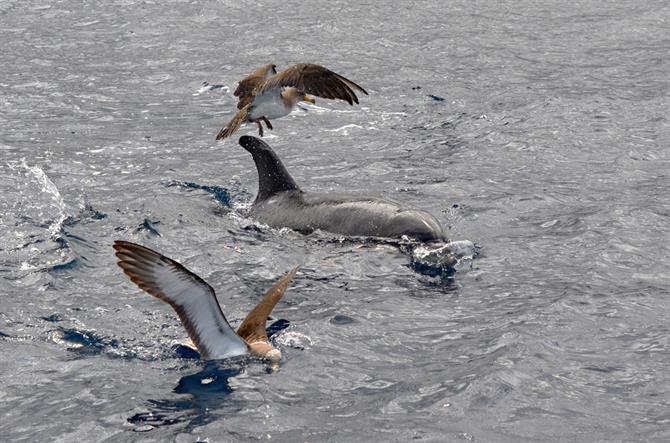 This is the response seeing dolphins in their home environment provokes. It is one of the most magical travel experiences going... and it's 100% ethical.
Whale and dolphins on Tenerife
Despite the controversy surrounding keeping whales and dolphins in captivity, many visitors' experiences of seeing either when they visit Tenerife usually involves a visit to Loro Parque in the north of the island. A lot has been written about the orcas in the popular park; much of it simplistic, sensationalist and misleading. But whatever the truth, there's no getting away from the fact that watching whales and dolphins performing in pools that are too small for them simply doesn't compare to seeing them where they belong; in the wild.

The same climate that attracts holidaymakers in their millions each year brings whales and dolphins to the temperate waters surrounding the Canary Islands. Up to 21 different species pass through the channel between Tenerife and La Gomera annually. Minke, sperm whales and even orcas are regularly spotted in the seas around the Canary Islands. In 2014 a school of huge Bryde's whales hung around for weeks, gorging on sardines.
As well as transient visitors there are resident pods of bottlenose dolphins and pilot whales, so just about every whale and dolphin watching trip can more or less guarantee sightings.
Whale and dolphin watching safaris on Tenerife
I use the term safari because that's what they are; mini expeditions to observe animals in their own environment. Whale and dolphin watching trips are big business worldwide and Tenerife is one of the top destinations in the world for whale watching. Subsequently there are a lot of trips to choose from. Whale-watching boats depart from most of the main southern resorts, including Playa de las Américas and Los Cristianos.

However, best places to catch a trip are Puerto Colón in Costa Adeje and Los Gigantes in the south west of Tenerife. Los Gigantes is especially good as it's directly opposite La Gomera, prime whale and dolphin spotting territory. Plus you get the most spectacular backgrounds as a bonus – La Gomera on one side and the Los Gigantes cliffs on the other.

Whale and dolphin watching trips last around 2/3 hours and usually include a brief stop at a picturesque beach/bay for a refreshing swim. Prices for trips vary quite a lot depending on the package on offer, starting from as low as €20 per person which is incredible value. The most savvy companies have websites where you can book online, but I'd recommend having a wander around harbours which offer trips. That way you not only get a close up view of boats to see which you like the look of, you might be able to negotiate a better price.
Choosing the right trip
It's important to do a bit of research, ask a few questions about what a trip involves before signing on and skipping up the gangplank. Boats come in all shapes and sizes. I've been on three whale and dolphin watching trips in Tenerife and each has been very different.

The first on the Katrin, a lovely former North Sea crabber made out of oak which bobbed along gently below the Los Gigantes cliffs. The second was in a speedier, more modern vessel with crew who were highly knowledgeable about the marine characters that inhabited the waters around Los Gigantes. Neither were big boats so the experience felt nicely personal. Some boats double as party cruises and pack the holidaymakers in. It might make for boozy, holiday fun but it's not what I want from a whale and dolphin watching trip.

Best of all was my most recent trip in a small sailing boat which only held a handful of people. There was something wonderfully exotic about the whole experience and when dolphins and pilot whales appeared beside the hull it felt as though they were almost close enough to touch, not that we actually tried to do so.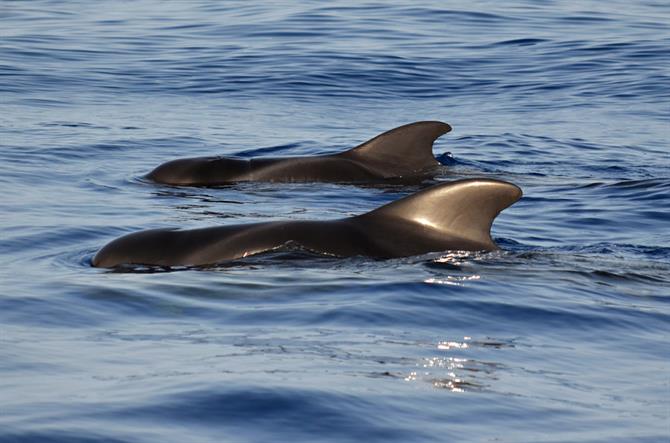 Keeping it ethical
There's a danger that where there's money to be made, ethics can take a back seat. Thankfully, the whale watching industry in Tenerife is highly regulated. Boats have to comply with a recommended code of practice regarding cetacean watching practices (e.g. levels of noise, how close they can get to animals, speed, length of time spent near any one individual creature). This is mainly down to the efforts of the Tenerife government to ensure whale and dolphin watching is done responsibly. However, the AWF (Atlantic Whale Foundation) also play their part in ensuring companies comply with the code. AWF members carry out research, conservation and education programmes on Tenerife, with volunteers accompanying some whale and dolphin watching trips to record behavioural patterns as well as talking to tourists to help raise awareness of the need for conservation.

All in all, the work of dedicated conservationists continues to ensure whale and dolphin watching in the Tenerife seas isn't turned into the equivalent of a circus act. When dolphins and whales have had enough of entertaining delighted onlookers, they simply turn tail and swim off into the deep blue sea.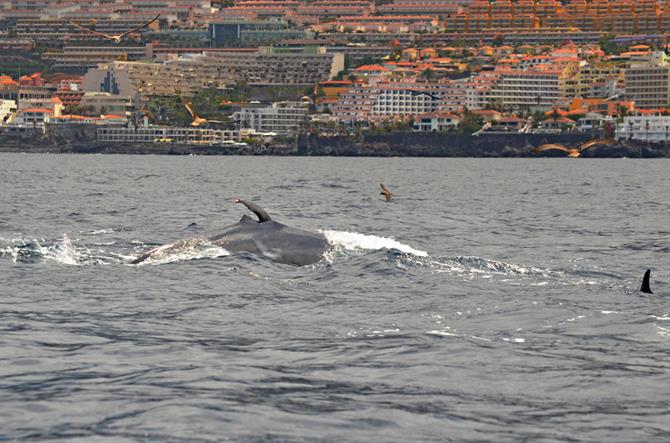 That makes being able to enjoy the pleasure of their company for a short time feel very, very special indeed.
For more memorable travel experiences, read our tips for a Tenerife holiday with a difference article.