Although tapas isn't historically a Canarian style of dining, in recent years it has become a popular way to eat and socialise with visitors and locals alike. Most traditional bars, even in out of the way locations, have a row of steel trays under a glass cabinet featuring more or less the same type of tapas dishes. They're not always particularly appetising looking, but the authentic setting helps boost the flavours.
Generally, the best tapas bars are found in the bigger traditional towns around the island where bite-sized offerings can range from perennial favourites to avant-garde creations.
These are the top 10 tapas you can pick at with amigos in most places on Tenerife.
Papas arrugadas and mojo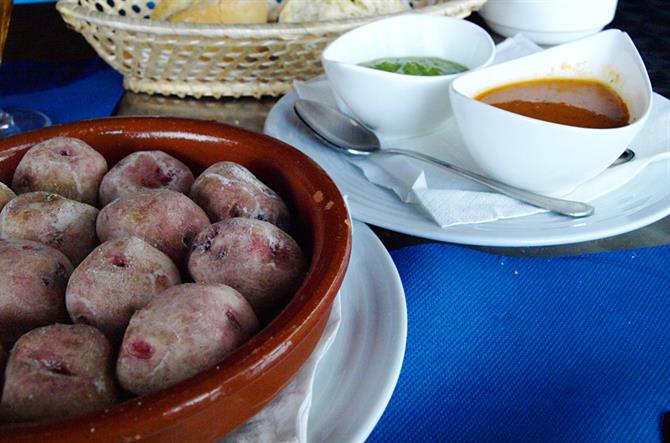 The Canary Island speciality is served with meat and fish as well as on its own as tapas. Papas arrugadas are wrinkled potatoes boiled in very salty water, drained and tossed in sea salt just in case they weren't salty enough. They work particularly well when teamed with mojo rojo (a picante red salsa) and mojo verde (a savoury green salsa made with either coriander or parsley). Don't ever do what I saw some Spanish mainlanders do once – peel them. It's a surprise they weren't deported on the spot. Some places try to palm visitors off with papas arrugadas made from bog standard varieties. However, you know you're in a quality restaurant when the papas arrugadas are very small Canarian potatoes like papas negras.
Pimientos de Padrón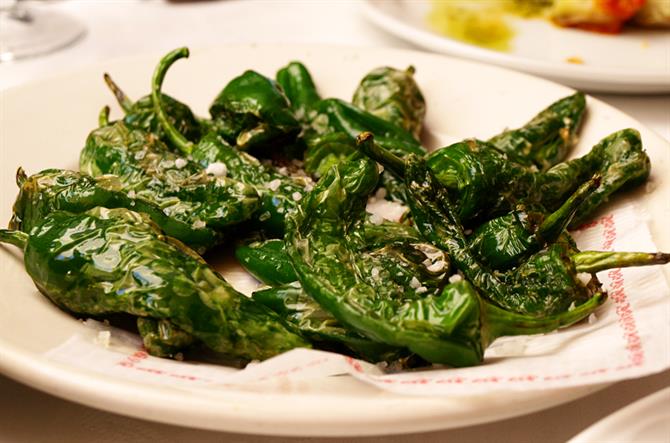 The fun guys of Spanish tapas, pimientos de padrón are a special variety of peppers fried in olive oil and sprinkled with rock salt. The name originates from the Galician town of Padrón but most of the ones on Tenerife are grown locally or were cultivated on one of the other islands. What makes pimientos de Padrón rise above simply being a dish of fried peppers is that every so often you get one that will blow the top of your head off, which adds a certain element of suspense to eating them. Most of the time on Tenerife you don't get a rogue pepper with a mule's kick. A chef once told me that's because of the soil here.
Churros de pescado
If you visit Tenerife and don't want to be considered a naff tourist by seeking out a fish and chips hit, look out for a traditional restaurant that serves churros de pescado – basically fish goujons in batter. In some restaurants the batter is a herby one which gives it extra oomph. Churros de pescado are often served with alioli (garlic mayonnaise) an accompaniment that ramps up the flavour factor even more. So, you can have your battered fish on Tenerife and boast you've stuck to authentic fare.
Croquetas caseras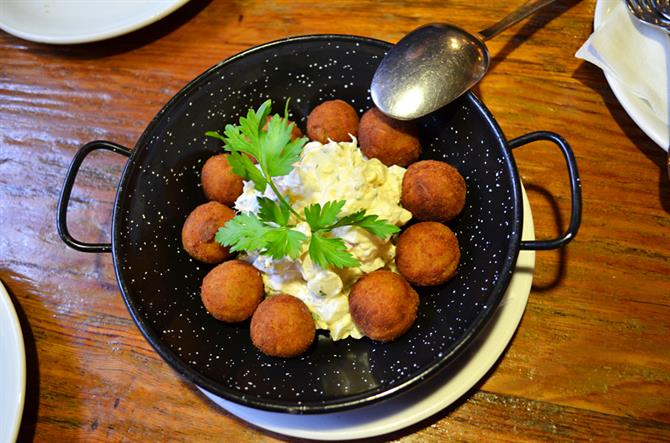 Another tapas dish for fans of fried food, croquetas are crispy breadcrumb coated balls filled with just about anything. Most popular are ham and white fish mixed with potato. But chicken, tuna and spinach can also turn up. Often croquetas taste quite similar whatever the filling, overpowered by too much potato. Which is why it's important to go for croquetas caseras. Being definitely home-made they are more likely to have a better balance of ingredients.
Chopitos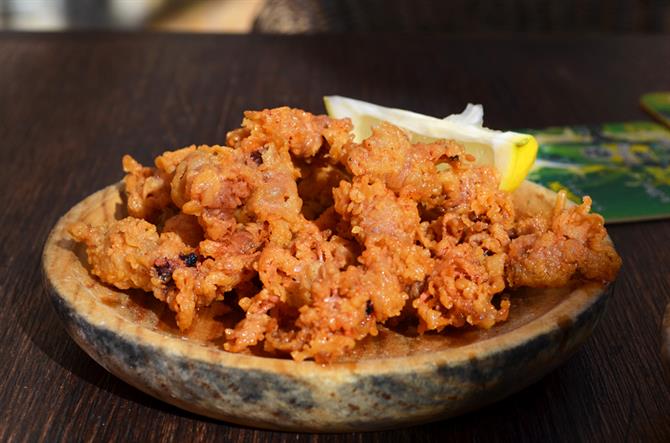 These tiny fried squid are sometimes called puntillas which is a lot less confusing than asking for chopitos – also the word for shots of something alcoholic. Chopitos are ideal for people who think squid is rubbery. They're too small to be anything other than crispy with a deliciously salty, seafood taste. Squeeze a decent amount of lemon juice over them and eat them in the same way you would a bowl of Bombay mix.
Escaldón de Gofio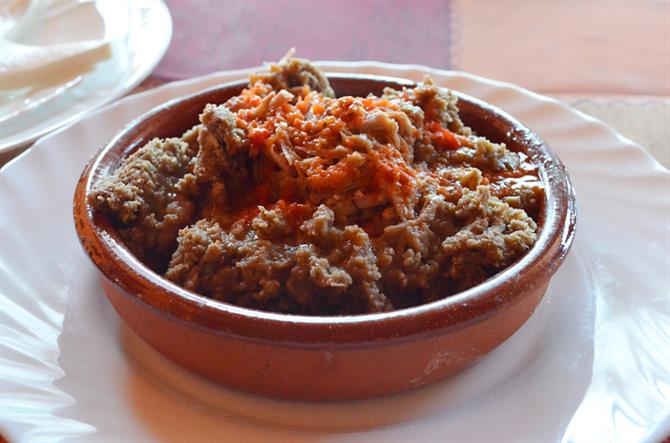 This is a love it or hate it dish. Actually, it's more of a 'sort of like it' or hate it dish. Gofio (toasted grain flour) is about Canarian as you can get; it was eaten by the island's original inhabitants, the Guanche. Escaldón is gofio mixed with a stock that is usually, but not always, fish based. Sometimes it comes with huge onion wedges for scooping it up.
Queso asado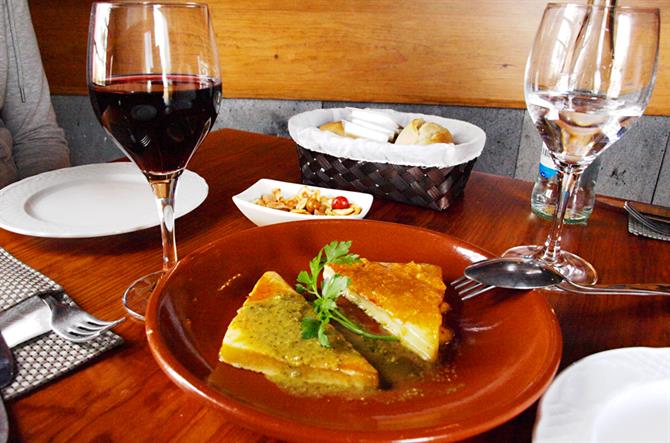 Queso asado is a cheesy feast. A generous slab of local, smoked goats' cheese is either lightly fried or baked in the oven. The result is a tasty treat in itself but there's more. Each slab is drizzled with mojo rojo and mojo verde (Canarian sauces) and occasionally palm honey, a sultry syrupy honey made from the sap of palm trees. Palm honey goes fantastically with cheese whether fried or not. It's probably not cholesterol friendly but who cares when something tastes as good as queso asado?
Ensaladilla rusa
If a Canarian restaurant serves tapas, it serves ensaladilla rusa. It is one of those tapas dishes that always lurks beneath the glass bowl on the counter in traditional bars on Tenerife. And yet it is rarely the same from one bar to the next. The basics are always potato, tuna, carrots, peas and mayonnaise. After that cooks tend to do their own thing, with boiled eggs, olives and peppers regularly showing up in the mix.
Carne fiesta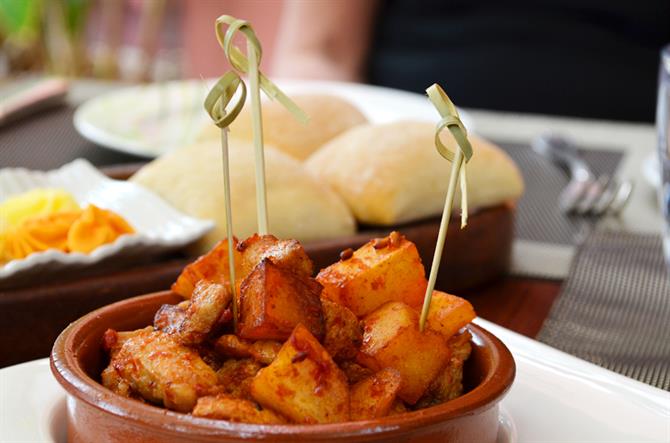 The dish that'll have your nose twitching curiously at every fiesta on Tenerife, carne fiesta is a spicy blend of cubes of pork marinaded in garlic, thyme, oregano, salt, spicy peppers, paprika, oregano, wine vinegar and maybe even white wine. When it's chucked into a frying pan and the aroma is let loose, feel those juices flow. This is a seriously good Tenerife tapas dish that tastes best enjoyed with country wine at a make-shift kiosk during agricultural fiestas in Tenerife's hills.
Tenerife cheese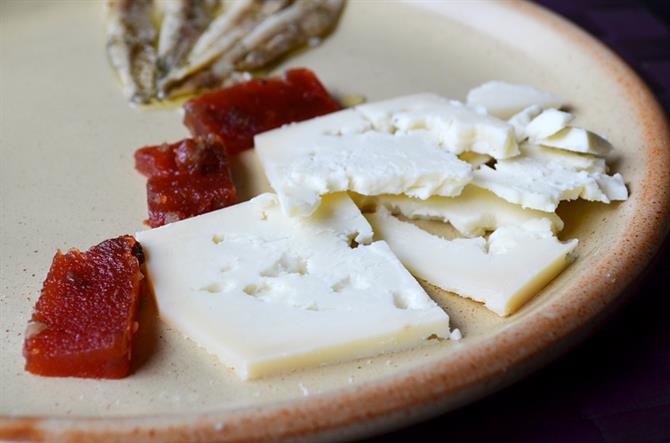 The final choice is a simple plate of local cheese. Tenerife cheese is exceptionally good, a few years ago being chosen as the best cheese in the world at the World Cheese Awards. The most renowned are from Arico and Benijos but there are lots of small local producers churning out goats' cheese with strong personalities. Look out for ahumado (smoked) coated with paprika or gofio or any semi-curado. Curado is probably best left for true cheese aficionados as the really good ones can be so strong their flavours burn.