San Cristóbal de La Laguna is the former capital of Tenerife and one of two UNESCO World Heritage Sites on the island. Its revolutionary layout was used as a blueprint for a number of South American cities. Yet there are fewer hotels in La Laguna now than there were in the 19th century.
Two hundred years ago, travellers journeyed to Tenerife not only for its near perfect climate, but also because it was at the crossroads of Europe and the New World and boasted a landscape, culture and past that intrigued historians and naturalists. Now the main attraction for visitors to Tenerife is year-round fun in the sun.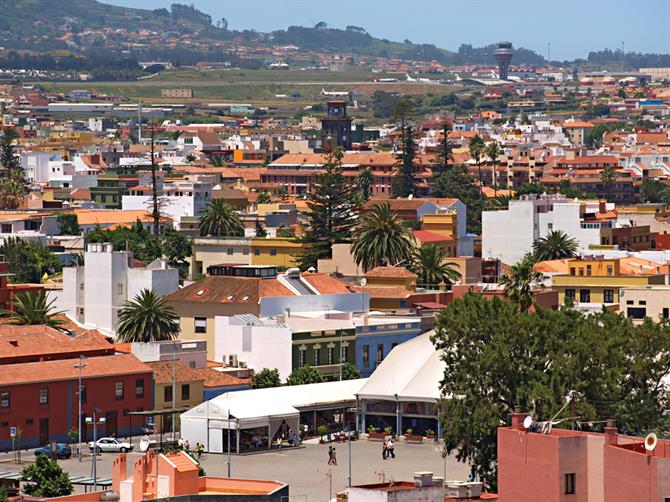 La Laguna might remain a beautiful and historic city; however, sitting at 600 metres above sea level it doesn't have a playa. That little fact leaves it ignored by the majority of tourists who flock to Tenerife for the scene at the beach. On the upside, the old streets are free from the curse affecting many a picturesque city - congestion caused by mass tour groups. Which makes exploring it all the more enjoyable for inquisitive travellers.
About La Laguna
One of the things that might deter visitors who pass through La Laguna on their way north or south is that from the outside, it is a bit of an ugly urban sprawl. The motorway dissecting it can be as busy as the M60 around Manchester, especially at peak commuting times. If you don't know the city, there's nothing to lure you in. But at its heart lies the old quarter, a neat network of perfectly preserved streets laid out on a grid – the blueprint. This is what earned La Laguna World Heritage status.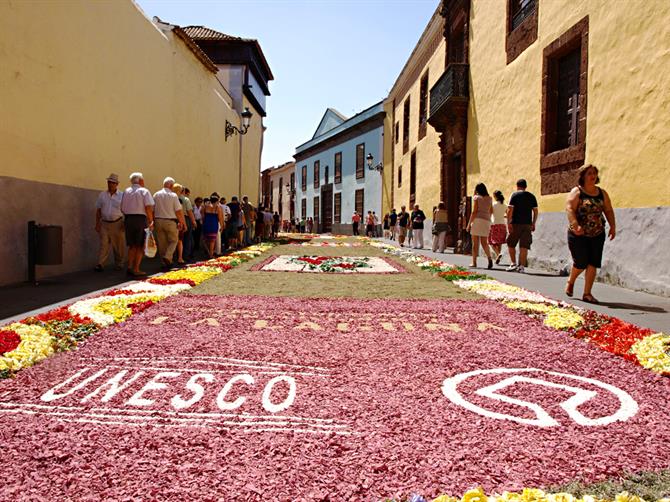 The old streets are lined with architecture that is eclectic to say the least. Humble cottages with house leeks sprouting from the roof tiles, Gothic spires, baroque domes and colonial mansions keep styles chopping and changing, revealing the various preferences of the wealthy nationalities who built their homes here – Castilian, Portuguese, British, Flemish, French and Italian. Five hundred years ago it was a truly multi-cultural society.
Explore La Laguna
The best way to get to know La Laguna is simply to walk the streets. In theory, because of the grid layout, it should be easy to find your way around, but it took me a few 'explores' to get to grips with the old city.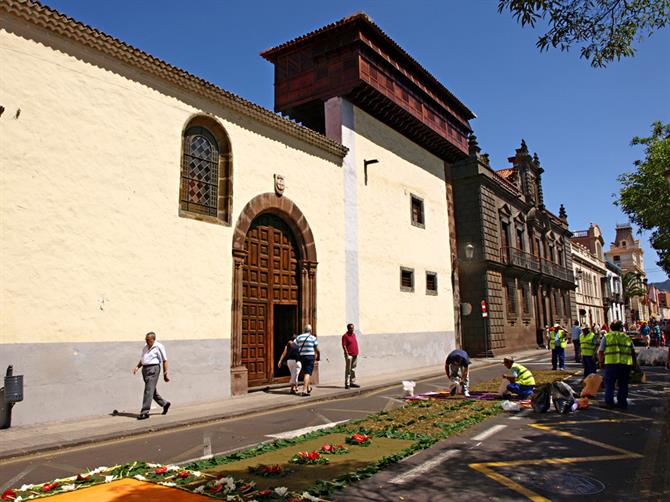 Starting from the ornate marble fountain at leafy Plaza del Adelantado head along Calle Obispo Rey Redondo, one of the prettiest streets in the city. On one side are pastel coloured colonial mansions, many with open doors so you can wander in to find hidden courtyards filled with ferns and overlooked by polished balconies carved from tea wood. Opposite the mansions are the latticed balconies of the Convento Santa Catalina. La Laguna was, and is, the ecclesiastical centre of Tenerife.
The street passes cafés, restaurants in old buildings, independent fashion stores and quirky shops plus Tenerife's Cathedral before arriving at the Iglesia de la Concepción where there is an ancient font used to baptise the island's original inhabitants, the primitive Guanche.
From the Iglesia de la Concepción, head to Calle San Agustín for a return journey that passes more grand churches, colonial town houses, tiny stylish cafés, the History Museum and Instituto Cabrero Pinto, where modern art and history meet and sometimes get on, sometimes not.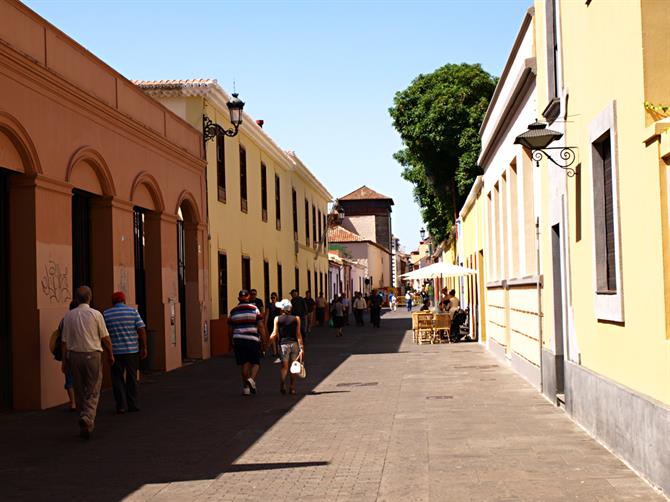 The route is a meaty taster of La Laguna. But it's almost impossible to stick to it. Side roads offer glimpses of other treats; leading to bustling farmers' markets, flamboyant theatres, tranquil plazas, lush parks and 'off the wall' exhibitions – I've stumbled across ones that ranged from model towns made from food to iconic shoes from the movies.
In 1821 lost the title of capital of Tenerife to Santa Cruz. It didn't lose any its character though.
Exploring La Laguna costs nothing. Here are ten other things to do on Tenerife for free.