Playamar, also known as Playa El Retiro, is one of the most well-known beaches in Torremolinos. The beach is an extension of Playa El Bajondillo, and continues to the northeast.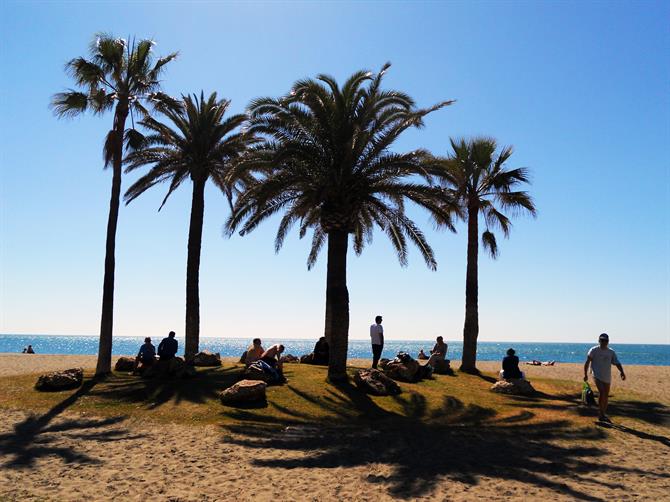 Running for a length of approximately a kilometre and half, Playamar is characterized by the dark, fine sand that is typical of this stretch of coastline. It is an urban beach, and is thus located just a few meters from many shops, banks, restaurants, and other attractions.


At Playamar, you will find everything you need for a stress-free day on the coast. The beach offers sun beds and umbrellas, public toilets and showers, water sport rentals (sailing, jet skiing, banana boating, wakeboarding, parasailing, and more), bars, restaurants, children's play areas, lifeguard service, parking, and disabled access.
The expansive beach is made complete with the variety of dining and drinking options available. From traditional beach bars to popular beach clubs, Playamar is suitable for all budgets and tastes. Furthermore, it is the perfect to experience one of the beautiful Costa del Sol sunsets; grab a seat at one of the many seaside bars, enjoy some tapas and drinks, and take in the vividly coloured skies.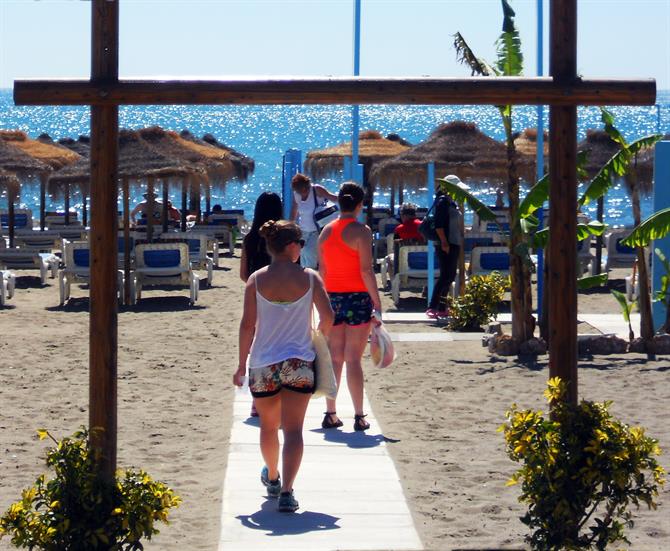 Green areas along Playamar abound. Palm trees and small gardens speckle the length of the beach, offering shady areas to cool off or enjoy a picnic (without getting so much sand in your food!).
The beaches of Torremolinos are very well maintained, and the beautiful promenade that runs the length of the coastal city is designed to ensure the comfort and contentment of its visitors.




Being an urban beach, many people occupy the shores of Playamar during the summer months, consequently affecting parking availability. Arrive early in the morning or consider leaving your vehicle in the center and walking down to the beach.
However, thanks to its large size, you should have little problems finding space on the sand itself to relax for the day.
The beach is frequented by groups of young people, attracted by the many activities available. Families with children enjoy Playamar as well for its comfort, safety, and proximity to services.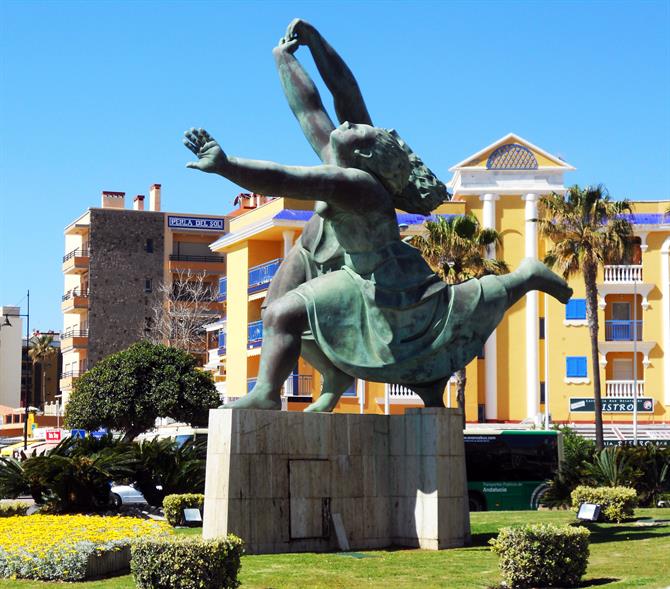 As mentioned, Playamar is virtually indistinguishable from Playa el Bajondillo. There is really no proper boundary, so to distinguish between them, you can refer to the surroundings: El Bajondillo is surrounded by tall residential buildings, while the perimeter of Playamar is composed mainly of houses and smaller buildings.
The large monument found in the center of the Plaza del Lido roundabout - that pays homage to one of Picasso's most famous paintings - is perhaps a more discernable landmark that delineates the two beaches. It is impossible to miss if walking along the promenade or driving from the center. From the statue, simply head east. During most of the year, parking is not an issue, but it is still suggested to go by foot during the high season (June - early September).
Map - Beach Playamar