Torremolinos has become a well-known destination among beach lovers and fun seekers alike. Once only a small fishing village, the town took a new form in the late '50s as a popular vacation spot for European tourists - among the first of the seaside resorts on the Costa del Sol.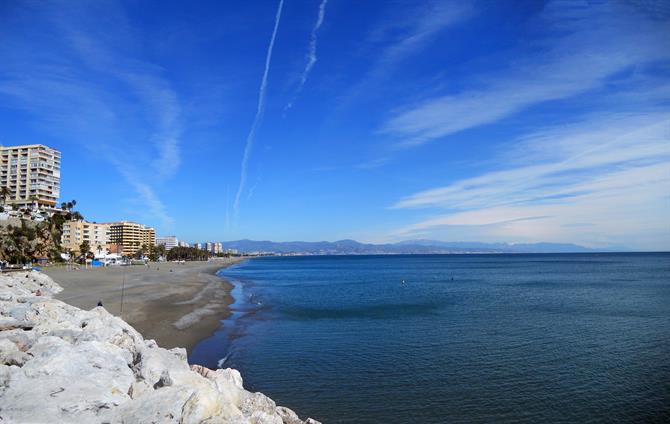 By the '80s and '90s, Torremolinos was known across Europe for its "disco" tourism. Recent years have seen a shift in the types of visitors who fill the streets of town; now it not only invites groups of young people looking for a good time, but also welcomes families and tourists in search of year-round sun and sea.
However, don't be mislead into thinking Torremolinos has lost its element of fun! The center continues to this day to be a fantastic holiday destination for nightlife enthusiasts. It offers a multitude of bars, discos, concerts, and other events.
By day, the resort town has much to offer for those only interested in beach, beach, and more beach.
Playa El Bajondillo

Playa El Bajondillo is an urban beach, bordered to the east by Playamar Beach, and to the west by Punta de Torremolinos (a small panoramic peninsula that juts into the sea a few meters). Beyond the Punta lies Playa de la Carihuela, and continuing from there you will reach the next coastal town of Benalmadena.
El Bajondillo is 1100 meters of dark, clean sand. The beautiful promenade that runs along the beach is home to countless bars, restaurants, and shops. You'll also find nearly every type of service available along this stretch of sand: food, drinks, washrooms, showers, lifeguard attendance, water equipment rental, beach umbrellas, and sunbeds (around 5 € per day). The beach is kept in excellent condition throughout the year.
Playgrounds and swingsets abound for children while beach volleyball courts are available for public use as well. If you're itching to get out onto the water, you might consider renting pedal boats, jet-skis, banana boats, kayaks, or canoes!
Several palm trees line the promenade, offering abundant shady areas to have a picnic or just relax away from the intense sun without having to pay for an umbrella.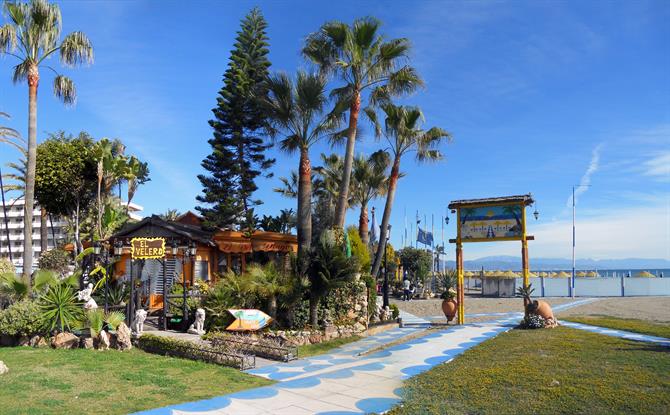 The beach is very busy during the summer months; during peak season it is virtually impossible to find parking. This is because El Bajondillo is popular with a wide-range of audiences. You can of course expect tourists, families, and young people but the beach is also enjoyed by many locals, who are, among other things, there to indulge in the excellent, fresh fish served in the beachside restaurants.
The beach and surrounding area are also very lively after sunset, when the pubs on the promenade -- locally known as chiringuitos -- entertain the retiring beach bathers with music and a relaxed Spanish ambiance.
Where to eat
Located in the heart of the Costa del Sol, there is no shortage of opportunities to enjoy the fantastic seafood cuisine that has made the area famous throughout Spain. However, gastronomy along Playa el Bajondillo is not only limited to fresh fish; there are many restaurants where you can try specialty Andalusian dishes, and some even offer international cuisine and fast food. Below we've curated a list of some of the best!

El Velero, a chiringuito historic city (opened in 1965). It offers a welcoming atmosphere, excellent seafood and grilled meat, and a pleasant tropical garden outside.
Tel. : +34 the 952,374,406th
Chiringuito La Macarena, a local specialist in Mediterranean and Andalusian cuisine, known for its tasty "espetos de sardinas" (sardine skewers) and also its squid skewers, cooked over low heat on embers of olive trees. Tel. : +34 952051756
Tiki Restaurant, a restaurant overlooking the waterfront that often becomes popular after dinner. Its known for its fusion of Japanese and Mediterranean cuisine. The price of a meal varies between 15 and 25 euros (but they often have special offers). It is characterized by its unique environment, particularly after dinner hours (open until 2 am, though the kitchen closes at midnight). Tel. : +34 952 054 821
La Paella Restaurant, a well-known chiringuito that specializes in seafood, grilled meat, and... can you guess what else? Tel. : + 34 952 372 021
Restaurant Pizza Mare, a beach bar located directly on the sand, featuring a cozy terrace. It offers a varied menu of specialty pizzas and seafood (with an option of takeaway!). Tel. : +34 952 375 636
Banana's Beach, located at the extreme west end of the beach, only a few meters from Punta de Torremolinos, is a bar and grill specializing in "pescaito" (fried fish) and tapas, but that also serves other delicious seafood dishes, paella, burgers, and meat. Do not miss out on trying their house cocktail, which should be enjoyed while seated comfortably on the terrace, perhaps at sunset.
Tel. : +34 636 121 445
View
Beach El Bajondillo - Torremolinos
in a larger map