Tapas are a great Spanish dining experience as it's a chance to try small samples of cuisine which you may not want to order as a main course. You may want a little taste of rabo de toro (bull's tail stew) to see if you like it but you may not feel like ordering a huge plate of it. So, tapas are the answer.
Traditionally tapas were given free with your drink so you had a little plate or dish to put over your glass to stop the flies from having a free sup.
Nowadays, you often have to pay for your tapas although there are a few bars in the Alicante region which still give out free samples.
It's a great way to snack between meals or to order a few different dishes for lunch or early dinner with friends. That way, you can try several flavours of Spain in one sitting. You can even go from bar to bar trying different Spanish snacks along the way.
Children can experiment with tapas
It's also an inexpensive way to get children to try new foods as you can order a few dishes that you think they will like such as patatas bravas (chips with a spicy sauce and a garlic mayonnaise), meatballs or tortilla alongside more adventurous dishes such as squid, snails or mixed fish.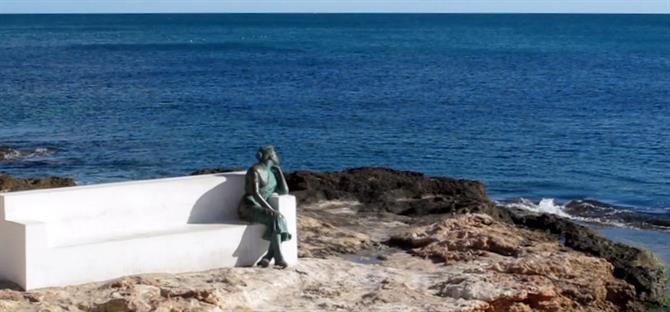 Many towns, including Torrevieja, also hold special tapas events each year with participating restaurants dreaming up exciting dishes for you to try and to vote for your favourite.
Torrevieja hosts two Tapas Routes a year, usually around April and November with a map showing the bars and restaurants taking part. You can enjoy a home-made tapa and drink for €2 or a gourmet tapa and drink for €2.50 (prices may vary each year).
You can visit as many as you like and vote for your favourite with prizes for participants and restaurants. And it's not just Spanish restaurants getting involved. French, Indian or English tapas may be on the menu too.
If you can't get to Torrevieja for the Tapas Routes, there are plenty of restaurants serving these tasty snacks at any time of the year.
For a great variety of tapas, the Lizarran chain is definitely worth a look, especially as they have special deals during the week when you can get tapas for €1 and cut-price drinks.
Spain-Holiday has found its six favourite restaurants serving tapas in Torrevieja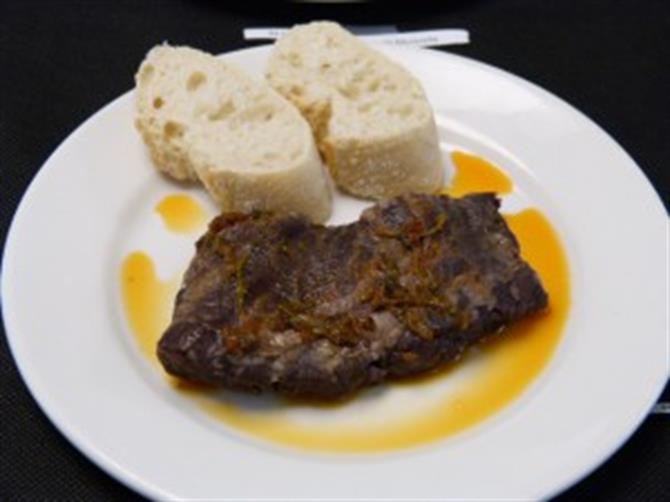 Fishy snacks at Catalina II
One of our favourite restaurants for its friendly service and great range of tapas is the long-standing Catalina II, which has been run by the same family since 1947.
It's very central, just off the seafront and close to the Cultural Casino of Torrevieja, so it does get busy.
Seafood lovers will enjoy the great variety including boquerones (anchovies), calamari (squid rings), salmon, anchovies, prawns and mussels.
It's a great place to pick and mix plates to choose a meat dish, either sobrasada (cured minced pork with paprika) or chorizo sausages, two fish dishes, such as mussels and sardines, a salad, usually Russian salad or the mixed house salad, plus bread or patatas alioli (potatoes with garlic mayonnaise).
For a quick snack, the meatballs with some bread to dip in the sauce take some beating.
Address: Plaza de Castelar, 1, 03181 Torrevieja. Phone:+34 965 71 78 18
Award-winning tapas in Tasca Nueva Bahia
Pull up a chair at the bustling bar to see the full range of tapas dishes stretched out before you. If that isn't enough, there are blackboards with further ideas chalked up.
This is an attractive town centre bar with some outside tables if it is too busy inside.
The Tasca Nueva Bahia has taken home several prizes in the Torrevieja tapas route so you know you're in for a real treat.
There's a long, long list of tapas with fish, shellfish, meat, cheese , sausages and sweets on the menu so there's bound to be something you'd like.
It's great for mixing and matching a couple of fish dishes with meat or sausage and a salad. You could choose prawn or ham croquettes, duck, black pudding, garlic prawns, some cheese and ham along with a mixed salad to make a very substantial meal.,
This restaurant is a firm favourite for its traditional, bustling atmosphere.
Address: Calle de Diego Hernández, 32, 03181 Torrevieja,. Phone:+34 965 70 57 47
Tucking into tapas at El Meson de la Costa
This is a favourite restaurant for its amazing seafood dishes using the best fish and shellfish from the Bay of Santa Pola, the Peix de Santa Pola fish is a hallmark of quality.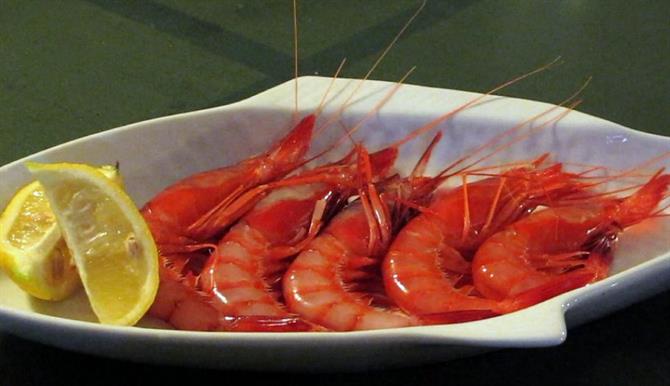 This restaurant has an olde-worlde Spanish charm with its traditional décor and a splendid display of whole hams and hundreds of wines to choose from to accompany the food.
It's a bit pricey but you get what you pay for so bear this in mind when ordering, especially if you order fish which is priced by weight.
Tapas to try would definitely be a selection of fish and shellfish such as small fried fish, garlic prawns, squid or salmon.
The restaurant is just a stone's throw from the port so it's great to have a stroll along the seafront before heading in to El Meson.
Address: Calle Ramón y Cajal, 27, 03182 Torrevieja, Phone:+34 966 70 35 98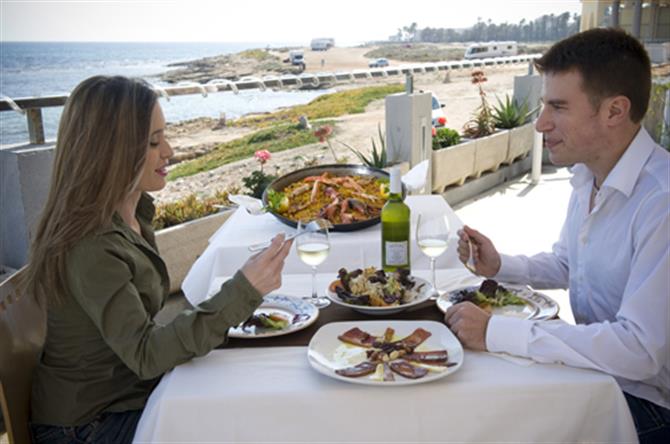 Try something new at El Rincon de las Jarras
Another centrally-located tapas bar is El Rincon de las Jarras, which always has a good selection of fresh tapas on offer.
It's a popular little spot because it's well-known locally for providing tasty dishes at reasonable prices. This is the place to go to try meatballs and different hams. It's a charming place with the tapas out on display so you can see what you are getting.
If you don't know what some foods are you can always ask the waiter or try them anyway. The delight of tapas is that you can try something new and you haven't wasted a lot of money if you don't like it.
Address: Calle Maria Parodi, 3, 03181 Torrevieja, Phone:+34 965 71 09 60
Special shellfish dishes at Marisqueria 2
In the heart of Torrevieja is a family-run restaurant specialising in seafood for more than 40 years.
At the Marisqueria 2, the food is freshly prepared with a mix of traditional Torrevieja cuisine with a creative twist. Their specialities are fish and shellfish dishes included red prawns, rice stews and zarzuela (another fish dish) with fresh fish from the Mediterranean, Bay of Biscay or the Baixas rivers in Galicia.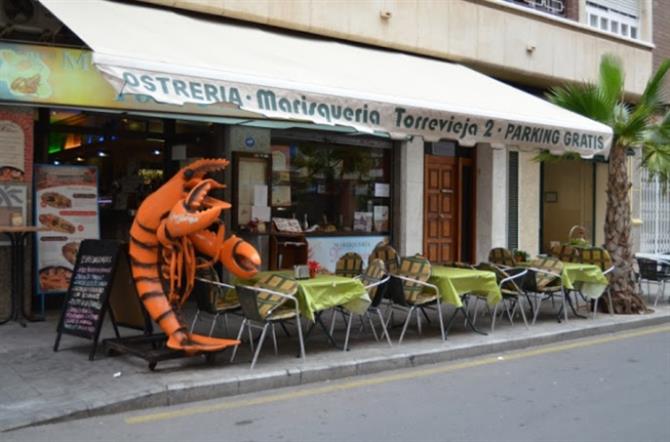 You'll find a wide variety of dishes including mussels, clams, lobsters, oysters, crabs and periwinkles as well as salads, croquettes, baby broad beans, or aubergines. What you won't find are meat and sardines on the menu.
This is the place to go to enjoy shellfish dishes if you don't want to order lobster or prawns for a main course. You can share a platter between friends or order tapas dishes instead.
Address: Calle Ramon Gallud, 101, 03182 Torevieja, Phone:+34 965 71 74 69
Local tips and tapas at El Patio Chico
Nearby is El Patio Chico which is popular for its prawn and mussel dishes. There's a good selection of tapas on offer or you can go for a full-blown three-course meal.
The tapas are delicious so it's great to share a few dishes if there are a few of you.
It's one of the most popular little restaurants in Torrevieja and is packed with Spanish so you get a lively atmosphere. You may need to book a table if you can or be prepared to wait at the bar.
You can also get recommendations about places nearby to visit or the best beaches – just ask your waiter.
Address: Calle Pedro Lorca, 3, 03181 Torrevieja,

Phone:+34 965 06 70 08