Much more than wine
Now, in case you imagine this to be all about wine, think again. A visit to Alpujárride near Torviscón is about much more than just a bodega. A gastronomic experience, with views to feast your eyes upon too - leaves just one question: How on earth did it take us so long to discover it?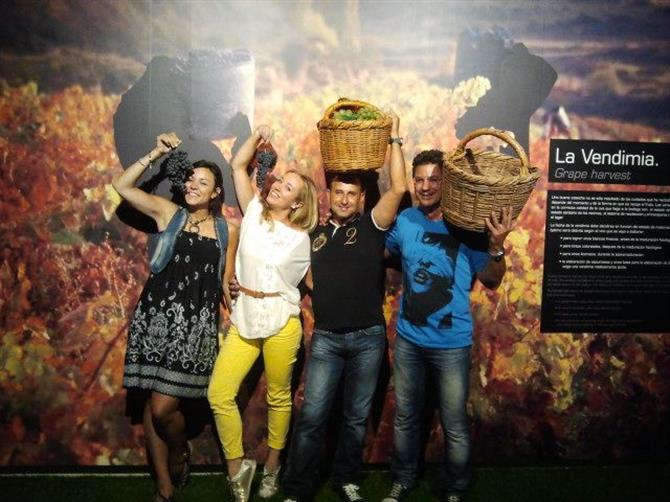 Our 'hood
Last month, with the arrival of a relative for a short stay, we did the tourist thing and went out and about, it's always a good way to see our 'back yard' with fresh eyes. When the back yard is framed with the Sierra Nevada mountains, and the garden planted with acres of rolling Andalucian countryside, all the better! And the plants in question? Olive, Almond, Fig...and of course row upon row of planted Vine, which produce some of the best wine in Spain. Height is the key, and the secret to that fresh and naturally sweet taste. So with wine in mind, we took a trip to the top, to Alpujárride, the highest winery in Europe, and discovered there was eating as well as tasting on the road ahead.

Where is it?
ALPUJÁRRIDE Centro Temático del Vino
Finca Juan de Reyes, S/N.
Carretera Haza del Lino a Cádiar Km., 4.
Ctra. GR-520418430 Torvizcón,
Granada.
Coming from Granada/Orgiva turn off at Torviscon where Alpujárride is clearly sign-posted. Coming from the coast turn off at La Rábita, through Albondón, Albunol and then the Haza de Lino sign on the left, also marked Torvizcon/Órgiva. The Haza de Lino road has recently been resurfaced and is a nice smooth drive, eventually you'll come to the large sign for the Centro Tematico del Vino, and head up a bumpier and dusty track. You'll want to get out halfway and take pictures, this really is the top of the world.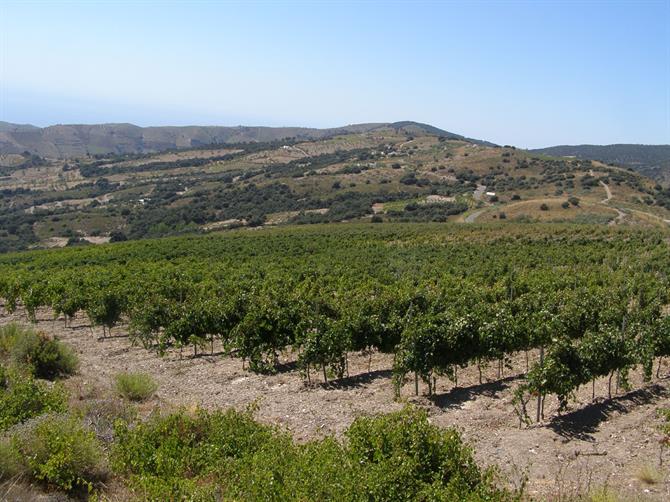 Timing is key!
Approaching the winery, park up at the front, there's plenty of space and head inside, and do make it around lunchtime. Inside there's a small area to taste and buy, besides their own excellent wine there's a selection of olive oil and pretty gifts, and someone will greet you to show you around.
There are two options when visiting Alpujárride. Take the tour only or enjoy some food + the tour. Tapas and wine are available - naturally - or the tempting option of the degustation menu which we happily agreed to.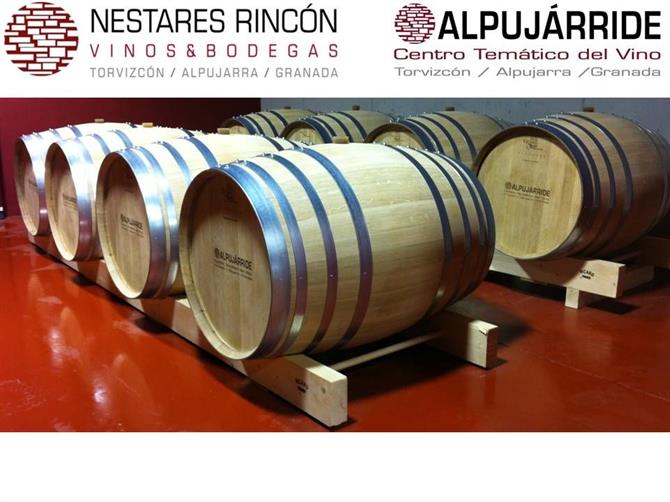 Tour the wine area
First, we had a walk through the interactive wine area, which shows all of the stages of wine-making. On two levels (no lift) you can discover the history of local wine and see exhibits of machinery, with information boards and photographs.
*Whilst there I was on crutches, so I didn't tour the vineyards that surround the winery, but this can also be enjoyed.
There are information films and plenty of leaflets and guides, and the guy who showed us around was extremely helpful and friendly.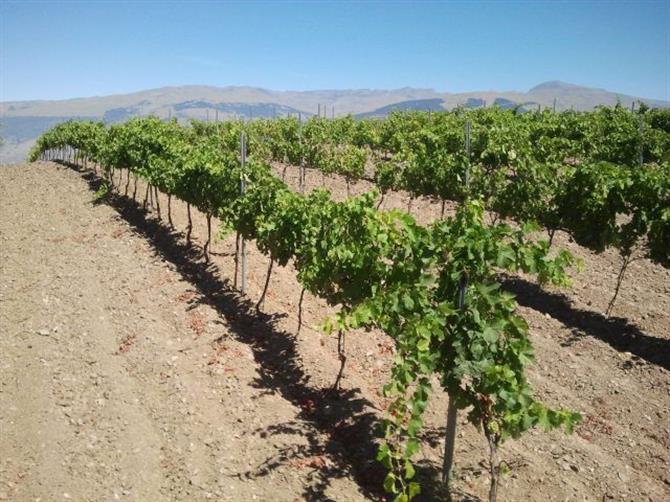 Top deck dining
Back to the reception area, and up another 2 flights of stairs takes you into a spacious dining and bar area. Furnished in a classic black and white with elements of red, this is a modern and relaxed space. Sit at the bar, throw yourself onto the leather sofas (with a central open sided log burner for winter) or take a seat at one of the many tables. There's also a wooden deck through patio doors, complete with telescope.
The whole room has huge windows so that you can admire the view whilst you chew. In June, the Sierras still had a little layer of their winter clothes on, snow capped and so stunning they seemed quite unreal. Undulating hills all around, no sign of a car, or any hint of urban life, just shades of green and brown to rest your eyes.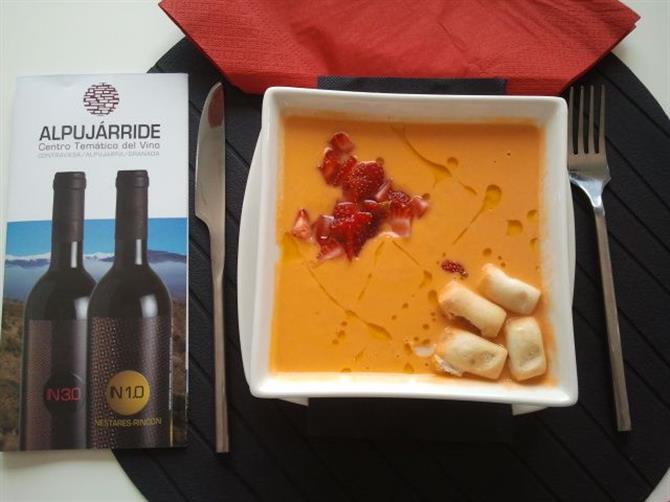 Fodder
But of course we were there to taste, both wine and food. So tearing our eyes away from the view, we concentrated on the friendly waiter, who was proffering the first of five glasses of wine to try. He sensibly offered the lightest ones first, so, in his words, you're not too sloshed by the time dessert arrives. We started with a Rosé, moved on through a crisp and cold White, and then their own selection of Reds. Soft Tempranillo to suit any palate, and very easy to drink.
We were presented with dishes to share:
Exceptional extra virgin olive oil and fresh,warm Ciabbata for dipping
A salty and tasty pate of salt cod and red pepper with crispbreads
Tiny croquette fingers of Morcilla and pine-nuts, also some containing fish and Jamón
'Broken' eggs and wafer thin Jamón
A tower of 'Poor Man's Potatoes'
Then, when we thought we were full, a huge dinner plate each of 'Secreto Ibérico' with more vegetables and potatoes.
Groaning, we made a little more room for a home-made Brownie, satisfyingly molten in the middle, and cream.
Cost including all drinks, food and entry into the exhibition: €25.00 per head.
Time for some more food photos! If you're drooling now, then bookmark this article and remember to pay a long visit to Alpujárride the next time you are on holiday in the province of Granada!