Tossa de Mar
In Girona, you will find one of the most beautiful towns in Spain: Tossa de Mar. Once a meeting place for artists from around the world, it was dubbed the "blue paradise" by painter Marc Chagall. Tossa de Mar dazzled actress Ava Gardner while she was filming Pandora and the Flying Dutchman (1951), and her time there is still remembered today through a statue of her that stands in the city. You can also find "besos de Ava Gardner", Ava Gardner's kisses, which are sold in bakeries in the area.

La Vila Vella castle gives Tossa de Mar a medieval feel; the towering castle walls surround the most charming part of the city, the old town. In the city centre, there are lots of shops and cafes and no shortage of restaurants serving typical sea dishes with local ingredients.
With a Mediterranean climate, summer temperatures average around 30°C, but it's still possible to escape the heat by visiting some of the nearby caves or hitting the beach. Right in the centre of town, Playa Gran is Tossa de Mar's most well-known beach and 385 delightful metres long. Definitely make a point of visiting its most hidden bays - you'll be pleasantly surprised.
La Vila Vella Castle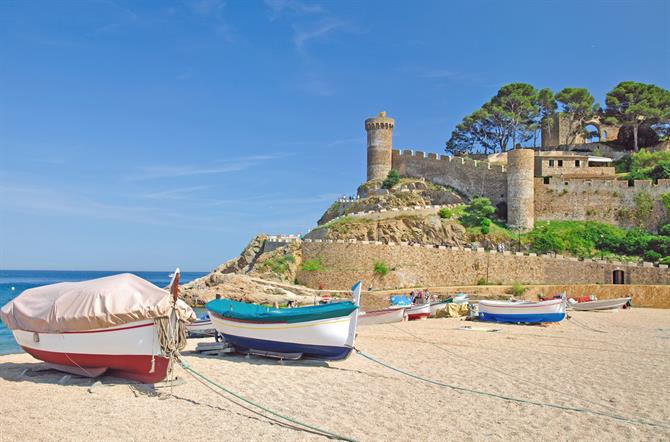 La Vila Vella castle is an icon of Tossa de Mar and the image you'll typically see on postcards. Once you've visited, if you close your eyes and think back, the first thing that will come to mind is this image of the grand castle overlooking the sea, once standing to protect the city from pirates.
Vila Vella is a marvelous medieval walled town filled with narrow, pebbled streets. The town's stone walls shelter the part of the town known the "Old Town". If you pay attention, you will be able to see a small access route to the little beach where fishermen once left their boats after many hours out at sea. This little access route is known locally as the Agujero del Demonio or The Devil's Hole and it's a hole in the wall created by these fishermen. If you are a lover of architecture and castles, don't miss our list of the 10 most enchanting castles in Spain.
Tossa de Mar Beaches and Coves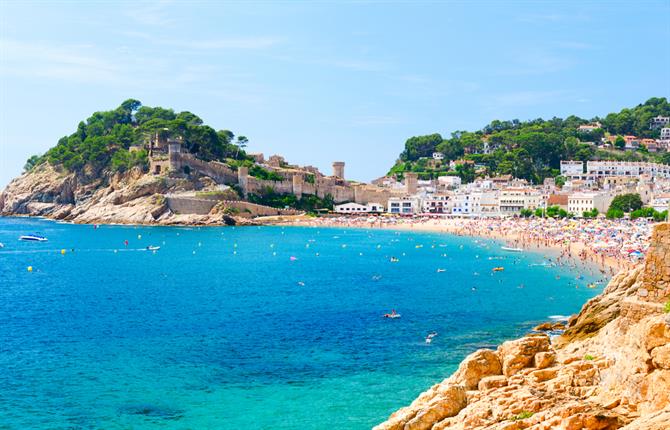 The beaches and coves of Tossa de Mar are among the most beautiful in Spain. Expect wonderful, clean beaches with clear waters and fine golden sand. Some are more urban, with all amenities you might need within reach, while others are quite remote and difficult to access.
The crystal clear waters and fantastic sea floor make Tossa de Mar a paradise for lovers of diving and snorkelling. If you don't fancy trying out some of the water sports on offer and would prefer simply relaxing on a towel, Tossa de Mar has something for all tastes. There's nothing better than renting out a holiday home by the beaches of Tossa de Mar and immersing yourself in the coastal lifestyle of this town.
Gastronomy in Tossa de Mar's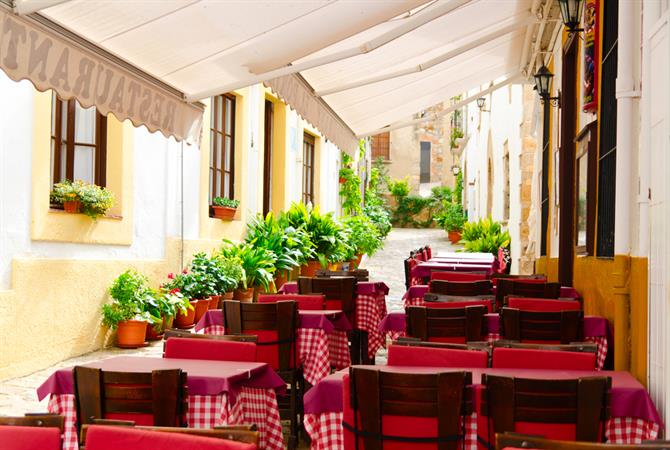 One of Tossa's typical dishes is the famous "Simitomba", a typical fisherman's favourite. Simitomba is made from a delicious base of fresh fish to which rich smoked fish, potatoes, parsley, garlic, salt, tomato, saffron, olive oil and aioli are added.
Every year during the month of September, a gastronomic celebration takes place centred around Simitomba. During the celebration, fifteen local restaurants share the honour of each coming up with their own recipe inspired by this maritime tradition.
Places of Interest: The City Walls and The Lighthouse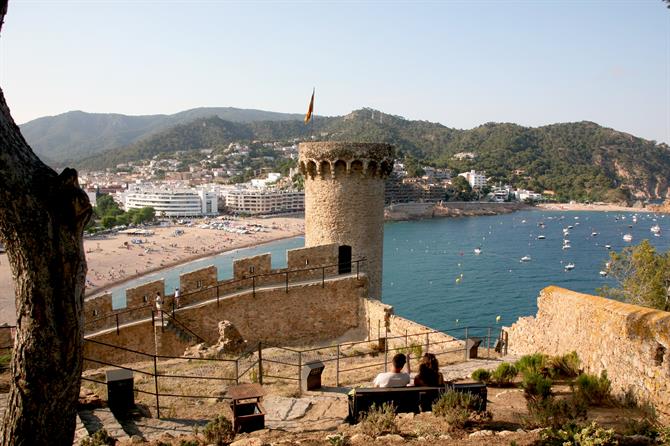 One of the biggest attractions in Tossa de Mar is it's impressive medieval wall which was built between the 12th and 13th century. We encourage you to explore the length of the wall once the sun has gone down a bit because the views of the sunset and the coast are spectacular. The walls are made up of four big towers and three smaller watchtowers, the main tower is called La Torre d'en Jonas and it presides over the bay.
At the highest point of the wall we find the Far de Tossa or the Tossa de Mar lighthouse. It's definitely worth a visit, as right next to it is the Centro de Interpretació dels Fars de la Mediterrània Museum, which displays exhibits all about the lighthouses which illuminate this part of the Mediterranean.
Las Fiestas Mayores or Big Festivals
All these attractions are reason enough to visit Tossa de Mar but if you're looking for something a little more active, then it's definitely worth planning your visit during the weeks of Tossa de Mar's Fiesta Mayores or Big Festivals. During these weeks, the town fills with life and cultural activities.
The Festa Major d'Hivern Festivals or Sant Vicenç Festivals are held every 20th January and consist of street parties, fairs, traditional parades and all types of expositions. One special festival is the "Voto del Peregrino" pilgrimage, which takes place along the 40km distance which lies between Tossa de Mar and Santa Coloma de Farners. More than 1000 pilgrims take part in this festival.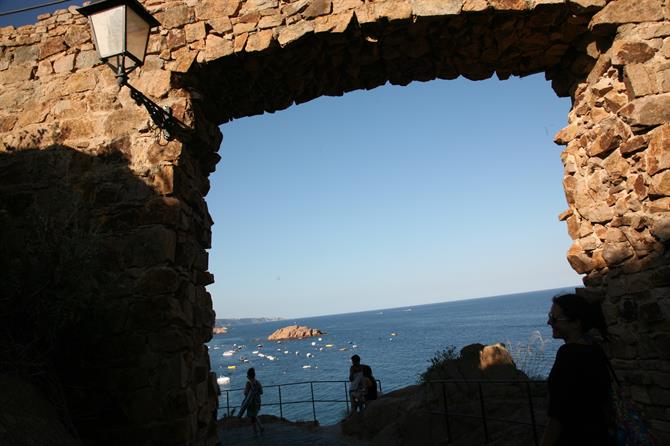 In June, Tossa de Mar hosts the Festa Major d'Estiu or San Pere Festival during the week of the 20th June. Expect traditional Sardanas Dance shows, concerts, other dance performances, children's games and fireworks.
International Catalan Rumba Festival
For the last few years, Tossa de Mar's Playa Gran beach has been hosting the International Catalan Rumba Festival. Rumba is a traditional type of Catalan music which, thanks to its upbeat rhythms and happy lyrics has become one of Catalonia's most characteristic and popular musical genres. During the days of this festival, we can enjoy some of the best Rumba groups on the beach.
Tossa de Mar is one of the best destinations along the Costa Brava, this fishing town is so rich in history that it has become a very popular tourist destination, surrounded by high quality beaches. This town also has a great nightlife especially during the summer months, choose from more than 20 bars and four clubs. The best way to enjoy everything that this town offers is by renting a holiday home in Tossa de Mar and enjoy all the history, culture and fun this town has to offer.
Map: Tossa de Mar - Beaches, Coves and Places to visit