OK, I don't mean you need to dig a hole, I mean whenever you find yourself in a big city, getting around can sometimes be a nightmare and if you are not adequately prepared, you could find the main part of your time on holiday being stuck in traffic, or being ripped off by unscrupulous taxi drivers.
The city of Valencia in eastern Spain is a fantastic destination for a city break or a short holiday so we present a short guide to the valencia metro system, so you can get around quickly, cheaply, safely and can see as much of the city as possible in a short time.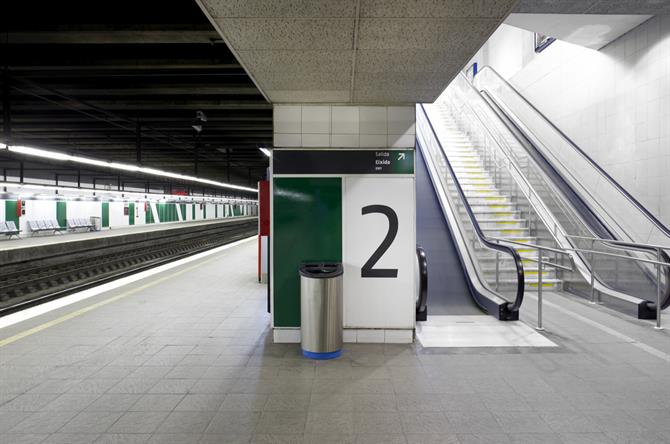 Valencia has an envious public transport system which consists of a connected mix of buses, trams and trains, with an easy to follow tube map, based on the London tube map, colour coded and easy to read.
Getting around is easy too when you invest in a travel card, which are available from most "Estancos" tobacconists, and also "Papilerias" (Newsagents) although they can be bought in the main stations themselves too, either from a vending machine or from the staff there, and they look like this.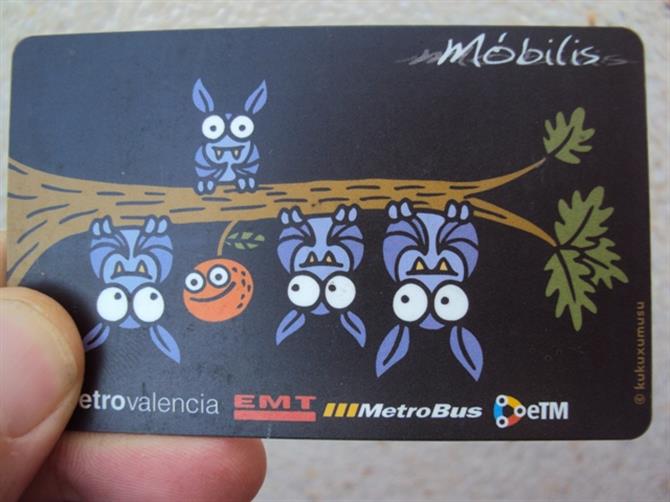 There is a hard plastic version which only covers you on the trams and metro tube trains in the central zone "A", plus there is another, slightly more expensive version which also covers travel on the local buses. For the outlying areas, zones B and C, there is a laminated card version, and all of them can be recharged by going to the customer service windows in the main stations, or by using the machines to top up, which instructions are also available in English on screen.
This is the machine you need to top up your valencia travel card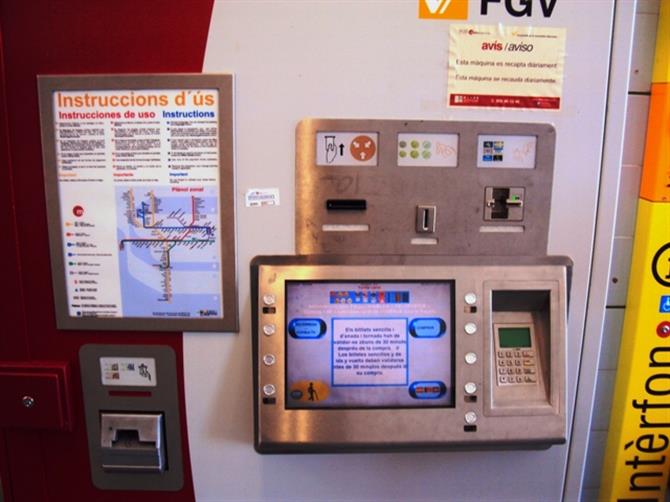 Once you have charged your card which will give you "un viaje" which is what each "unit" is called, representing how many times the card is valid for and the balance is debited for each journey you take, similar to an Oyster card in London. Even if you have changed lines along the way, this is still counted as your one journey.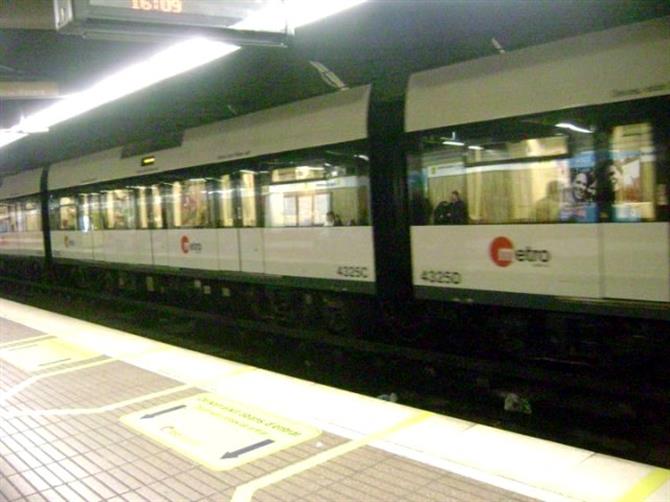 A certain amount of honesty is called for in many of the outlying stations, however in the city, the system is very much like the London Underground and you just hold or press your card onto the readers around the station and this is done before your journey, and upon your arrival.
This machine will validate your travel card before each journey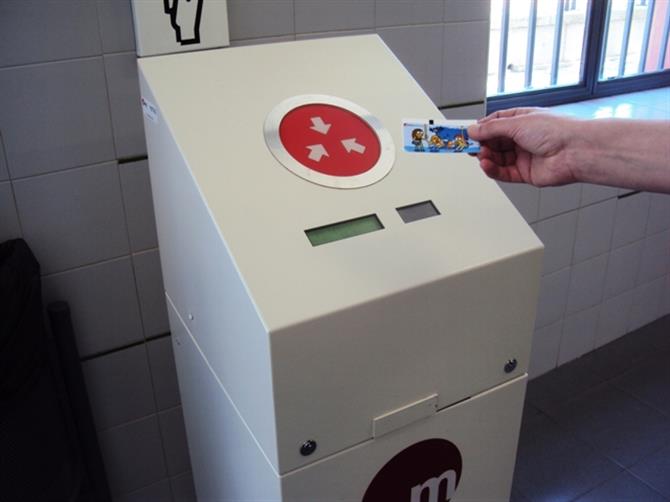 This will then open the barriers and you may exit the station, go back above ground, and stare in awe at the amazing city before you! The scene below was taken in the plaza del reina (Queens square) and is one of the hotspots where all tourists end up going.
To get there, the nearest metro station would be either Xativa (near the main train station) or Colon. The square is only about 5 minutes easy walking.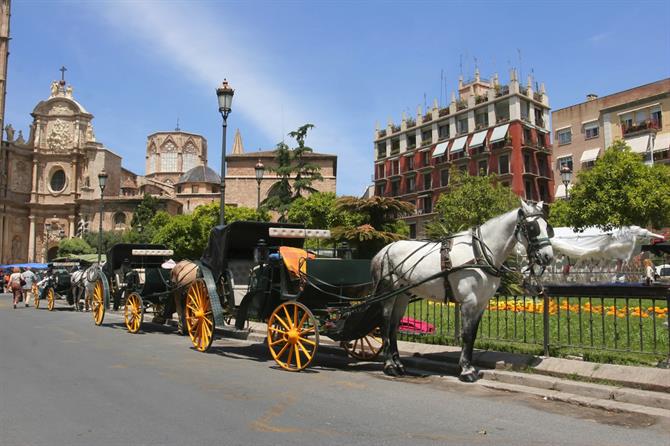 A sample journey on the Valencia Metro.
OK, to take you through how to use the system, let's imagine I am about to take a journey from the outskirts of the city, into the centre. I am looking at Line 1, which is the yellow line on the map in the photo below.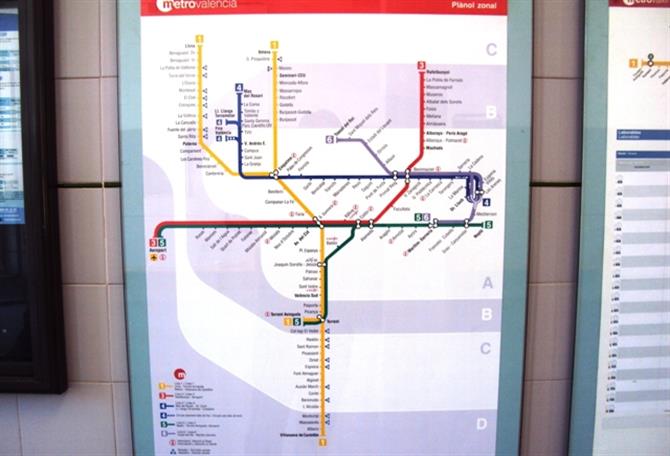 Most people in my town would board the train at Lliria, however as the train stops in every single area on it's way into the centre, you can save time if you have a car by driving 15 minutes to Empalme, just off the CV35, behind Parque Alban centro commercial, and park in the free car park behind Toy R Us.
This saves at least half an hour travelling. The station also connects with line 5, which is a tram that goes through the streets, and although it takes a bit of time, you can actually head for the beach from here, just catch the tram that heads eastwards to "Neptu." and you can be on playa malvarosa in no time at all!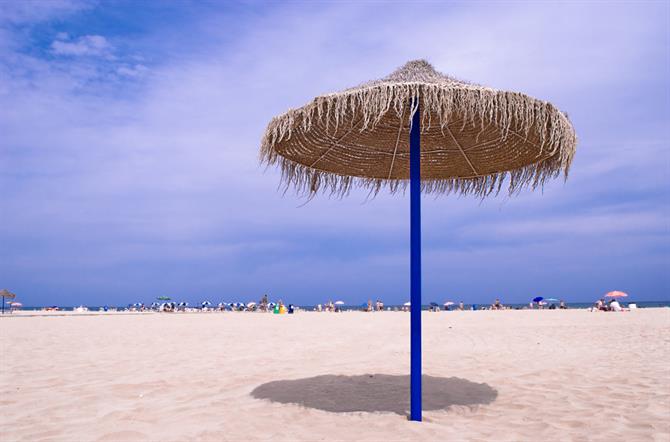 Meanwhile back at Empalme tube station, walk to the station, about 1 minute, and board a train going into the centre, remembering to pass my travel card over the reader, located on the platform, and we get off at Angel Guimera.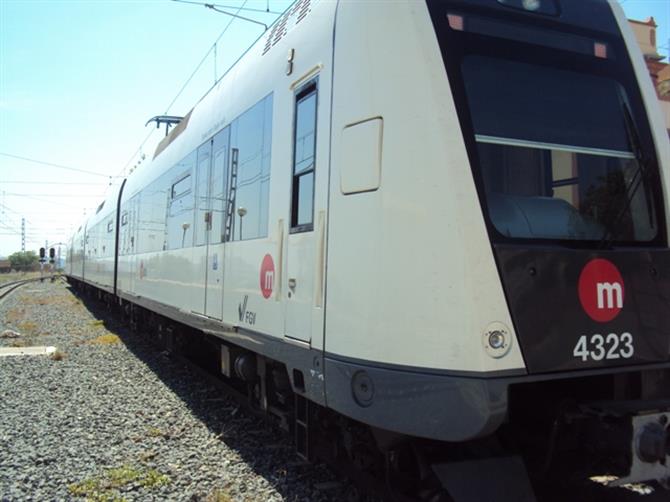 The trains announce the next stop just like on the London undergound but the messages alternate between Catalan and Spanish, so in Catalan, we are listening for what sounds like "Proxim baishador" and in Spanish "Proxima parada", and then the station name.
Upon arrival at Angel station, we then head for the signs that say "transbord" and catch another tube train on either line 3 (red) or line 5 (green) going to Alameda.
Alameda station is wonderful, bright and airy, and opens out directly onto the old turia river bed and the Turia park.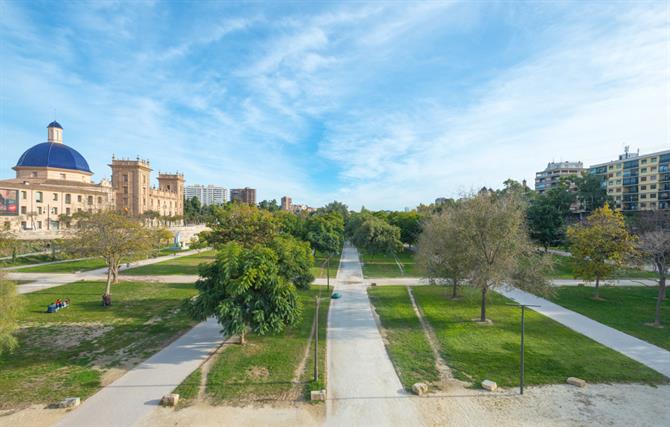 The river bed is a wonderful place to visit and more info about it can be found in one of my previous articles here.
Another scenario would be to do the same journey above, but get off the train at Xativa, near to the main RENFE train station and upon emerging into the busy streets above, we are immediately stopped in our tracks by not only the huge bullring dominating the street, but also the amazing baroque façade of the train station, or Estacio del nord, pictured below.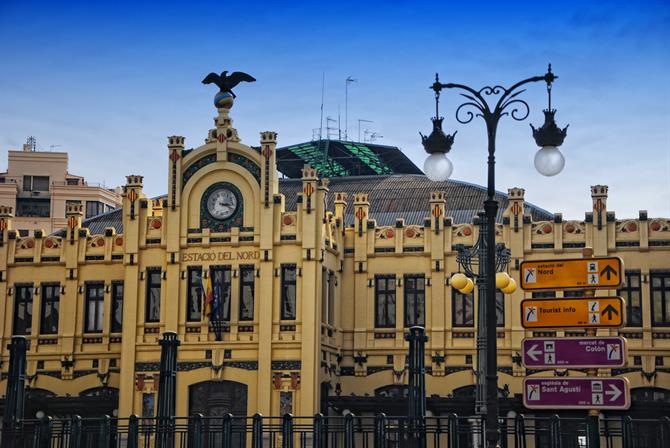 Onward journeys can also be made here to all major parts of Spain.
One out in the street, we simply head along one of the shady bar-lined streets, heading for the centre of town, the placa del ajuntament, where we find many awe inspiring examples of architecture, including of course the town hall, and the massive central post office.
And of course coming back, simply repeat the opposite of the journey you just took. There is so much to see and do in central Valencia, admittedly it would take quite a while to see it all, and even then, there will be something that you have missed, so maybe you can see that on your next trip to Valencia.
Getting around a large city like Valencia is so easy when you know how to use the public transport system here, and it is, in my experience, cleaner, quicker and safer that doing the same back in London.
For more information about travelling on the Valencia metro, you can go to http://www.metrovalencia.es/page.php?idioma=_en which does have some info in English too.
I hope that we can see you soon in Valencia, and if you need to rent somewhere to say, then check out this list of quality accommodation in and around the city of Valencia.