A Cider revival
Cider is undergoing somewhat of a make-over. A little bit like the now very fashionable Sherry, Spanish Cider - or Sidra - is taking its place on the podium of Spanish beverages that the world is happy to import and consume in some quantity - not to mention its reputation at home, here in Spain.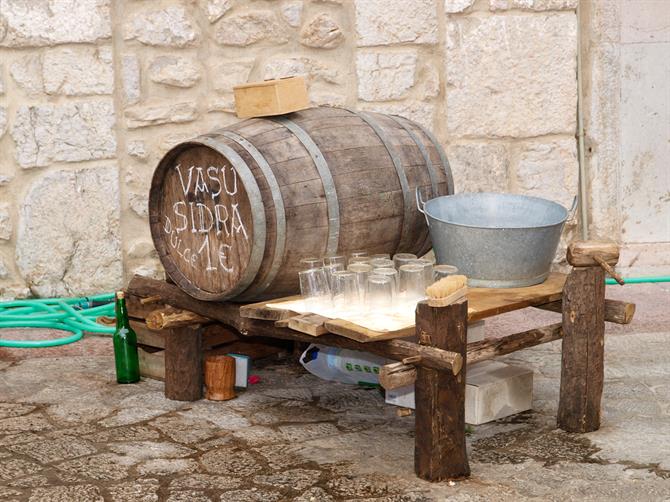 Specialist bars
Take a well-deserved weekend away in any Spanish city and you'll find a bar specialising in Cider, otherwise known as a Sidreria. I found one such bar in Málaga centre just the other week, only serving this refreshing drink, the waiter, or escanciador, pouring cider from above his head into small glasses from a height into small glasses. Apparently there's an art to it all, your body must be perfectly straight but not tense, your eye must never leave the glass. However, thankfully - drinking cider holds no special rules, just enjoy!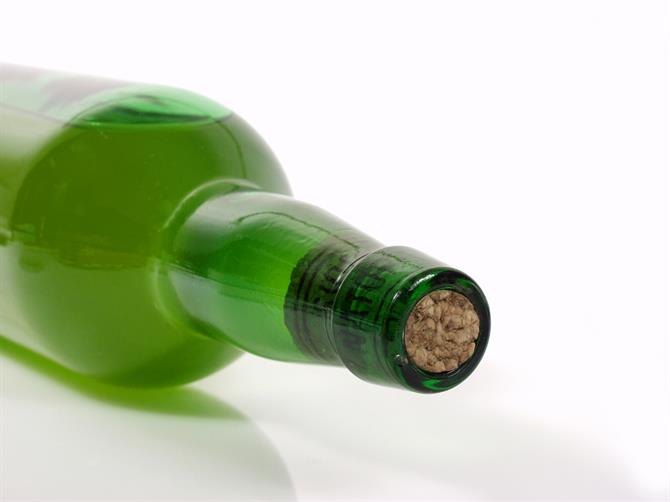 Where is Cider from?
You can partake of a glass or two of Cider anywhere in Spain, but to find out where it hails from then you'll have to take a trip to the Atlantic coast, and Asturias in the far north.
Asturians have been producing a form of Cider since the 1st century BC - and today, although it may be made and exported on a large scale - it's still a simple drink to most Asturians, often taken in place of wine at lunchtimes, and in place of a cold beer on a warm summer evening.
The epicentre of Cider production in Asturias is undoubtedly Villaviciosa, a town which also boasts several beaches, beautiful scenic countryside and ancient hill-forts.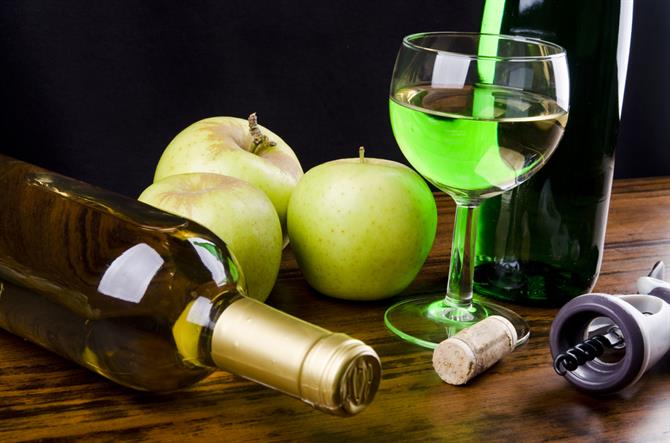 How is Cider made?
Cider is produced from apples grown in the verdant orchards of Asturias. Wet weather and valleys that don't see enough Spanish sunshine for vine production have given way to apple growing instead. Spanish Cider is unique. Why? Because it's produced using only the natural yeast found in the fruit.
The apples are collected, washed and cut into smaller pieces. Then some pressing business takes place. After the fruit is pressed, the juice, or Must, is traditionally left to ferment using Chestnut barrels. Bottled after a quick sieve the following spring, and the refreshing result is Sidra Natural - a still, cloudy Cider.
For Sidra Gasifacada, or fizzy cider - the process is much more manufactured, and there's added sugar for sweetness. The end result is a little like Cava and is sold in similar bottles all over Spain.
Cider Festival
Gijón in Asturias traditionally hosts a Cider Festival every year (dates for 2015 are still to be confirmed at time of writing). 30,000 litres of Cider are consumed at the festival - and 10,000 glasses are made, inscribed with the festival logo. The merry festival go-ers are treated to pouring competitions, and a special apple and Cider market, as well as tasting of course.
Gijón is known as the Big Apple of Spain, and the local motto is: "In Gijón we don't just drink Cider, we live for it!"
It's true, they don't just drink the stuff, Cider is also used in cooking, as you would with wine, and you can also indulge your sweet tooth with Cider cakes, made in Gijón. Should you choose to stay in Gijón then you'll be 'well fed and watered'!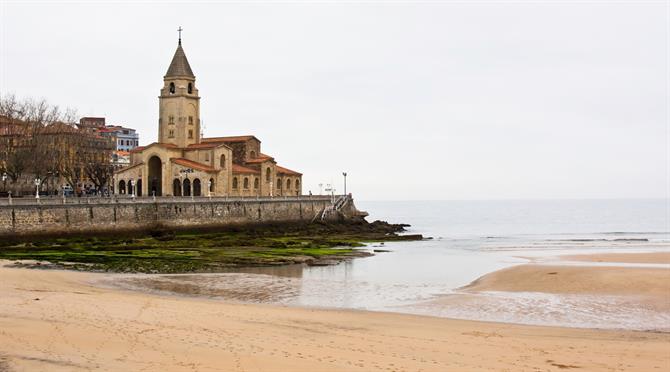 About Asturias
Asturias is situated on the Costa Verde, or Green Coast of northern Spain. Verdant and lush it certainly is, with stunning landscapes facing towards the Bay of Biscay.
Dramatic cliffs and superb beaches, and the overwhelming 'greenness' of the place. There's a whiff of the west of Ireland about Asturias, a Celtic footnote. Think of an opposite to Andalucia, which is a colour palette of sunshine yellow and browns. Then imagine Asturias, a colour wheel of 40 shades of green, with the deep grey and blue of the Atlantic lashing at the pale beaches along the shoreline.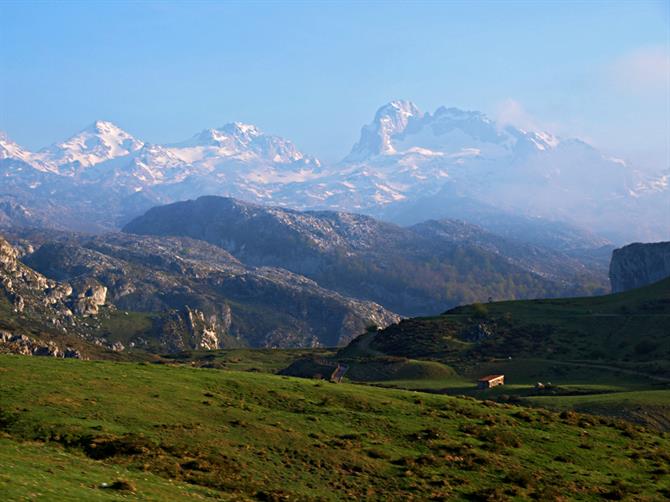 What's for dinner?
Food too - Asturias makes the most of what it's got. Seafood, certainly. From the sea and also Salmon caught in the local rivers. How about a Spanish stew? Fabada Asturiana is a heavy local bean stew, similar to Cassoulet found in nearby France. Chunks of smoked meats are added to the beans and stock, a hunk of crusty bread to mop it up. Cheese? Yes please. The most famous export, Cabrales, is the perfect tapa for a glass of that cider.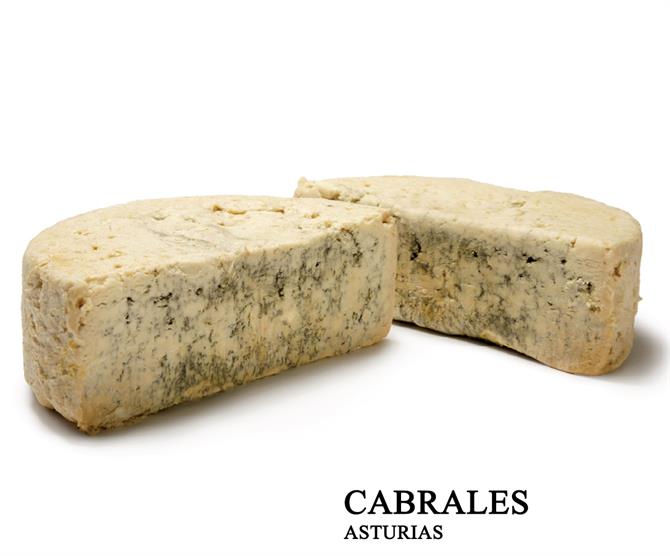 What are the unmissable sights of Asturias?
The church of San Julian de Los Prados in Oviedo, 8th century interior and dazzling richly coloured murals.

Cudillero

, a harbour town with houses painted in many colours - they have their own dialect called Pixueto there which they celebrate every year with a festival in June.

Visit the

Playa de Gulpiyuri

in Llanes, a beach with a difference, a flooded sink-hole makes an inland beach just 40m long. It's also a declared Natural Monument.

Wander the natural parkland, the coastal walks, the fishing villages and harbours dotted along the way. Tazones is possibly the prettiest village in Spain, coloured balconies and a quaint harbour, perfect for that fishy lunch.

Explore Asturias by luxury train.
Or take a hike in Asturias. Here are 5 amazing hikes to try.

And of course, the reason for your visit...the

Cider Museum

in Navas, surrounded by many orchards and the Asturian scenery that you'll find is

very

hard to leave.
Green Spain? Perhaps Asturias should be Secret Spain. You certainly won't want to share it!