The Costa Verde, or "Green Coast" of Asturias, is a literal treasure trove of hidden gems waiting to be discovered. Here, the Bay of Biscay collides in spectacular fashion with mainland Spain to create an incredible diversity of stunning coastal landscapes.
An abundance of long sandy shores, coves, cliffs, and caves lie scattered all along this stretch of coastline. Here, remarkable beaches with striking backdrops offer plenty of holiday appeal to solo travellers, groups, and families alike.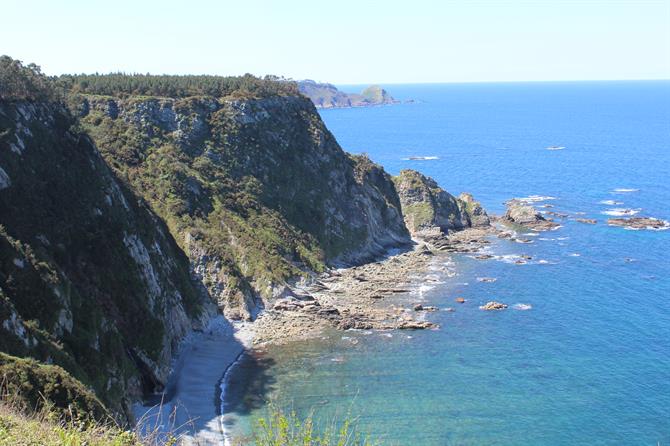 We're Going to Explore 8 of Our Favourite Beaches in Asturias
Playa de Cuevas del Mar
The "Beach of Sea Caves" has everything it takes to be considered one of the most spectacular beaches in all of Northern Spain.
In this landscape of indescribable beauty, the Cantabrian Sea flows through natural stone arches to lap gently at the sand. Adding to the magnificent scene, the Asturian mountain range, Picos de Europa, forms an immense backdrop.
A constant bombardment from the sea along Spain's northern border, has carved truly impressive rock formations which often take the form of impressive natural arches. In addition to the aesthetics found at Playa de Cuevas del Mar, the water is also incredibly clean, making a dip here all the more enjoyable.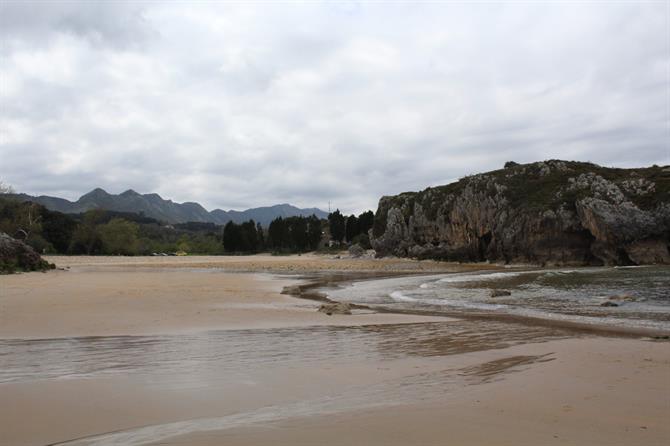 The Playa de Cuevas del Mar is located about two kilometres from the city of Nueva. With it's proximity to town, it can be quite engaged during high season, but is typically not overcrowded.
Playa de Gulpiyuri
Have you ever heard of a beach without a sea? To witness the sands of Playa de Gulpiyuri, you'll have to travel inland more than a hundred metres. One of the best-kept secrets of Asturias, this place is truly mesmerizing, and perhaps a little disorienting. What at first seems to be a small mountain pond, in reality, offers visitors a chance to experience the Cantabrian's salty waters complete with the sound of crashing waves.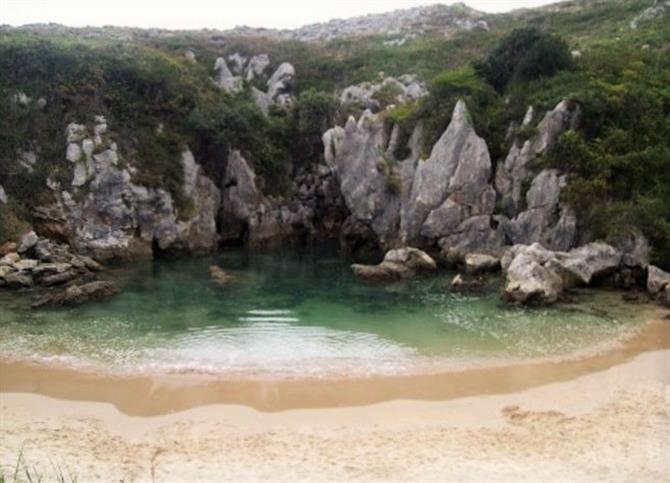 This natural wonder is a great addition to any Asturian travel itinerary. While other beaches may offer better opportunities for swimming and sunbathing, this unique inland coast offers a certain charm which can't be found anywhere else. Here, as you sit upon the sand, rather than look out across an expanse of ocean, you are greeted instead with lush greenery and peculiar rock formations.
Nature lovers will find no shortage of nearby opportunities to explore the stunning landscapes.
While it seems to defy logic, Playa de Gulpiyuri is brought to life by a series of underground tunnels connecting what is essentially a natural sinkhole to the Bay of Biscay.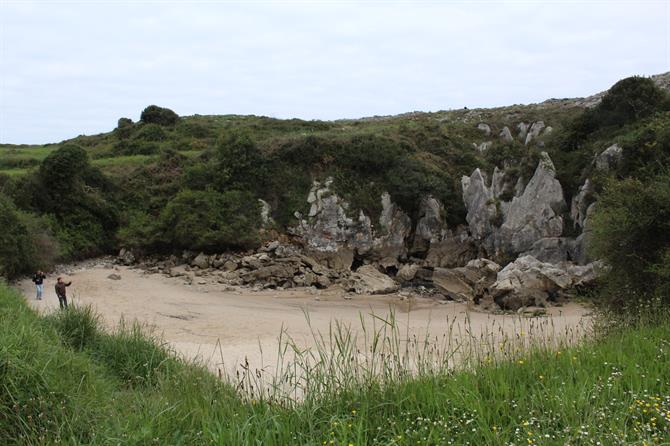 Playa del Silencio
"The Beach of Silence" — A place where time seems to stand still. This incredible shoreline has been declared a natural monument and, to this day, remains completely unspoiled. Here you'll discover turquoise waters surrounded by high cliffs and a cinematic wonderland where the sound of the sea invites you to drop everything and go for a dip.
Playa del Silencio is near the village of Castañeras in Cudillero, and can be reached by a narrow road where grazing cows may outnumber passing cars. The beach offers parking spaces, but the last stretch must be completed with a short walk.
Playa de Rodiles
This superb strip of sand in the coastal province of Villaviciosa is perhaps the perfect place for a day of relaxation with the family. At over one kilometre in length, this beach is also among the largest in all of Asturias.
Playa de Rodiles boasts a long list of amenities including a nice selection of beach bars, and a large picnic area kept cool by the shade of nearby trees. A pool area provides the ideal spot for splashing around with the little ones, and a recently built promenade traces the shoreline all the way to the mouth of the Villaviciosa Estuary.
Playa de la Griega
Near the charming fishing village of Lastres, you'll find another wonderful seaside treasure: "Beach of the Greek". It rests at the mouth of the Libardón River and provides one of the best views of Lastres. This beach is also known for dinosaur footprints still present in the rock formations. Visiting the ancient tracks is highly recommended for those seeking a unique and memorable holiday experience.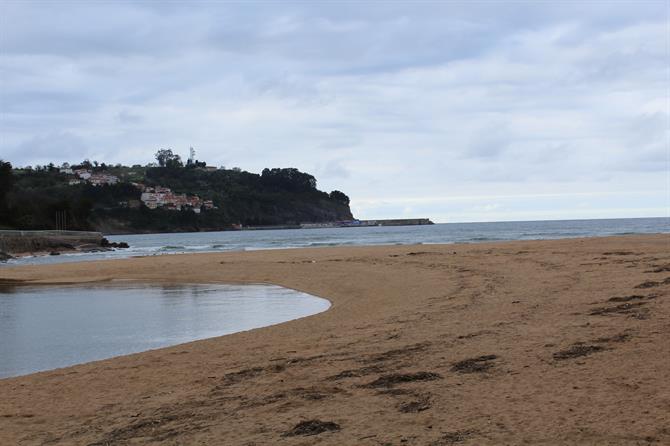 Playa de Santa Marina
The town of Ribadesella is a place of astounding beauty, and the beaches which surround it do well to accentuate it. The stunning scenery resides within an estuary formed by two converging streams, the Arroyo de San Pedro and Sella River, which flow into the Cantabrian Sea. The entire area is a mosaic of breathtaking allure, of which the nearby beaches are just a part.

Playa de Santa Marina is in reality a large sandbar brought about by the unique local geography. Fresh water flowing past this sandy shore adds an ample amount of clarity to the depths, resulting in mass appeal for those who enjoy intermittent dips between periods of sunbathing. This area is also popular among water sports enthusiasts and offers many opportunities to join in on the fun.
The village of Ribadesella shines beautifully in the background, crowned by beautiful Indian palaces, it's also a great place to locate nearby accommodations of your own.
Playa de La Atalaya
Not far west of Ribadesella, the coastline takes on a completely different form from the one found in town. Flanked by massive bluffs, Playa de La Atalaya has a rocky composition rather than the copious amounts of sand found elsewhere. This beach's relative seclusion tends to result in a tranquil atmosphere and is likely the perfect remedy for those wanting an escape from the hustle and bustle.
Playa del Toró
Playa del Toró is located very near the village of Llanes. The shoreline here is especially beautiful at low tide, as all manner of interesting rock formations are exposed. The sand's protruding stones create a bewitching moonscape well-worth visiting. With nothing to hear but the sound of crashing waves, this beach is sure to transport you into a dimension of ultimate relaxation.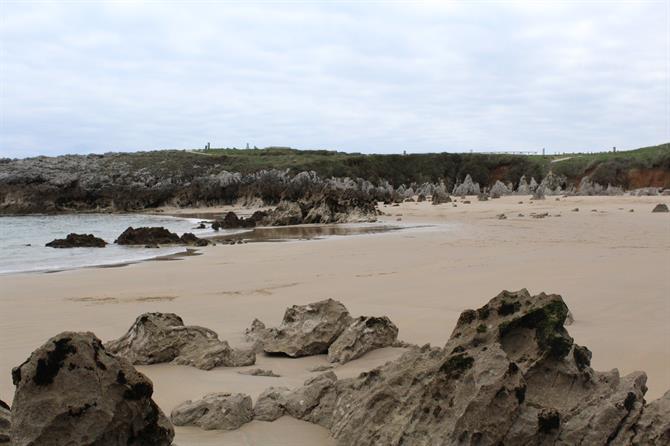 Walking directly to Playa del Toró from the center of Llanes is made pleasurable by a beautiful seafront promenade that crosses over a number of cliffs and offers plenty of scenic views. Beach-goers preferring a high level of convenience will also find everything they need here. All the proper facilities have been installed here, including a car park for those choosing to drive.
Also of interest here will surely be the vantage point from the nearby lookout where visitors can savour stunning views of the Llanes coastline.
Other Great Holiday Ideas
Enthusiastic beach lovers visiting eastern Asturias may want to venture over into nearby Galicia and experience the spectacular masterpiece of natural architecture popularly known as the Beach of Cathedrals.
The story of cider in Asturias will be of great interest to admirers of the gastronomic world looking to sample the legendary spirits.
An unforgettable holiday experience can surely be had when exploring Asturias by luxury train.
Ready to discover the incredible world of Asturias for yourself? Let us help plan your next holiday trip with this excellent selection of accommodations near Spain's Costa Verde.
Map of the Best Beaches in Asturias
For some added perspective on the stunning Asturian coast, have a look at this map showing the locations of the eight beaches discussed on our list.