No one would call
Barcelona
a little green city, but there are parks where you can lie and enjoy the splendid sun which illuminates the city every day. Most people only know about the most famous parks in the city - the imposing mountain park overlooking the sea at Montjüic and the well-known
Ciutadella Park
.
Today, we want to go further and invite you on a tour of five of the very beautiful but lesser known parks in the city of Barcelona. Don't miss out on these hidden gems during your stay in one of the many holiday
apartments in Barcelona
.
The Guinardó Labyrinth Park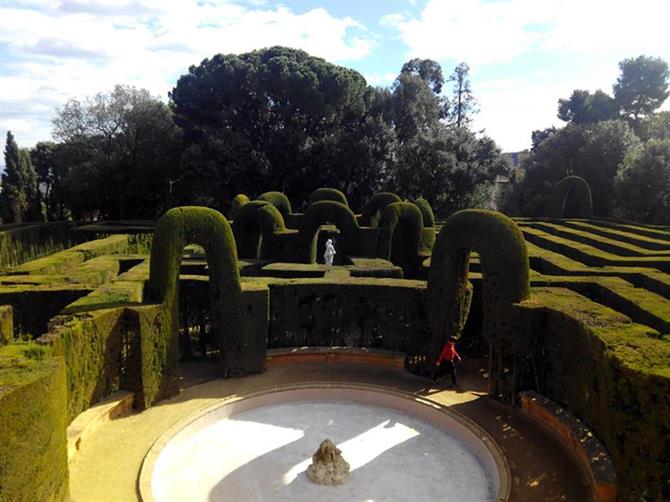 We begin our tour with one of the oldest gardens in the city, the Labyrinth of Horta Guinardó I. The garden boasts a neoclassical style straight from the 18th century, over the years additional Italian features were added and today, it is a complete, romantic style garden. This park is such a well-kept secret that even most locals don't know about it.
Originally it belonged to the Marquis of Llupià, Poal and Alfarràs but in the seventies it was opened to the public and in 1994 it was refurbished, transforming it into the museum garden we can visit today.
Undoubtedly, the main attraction is the maze of cypress trees in the centre of the garden, which keeps all who enter entertained going round and round and hitting dead ends. Patience is required. Once outside, you can also enjoy the gentle sound of a stream, its biodiversity and its fountains.
Address: Passeig los Castaños 1-17
Hours: 10am till dark
Metro: Valldaura (Line 3), Mundet (Line 3)
Guinardó Park
This large park is undoubtedly one of the most important green areas of the city where the water takes on special importance. Divided into three distinct areas, the first is a more urban area, the second is historic with terraces and water channels located at different heights and the last area is much more natural and spacious with tall pine trees, fountains and hiking trails.
Do not miss the viewpoint at Mitja Lluna, which offers rare views of Barcelona and the Mediterranean Sea. Being in this park, it's not hard to feel like you are far away from the city.
Apart from enjoying the park, do not forget to visit the bunkers of Carmel. A group of buildings dating back to the time of the Spanish civil war, newly refurbished and from here, you can enjoy 360 degree views of the province of Barcelona.
Address: Calle de Garriga i Roca, 1-13
Hours: Always open
Metro: Alfons X (Line 4)
The Tamarita Gardens
This small park is an example of once private gardens which have become heritage of the city and therefore, now open to the public. These gardens maintain their essence of privilege and atmosphere of privacy as they are surrounded by high stone walls and offer an oasis of calm with fountains, vines, plants, sculptures and benches to sit and rest.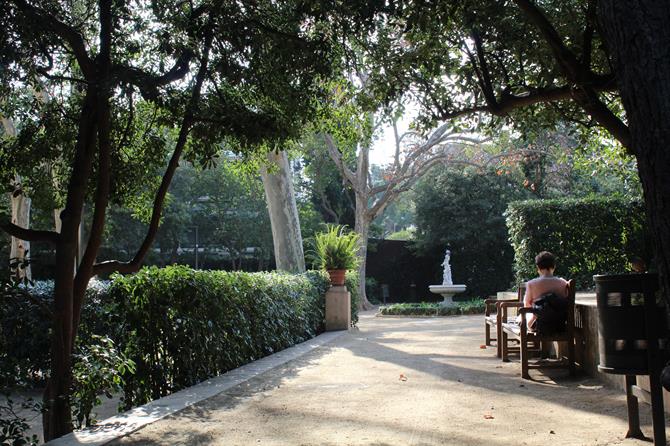 No doubt this is one of the more tranquil and beautiful parks in the city, which still maintains an intimate character. Its plants make it one of the best parks in Barcelona, full of fountains and sculptures, a beautiful place to stop to rest.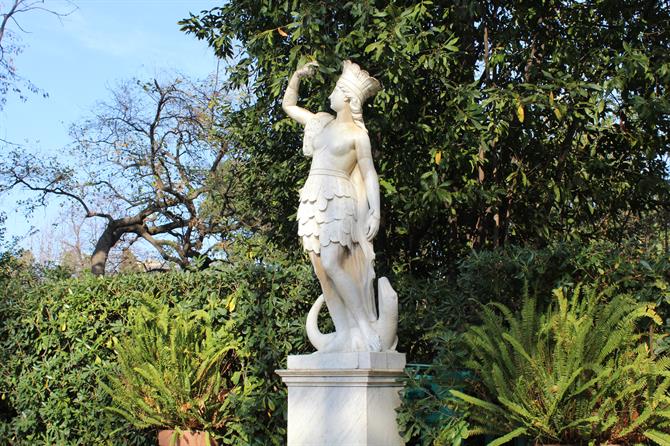 Address: Passeig de Sant Gervasi, 47-49
Hours: 10am until dark
Metro: Av. Tividabo
The Gardens of Pedralbes Palace
Pedralbes Park is located in the heart of Barcelona's University area protected by a 250m long wall. It has a noble character, exquisitely Frenchified with decorative elements, ponds and flowers that run along the park. This park is especially recommended to romantics, as it is common to find couples walking hand in hand or students studying in the sun.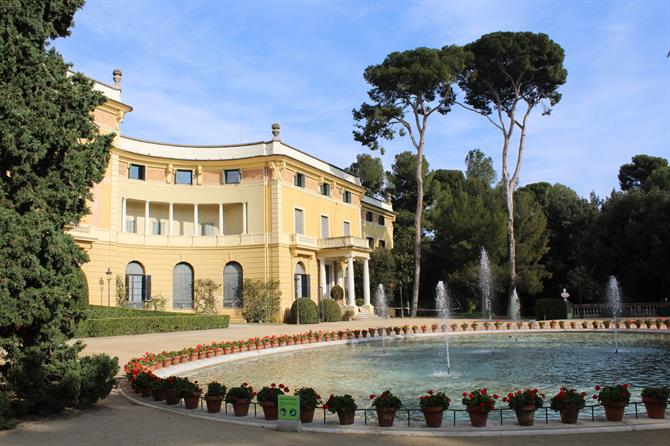 Inside is the Royal Palace of Pedralbes, which acted as a holiday home to the Spanish Royal Family between 1919 and 1931 when they visited the city. Today, it houses the Ceramics Museum and the Museum of Decorative Arts. Take a walk around the grounds and enjoy the perfectly oval shapes of the bushes.
Address: C/ Berlin 67, 5º A, 08029 Barcelona
Hours: Tuesday to Sunday from 10am till dark
Metro: Palau Reial (Line 3)
The Joan Miró Park
One minute from Plaza España, hidden behind the old Plaza Foros de las Arenas, you can find an interesting park dedicated to the Catalan painter, sculptor and ceramist Joan Miró. The park features the sculpture "Mujer y Pájaro" (Woman and Bird), designed by Miró himself, immediately recognisable by its shapes and colours.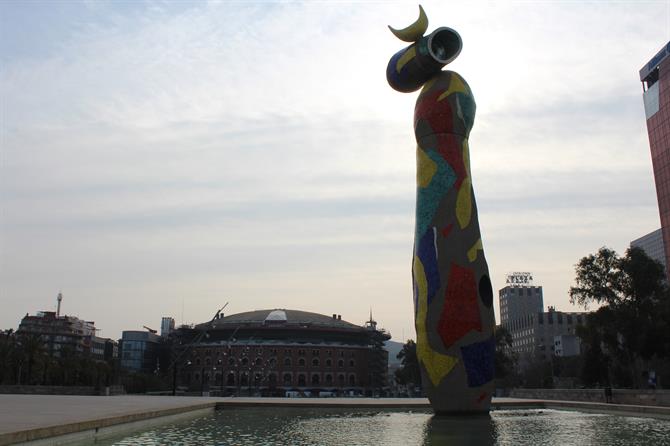 If you have time, take a stroll among the pine trees and palms. Enjoy your visit in the early mornings, when groups of locals use this space to do yoga and meditation.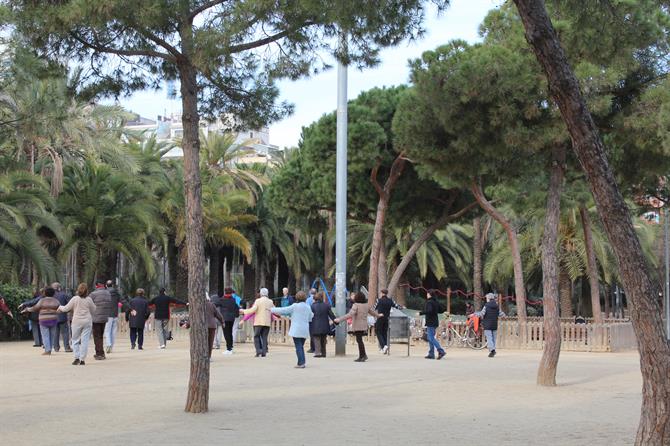 Address:
Carrer Tarragona, 74
Hours: 10am till dark
Metro: Tarragona (Line 3)
Map
If you truly enjoyed, or even loved, reading about the most beautiful but hidden parks in Barcelona then please, continue your journey through Barcelona´s hidden parks in our enchanting and thrilling part two. Discover what further adventures await.