In our last exciting edition of the most beautiful but hidden parks of Barcelona, we began our exploration with some of Barcelona´s interesting yet well-hidden green areas, parks and gardens. Today, we shall continue on our quest and see what other natural treasures we can find in this wonderful and mysterious city.
Parque Turó
Originally, the Parque Turó was created as a domestic garden by Nicolau M. Rubió i Tuduri, but these days it is open to the public, to roam and enjoy. The garden is a little oasis of calm inside one of the main commercial areas of the city, so you can always find people relaxing and picnicking here. It is completely sheltered from the outside world and has a remarkably diverse collection of plants in its 2.88 hectares.
You can´t miss the sweet, small artificial lake in this park or the square and little theatre. There are also numerous sculptures, all dedicated to different Catalan writers and artists. Most importantly of all, take a moment to find and read the collection of poems that are hidden in different places throughout the park. Beautiful words by García Lorca, Walt Whitman, Fernando Pessoa and more will leave you feeling revived and refreshed.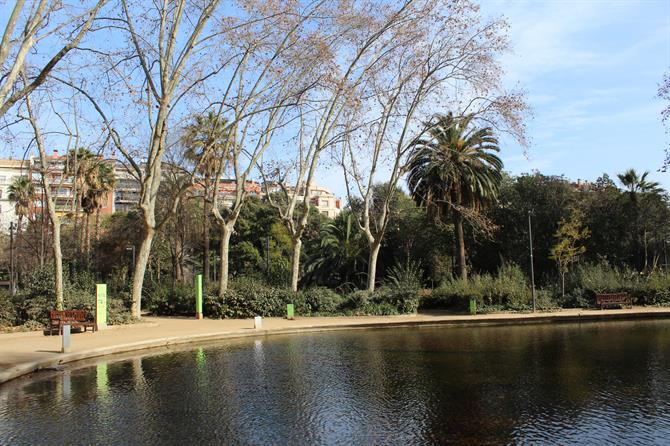 Address: Avenida de Pau Casals, 19
Hours: From 8am till dark
Metro: Hospital Clinic or Muntaner (Rodalies)
Jardines del Turó del Putxet
This park is not suitable for those who prefer not to break a sweat on their holidays or avoid hills, as the hills in this park are very, very steep. But, if you don´t mind sweating a bit, the rewards that await you at the top of these hills are truly worth it. Stroll through paths full of unusual vegetation such as vines, carob, pine trees and wild basil all while enjoying the spectacular views of the city and Tibidabo Hill. You also get the opportunity to see both the amusement park and the Atoning Temple from a unique and unusual angle.
Because of the park´s peculiar layout and geography, you can walk uninterrupted without seeing anyone else, so it´s the perfect place to go and get lost, think and recharge without being bothered by other walkers.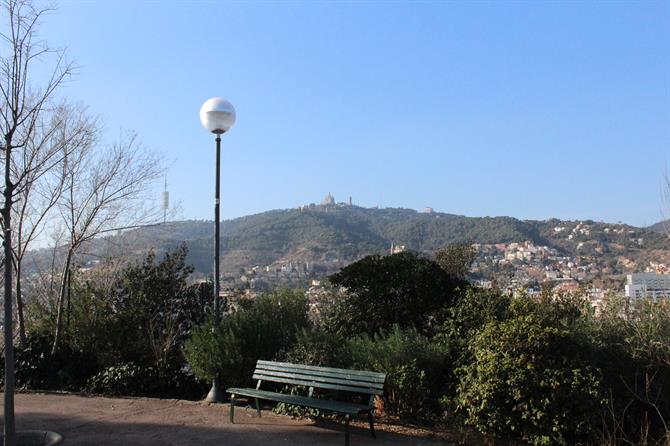 Address: Calle Manacor
Hours: From 10am until dark
Metro: El Putxet (Line 7), Vallcarca (Line 3)
Creueta del Coll
The Creueta del Coll is not just a park with lovely views of the city, it also functions as a public pool for locals so it´s highly recommended that you drop by this park during the warmer months for a splash.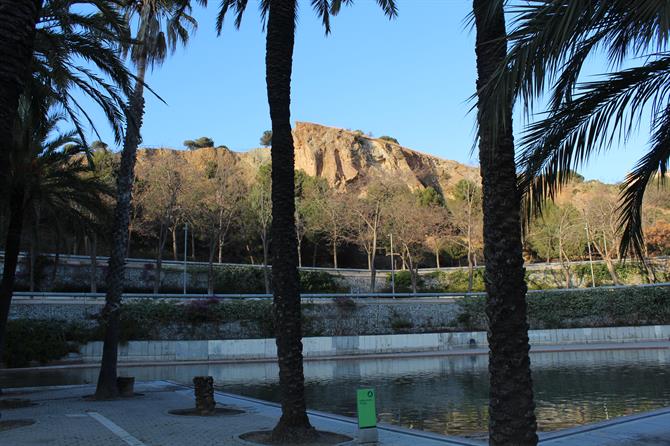 Housed in an old quarry, the circular shape of this park is a result of it´s unique topography. It´s boundaries and defined by high rocks and a concrete sculpture by Eduardo Chillida at the bottom, called "Elogio del agua". The sculpture hangs from four steel cables and reflects water in different ways. Around the water, you can relax on various benches and picnic tables in the shade of towering palm trees and enjoy a outdoor meal with the family.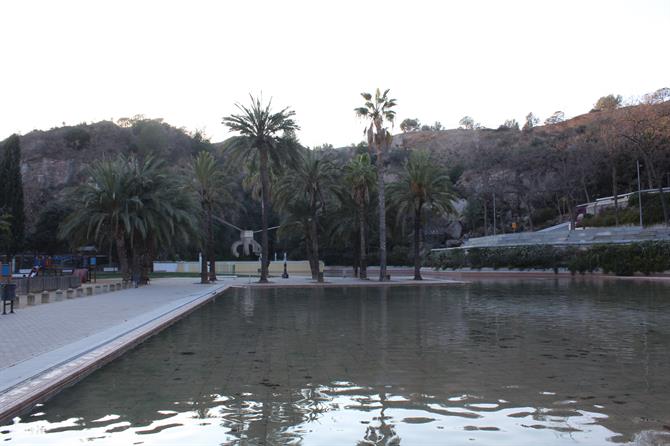 Address: Carrer Mare de Déu del Coll, 77
Hours: From 10am until dark
Metro: El Coll/La Teixonera (Line 5)
Parque de la España Industrial
Let us continue with a somewhat special park, a park which is unusually not noted for it´s variety of vegetation and beautiful gardens, but something else. The Parque de la España Industrial is special because it moves us away from nature and welcomes us with a more more artificial and industrial environment, as it´s name suggests.
At it´s entrance we are met by one of the many dragons of Barcelona. This monstrous iron dragon has many faces and is an enormous beast weighing around 150 tons, ironically it also functions as a slide for little ones. If we descend the great, white staircase we reach the lower level of the park, here we are met by a large artificial lake surrounded by huge white towers. Located in the centre of the lake is a statue of the Roman god of the sea, Neptune, who guards the water majestically with his trident.
On one side of the lake, resting in a stretch of sunlit grass is a statue of the Roman goddess of love, Venus. The morning is the best time to visit this park, the sky is bright and the lake sparkles in the early morning sun and groups of locals gather to play the popular game of "La Pentanca" - boules.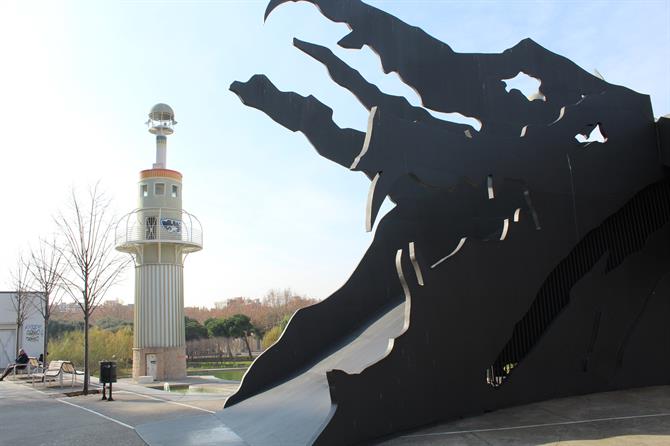 Address: Calle Muntades, 37
Hours: From 10am until dark
Metro: Sants Estació
Parque del Clot
The Parque del Clot is undoubtedly one of the lost jewels of Barcelona and truly shows the vibrancy of this amazing city. The park is built in the grounds of what once were the old train station workshops, the arches of the main facade still stand and at one end are surrounded by a small lake.
The park also has some beautiful fountains and sculptures, and perfectly mixes modernity with antiquity as seen in the presence of the Agar Tower which can be seen interrupting the skyline in the background of the park and is reminiscent of London´s "Gherkin".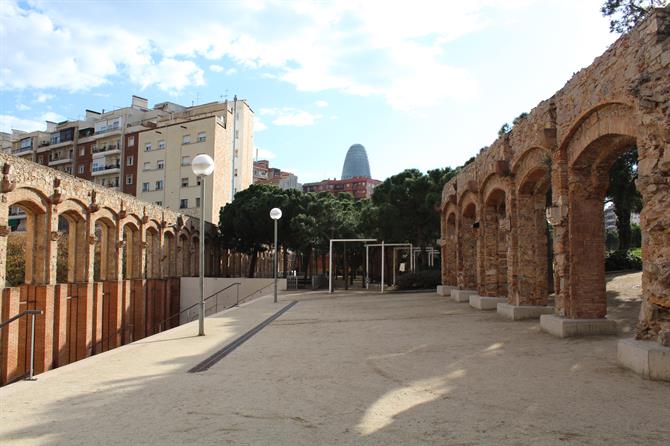 Address: Calle Escultors Claperós, 36
Hours: Always open
Metro: Glories (Line 1)
Map