Mercado de la Ribera in Bilbao is a market that needs to be seen. Just standing outside the building is quite incredible. It actually looks like a boat stranded along the Nervión river that runs through the city!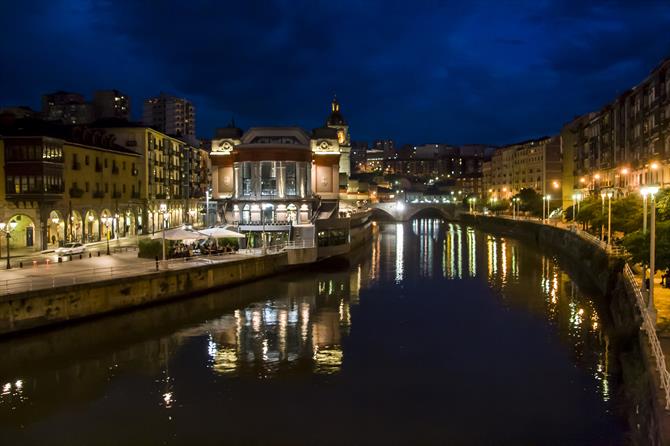 The market's location is particularly picturesque: on the waterfront opposite the elegant San Anton church, just off the city's historical centre. It also offers an excellent introduction to the local gastronomy. And from here, you'll be able set out to try all the pintxo bars scattered throughout the city's streets.
Why Mercado de la Ribera is a must-see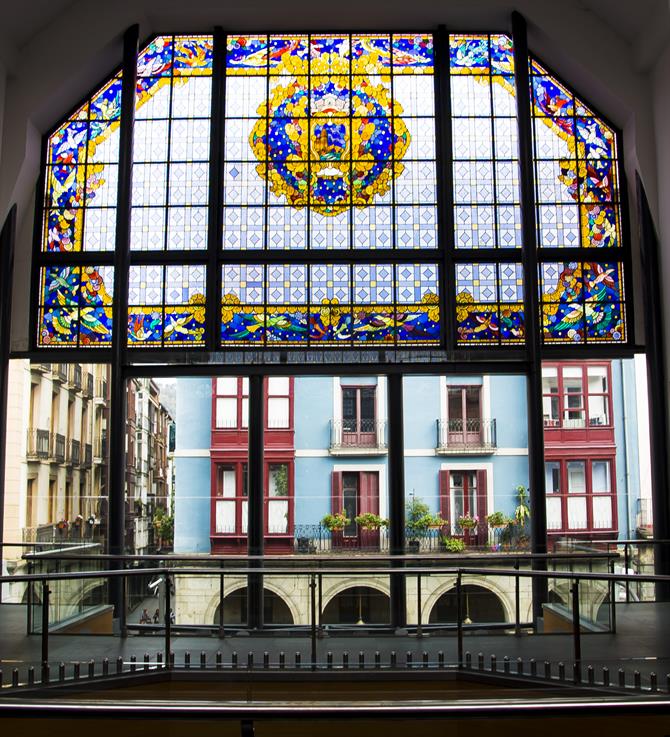 A visit to the market covers the entire spectrum of the Basque Country's gastronomical goods. Mercado de la Ribera is where locals like to come buy their fresh food, and have a drink and a snack.
This beautiful market is a place with soul, and it is even registered in the book of Guinness World Records for being the largest covered market in Europe at 10,000 square metres. The big gorgeous art deco windows allow lots of natural light into the market, while floral designs top off the decor. At the end of the market there is even a lookout overlooking the river.
A traditional market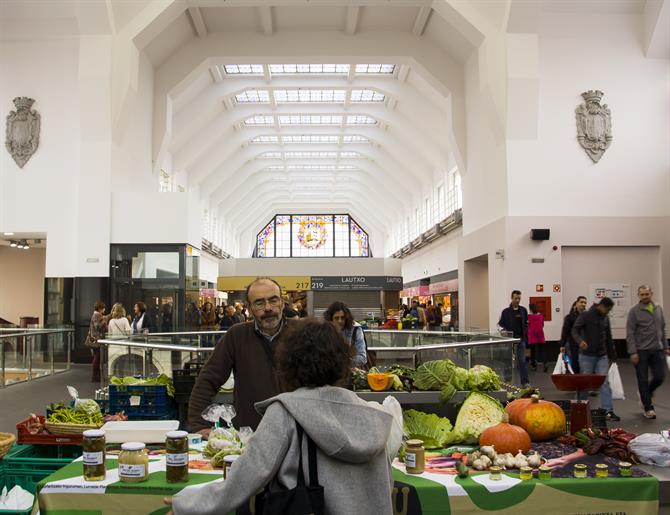 The market has three levels, with plenty of fresh products displayed throughout the market stalls. On the ground floor you will find the fish market, meat is on the first floor, and fruits and vegetables are on the second floor. The wide range of fish and seafood is especially remarkable. As for fruits and vegetables, you can get acquainted with Basque green peppers or other interesting local variations.
The pintxo bars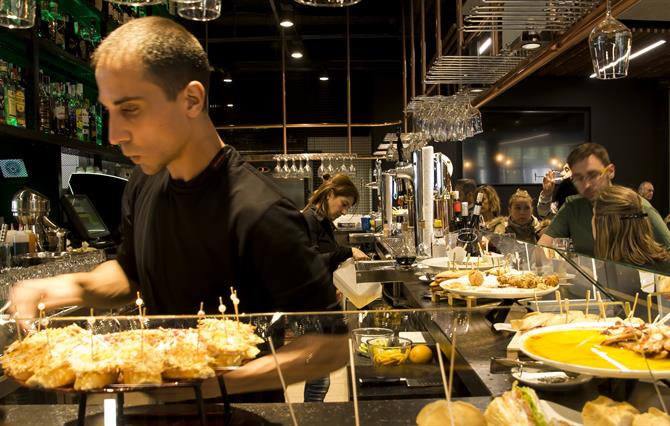 Recently, Mercado de la Ribera was renewed to offer a gourmet market and an area for bars with different types of delicacies. In addition to a common dining area in the middle, there is also a lovely terrace where you can have a drink and a pintxo snack at the bar.
At the time of writing this article, there were four gastrobars that had opened their doors, but there is a plan to have a total of ten. The bars that are currently open are Brasserie Door Hung Fai, Cervecería Aranbarri, La Bodeguilla, and Mr. Wok.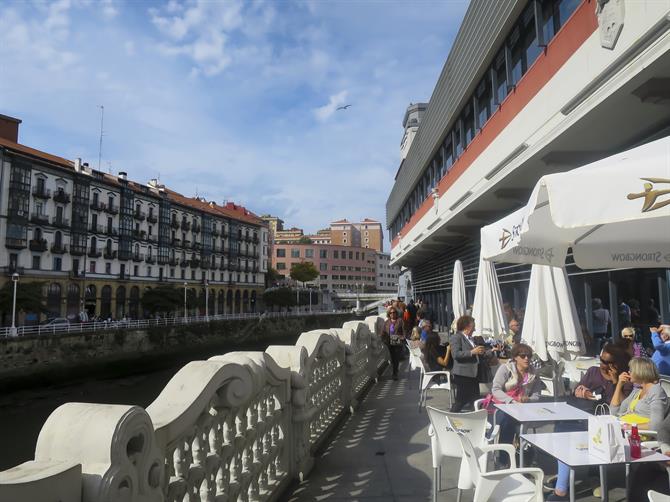 Brasserie Door Hung Fai mainly offers fish, meat and roasted vegetables. There are also great burgers. And everything is fresh from the market!
Cervecería Aranbarri bar offers a wide range of coffee and beer, along with tons of pintxos. You can also get excellent Gin and Tonics here.
La Bodeguilla is specialized in the iconic 'Gilda' pintxo (a traditional pintxo with olives, anchovies and guindilla pepper on a skewer). They offer more than 30 variations of the Gilda and there are nearly 50 wines to choose from.
As for the Asian gastrobar, Mr. Wok, sushi their top seller.
The culture of gastronomy
Thanks to the gastrobars and restaurant, the market is not only a wonderful showcase of fresh local products, but also a place to meet up with friends for a drink, weekend brunch, or dinner.
You can even choose products directly from the market and have them prepared to your taste by the restaurant. Or simply have a glass of zumo or a batido of fruit fresh from the market.
Besides a tribute to the fresh food, Mercado de la Ribera also offers a cultural stage where music events and jazz concerts sometimes take place. The cultural calendar is available on the market's website.
The restaurant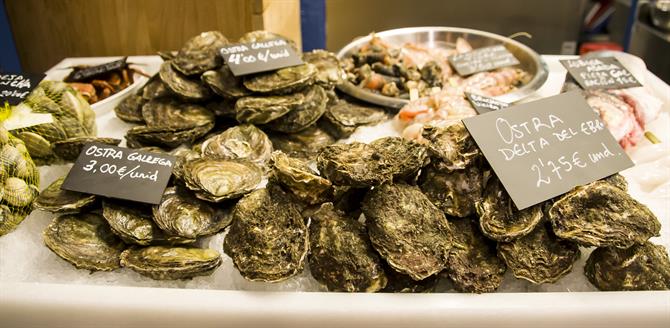 The restaurant's cuisine ranges from traditional tapas and raciones (larger portions to share), to gourmet menus accompanied by wine. From Monday to Friday there is a set-price menu for €20. Vegetarian and vegan options are also available, as well as a special children's menu.
An overview:
From the menu: Every day during the kitchen's opening hours
Tasting menu: Daily
Budget menu: Monday-Friday, except for Friday evening
Vegetarian menu: Monday-Friday, except for Friday evening
Children's menu: Every day during the kitchen's opening hours
Preparation of your market purchase: Every day during the kitchen's opening hours
Raciones: Every day during the kitchen's opening hours
Practical information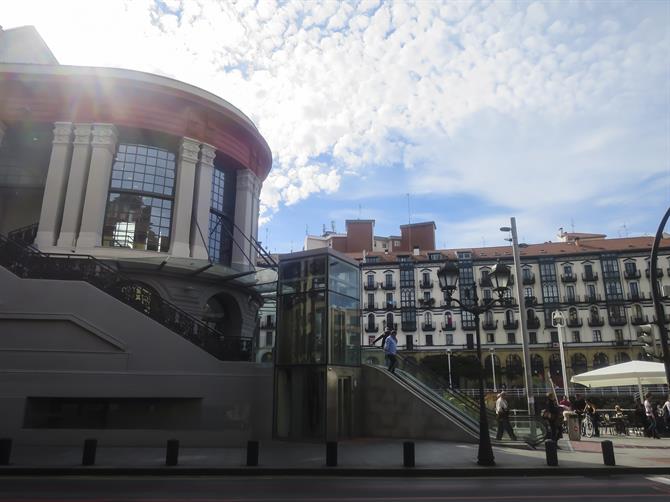 Address:
Erribera Kalea, 48005 Bilbao, Basque Country, Spain
General opening hours:
Monday-Wednesday: 11:00-23:00
Thursday: 11:00-2:00
Friday: 11:00-2:30
Saturday: 12:30-2:30
Sunday: 12:30-23:00
Kitchen hours:
Closed on Monday
Sunday, Tuesday, Wednesday: 13: 00-16: 00
Thursday, Friday, Saturday: 13: 00-16: 00/20: 30-23: 00
Reservations can be made by calling:
+34 94 657 54 74
+34 62 754 15 96
Every day from 12:00-21:00
Or via email:
reservas@lariberabilbao.com
We wish you a lovely market visit at Bilbao's Mercado de la Ribera!
For more amazing gastronomic markets in Spain, check out our article on the 6 best gourmet markets in the heart of Madrid.