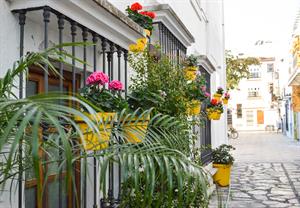 Estepona is well known for its charming historic centre with whitewashed walls, colourful potted plants and elaborately painted ceramic tiles.
But, if you move a little outside the city centre, you can experience a completely different and equally breathtaking part of this popular holiday town.
Estepona has found a way to decorate the vast, blank facades of city's neighbourhoods by giving local artists the opportunity to express themselves directly on the city's walls.
The resulting murals have added colour to the residential blocks and created a whole new vibe in the city.
Below is a summary of the main murals and brief descriptions of what you can expect to see.
The story of Estepona's street art
Tourists rarely ventured outside the historic centre of Estepona, but now that the city has become one of the Costa del Sol's most popular holiday destinations things are starting to change. In recent years, the city of Estepona has been working to revitalize various neighbourhoods, and since 2012 a number of artists have been invited to brighten up the facades of many buildings.
The project really makes me think of Málaga's urban street art.
Artists are given free rein to fill urban canvases, which may consist of one or more facades of up to 80 metres high. At the time of writing this article, there were about 20 murals, but this number is continuously rising. With most murals being completed in just two to three weeks, works seem to appear one after the other.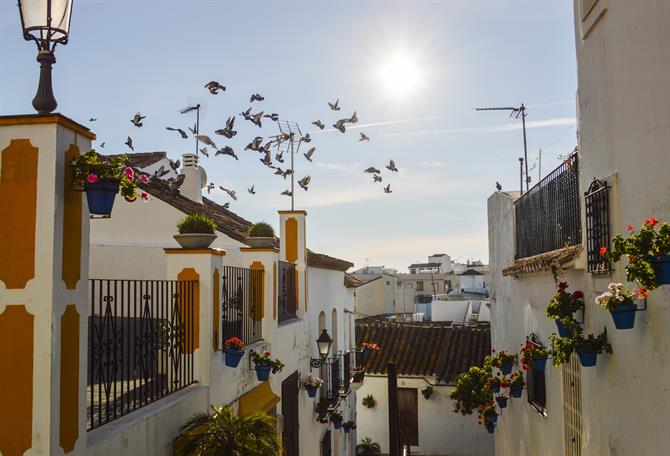 The first work of this project was "La Venus" (120 m²). The work recalls the historic figure of "La Venus de Estepona", which can be seen at the city's museum of archeology located in the old town hall in Plaza Blas Infante. The real figure is only a few centimetres high and is believed to be 5000 years old.
The latest mural is "Aires de Música" in Plaza San Fernando, which was painted at the end of 2014 to mark the 75th anniversary of the Estepona Symphony Orchestra.
The most well-known work is "Día de Pesca" (Fishing Day), which is Spain's largest mural. It spreads over six parallel facades, totalling 1000 m².
Where can I find the murals?
The murals are all located in neighbourhoods outside the city's historic centre. You can reach a good number of paintings - including some of the most famous works - in about an hour.
You can also get a map indicating the mural locations from the Estepona tourism office (Plaza de Las Flores or the harbour).
Estepona murals
1. "La Venus" by Ana Cecilia Salinas. 120 m². Calle Terraza, Barriada Mar y Sierra. Refers to the 5000-year old figure of La Venus de Estepona.
2. "Estepona Bermeja" by Ana Cecilia Salinas. Calle Formentera (Barriada de los Televisores), close to Plaza De Ajedrez. 30 metres high. The subject is a metaphorical representation of the city. The colours - especially the red - lead us to think of the Sierra Bermeja mountain range behind Estepona.
3. "Madre Amorosa" and "La Mirada de un Niño" by Francisco Alarcón. Calle Terraza (Barriada Primavera). Two murals in black and white tones, which celebrate on one hand motherly care and on the other hand childlike creativity.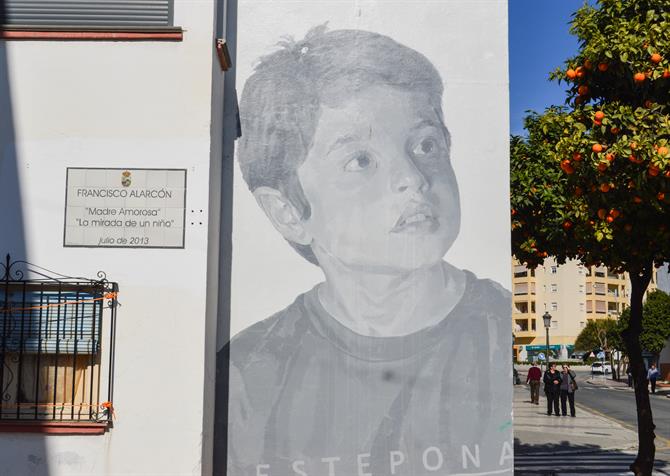 4. "La Casa de Buena Gente" by Conchi Álvarez (Barriada Tres Banderas). 80 m². The older gentleman on the balcony of the home's first floor depicts real residents from the neighbourhood.
5. "Almas del Mar" by Blanca Larrauri. Avenida San Lorenzo. A tribute to Estepona fishermen.
6. "Tiempos de Claridad" by Ana Cecilia Salinas. Avenida Andalucia/Calle Virgen de la Sierra (Barriada San Isidrio). Stretching over two facades is a tribute to Estepona's nature.
7. "Pasen y Vean" by Elena Aguilera. Calle Goya (Barriada El Cid). The trapeze artists are painted with a mixture of acrylic and oil paint to create a 3-D feel.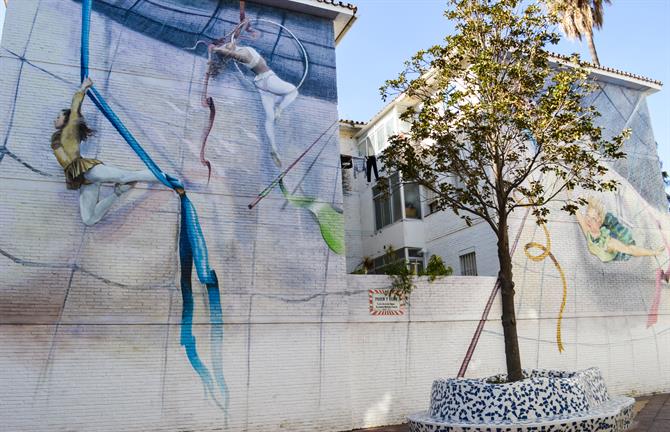 8. "Siglo XXI" Nestor Prada. Plaza ABC (at the old bus station). A symbolic representation of Estepona culture, including Iglesia de Nuestra Señora de Los Remedios, Sierra Bermeja, the sea and local foods.
9. "Fundacion Guerrero Antonia" by Joaquín Aguilera. Plaza de las Fuerzas Armadas. A tribute to Antonia Guerrero, who fought for women's rights and education in Estepona. One figure is a little girl who climbs the stairs to the Remedios Church, a symbol of a gradual learning process. The doves on the top right represent the freedom that women acquire through education.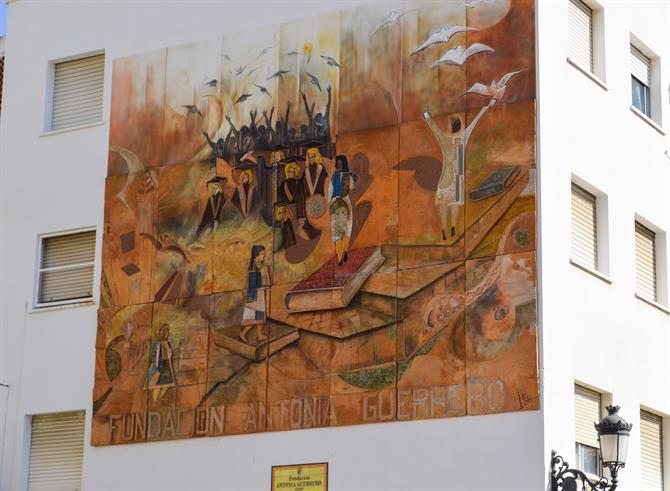 10. "Una Flor de Futuro" by José Fernández Ríos. Calle Nuestra Señora de Los Remedios (Barriada Barriada Los Remedios). The work is meant to mirror the flower that can be seen at the roundabout across from the painting.
11. "Día de Pesca" by José Fernández Ríos. Calle Isabel Simón (Barriada Barriada Isabel Simón). Painted over six facades for a total of 1000 m² is Estepona and Spain's largest mural. Using optical illusion, the artist managed to make it look as if the fisherman painted on the back facade casts his line out to catch a fish on the front facade.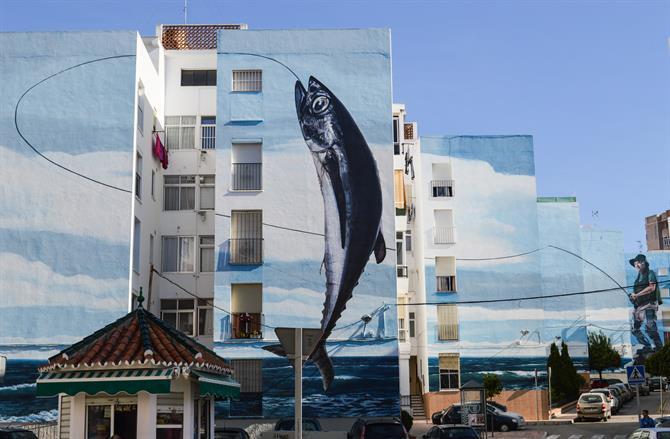 12. "Azul y Plata" made by prisoners from the prison in Alhaurín de la Torre. Barriada Blas Infante/Pablo Picasso. The work covers two facades and it is the first to be made with metal pieces. It depicts the sea, with representations of fish, fishermen, and algae.
13. "Azul y Mar: Emociones líquidas" by Javier Infantes. Calle Guadiaro (facade of Residential Jardines del Carmen). The artist has lived in New York since 2007 and the work represents his longing for his home in Estepona. The painting highlights the sea and the blue shades of the sky.
14. "Keep on Trucking" (known as "Nano4814") by Juan Abia Presa. Calle Mantilla (Barriada Mar y Sierra). The work combines the realistic and the abstract, and includes graffiti elements.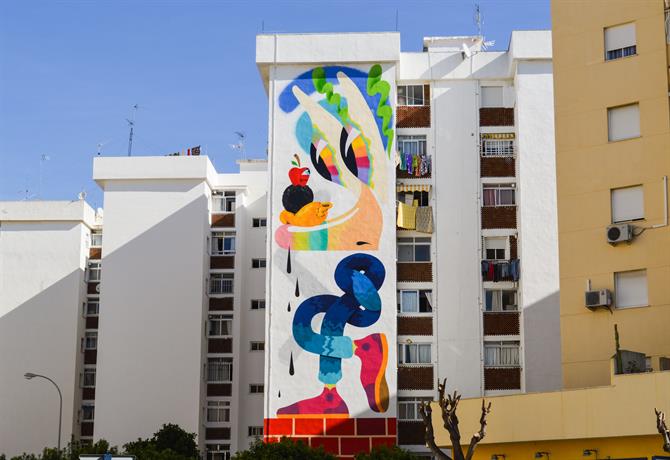 15. "Ángel, electricity buceador" by Eric Aman. Barriada Tres Banderas. The modern painting shows a man wearing a snorkel and flippers breaking through a wall, outside of the painting's frame.
16. "Salartij" by artists from Colectivo Moraga. Barriada Blas Infante. Two five-metre tall metal salamanders.
17. "Aires de Música" of Blanca Larrauri. Plaza San Fernando. The work was painted in 2014 in honour of the 75th anniversary of the Estepona Symphony Orchestra.
18. "Regando el Jardín" by José Fernández Ríos. Avenida Andalucia (Barriada de las Fuerzas Armadas). A huge portrait (over 240 m²) of a girl watering a tree on the sidewalk.