You'll probably have heard of Figueres because of Dali, his legacy is one of the main attractions for tourists to this area. The streets of this town are filled with a traditional yet avant-garde atmosphere, they are home to some of the best museums in Catalonia including the Dali Theatre-Museum and not only that, the coast of Figueres has some of the best beaches along the Costa Brava.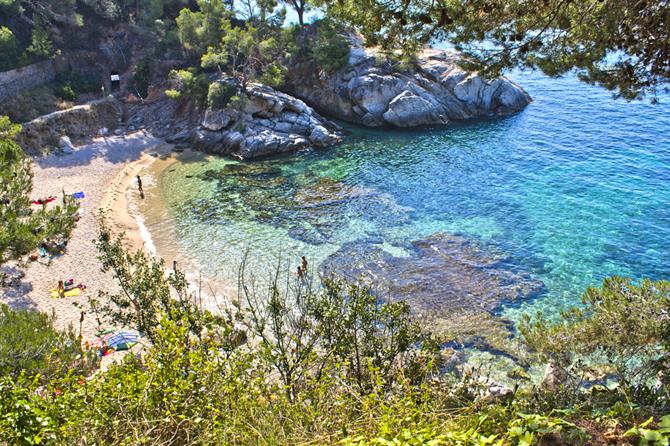 Figueres is located in northern Girona province just a stone's throw from the French border, it's the perfect place to discover Spain's northern towns and
the beaches of the Costa Brava
.
Beaches in Portbou
If you are travelling with your family, a nice idea is visiting the town of Portbou to enjoy the Playa Gran de Portbou beach. This grey, coarse sand beach is located in the centre of the town, it has a long promenade and services including showers, parking and more.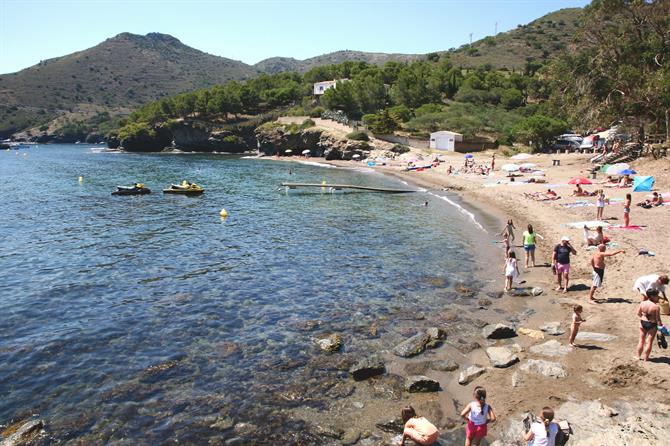 One of the most beautiful coves in this area is Cala del Pi, a small cove of dark pebbles and crystal clear waters. La Cala del Pi is known for its intimate, relaxed atmosphere which is ideal for nudists and also for its perfect scuba diving and snorkelling conditions.
Beaches in Llança
The coastline of the town of Llança is seven kilometres in length and offers beaches of all types, from the popular tourist beaches with plenty of facilities to the more intimate and natural coves.
Llança is a typically Mediterranean village, located just 20 kilometres from Figueres. It's surrounded by the magnificent beaches of the Cap de Creus natural park and the Sierra de la Albera mountain range which is full of fantastic hiking trails.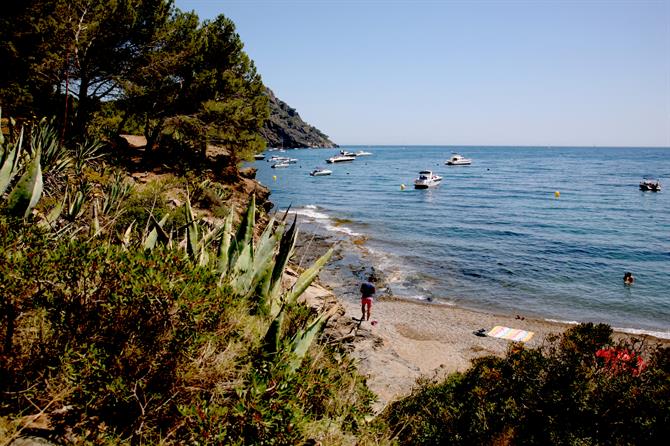 The Playa de Puerto and the Playa de Grifeu are the two main beaches in this area. Thanks to the quality of the water, the cleanliness and the services available, both beaches have the Blue Flag certification.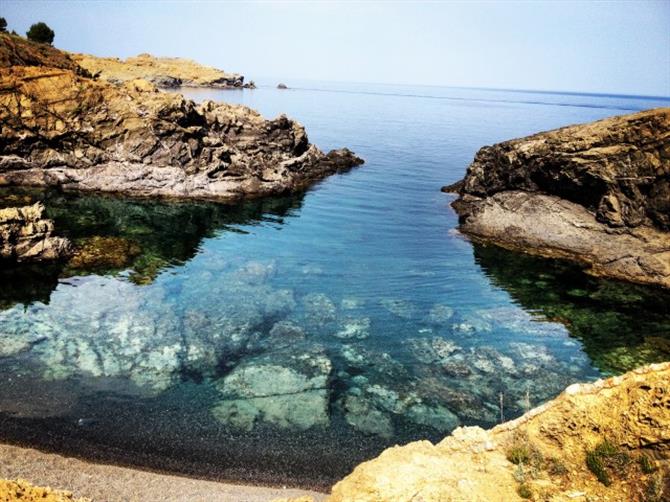 If we get the chance to explore the local surroundings, we'll find numerous hidden coves like the Playa de Canyelles and Playa del Cros beaches. If we go a little further, we'll come across one of the most spectacular beaches in the area - Playa de Bramant. It's less than one kilometre away from Llança and stands out for its spectacular natural landscape. It's surrounded by a circular stone wall which is almost 10 metres high and has a small opening that connects its waters with the sea. It's rarely crowded so it feels like having our own private beach.
The Beaches of Roses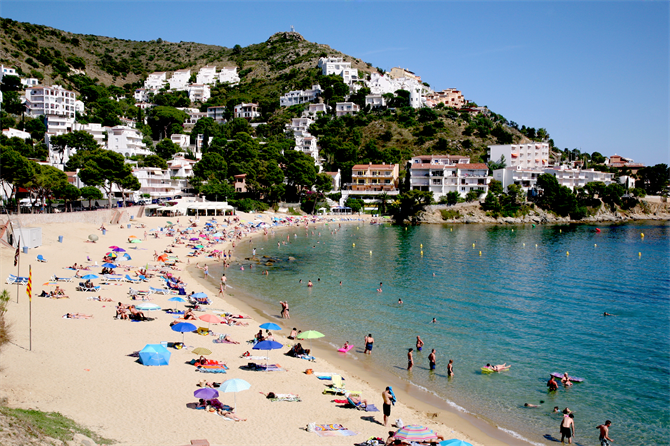 To the south of the Cap de Creus natural park is the area of Roses, if you want to enjoy the beach during your visit to Figueres then this area has some beautiful beaches along its lengthy coastline.
Roses has many urban beaches
that are often quite busy and full of families as they offer all sorts of facilities for a comfortable day at the beach.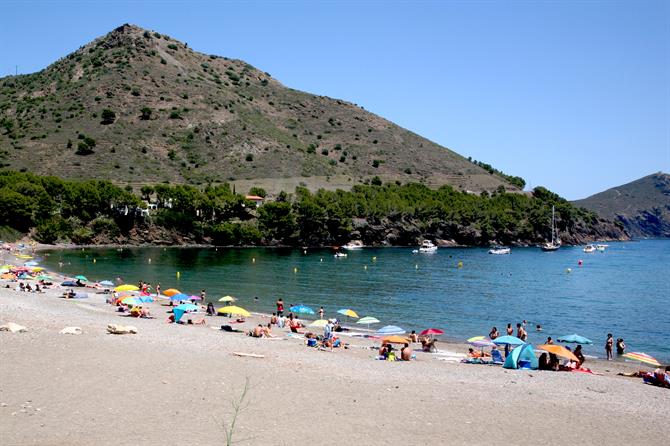 Moving away from the urban centre of this area, we'll come across some breathtaking natural wonders as all along the south coast of the Cap de Creus natural park is dotted with delightful little beaches and coves like Cala Rostella, Cala Montjoi and Cala Jòncols.
Each one of these coves has crystal clear water and flat stones and they are all surrounded by abundant, refreshing plant life and flowers. Of course, most of these beaches do not have any type of facilities and services so the best thing to do is come prepared with food, water and protection.
The Beaches of Empuriabrava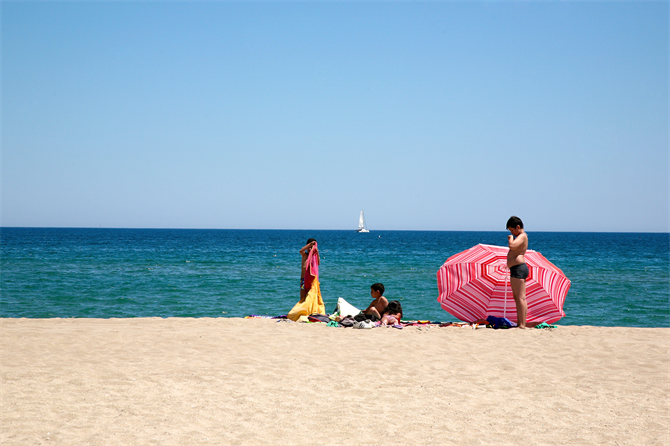 Next to Empuriabrava, you'll find the Marismas del Ampurdián natural park which is full of natural oases with transparent waters and golden sands. This natural park is perfect for relaxing and enjoying the sun, sea and nature in its purest state.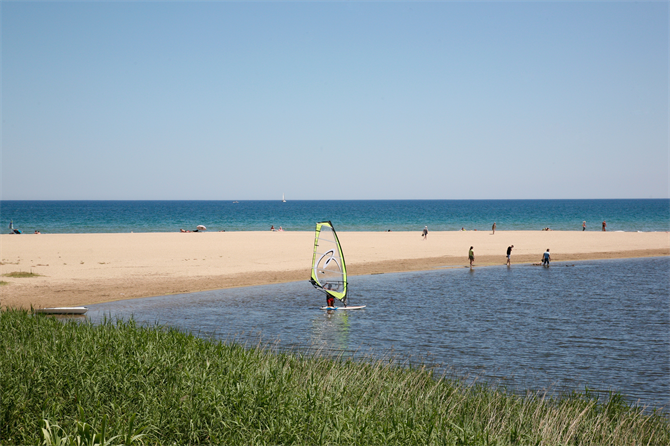 The best beaches in this natural park are La Rubina beach and Can Comes beach, both are completely unspoiled and have brilliant conditions for water sports, especially for lovers of kite surfing and windsurfing. From Figueres, you can discover
the best beaches in Empuriabrava
.
El Salto de la Caula in Boadella i les Escaules
Just 13 kilometres from Figueres is the charming town of Boadella i les Escaules which has a fantastic 30 metre high waterfall called the "Salto de La Caula".
The place is a real natural paradise where we can bathe and enjoy a day immersed in nature. Its surrounded by prehistoric caves which are really worth a visit. To rest and replenish our energy after a day of exploring, there's no better way to do so than getting a bite to eat at the Salto de la Caula restaurant which specialises in food typical of the Empordà region.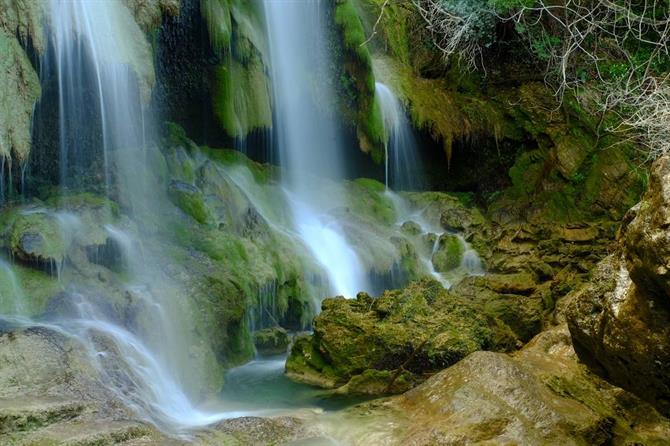 If we fancy something a little more active, we can choose to do some kayaking or canoeing on the Darnius Boadella reservoir. A fantastic experience is to do a kayak or canoe trip down the River Muga to the ruins of the town of Sant Llorenç de la Muga, which was hidden for years under the waters of the reservoir.
Booking a holiday home in Figueres
is a also great option, not only for getting to know the area of Figueres itself, but also the nearby areas of Portbou, Llança, Empuriabrava and Boadella i les Escaules.
Map