Think Fuerteventura and the first thing that pops into your mind will probably be the sort of endless golden beaches you daydream about. It is without a doubt the Canary Island with the best beaches of all. If you've actually visited Fuerteventura you might also conjure up goats, lots of them, wandering across arid plains.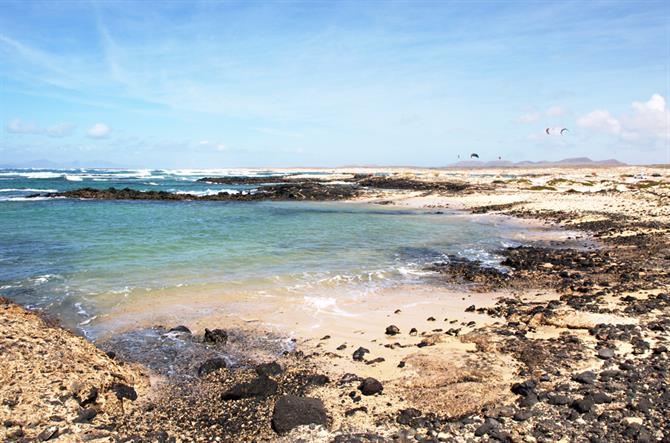 Recently a tour guide who has worked and lived on a few of the Canary Islands remarked to me 'there's not much to see or do on Fuerteventura'.

I disagree. Fuerteventura is one of the most surprising of the Canary Islands. For years I dismissed it as more or less one big beach. I was wrong. It's a fascinating and beautiful island... and UNESCO agree.

Since 2009, the island has been a UNESCO Biosphere Reserve. In 2015 it was also recognised as a Starlight Reserve thanks to its dark skies filled with sparkling jewels rather than artificial light.
What is a UNESCO Biosphere Reserve?
To be designated a Biosphere Reserve, specific areas have to show that there is a strong historic link between man and nature. For a fuller explanation
see our article on Anaga on Tenerife
being designated a Reserve in 2015.
Why is Fuerteventura a UNESCO Biosphere Reserve?
The oldest Canary Island has been shaped by nature for over 20 million years. Once it had mountains reaching as high as 3000m into the sky. Now its landscape is mainly made up of wide plains and softly curved hills, the highest of which is just over 800m. As a contrast, many of the walking routes I follow on Tenerife don't start until the 1000m above sea level mark.


The one big beach tag isn't that much of an exaggeration, according to UNESCO Fuerteventura has the largest desert in Europe. I walked some of it once, a sandy landscape that seemed to go on forever. It's not a habitat that makes life easy for farmers.

And yet within its hidden ravines are surprises; splashes of greenery and streams. There are olive trees, pistachios and palms. The western coast of Fuerteventura stretches for over 100 kilometres with hardly any human presence. It's a land with a surprising variety of bird-life, ranging from Cory's shearwaters to Bulwer's petrels and from kestrels to Egyptian vultures. Fossils show an even wider range of creatures now lost to the world, like the odd sounding lava mouse. On sacred mountains there are ancient engravings, whilst the orange landscape is peppered with lovely old windmills. It lies closest to Africa of all the Canary Islands and that gives it a different vibe.
Fuerteventura looks as though it has more in common with the continent lying to the east than its neighbouring islands to the west... and its night skies are black.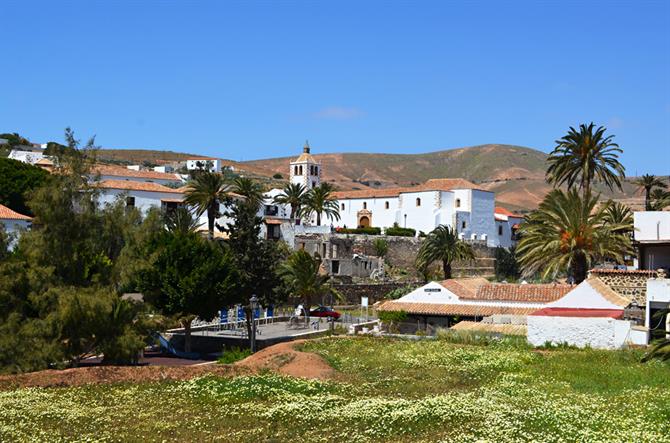 Fuerteventura Biosphere Reserve highlights
Although all of Fuerteventura is a UNESCO Biosphere Reserve, there are some sights which shouldn't be missed.

Isla de Lobos
Fuerteventura in miniature, the little Isla de Lobos near Corralejo is worth a day trip. Read our article about it for more information.

Betancuria
The former capital of the island and the prettiest town by far, Betancuria is packed with visitors during the day and like a dead zone after dark. Best way to explore its historic charms is under your own steam. Fit it into a driving tour of Fuerteventura's southern attractions.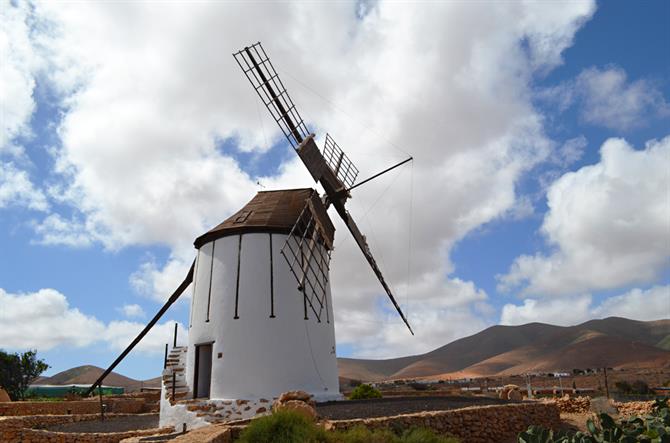 A land of windmills
Although there are windmills dotted all over the island, the area between Antigua and Tiscamanita is good windmill hunting territory.

Those amber hills
There are excellent viewpoints across Fuerteventura, some of the best being on the road between Valle de Santa Ines and La Pared.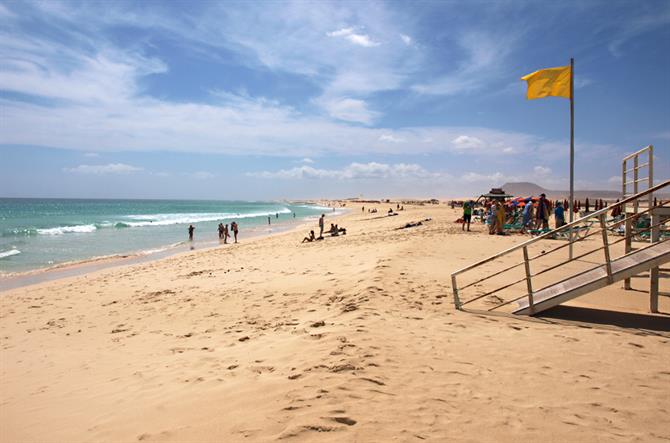 The beaches
You're not going to visit Fuerteventura and not spend time on a beach. This is Nirvana for beach bums. Whatever you heard about the Corralejo Dunes, or whatever images you've seen, nothing comes close to the reality of seeing them through your own eyes.

There might be more to Fuerteventura than its beaches, but the beaches are something special.