A mere fifteen minutes boat trip from the Canary Island of Fuerteventura's most popular tourist resort, Corralejo, lies a tiny island populated for much of the year by a handful of grizzled old fishermen.

The Isla de Lobos is so small that it makes the Canary Island's other 'secret' island, La Graciosa near Lanzarote, seem like a bustling tourist hot spot.
Why visit Isla de Lobos?
I have to admit when I first heard about Isla de Lobos, I envisioned a golden sand paradise; a place to play your desert island discs and return to nature (i.e. expose all the white bits) – a bit like La Graciosa in fact.

I expected the small ferry that transports visitors from the port at Corralejo to be jam packed with sunseekers looking for the perfect island beach – a tall order given that Corralejo itself is famous for its dunas; miles and miles of undulating sand dunes, the sight of which automatically prompts the theme tune from Lawrence of Arabia to swirl in a mirage-like haze around your head (if you're of a certain age).

It wasn't. In fact the small ferry wasn't even full.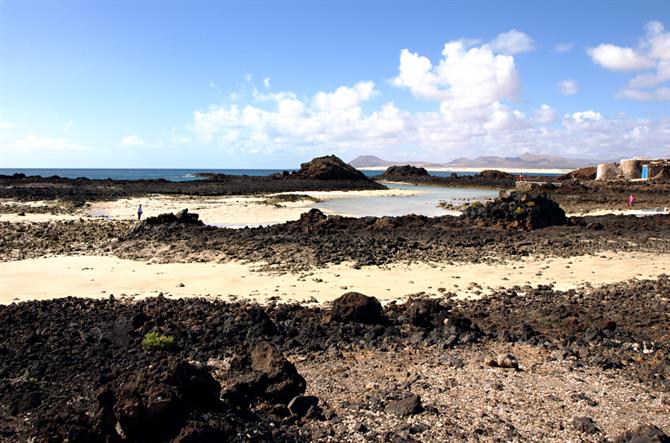 Possibly what saves the Isla de Lobos from an influx of beach bums (as Fuerteventura is known for its naturist scene, take that phrase literally) is the fact that there aren't many beaches. And what there is can't match the endless stretch of gold on the other side of the narrow channel of water.

Isla de Lobos is better suited to hikers and those who want a fascinating insight into the simple life that existed (still exists in some places on the islands) before mass tourism changed the economic game plan. Fuerteventura itself is an untapped seam for walkers with a lot to offer those who like to explore places using leg power.

The ferry drops its passengers at a tiny jetty in what passes for the island's only settlement, El Puertito. By settlement I mean a handful of simple cottages dotted around beautiful sea pools. Some cottages are whitewashed with Greek blue doors and window frames, with others the dark volcanic boulders are left exposed and the cottages melt into the rough landscape. Some people live a simple life at El Puertito year round, but the hamlet bursts into life in the summer months when Fuerteventura 'mainlanders' decamp here.
There's also a good visitor centre, which helps put the diminutive island's existence into context and explain the name – Isla de Lobos; the island of wolves. In this case it's sea wolves; a reference to the colony of monk seals that lived happily on the island until the post conquest settlers killed them all.

There are a number of interlinking paths which dissect and circumnavigate the island, all leading to little 'surprises' – more inland pools; salt marshes; a lonely lighthouse with peeling plaster that makes it look as though it's been the victim of a shelling; salt pans whose empty basins expose only dry, cracked mud; a volcanic cone viewpoint that towers above the island and, finally, an idyllic little cove with soft sand and sparkling turquoise water.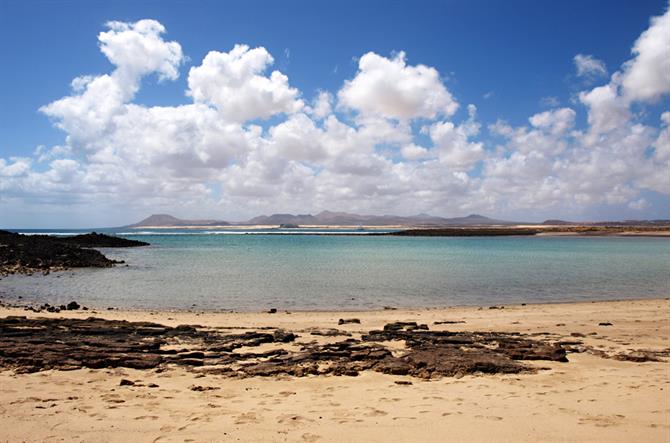 Isla de Lobos is a beautiful little island; a surprising island and one of the highlights of any visit to Fuerteventura. It's just such a shame that there are no longer any seals basking in the hot sunshine.

The ferry to Isla de Lobos runs at regular times throughout the day (frequency depends on seasons) and costs around €15 return. For ideas about more day trips on Fuerteventura take a look at our discovering northern highlights and southern sights driving routes.