You're never very far away from a fiesta in Gran Canaria, in terms of date or location. Municipalities like to honour their patron saints. And there are fiestas on the island which date back to before the Spanish arrived on Gran Canaria.
Come on, you can dress up or dress down. But remember to get down. Here are ten of our favourite fiestas celebrated on the island.
Fiesta en Honor de Nuestra Señora del Pino

It was a trademark sticky day in September, the 8th to be precise, as my brother-in-law Sergio and I made our way walking from Las Palmas de Gran Canaria to Teror. We were with the pilgrims, as Sergio had promised to accompany those making their annual progress in tribute to the patron saint of the island if my then youngest son Alex recovered from leukaemia. Arriving sweaty but elated, we were greeted by another brother-in-law Octavio who had already got the party started, wielding, as he was, his timple (Canarian pygmy guitar).
Carnaval
Carnaval's a cornerstone of municipal celebrations across Gran Canaria. But by far the biggest and best carnival is LPA Carnaval. Participate by dressing up according to the latest theme, they change each year, or simply observe one of Spain's most popular Pre-Lent street parties.
Fiestas del Almendro en Flor
Almond trees are not native to the island, but boy have they flourished in Gran Canaria. Especially in the municipalities of Tejeda and Valsequillo. Where the revelry and cheer of the Fiestas de Almendro en Flor accompany the springtime arrival of the almond blossom.
Fiesta del Charco

On September 11th each year, La Aldea de San Nicolás holds its very own version of a Wet T-Shirt competition. Except a dripping tight T-shirt is not the main object of the Fiesta del Charco where revellers try to catch fish in La Aldea's main pond, using only their bare hands. Partygoers wear T-shirts to appease a disapproving church who weren't happy with men and women baring their upper torsos.
Fiesta de la Rama
A blistering hot August day saw us using our ramas (branches) as fans to cool down, as we joined the throng of shiny, happy people negotiating the streets of Agaete. "Agüita, agüita" we called out and the locals in the overlooking balconies obliged, drenching us with bottle after bottle of water. Later, we'd beat the Atlantic at Puerto de las Nieves with our pieces of wood, in imitation of the pre-Spanish canarii who used to do so as a prayer for rain.
Fiestas de San Roque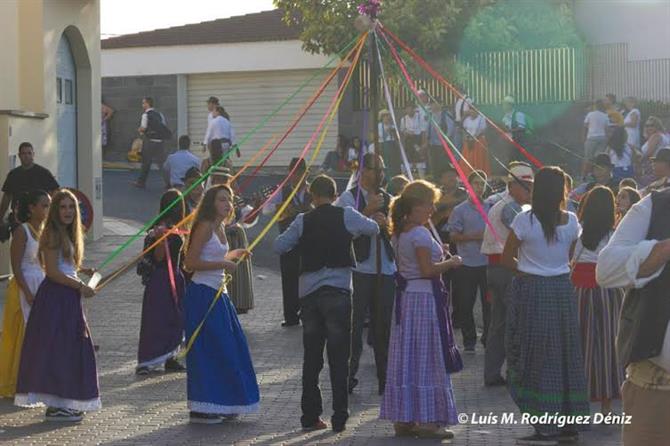 August is fiesta season in Firgas with a cattle show and parade, all in aid of the municipality's patron saint. There's also the Traída del Palo. Here, a pole is ceremonially carried down from the Montaña de Firgas to the village centre. The pole is then placed vertically so it can accommodate the municipal flag.
Fiesta del Queso
If you've ever tried nettle cheese, you'll have a rough idea of what Santa María de Guía's queso de flor tastes like. Made with the flower of the artitchoke fiestas, it's a taste that's more addictive than acquired. So proud are locals of this product that they hold an annual Fiesta del Queso from late April to early May.
Fiesta de Nuestra Señora de la Candelaria
February's the month Ingenio dedicates to honouring its patron saint. There's the usual pilgrimage as well as folk music performances. The fiesta ends with a mega concert called the Baile de Taifas where locals in traditional garb dance to the beat emanating from various groups.
Fiesta de la Manzana
Meet Valleseco's version of Harvest Festival. Held on the first Sunday in October, the Fiesta de la Manzana sees the municipality provide offerings to Nuestra Señora de la Encarnación. The apple doesn't fall far from the tree in Valleseco.
Corpus Christi de Arucas
When Corpus Christi comes to Arucas each June, the natives turn pavement artists. They line the streets of their home town with floral carpets featuring religious motifs. To achieve the colourful effect, the artists mix salt and a ton of sawdust with dye.