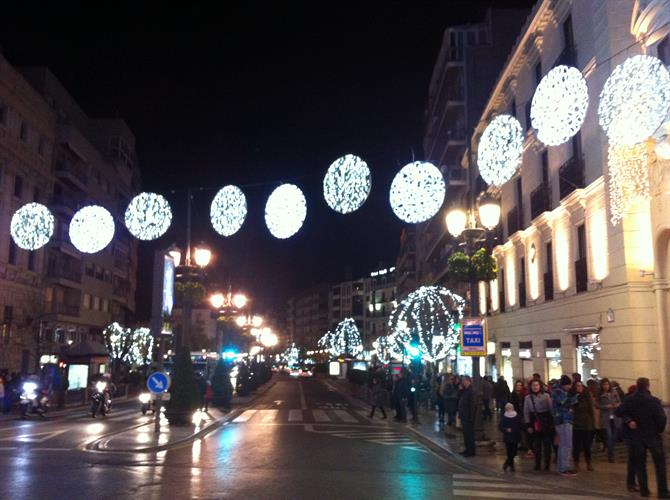 The Christmas season begins in Spain around the 5th of December. Here is a guide of what is happening in Granada from 5th December right up until the 7th of January when the sales begin. Plan your trip over the holidays and don´t miss a thing.
The tradition of the Belenes or Nativity scenes is traditional in Andalusia, the typical food and festivities are included.
December dates in Granada
On the 29th November 2014, the Ski season opened at Sierra Nevada. The Pradallano resort is open until the end of the ski season at the end of April 2015.

The Alhambra bookshop in Plaza Nueva has a Storytelling event at 12 noon for children 3 to 8 years. This is free and in Spanish language. They do them on Saturdays 13th, 20th, 27th December and 3rd of January 2015.

From the 5th December all month, look out for the Nativity scene displays around Granada. More information about locations below.

Tapas Fair in Orgiva is on from 5th December until 8th December. Located at the entrance to the town, next to the river. They open from 12.30pm onwards.

Catch the Flamenco festival on until 8th December 2014 at Isabel La Catolica Theatre. There is also a Carol Concert on at Isabel La Catolica Theatre at 12 noon on 8th December.

An annual Christmas Fun Run known as the Carrera Popular dashes through the city on Friday 19th December 2014. Many of the runners dress up. This arrives into the city in the evening.

International Carol Concert on Sunday 21st December in Isabel La Catolica Theatre. Performance at 12:30 and 7.30pm. Tickets available at the Corte Ingles ticket sales desk or inside the theatre entrance.

26th December every year there is a Church service and bell ringing in the Virgen de las Angustias Church. This is next to El Cortes Ingles on Acerca del Darro. The service is to request the Patron of Granada the Virgen of las Angustias to protect the city of Granada from Earthquake damage.

31st December the locals celebrate New Year at Granada Town Hall. The party begins from 11pm onwards. Remember to get your 12 grapes ready for New Year´s Eve. It´s traditional to eat one on each chime of midnight. Enjoy Live music and fireworks in the square until the early hours.
·
January dates in Granada
1st January many restaurants are closed. Museums and shops closed.

2nd January Día de la Toma. This is a local holiday in Granada. This commemorates the conquest of the kingdom of Granada by the Catholic kings. This controversial event takes place at Granada Town Hall in Plaza del Carmen at midday.

On 5th January in the late afternoon, the Three Kings come to town. The kings and their pages throw sweets from colourful carriages. The calbagata sets off from Calle Rector Lopez Argueta and crosses Gran Via into centre of town. After Gran Via it moves down towards Puerta Real. To find out the times and exact route check local newspapers/online press the day before. (IDEAL Granada) Keep an eye out for people with umbrellas. They open them out and turn them upside down to catch all the sweets in them. Some people even take stepladders to get a height advantage. If you have not seen the Calbagata de Reyes in Spain before you will enjoy this colourful street parade and may even get a few sweets.

Shopping: January sales begin in Granada at 10am on 7th January. The shops are open on the first Sunday after the beginning of the sales from 11am to 4pm.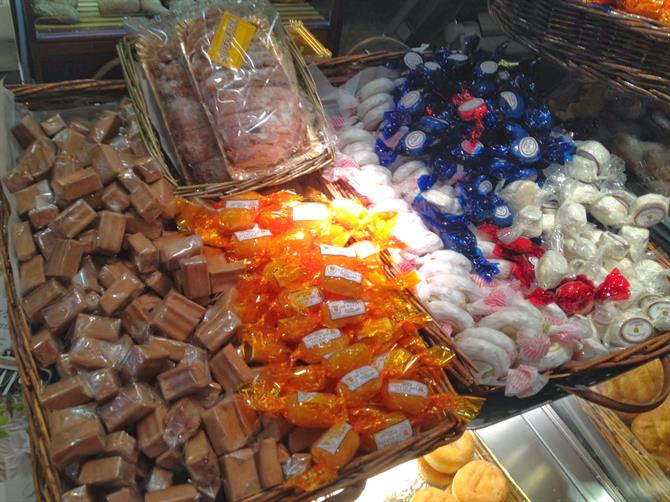 What to eat at Christmas in Granada
The Spanish celebrate Christmas eating lots of Shellfish and the main meal is often turkey or lamb.
Sweets are typical too, particularly Marzipan figures and lots of almond nougat or turron. Polvorones and mantecados are popular as well. Don´t miss the delicious Roscon de Reyes after New Year. This can be bought and is typical on 5th and 6th January.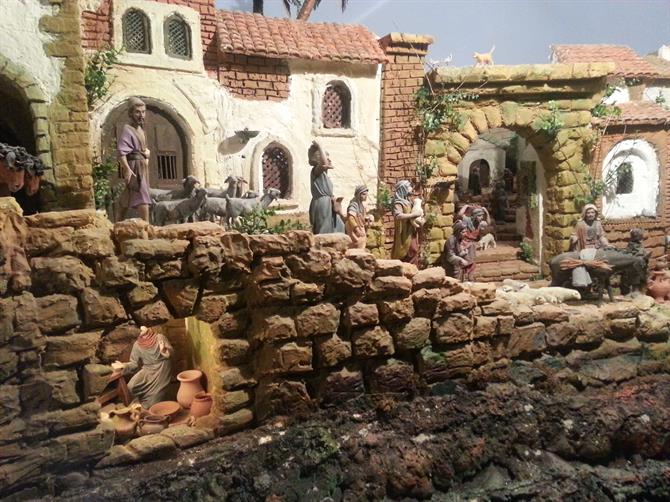 Route of the Nativity Scenes in Granada
In the UK and Nordic countries, the switching on of Christmas tree lights is usually an important event. In Granada, the Nativity Scene is the main feature in most shop windows and offices. Christmas trees are not quite as abundant as in other countries. Last year in the official Belen competition, 35 Nativity scenes participated. (Many do not enter the competition) the first prize is 5000 euros.
Every year in Granada has a Ruta de Belenes so you can visit all the nativity scenes dotted around the city. This is from 5th December until 5th January.
Typical Nativity scenes
Here are some of the most popular and traditional ones:
Ayuntamiento – Granada Town Hall. This nativity scene is inside the inner patio. Address: Plaza del Carmen. Open from 10am-2pm & 5pm-9pm until 5th January.

Vecinos del Sagrario at the Fuente de las Batallas.

Large outdoor scene. From 11am-2pm and 5.30pm-9pm

Palace of Condes de Gabia at Plaza de los Girones until 7th Jan open from 11am-2pm & evenings 6pm-9pm

Caja Rural Bank at Av Don Bosco Open 6pm- 9pm daily until 6th January (closed 24th, 31st Dec & 5th Jan)

Angel Custodio on Calle San Anton 38 from 6pm-9pm. Holidays open from 11.30-2pm. Here they sell traditional Christmas sweets too.

Casa Jaen on Calle Jardines.

The Casa de Jaen in Granada has nativity scene just inside their courtyard.

In the Albaicin quarter on Calle Zafra until 6th January this Nativity scene even has the Alhambra palace on it. Open from 11am-2pm

Casa de los Pisa close to Plaza Nueva at C/Convalencia Open from 10am to 2pm & 5pm-7.30pm daily (closed 24th, 31st Dec & 5th Jan) (Also known as Archivo Museo de San Juan de Dios)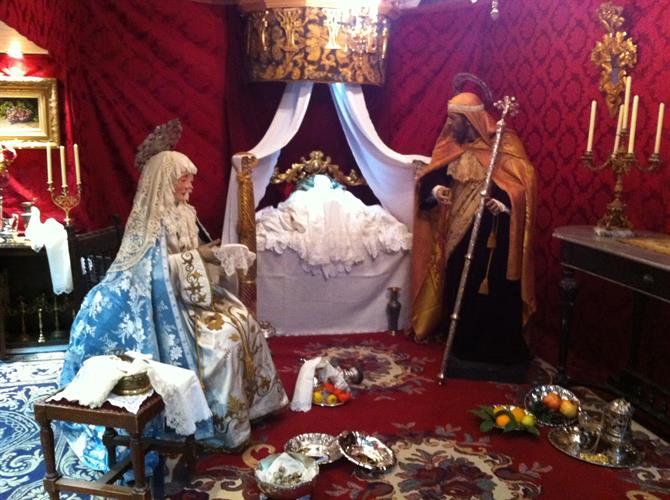 Nativity scenes in Granada province
This list is just some of the places which are popular but there are many more. Keep an eye out for signs that say Belen some neighbours even set up their own ones.