No city can do without gourmet markets, and Spain is no exception. There are a broad range of markets found throughout the country, especially within the city of Madrid. Not only is the world's largest Sunday market in Madrid, the famous El Rastro flea market, but many gourmet markets are also located in the Spanish capital.

Anyone that is curious to experience new tastes and culinary traditions while visiting Madrid should have one of these fantastic mercados on their list. You will find not only fresh fruit and vegetables, but also a variety of bars and food stalls with exciting and unusual delicacies, often served as tapas, to enjoy on site. These markets have become major tourist attractions, but above all they are a paradise for food lovers!

Read on below for our list of the 6 best gourmet markets of central Madrid.
1. Mercado San Antón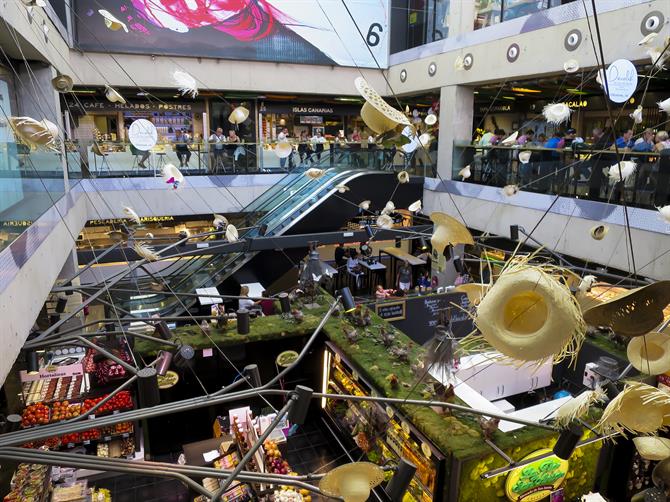 Mercado San Antón is a market located in the centre of the trendy Chueca neighbourhood, known as a gay and artistic area. In the lower part of the market you can find everything from different delicious breads, fruits and vegetables to exotic cheeses, seafood, and gourmet hamburgers. On the floor above, you can order tapas and a glass of wine from one of the many great tapas stalls. There are also international foods available, including sushi.

There is a nice outdoor bar with sofas on the rooftop of San Antón, the perfect spot to settle down with a drink or coffee after a day of shopping (and tasting). The market's restaurant is also located here and allows customers to select their meat or fish at the market so that the restaurant can prepare a truly personalized meal. Just leave a note at the market stall where you shop that the purchase is to be prepared by the kitchen of San Antón.

Address: Calle Augusto Figueroa, 24. Hours: Monday-Saturday 10:00-22:00; Sunday 10:00-15:00. Restaurant hours: 10:00-midnight; Friday-Saturday until 01:30. Metro Station: Chueca.
2. Mercado San Miguel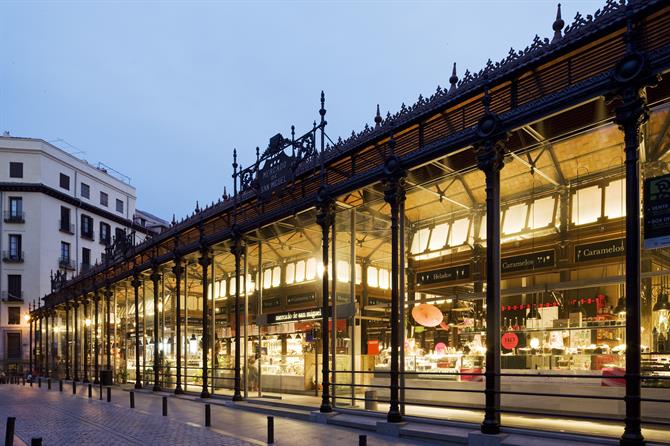 Mercado San Miguel is one of the most famous gastronomic markets in Madrid. The beautiful market hall itself is a work of art thanks to the impressive 1919 wrought-iron work. Today, the whole building is declared a place of cultural heritage and is definitely worth a visit, even if you aren't hungry.

Since its renovation in 2009, Mercado San Miguel has primarily become a meeting place for lovers of all things gourmet. There are a wide range of wines, Spanish hams and all kinds of tapas, freshly served both hot and cold from the open kitchens. There are dozens of stalls where visitors can enjoy the sight of all the delicacies, and even better, try them.

The market is centrally located, right next to Plaza Mayor and the beginning the La Latina neighbourhood. Around meal times, for both lunch and dinner, the market is full of Spaniards and tourists enjoying delicious tapas. There are always many people around, especially on weekends when the market is open until midnight. Prices are generally slightly higher than in ordinary tapas bars, but the food is fantastic and the prices are worth the experience.

Address: Plaza de San Miguel. Hours: Monday, Tuesday, Wednesday and Sunday 10:00-24:00; Thursday, Friday and Saturday 10:00-14:00. Metro Station: Tribunal (Gran Vía).
3. Mercado San Ildefonso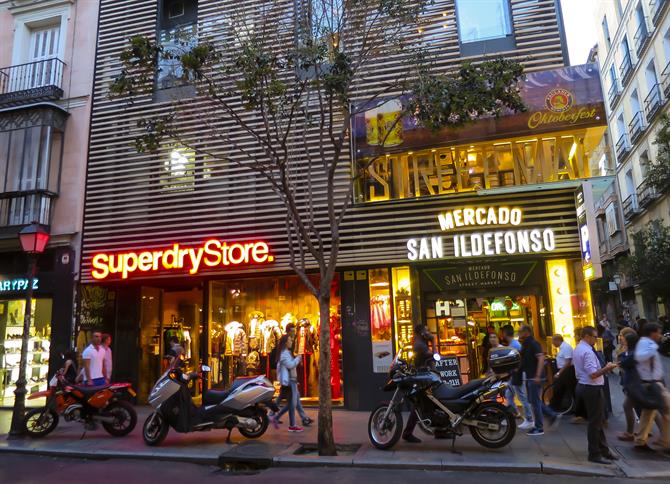 Mercado San Ildefonso is one of the newest attractions in Madrid, as this market only opened in the summer of 2014. The modern building is three stories high and was built in an area where a market hall existed back in the 1970s. From the outside, the building resembles a trendy New York apartment building more than a market. Inside, the atmosphere is completely different and definitely market-like.

Here you will find exquisite Iberian meats of the highest quality such as Arturo Sanchez, as well as many other Spanish and international delicacies. Take a walk between the 18 stalls and choose carefully, then enjoy your favourite delicacies with a drink in the cool dining area in the centre of the market, or on the beautifully lit terrace.

The market is located in the ultra-hip Malasaña district. It is on Calle Fuencarral, one of the main shopping streets in Madrid, so it is the perfect spot for a break during a shopping day.

Address: Calle Fuencarral, 57. Hours: Daily 10:00-01:00. Metro Station: Tribunal (Gran Vía).
4. Platea Madrid
Another new market that opened in 2014 is Platea Madrid. It is located in an old theatre in the chic shopping district of Barrio Salamanca. It doesn't have so much in common with traditional markets, as it looks like a large dining room fit for the entire capital. The atmosphere is reminiscent of a nightclub and there is also a cocktail lounge. The many levels of this gourmet temple are kept in dark lighting and music is played in the evening.

In the basement, "El Foso", there are a number of stalls where you can order everything from Italian to Asian cusines. On the ground floor, you can try Basque pintxos or buy Iberian hams, cheeses, oysters and other fresh products. On the first floor there is a restaurant where chef Ramón Freixa Arriba takes over, while on the second floor there is a cocktail bar called Palco. There is also a smoking club.

All restaurants in Platea are managed by three Spanish chefs with a total of six Michelin stars. However, a visit to the Platea market doesn't have to be expensive. Pintxos and drink cost about €2.50. A menu in El Foso costs €15-30. In Ramón Freixa Arriba's restaurant, the prices are about €40 for a menu.

Address: Calle Goya, 5-7. Additional entrance also located at Calle Hermosilla y Marqués de Zurgena. Hours: Monday-Thursday 12:00-midnight; Friday-Sunday 12:00-02:00. Metro Station: Serrano.
5. Mercado Anton Martín
Mercado Anton Martín is located in the multicultural district of Lavapies and has retained its original character. You have to visit Mercado Anton Martín to eat at some of the most trendy bars and restaurants in Madrid with cuisines ranging from international to organic.

Prices are reasonable - a menu only costs about €10 Monday through Friday. Italian, Japanese and Peruvian cuisines can also be found here, where you can see all the cooking happening in open kitchens. Some of the food stands are regular market stalls where local residents buy their fresh fruit and vegetables, fish and meat. In a busy city like Madrid there's something to be said about quality when lineups are long.

Mercado Anton Martín has been around since the 50s, and so has the flamenco school that is above the market. It is the oldest ongoing flamenco school in Madrid! Sometimes you can hear the sounds of the heels of flamenco shoes beating against the floor while strolling through the market.

The market's contemporary lounge is a popular spot where you can retreat for a siesta with a drink. If you arrive at the market early in the day, is also an ideal place to have a Spanish breakfast, café con leche, freshly squeezed orange juice, and toast with tomato spread.

Address: Calle Santa Isabel, 5. Hours: Monday-Friday 9:00-21:00; Saturday 9:00-15:00. Metro Station: Anton Martín.
6. Mercado San Fernando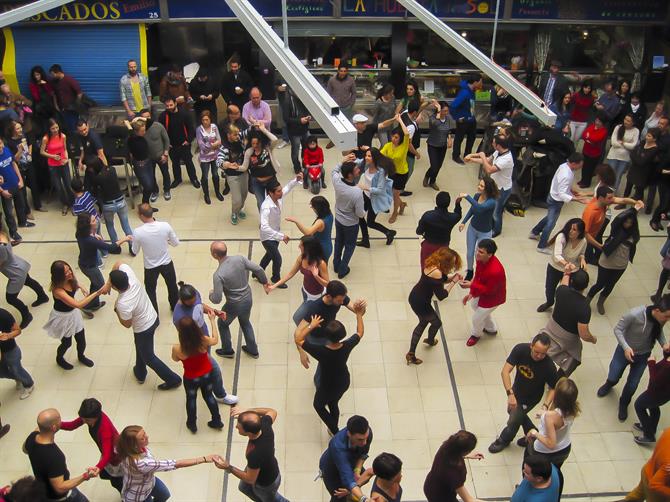 Mercado San Fernando is reminiscent in style and character of Mercado Anton Martín. Both are located in the same multicultural neighbourhood of Lavapies. Mercado San Fernando dates back to 1944 and was in poor condition, along with Mercado Anton Martín, until it was completely renovated and brought back to life in 2012.
You eat well at this market. Along with Spanish specialities, there are sushi bars with daily specials, as well as an excellent bakery where you can buy delicious breads and pastries. If you want to do like the Madrileños, enjoy your coffee and breakfast at the bar.
Lavapies is full of young creative people, and the market is just the same: colourful, lively and full of surprises - especially on the weekends when there are always activities and music events.
The ground floor is sometimes transformed into a dance floor for salsa on Sunday afternoons. A visit to Mercado San Fernando can be combined with a stroll through the nearby El Rastro flea market, which takes place every Sunday morning.
Address: Calle de Embajadores, 41. Hours: Monday 9:00-14:00 and 17:00-21:00; Tuesday-Thursday 9:00-21:00; Friday 9:00-23:00; Saturday 9:00-17:00; Sunday 11:00-17:00. Metro Station: Lavapies.
Looking for more on Madrid? You might also enjoy reading our article, A budget weekend in Madrid.