Málaga is a city rich in diversity, with ancient walls, Arabic castles, modern art, alternative clubs, modern restaurants and of course famous for being the birthplace of Picasso.
Málaga is fast becoming the shopping destination of the Costa del Sol, perfect for those who want to keep up with the latest fashion trends as well as those who want to shop for something a little bit different. With many shopping centres in Málaga, you have the choice of all the high street brands such as Zara, Pull&Bear, Mango and Bershka. For a more unique purchase, the city centre has little stores hidden down narrow streets where you can pick up some treasures to take home from your holiday in Málaga.
In terms of alternative clothing and accessory stores, second-hand and vintage shopping in Málaga city is growing in popularity. You can spend hours browsing in these trendy locations searching for special pieces at a great price.
Flamingos Vintage Kilo Málaga
This store displays American vintage style in its purest form. If you have always dreamed of owning a traditional bomber, vintage leather or denim jacket you are in the right place. Flamingos has clothes synonymous with the 90s, where the cast of hit TV series Friends would feel at home, as well as brands such as Levis and Converse. Find second-hand clothes in great condition, crazy denim jackets, Hawaiian shirts, various logo T-shirts and lots of accessories.
Not all items are priced and if you are looking for something specific, Javi and Lucia are always happy to help. They are the heart and soul of the shop adding to its special environment, making you want to return week after week looking in the nooks and crannies in search of a bargain.
Flamingo Vintage Kilo is located on Ollerias if you are staying in the historic centre of Málaga you are guaranteed to return to this shop on a few occasions during your stay.
Address: Ollerias 27, Málaga
Opening Hours: Monday - Sunday 10:30 - 14:30, 17:00 - 21:00
Península Vintage Clothing
Península is the second vintage shop in Málaga opened by Javier, the owner of Flamingos Vintage Kilo. Javier has been a vintage fashion lover for years and due to the growing popularity of vintage fashion took the opportunity to open up these stores. The store is located in one of the best places in Málaga, in a small street next to the famous Carmen Thyssen museum.
The clothing and accessories at Península are meticulously selected for the other vintage fashion lovers in Málaga. Península has been named the crème de la crème of the vintage fashion in Málaga.
Address: Calle Mártires 7, Málaga
Opening Hours: Monday - Saturday 10:30 - 14:30, 17:00 - 21:00
EPOCA Vintage&SecondHand
Epoca is undoubtedly one of the oldest and best vintage shops in Málaga. The first store opened in 1994 and in the last twenty years has changed address several times. Its central location makes it easy to find walking in the streets of Málaga and you will not miss the beautifully dressed mannequins.
Although the store is small, you will find a great variation of clothing for males and females. Classic vintage clothing from different decades inviting a diverse range of vintage fashion shoppers.
Its worth having a look at the hats, bags, belts and other accessories that you will find hanging from the mirrors, racks and shelves. Take home some of these chic little pieces for the perfect finish to an outfit.
Address: Calle Casapalma 9, Málaga
Opening Hours: Monday - Saturday 10:30 - 14:15, 17:00 - 20:30
Quasipercaso Vintage
This shop may be small, but it has a big personality. Located on the most charming street in Málaga centre - Calle Andres Pérez. Far removed from the streets with well-known chain stores, Andres Pérez enjoys the presence of local brands and people.
Quasipercaso has clothes ranging from the 50s to the 80s, accessories and a collection of unusual headgear, which the owner - Luana Fazio, lends for weddings and other special occasions. Also browse the unique accessories and hand-made jewellery.
A holiday in Málaga would not be complete without trying some of the ice cream from Casa Mira, a small 'Helado' located next to this vintage store.
Address: Calle Andrés Pérez 1, Málaga
Opening Hours: Monday - Saturday 10:30 - 20:30
Entrecosturas Vintage Clothing
Entrecosturas is a small vintage shop in Málaga, hidden in a narrow street from the centrally located street - Calle Nueva. Some people discover this store by accident, strolling around the centre. This store enjoys many regular customers and is a favourite for finding an outfit for a special occasion.
This store offers a more formal sense of vintage fashion with suits and elegant dresses that can be tailored to your size, free of charge. Expect to find future brides, searching for that perfect, unique wedding dress.
Even if slightly outdated and not to your taste, don't leave without browsing through their collection of vintage furs and handmade necklaces.
Address: Calle Cinterías 6, Málaga
Opening Hours: Monday - Friday 10:30 - 13:30, 17.30 - 21.00
CUDECA Charity Foundation Shop
If you are looking for places to buy clothes at extremely cheap prices, visit some of the charity shops operating thanks to the CUDECA foundation. This association supports palliative care for terminally ill cancer patients and those with advanced stages of cancer. All items available in stores run by the foundation come from third-party donations.
Prices start from €0.50 and they have a diverse product range. Not only different items of clothing but also accessories, books and things that nobody would expect.
If you are concerned with sustainable fashion, shopping for second-hand clothes supports this effort, offering a new life to old clothes, whilst supporting noble cause.
Address: Calle Puerta Nueva 3 or Plaza de la Merced 6
Opening Hours: Monday - Saturday 10:30 - 14:30, 17:00 - 21:00
Rastro Cultural - La Termica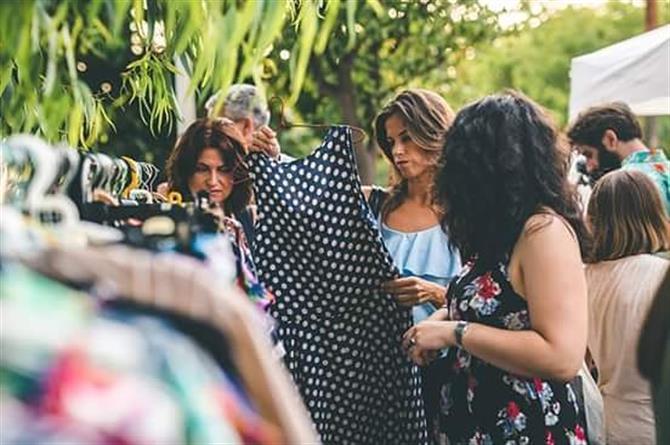 La Termica is a cultural centre where every first Friday of the month there is a vintage market. There are stands selling vintage fashion pieces, accessories and items that you would find in your Grandma's attic.
As well as second-hand clothing, you will find craft products, old vinyls, antiques and some unusual items dug out by sellers. This event is always accompanied by music and is definitely worth venturing slightly outside of Málaga to see.
Address: Avenida de Los Guindos 48, Málaga
Opening Hours: Every first Friday of the month 19.00 - 00.00