Málaga city is a great holiday destination, whether you are looking for a city break or a week-long stay. People usually associate Málaga with warm weather, friendly locals, historical sites, parties and the local gastro, but not many people realise it is also a shoppers paradise. For those staying in Málaga city, there are shops catering for those who want to purchase the latest fashion trends, as well as those who want to bring home some Andalucian olive oil from their holiday.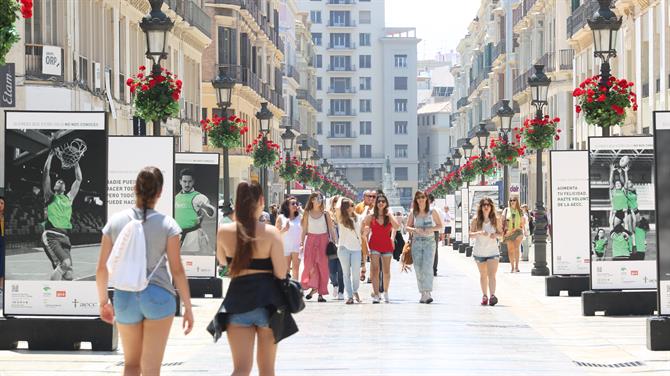 The Spaniards are fashion lovers and are not afraid to play with trends. The start of sale is a date firmly circled on the calendars of all fashion victims and the Spanish are no exception to the rule. However, it is worth noting for visitors that prices of Spanish high street brands such as Zara, Massimo Dutti, Custo, Desigual and Uterque can be up to 10% lower in Spain, than in other European countries.
If you are looking for bigger shopping areas where everything is in one place, it is worth visiting the shopping centres in Málaga. If your holiday apartment is in the centre of Málaga or in the surrounding area, we have chosen eight of the best shopping centres in Málaga that are easily accessible, have a great variety of shops and have the best local reviews. Get ready to shop until you drop whilst exploring the bustling city shopping in Malaga.
El Corte Inglés
El Corte Inglés is a household name in Spain, it is a department store that has withstood the test of time throughout Spanish retail history. You will see El Corte Inglés in the most important cities and streets in Spain. Find it on Av. de Andalucía, one of the main shopping streets in Málaga.
El Corte Inglés has been likened to English department store Selfridges, offering a luxury shopping experience since 1945, with Spanish brands as well as international designers.
Find everything from clothes, shoes, cosmetics and accessories to homeware, books and electronics. For those who want to fill their fridges with Spanish cuisine, visit Hipercor, the department stores own supermarket, located on floor -1. Hipercor is also a great location to buy gluten-free and vegan food in Málaga.
Shops and Brands:
GAP, Adidas, Asics, Barbour, Billabong, Brooks, Converse, Hurley, Lacoste, Nike, Oakley, Reebok, Vans, Adolfo Dominguez, Armani Jeans, Bulgari, Custo Barcelona, Desigual, Diva, Fred Perry, Esprit, Gucci, Bimba & Lola, Jimmy Choo, Ray-Ban, Roxy, Swarovski, Ted Baker, Tommy Hilfiger, Triumph, Vogue, Vero Moda, Wrangler, Jo Malone, etc.
Address:
Avenida de Andalucía, 4 and 6, Málaga
Opening Hours:
10:00 - 22:00
How To Get There:
The easiest way is to walk or take a bus, almost all services stop in the centre next at this department store, stop name - Av. de Andalucía.
Málaga Plaza Shopping Centre
One of the best shopping centres in Málaga and popular with the locals is Málaga Plaza. One of the favourite shops is Fnac, selling the latest books, films, music and electronic gadgets. They also host frequent meet and greets with well-known artists.
In this shopping centre, you will also find a variety of shops selling homeware, cosmetics and accessories as well as a hairdressers. For foodies, visit trendy burger restaurant Goiko Grill and for coffee lovers stop at Be Brunch & Coffee.
Shops and Brands:
Goiko Grill, Tedi, My Phone, Happy papes, Marce, Primor, Fnac, Kirola, Quintaesencia, etc.
Address:
C/Armengual de la Mota 12, Málaga
Opening Hours:
10:00 - 22:00
How To Get There:
On foot, as it is located in the centre of Málaga, you can also use public transport. Bus no. 2, 17, 20, 30, stop name - Armengual de la Mota.
Vialia Shopping Centre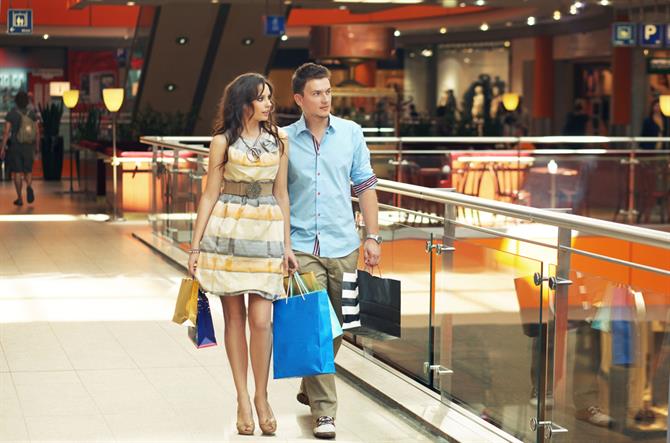 This Málaga shopping centre is in an enviable location. Located next to the train station with connections to Fuengirola and the coach station, with great links for a day trip to Seville and Granada or to spend a weekend in Córdoba or discovering Ronda.
Although this shopping centre is not as big as some of the others, there are a good selection of stores. With clothes, shoes and accessories from well-known Spanish chains to homeware, perfumeries and lingerie stores.
Vialia shopping centre also has a cinema, bars, cafes and restaurants.
Shops and Brands:
Baileys, Bershka, Calzedonia, Claire's, Cortefiel, Decimas, H&M, Cortefiel, Hunkemoller, Imaginarium, Intimissimi, Kiko Milano, Lola Rey, Massimo Dutti, Mayoral, Media Markt, Oysho, Parfois, Pimkie, Primadonna, Primor, Relay, Rituals, Sfera, Springfield, Stradivarius, Women'secret, Zara, etc.
Address:
Explanada de la Estación, s/n
Opening Hours:
10:00 - 22:00
How To Get There:
It is very easy to get to Vialia, there are buses and the metro or you can get there on foot from the centre. There is also parking. The buses are 1, 3, 5, 7, 9, 10, 20, 27, C1, C2, stop name - Heroe de Sostoa.
Larios Centre
Shopping in Málaga would not be complete without a trip to the Larios Shopping Centre. Located between El Corte Inglés and Vialia Shopping Centre, it is one of the largest and most popular shopping centres in Málaga.
The Larios Centre has all the main Spanish brands such as Sfera, Natura, Pull & Bear, Zara and Stradivarius. Many Spaniards flock to pick up bargains at Primark, which has become a hit here in recent years.
Shops and Brands:
A Loja by Gato Preto, Amichi, Bailly, Bershka, Block House, Gody, Calzedonia, Chika10, Disney Store, Dunnes Store, Encuentro, Foot Locker, Golden Mac, Intimissimi, Jack&Jones, Juegolandia, Losan, Marypaz, Massimo Dutti, Mayoral, Misako, Natura, Oysho, Pandora, Parfois, Pimkie, Primark, Primor, Pull&Bear, Punt Roma, Queens21, Shana, Solvision, Springfield, Stradivarius, Tezenis, Tienda Animal, Trucco, Zara, Yves Rocher, etc.
Address:
Av. de la Aurora 25, Málaga
Opening hours:
10:00 - 22:00
How to get there:
It is easiest to walk from the Málaga city centre or take the bus no. 14, stop name - Avda stop. de la Aurora (Centro Comercial).
Plaza Mayor Shopping Park
Plaza Mayor is located just outside of Málaga city. As a retail park, it has the biggest selection of stores and entertainment in this guide to the best shopping centres in Málaga.
Located between Málaga city and Torremolinos. Get to Plaza Mayor by catching the train from Málaga city centre which connects Málaga and Fuengirola. This train runs every 20 minutes and costs €1.80.
Divided in two, one part of Plaza Mayor is specifically for entertainment and food. With the Yelmo cinema (which also shows some films in English or with English subtitles), cafes restaurants, bars and international fast food chains.
The second area is dedicated to shopping. With a wide range of clothing stores, accessory, cosmetic and shoe shops. Here you will also find low-cost Spanish supermarket, Mercadona.
Plaza Mayor is a big site with plenty of parking, on weekends it is a popular spot for parents with children and groups of teens shopping and enjoying the entertainment.
Shops and Brands:
Pull&Bear, Zara, H&M, Mango, Stradivarius, Zara Home, Parfois, Nike Factory Store, Calzedonia, Primor, Yves Rocher, Friking, Woman'secret, etc.
Address:
Alfonso Ponce De León 3, Málaga
Opening Hours:
10:00 - 22:00
How To Get There:
Bus line 10, M-136 and M-123. Or by train, stop - Plaza Mayor
Rosaleda Shopping Centre
The name of this shopping centre will sound familiar to football fans as La Rosaleda is Málaga's football stadium. Located in the north-west of Málaga city, the name originates from rose bushes that grew in this area.
Today, Rosaleda is a thriving shopping location with 100 brands, a restaurant area, bars and Carrefour supermarket. All the well-known clothing, accessory and cosmetic stores can be found here.
Shops and Brands:
Bershka, C&A, Celopman, Lauro Surf, Inside, Lefties, Pimkie, Shana, Springfield, Promod, MS Cuore, Fifty Factory, Charanga, Mayoral, Juguettos, Orchestra, Toy Planet, Jofler, JYN Calzado, Marypaz, Primor, Stylo, Women's secret, etc.
Address:
Avenida Simón Bolivar s/n, Málaga
Opening Hours:
09:00 - 22:00
How To Get There:
Bus lines 15&17, stop - Avenida Luis Buñuel
Muelle Uno
If you are staying in Málaga city, it is difficult to miss Muelle Uno, a modern promenade lined with palm trees overlooking the famous port. A favourite among locals for walking in Málaga and a great place to explore Málaga by bike.
Muelle Uno offers a unique, stress-free shopping experience with a great view of Málaga's historical centre as well as many bustling bars and restaurants. The port also hosts concerts and exhibitions that you can attend for free and at the weekend you will find little market stalls with locals selling handcrafted products and gifts.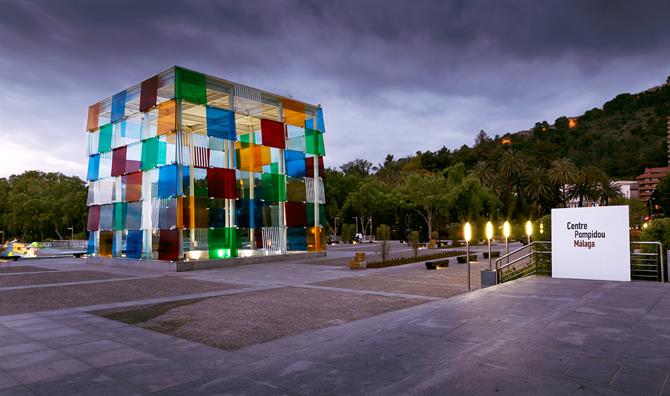 Another attraction drawing visitors to Muelle Uno is The Pompidou Centre, which displays various permanent and temporary exhibitions. Rent a holiday apartment in the neighbourhood of Malagueta to be located in one of the main shopping centres in Málaga and close to the local attractions.
Shops and Brands:
Belros, Handycraft, Origani, Soho Boho, Mandragora, Kiko, Etxart & Panno, Ale-Hop, Lacoste, Cooligan, Solvisión, Montinas, Bailly, Primor, Oteros, etc.
Address:
Málaga Port
Opening Hours:
10:00 - 22:00
How To Get There:
The easiest way to reach Muelle Uno is to walk directly from the city centre, you will be able to see the Pompidou Centre or Málaga eye both located in the port.
Málaga Nostrum Commercial Park
Although this Málaga shopping centre is not located in the city centre, Málaga Nostrum is a great place for shopping enthusiasts.
Pick up some bargains from the factory outlet with discounts up to 70% off brands such as Levi's, Mango, Desigual, Spagnolo, Fifty Factory and Mustang. In addition, there is an entertainment zone with a bowling alley and a multitude of restaurants.
Shops and Brands:
Amichi, Baileys, 5 Chupetes, Celopman, Charanga, ArteAdiscar, Desigual, Famaliving, Fifty Factory, Kiabi, Levi's, Mango, Mustang, OhGar, Soloptical, Spagnolo, Tiendanimal, Stylo, United Colors of Benetton, Tramas, etc.
Address:
Calle Jaén, 1. Polígono Guadalhorce
Opening Hours:
10:00 - 22:00
How To Get There:
Bus lines: 10, 27, M-110, M-113, M-132, M-133, M-230, M-334
It is important to note that on Sundays and public holidays, stores and shopping centres throughout Spain are closed. On these dates shopping centres in Málaga will still be open even though they are public holidays.
7th of January, 2018
1st of July, 2018
15th of August, 2018
2nd of September, 2018
12th of October, 2018
1st and 25th of November, 2018
8th, 23rd and 30th of December, 2018