Malaga is a fantastic city break destination as it is filled with hidden gems and secret spots. Alternative street art fills empty walls and narrow streets are filled with quaint cafes, buzzing bars and unique boutiques. It's a city offering the best of all worlds - traditional Spanish architecture mixed with modern, luxurious buildings and colourful, lush gardens with an easygoing beach environment.
Malaga is very walker-friendly and so without a doubt the best way to explore this city is by foot. You'll see many things travelling by foot that you'd miss any other way. We've created three walking routes for exploring some of the best parts of Malaga city - Picasso, Art and Culture and Historical.
These routes aren't just for art and history lovers, they are suitable for everyone as they include some of Malaga's most beautiful and interesting landmarks.
Walking Route 1: Picasso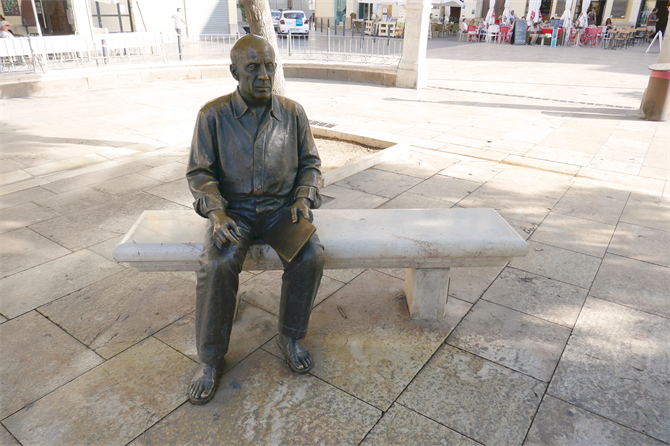 Malaga is the birthplace of Pablo Picasso, one of Spain's most famous artists. Regardless of whether you are a long-time Picasso fan, an art lover in general or just interested in learning more about the artist and the city, this route will guide you to the key points of the city related with Picasso, starting at the Fundación Picasso Museo and ending at the old site of the San Telmo School of Fine Arts in the Plaza Constitución.
Fundación Picasso Museo Casa Natal - Plaza Merced, Bronze Picasso Statue - Santiago Church - Museo Picasso Malaga - Old Municipal Museum - Parque de Malaga - Plaza de la Constitución, San Telmo School of Fine Arts
Time to allow: 2-4 hours
This route includes a number of museums and also a long walk through the Parque de Malaga, which is actually optional but we recommend it because it offers some respite with its shaded, cool areas and benches to sit on and rest tired legs. With that in mind, the route can take between two and four hours, depending on how quickly you walk, which museums you choose to visit and whether you choose to go through the park.
Best time to do it
As with the majority of walking routes, we recommend that you do them outside of the very hot summer season between June and August. The winter in Malaga doesn't usually get colder than about 12℃, so if you wear a coat or jacket then the crisp sea air makes for a very welcoming temperature to walk around the city. Having said that, we'd say that the best times of year for a city break and to do some walking routes are between March and May and September to November. These months of the year promise beautiful sunny days but a cooler temperature - perfect for hours spent exploring a new city.
You will see...
Not only will you see some beautiful historical architecture but you'll also get to sit on a bench in Plaza de la Merced next to a very popular bronze statue of Picasso himself.
Did you know?
There are also two Picasso-themed bars in the Plaza Merced, so after you've finished the route in Plaza Constitución, make the short journey back to the starting point at Plaza Merced and replenish your energy levels with a nice sit down and a cold drink in the shady terrace of one of these bars.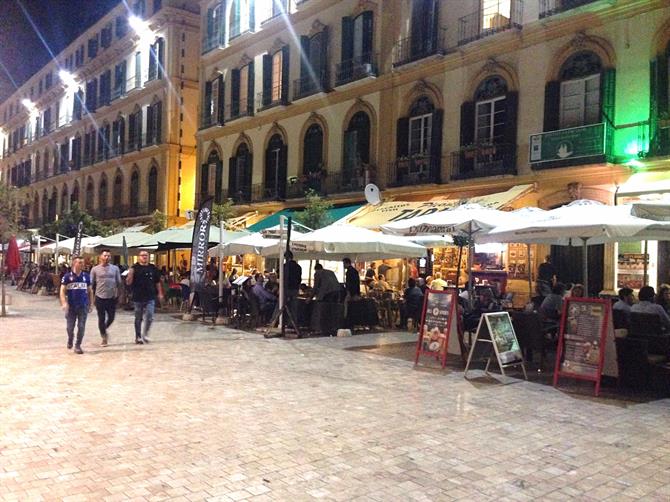 Walking Route 2: Art and Culture
The "Art and Culture" route is fantastic for getting to know the heart and soul of Malaga. Discover street art by Malaga's locals at the first point located in the Lagunillas neighbourhood, who's streets are filled with every kind of painting and graffiti, you'll see more in the Soho neighbourhood as well. The La Termica Cultural Centre is the last stop on this route where you can immerse yourself in Malaga's creative world, with concerts, performances, workshops, markets and much more.
General route
Calle Lagunillas - Museo Casa Natal of Picasso - Picasso Museum Malaga - Pompidou Centre - Soho Neighbourhood - Malaga Contemporary Art Centre - Russian Museum - La Termica Cultural Centre
Time to allow: 3-5 hours
It takes an hour and a half to complete this route without stopping to take pictures or visit any of the museums or art centres, so we'd say allow three to five hours to complete this route - that's including short rest breaks, taking photographs and visiting the museums and galleries.
Best time to do it
The majority of points on this route are indoor and so there really is no best time of year to do this route weather wise. It would be best to start early in the morning if you want to complete the whole route as the last point - La Termica - is quite a walk away, in the west of the city.
You will see...
One of the most artistic areas in the city - Lagunillas. This is the part of the city where a lot of Malaga's new, young artists draw and paint graffiti which was originally introduced by the residents in this area. You'll find it just round the back of the central Plaza de la Merced and although it's right in the city centre, strolling through these streets make you feel like you are somewhere else completely.
Did you know?
A graffiti portrait in Calle Lagunillas depicts one of Malaga's most infamous characters - Eduardo Colorado or "El Cantinero", the flamenco street singer. Eduardo is a regular face on the central streets of Malaga, you'll see him wandering around Plaza Merced, Centro Historico and down near the Teatro Romano. He sings flamenco and is famous for his extremely hoarse singing voice and lack of teeth. He was once a delight to see on the streets as he added an authentic Malagueño touch with his strained singing, but in his old age he's become a bit rowdy and every now and then can be seen shouting insults at tourists and stealing leftovers from restaurant tables.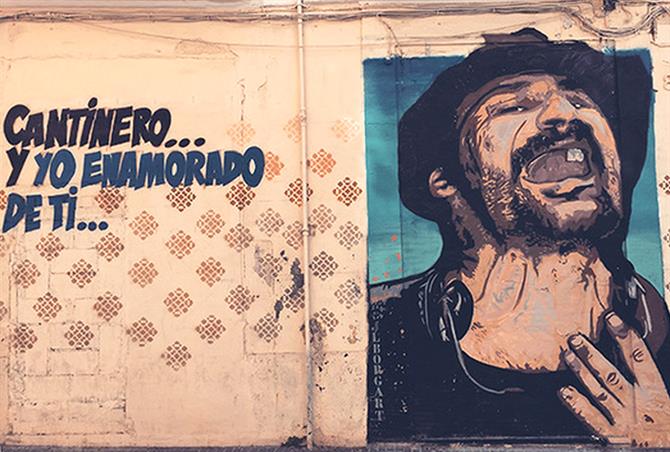 Walking Route 3: Historical
Malaga's history is colourful and enticing. Evidence of the city's past can be seen in its impressive Gibralfaro Castle sitting atop a hill, its unfinished yet nonetheless strikingly beautiful Cathedral, its plentiful Moorish architecture, its ancient churches and fascinating squares which are an enticing mix of old and new, past and present. Although we've named this route the "historical" route, it's also serves as a fantastic way to get to know Malaga well in a short space of time, by taking you to it's most spectacular landmarks and monuments.
General route
Murallas in the Rectorado - The Alcazaba - Teatro Romano - Plaza de la Merced - Santiago Church - Museo Picasso - Sagrario Church - Cathedral - Calle Larios - Casa de Guardia
Time to allow: 3 hours
Allow yourself three hours to complete this route, obviously the time will fluctuate depending on how much time you spend at the churches and monuments.
Best time to do it
Bearing in mind that the route includes a couple of Malaga's best museums and churches, a good idea is to check the opening times before you go to ensure you get the most out of each visit. Starting early in the morning is optimal to allow yourself enough time to complete the route at your own speed and to get the best light for photographs.
You will see...
Numerous landmarks and monuments which represents thousands of years of Malaga's intricate history.
Did you know?
Malaga's beautiful cathedral is affectionately known to the locals as "La Manquita" or the one-armed lady, that's because the cathedral is actually unfinished. During construction and after the first tower was built, the government ran out of money and thus, they were not able to build the second tower. What you see now is one tower and a stump, which is where the name comes from.