Carrete was born to be a Flamenco dancer, you can tell by his movements filled with feeling and emotion. Since his childhood, when he danced barefoot to earn money, Carrete has been inspired by Fred Astaire and has dreamed of becoming a gypsy version of the broadway dancer. Now, at 74 years old, Carrete continues to dance and shows the duende inside of him at his live Flamenco shows.
"He says that dancing inspires him, allowing him to be creative and interpretive, while he gives the audience his whole heart."
Let's learn a little more about Carrete and the pure art of Flamenco.
Video of Carrete, a Pure Flamenco Artist in Malaga
Carrete, The Gypsy Fred Astaire
Jose Losada Santiago, most well known as Carrete, is an Andalusian artist who was born in Antequera and who grew up on the Costa del Sol (Torremolinos). Carrete dedicated himself to conveying the art of Flamenco at the age of 10 and still demonstrates his sentío Flamenco on stage today.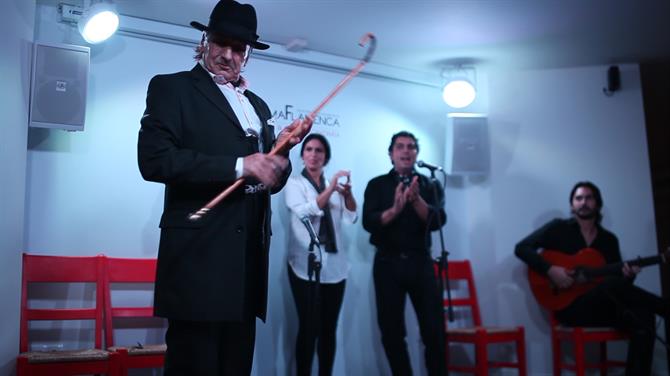 Carrete is a unique and quirky Flamenco dancer, a "bailaor", who fills large theatres and who has danced for the likes of Sinatra, Perón, Dalí, and Norwegian kings. However, what Carrete truly cares for is the feeling he gets when he presents the dancing that he holds inside.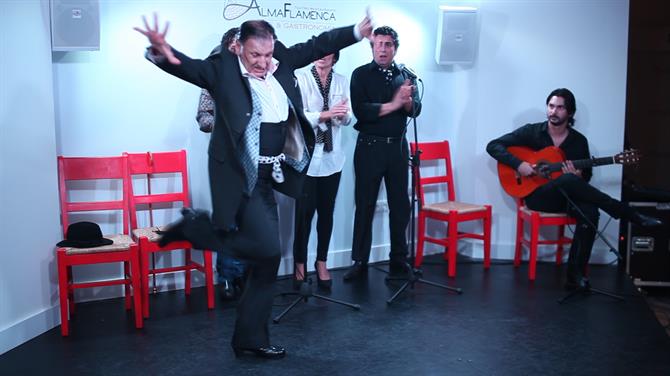 Carrete also dreams of performing in New York, on Broadway, in a Flamenco show in homage to Fred Astaire, a dream that he is determined to realize within his lifetime. Meanwhile, he remains loyal to his little Hollywood, his beloved Torremolinos, and tells us that he teaches dance to more than 100 students, always finishing his week thinking about how lucky he is and appreciating everything that he has.
"He wants nothing more than to dance and to listen to music, sing, play guitar, and that's all."
Interview with Carrete


Now I leave you with the interview we had with Carrete during his presentation of "Carrete Picassiano" in the restaurant-theatre Alma Flamenca in Malaga.
What was the origin of Flamenco?
It is a very simple thing, it is from the earth. And the earth created trees, and trees give fruit, and the earth has given the fruit of Flamenco. When Flamenco comes from the earth, it is like an olive tree with many branches from which grow beautiful things. And from these beauties there is art, and here we have Flamenco!
The word "duende" is unique to gypsies. Can this word be used outside of Flamenco?
The Flamenco of the Duende, the word "duende", is something that we carry inside our souls. Some of us are bullfighters, some of us are painters, like Picasso, whichever comes naturally. For me, I interpret the virtue that God has given me through my dancing.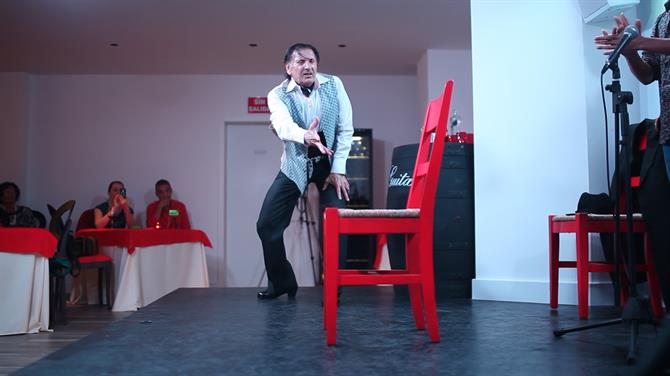 With your life experience, what advice would you give to the new generation of dancers and youth?
This is a nice question because I had a very sad postwar childhood, where I suffered hunger and poverty. I danced barefoot and there weren't schools like there are now. Today the youth have everything, I didn't have the chance to study, I only had myself. To today's youth, I give them this advice, to dance and to keep practicing, to follow their inspirations, to listen to music and to take advantage of what I could not.
For you, what is Flamenco?
When I hear a guitar and a Flamenco singer, I can feel myself being taken away by the music. If I hear songs by Solea, Taranto, Alegría, Buleria or Tanguillo, I can feel it within my heart and soul. Most of all, I like to dance to Taranto, because it's a dance of suffering, of sadness, and of the earth.
Flamenco is something special, and for me there is nothing more.
What would you say to people to have them come watch you dance?
We are all united by the wind, the wind brings music to everyone. You can see me dance at Alma Flamenca, come visit us. My name is Carrete and I send love to all those who come here.
This was our brief but intense encounter with Carrete, who showed us that there is a lot more to Flamenco than dancing, clapping and music; Flamenco is a feeling, a passion that will accompany you throughout the entirety of your life.
We invite you to visit Spain and take advantage of one of our holiday rental homes in Andalusia. Come learn about the people, the local cuisine, and of course, about Carrete.