Known for its numerous tapas bars and chiringuitos, the coastal city of Malaga is becoming more and more vegan friendly, the plant-based food scene is truly thriving. People are more aware and much more open to new flavours. Health food restaurants, fresh juices bars and ecological shops are appearing like mushrooms after the rain, as well as vegan and vegetarian restaurants in Malaga. Vegetarian restaurants have a well-established position in Málaga's gastronomic scene but the big boom of 100% plant-based vegan bars and restaurants came just recently.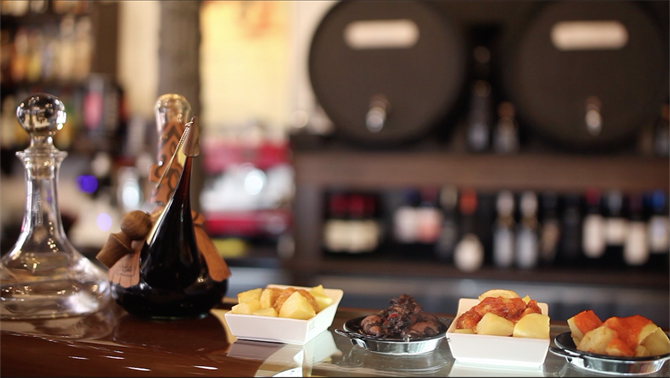 We've prepared a list of the best places in Malaga to go for a vegan breakfast, lunch and dinner. Below you will find vegan only spots and also non-vegan spots that offer very attractive vegan options. If you wanted to know what you can eat in Malaga while on a vegan diet, you'll find the answer below!
Traditional vegan tapas
Generally speaking, Spanish restaurants are not vegan friendly places, but there are popular vegan dishes which are a permanent part of traditional Spanish cuisine.
There will always be a cup or glass of well-chilled Andalusian gazpacho, salmorejo straight from Cordoba or ajoblanco (almond and garlic soup) on offer. Salmorejo is usually served with egg and serrano ham, so it is good idea to inform the waiter beforehand that you do not want toppings.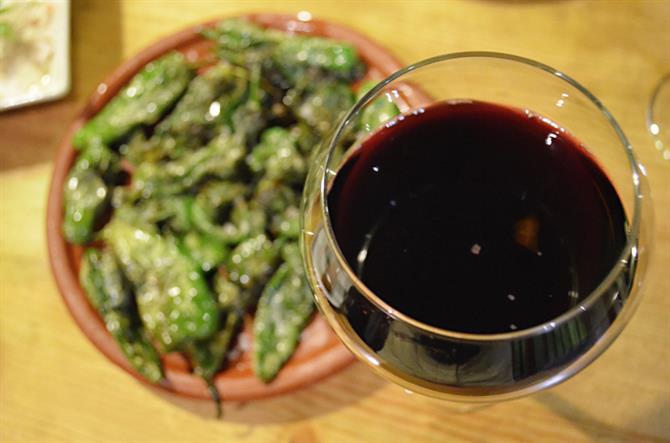 Andalusians love deep-fried foods, so if you have the chance to try the fried spicy green peppers called pimientos del padrón or the fried aubergine called berenjena frita, you shouldn't miss them. The aubergine is usually topped with sweet sugar syrup - molasses and believe me, it's a heavenly combination!
An ensalada mixta (a mixed salad of lettuce, tomatoes, carrots and sweetcorn) or a dish of verduras a la parilla (grilled vegetables) will surely save your evening if you choose to have dinner with carnivores. We recommend ordering a salad of roasted peppers which is called ensalada de pimientos asados and always tastes great, or a chickpea stew (espinacas con garbanzos), they are both very traditional, popular and never fail!
Where can I have a vegan breakfast in Malaga?
Although in Malaga there is a coffee shop on almost every corner, don't expect them to have a long list of vegan options. Pan/tostada con tomate y aceite (bread or toast with tomato spread and olive oil) is usually the only option and in the most of traditional, small cafes you might have to settle for black coffee because they rarely stock plant milks.
Julia Bakery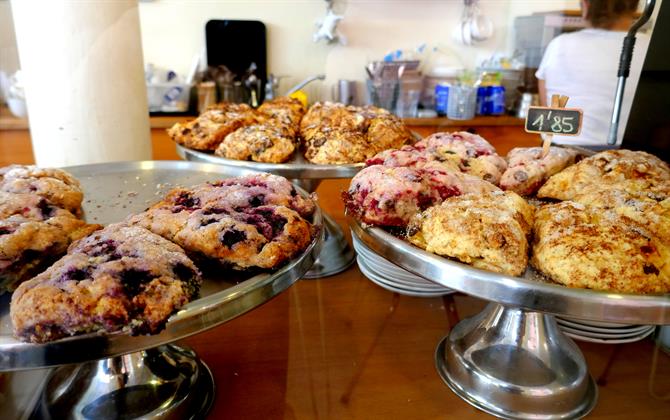 This coffee shop has been on Malaga's must-visit list for several years now and it's not only the tourists who are completely in love with Julia Bakery, every morning this cafe is packed with locals who pass by to pick up one of the best coffees in Malaga or have the perfect breakfast, including vegan!
This cafe is famous for its pastries, sourdough bread and sweet treats. Vegans will find fresh smoothies, great coffee with dairy-free milk and delicious scones in different flavors on the menu.
The owners of Julia Bakery assure vegans that will have a small variety of baked goods to choose from everyday such as scones, pound cake and carrot cake. Don't hesitate to ask if there is something new on the counter, sometimes they add new cakes!
You can also go for lunch and the menu is very inviting. Ask for the sweet potato falafel or the vegan burger and you can't go wrong.
Sample prices:
| | |
| --- | --- |
| White coffee | 1,50€ |
| Scones (various flavours) | 1,85€ |
| Pound cake | 2,00€ |
| Sweet potato falafel | 7,50€ |
| Vegan burger | 8,50€ |
| Superfood smoothies | 5,50€ |
Opening hours: Mon - Sat: 10:00 - 14:30 and 17:00 - 20:30, Sunday: Closed
Address: Calle Carreteria 44
Malaga's 100% Plant-Based Restaurants
All of Malaga's vegetarian restaurants also offer vegan dishes. The following restaurants are specialists in 100% vegan cuisine. Enjoy!
Raw Attitude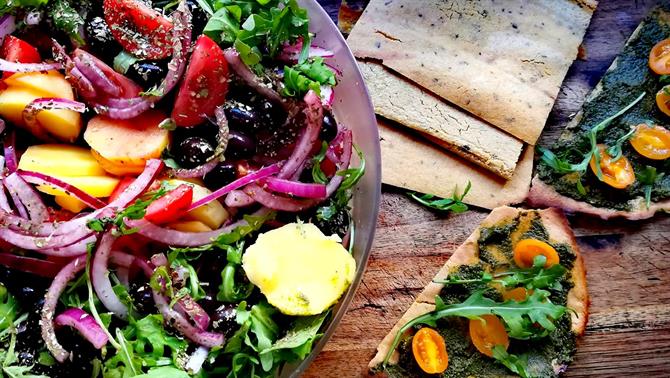 In Soho, there is a small organic food shop and little lovely eatery with plant-based delicacies. Raw Attitude is a vegan cafeteria which offers a range of breakfast ideas and lunch dishes which are all freshly prepared and beautifully presented! We recommend dropping in to Raw Attitude especially at lunchtime, which is from Mondays to Fridays between 13:00pm and 16:00pm. The cafeteria offers a set lunch consisting of two dishes and dessert for 13€.
On the menu you'll also find the Buddha bowl, fruit smoothies and other delicious dishes - ideal for a healthy snack. All cakes and pastries are homemade and prepared daily, and they are also all sugar-free. If you're craving a lovely vegan brunch, head to Raw Attitude on a Saturday, as they serve delicious pancakes until 14:30pm. Do not miss it!
Sample prices:
| | |
| --- | --- |
| Avocado toast | 5,00€ |
| Acai bowl | 9,90€ |
| Slice of raw cake | 6,00€ |
| Portobello burger | 9,00€ |
Opening hours: Mon - Fri: 10:00 - 17:00, Sat: 10:00 - 14:00, Sun: Closed
Address: Calle Tomás Heredia 19
Woodstock Café Bar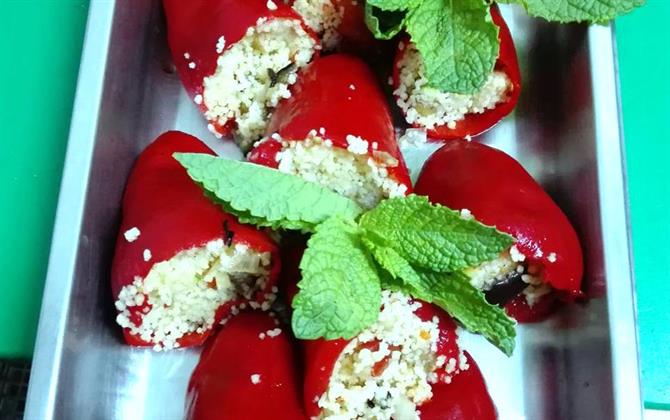 The owners of this restaurant set themselves the goal of promoting cruelty-free food and demonstrating to the local clientele, the amazing possibilities that the vegan diet offers. On their extensive menu you will find a number of international dishes, all created with the intention of demonstrating the great variety of vegan dishes that can be made and enjoyed, without harming animals.
"We want to show that feeding the soul is as important as a full stomach," say Luciano and Sara, owners of Woodstock Cafe Bar.
The dishes offered in the menu include vegetable burgers, Malaga's popular "camperos" sandwiches, falafel, samosas, stews, vegan versions of traditional tapas dishes like ensaladilla rusa and of course, a selection of vegan cakes and beverages.
Sample prices:
| | |
| --- | --- |
| Ensaladilla rusa | 4,00€ |
| Vegan Caesar salad | 7,00€ |
| Seitan wraps | 6,50€ |
| Slice of cake | 3,60€ |
Opening hours: Tue - Sat: 13:00 - 16:00, 20:00 - 23:30, Sun: 13:00 -16:00, Mon: Closed
Address: Calle Mendoza 2
Karmem Yoga Café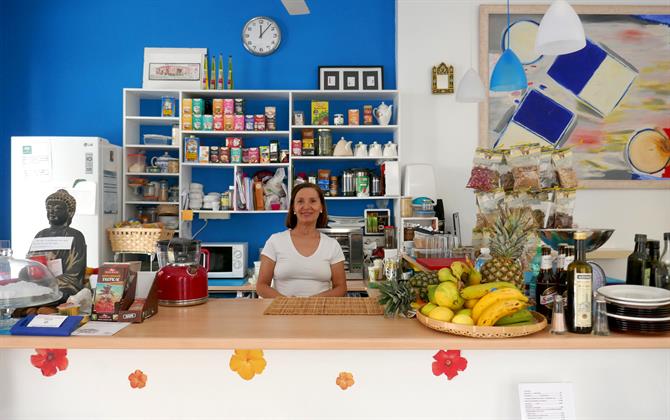 This small, family-run establishment is located just a few steps from the Vialia Shopping Centre. Entering this place is like going into someone's house and Karmem is in fact Lola's house. Lola invites, cooks and serves her special dishes to the guests herself. Satisfied customers often mention Lola as the heart and soul of this little café. When you come to Karmem, expect home-cooked vegan dishes prepared with fresh, organic ingredients.
Sample prices:
| | |
| --- | --- |
| Almond soup "Ajoblanco" | 6,00€ |
| Beetroot soup with quinoa | 8,00€ |
| Olive pate on toast | 5,75€ |
| Vegetable stew with rice | 5,75€ |
| Homemade banana ice cream | 6,00€ |
Opening hours: Mon - Fri 12:00 - 5:30, Sun 12:00 - 5:30
Address: Ancha del Carmen 35
Vegan-friendly restaurants in Malaga
Fortunately, this is not the end of our list. Below, you will find a list of our favourite restaurants where, in addition to the standard dishes on offer, you will also find some excellent vegan options. The staff are well-informed and once your meat-eating friends see the delicious meals on offer here, they'll definitely regret not picking one for themselves!
Potattoo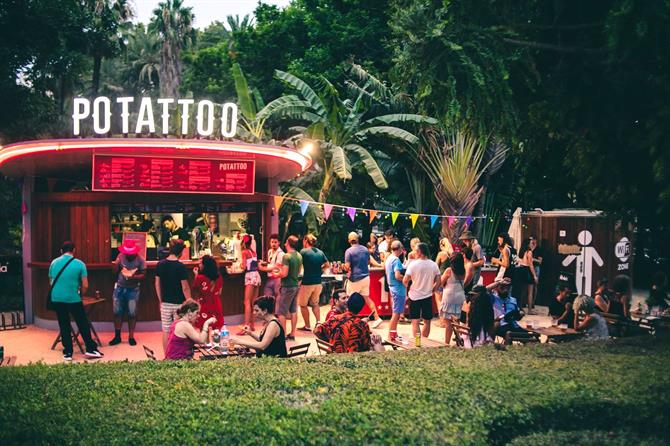 This small restaurant is located in possibly one of the best spots in the city - the Parque de Málaga. Located right in the middle of the city's long, tropical park, it's also next to an open-air concert space, which in summer hosts numerous live music concerts. On a summer's evening, the little restaurant is filled with live music lovers and boasts a tropical, relaxed atmosphere. The restaurant is surrounded by palm trees, banana trees, bushes, plants and flowers, so Potattoo's customers will easily forget that they are still in the city centre, just steps away from the Muelle Uno port. On the vegan menu you will find gourmet baked potatoes and fresh salads.
Sample prices:
| | |
| --- | --- |
| Wabi Sabi Potato (shitake, sea weed, wasabi mayonnaise) | 6,50€ |
| Eco Vegan Potato (guacamole, tomato and onion salad, tahini) | 6,00€ |
| Raw Salad (quinoa and veggies with strawberry sauce) | 8,50€ |
| Smoothies | 4,00€ |
Opening hours: Mon - Sun: 11:00 - 22:00. Saturdays till 2:00
Address: Paseo del Parque
Recyclo Bike Café
Recyclo is cycling-themed restaurant which is loved by both cyclists and non-cyclists alike. The restaurant boasts a friendly atmosphere, great service and very convenient opening hours. There are a number of breakfast options to choose from including juices, acai bowls or even vegan tacos, vegan chorizo and vegan burgers. Don't forget to ask for a glass of vermouth, it's delicious here!
It is worth noting that all the dishes on the menu are well marked, so it is easy to find all vegan and vegetarian options.
Sample prices:
| | |
| --- | --- |
| Avocado sandwich with tomato and roasted peppers | 2,50€ |
| Taboule salad (tapa) | 3,70€ |
| Plant milks | 0,20€ |
| Acai bowls | 4,50€ |
| Vegan chorizo sausages | 6,50€ |
| Vegan burger with salsa | 7,00€ |
Opening hours: Mon - Thu: 9:00 - 00:00, Fri - Sat: 9:00- 2:00, Sun: 10:00 - 00:00
Address: Plaza Enrique García Herrera, 16
Vegan pizzas - La Fainá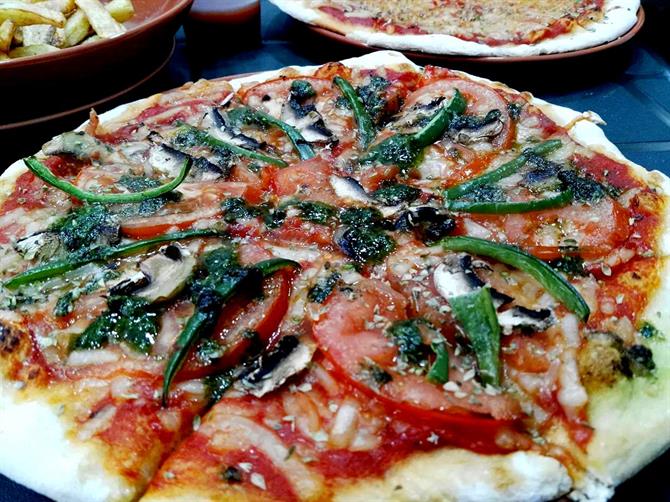 Until recently, finding vegan pizza in city of Malaga would probably been unthinkable. But, for several months now vegan pizzas are not the stuff of vegan's dreams, but a sweet reality. This family pizzeria not only offers eight different types of pizza (all with vegan mozzarella), but also burgers, garlic bread, calzones, pasta and vegan lasagne.
All meals are also available to take away and the price of this service is one euro per order. This is a great option for those lazy days, when you're craving a cheat meal and don't want to leave your sofa!
Sample prices:
| | |
| --- | --- |
| Vegan BBQ pizza (family size) | 8,80€ |
| Vegan pizza bianca(family size) | 9,80€ |
| Calzone | 6,60€ |
| Chips with vegan cheese | 4,00€ |
Opening hours: Mon - Sat 12:00 - 16:00, 19:30 - 00:00.
Address: Avenida San Sebastián 8
La Casa del Perro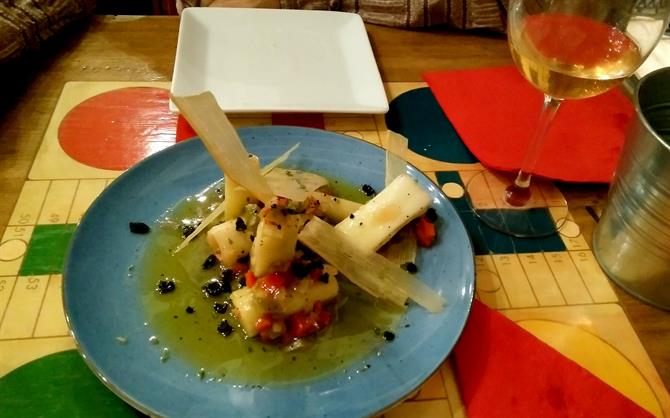 This restaurant is a jewel hidden in the narrow streets of Malaga. The menu includes meat and fish, but also vegetarian and vegan options. The dishes are very elaborate, inventive and just delicious (been there, tried that!).
At this bar, you'll try some well-known dishes, but here they are served in a completely new way. The real stars are the tofu balls in a creamy coconut milk sauce. Be sure to try the marinated leeks too, they are amazing!
Sample prices:
| | |
| --- | --- |
| Hummus with Azuki bean, endive and fruits | 8,20€ |
| Tofu and carrot 'meat' balls | 9,20€ |
| Spring rolls with sweet and sour sauce | 8,20€ |
| Creamy tomato soup with beet dices | 7,80€ |
Opening hours: Tue - Sun: 13:30 - 16:00, 20:30 - 23:30, Mon. Closed
Address: Calle Hernán Ruiz 7
Green Iguana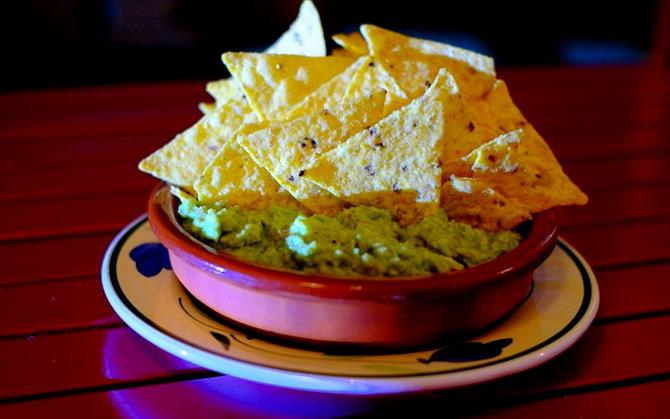 This bar is hidden among the narrow streets of the city centre, close to all main attractions and historical sights of Malaga. If you want to go out with friends for evening drinks and have some tapas, the Green Iguana is the perfect place for all. You'll find plenty of vegan and vegetarian options on the menu, which are all well-marked to make your choice easier. Three out of the four salads are vegan and you can also order some vegan tapas and share them with friends.
Sample prices:
| | |
| --- | --- |
| Sauteed mushrooms (tapa) | 2,50€ |
| Quinoa salad | 8,00€ |
| Veggie burger with avocado mayonnaise | 7,50€ |
Opening hours: Mon - Sun: 20:00 - 2:00, Saturdays till 3:00.
Address: Calle Ramón Franquelo 8
Siete Semillas
Siete semillas means seven seeds. This restaurant located in central Málaga is one of the few places in the city that uses only organic products. The menu is 80% vegan and varies depending on the season and the availability of local products. All dishes can be found on a board hanging in the middle of the restaurant. The restaurant's modern, fresh decor will surely attract interior design lovers. Note that the wine and beer served here are 100% organic as well.
Sample prices:
| | |
| --- | --- |
| Toast with olive oil and tomato | 1,60€ |
| Quinoa salad | 4,50€ |
| Veggie lasagne | 9,00€ |
| Vegan chocolate cake | 4,50€ |
Opening hours: Mon - Sat: 9:30 - 17:00
Address: Plaza Ariola 1
Vegan bakeries and ice-cream places
If you have sweet tooth and just can't imagine your holidays in Malaga being complete without sampling some of the ice creams or tea and cake, then we have a few recommendations which shouldn't be missed.
Yummy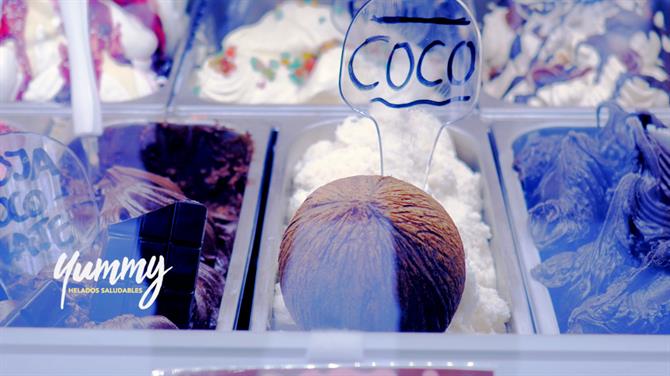 This is definitely our favourite ice cream parlour in Malaga. Not only are half of their ice creams vegan (and I'm not talking about sorbets), but all their ice creams are actually gluten free as well. They are made with rice, soy and coconut milk. We especially recommend the dark chocolate, chocolate orange and hazelnut, they are amazing! Yummy also caters to coeliacs as their cones are also gluten-free! A medium sized ice cream is 3€ and there's also gluten-free crepes!
Opening hours: Mon - Sun: 12:00 - 00:00
Address: Calle Molina Lario 6
You can also find vegan ice creams in Amorino (Calle Granada 6), Freskitto (Calle Granada 66) and Nonna (Plaza de la Merced).
Macrodulces La Espiral
This shop is the first 100% vegan bakery in Malaga. All pastries are prepared without added sugar and made with organic products. The bakery also stocks their products in some of the local health food shops. The concept of a healthy vegan bakery was an idea of two sisters: Eva and Susana. Adhering to a macrobiotic diet cured Susana of a long-term health problem and since this diet assumes zero tolerance for animal products and any sugars, it's impossible to buy a sweet treat in a normal bakery. Hence, the idea of a completely sugar-free, vegan bakery was born!
Sample prices:
| | |
| --- | --- |
| Mini cookie | 0,70€ |
| Mini brownie | 4,50€ |
| Chocolate and almond bar | 1,30€ |
| Muffins | 1,40€ |
Opening hours: Mon - Fri: 10:15 - 14:30 and 17:00 - 20:30
Address: Calle Dos Aceras 24
Where to buy vegan food and goodies
If you're staying in a holiday home in Malaga, you'll surely want to know where to find a shop which sells vegan cheese, fresh fruits and dairy-free milk. Paying a visit to the Mercado Atarazanas is a must, it has a huge variety of fresh, local fruit and vegetables, amazing olives and juices!
To buy loose grains and legumes, you should go to the El Reloj - La Tienda de Especias shop (Pasillo Santa Isabel 16). They have a great variety of healthy products, from nutritional yeast to big jars of sugar and oil-free peanut butter at very reasonable prices.
Bioshop El Cambio (Calle Carreteria 39) is the first 100% organic supermarket in Malaga. Here, you'll find food, cosmetics and even cleaning products. Perfect for anyone following a special diet.
If you can't find anything in Bioshop El Cambio, you'll definitely find something in Luz y Tierra (Calle Carretería 74), another health food shop located just a few doors down. The owners of this shop have been promoting the healthy lifestyle for years and they have loads of good quality foods and cosmetics. You can stop by and ask for a yoga or healthy cooking class.
Map